Every family understands the struggles of entryway clutter in their home. The main culprit, of course, are the shoes that bring in dirt, pile up, and ultimately cause your entryway to look disheveled. Shoes are a must in everyday life and oftentimes, everyone has more than just one pair. It can be inconvenient to keep shoes in other rooms, so the entryway hall can easily become overrun and look small. Luckily, there are some great, low-profile shoe-storage ideas for your entryway hall that will maximize shoe storage space without taking up too much room. These ideas will bring you some shoe-decluttering magic to ensure that your entryway remains clean, functional, and practical.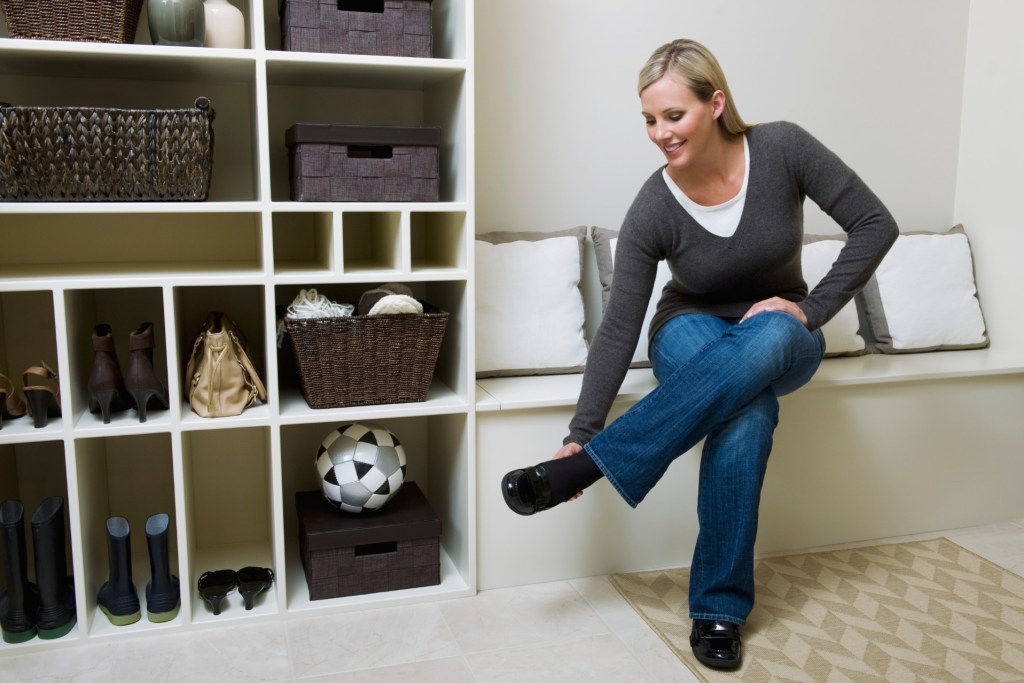 A bench with built-in storage
If your entryway is large enough to fit a bench, it can be a great addition. A bench will not only add a convenient space for sitting, it will also enhance your entryway and make it feel put together. There are many great options for benches that have hidden storage, as described by The Spruce. Some benches offer a feature where the seat cushion flips up, revealing a large space that is perfect for shoes. Other benches offer small shelving or cabinets on the bottom, allowing you to fit shoes underneath with ease. There's no going wrong with a bench with built-in storage. It provides you with great functionality and multiple benefits.
Reuse an old bar cart
If you have an old bar cart sitting around or have a new one that you just don't use, you can easily repurpose it into a shoe rack, as suggested by Mudroom Cubbies. Bar carts are great because of their ability to roll around wherever you need it. This can be a great feature for a shoe rack in case you ever need to move the cart around to other entryways in your home. Bar carts are cute, little furniture pieces that will surely add some fun flair to your entryway. You will love how easily they fit into your entryway space while taking up very little room.
Tall and thin shoe rack
The traditional route of a standard shoe rack is a great option. The key is to find a shoe rack that is tall and thin to maximize storage space while taking up little room in your entryway. There are a lot of stylish, low-profile shoe racks that will fit into your entryway seamlessly. Look for ones that are sturdy, neutral-toned, and can hold as many shoes as you need.
Baskets
Woven baskets are a great way to add some personality to an entryway. They are beautiful pieces that will hold as many shoes as you need. Baskets are great because they will contain any dirt or dust that shoes tend to drag inside. You can add as many baskets as you need, in whatever shapes and sizes you desire. This option is customizable to you and your space, making it a great option for any household.
Shoe cubby shelf
Shoe cubbies are all about maximizing storage space. They are essentially small, square spaces that are just large enough to hold the standard shoe. This is a great option for anyone with a large family or anyone who has a lot of guests over regularly, stated Large Family Table. There are a lot of modernly designed shoe cubbies that will ensure you always have plenty of room for shoes in your entryway.
Hanging shoe organizers
When it comes to maximizing your entryway space, the best storage options are the ones that hang up on your walls. Hanging shoe organizers do just that, making them perfect for smaller-sized entryways. A hanging shoe organizer is typically a piece of fabric or other material that has multiple shoe-sized pockets that can easily hold a standard pair of shoes. This storage unit is great for keeping shoes off the ground and hanging neatly on your entryway wall.
Shoe cabinet
If you want all of the shoes out of sight and out of mind, then the best option for you is a shoe cabinet. You can typically find any cabinet you want online, so look for one that has multiple shelves, and is thin and long. This will help you maximize the storage inside the cabinet while keeping all of the shoes hidden away
Shoe storage can be difficult and unattractive if you don't have the right storage system. Your entryway can feel overrun by piles of dirty shoes in no time when there is no place to put them, so it can be helpful to have a storage unit that is low-profile, easy to use, and simple. Luckily, there are a lot of great and useful shoe storage options out there.
They will help you tackle your shoe problem in no time and keep your entryway clutter-free. Look for one that fits your entryway style and size. Utilize thin racks or hanging shoe storage for entryways on the smaller side. Or, if your entryway is spacious enough, using benches with built-in storage or fun cabinetry can enhance its functionality and overall look. Regardless of what your entryway looks like, a low-profile and simple storage system will ensure it is practical, clean, and clutter-free.
Need inspiration for your living room? You can check these shoe storage rack ideas for the living room.
Editors' Recommendations