If you are reading this, odds are you love shoes. If you love shoes, you likely have way too many pairs. If this is you, you are probably open to some new ideas as to how to get a handle on the mess of shoes that clutter your entryway. It is also possible that you have a few kids or a large family, and you're tired of tripping over the mass of shoes by the door. Regardless of why you're seeking a way to organize the shoes by your door, we have some smart ideas for you.
Add a Bench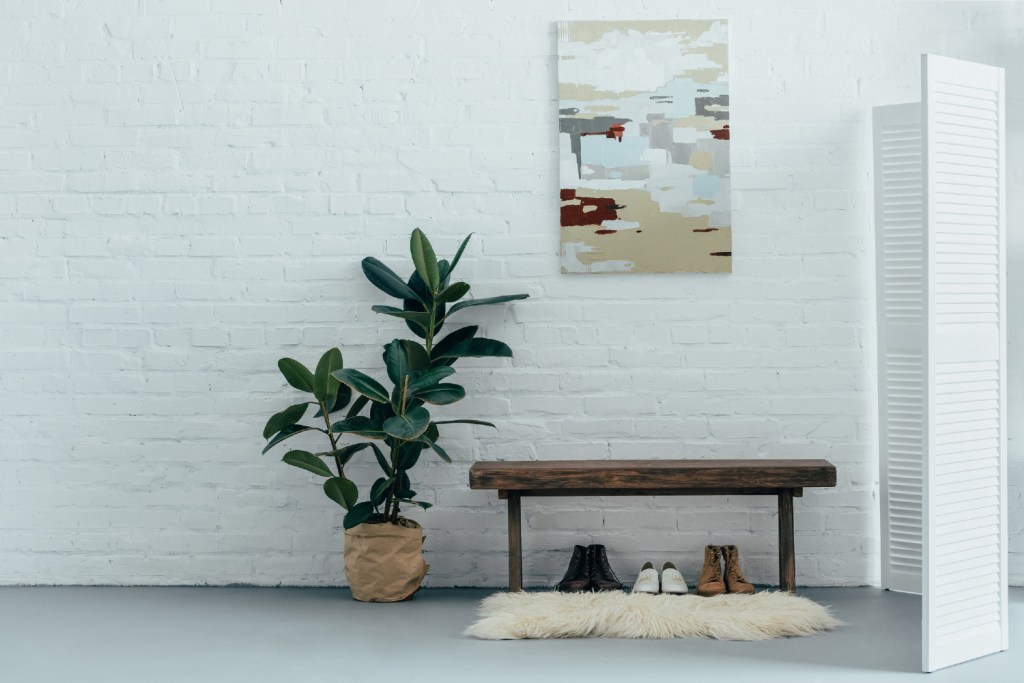 A bench by the door is an excellent idea because it gives a place to sit while you put on boots or take off wet socks. If you are handy and into DIY projects, building a bench to store shoes under could be a fun project. If you're not so handy, many different types of benches are available to purchase. Adding a bench with shelves or cubbies underneath the sitting area helps with the organization. You can also make the cubbies large enough to hold baskets. Baskets add a level of organization and help with keeping the kids' whose-are-whose arguments out of the picture. You can label each basket with your children's names, which will give them a sense of ownership and, hopefully, a desire to put their shoes away.
Add Shelves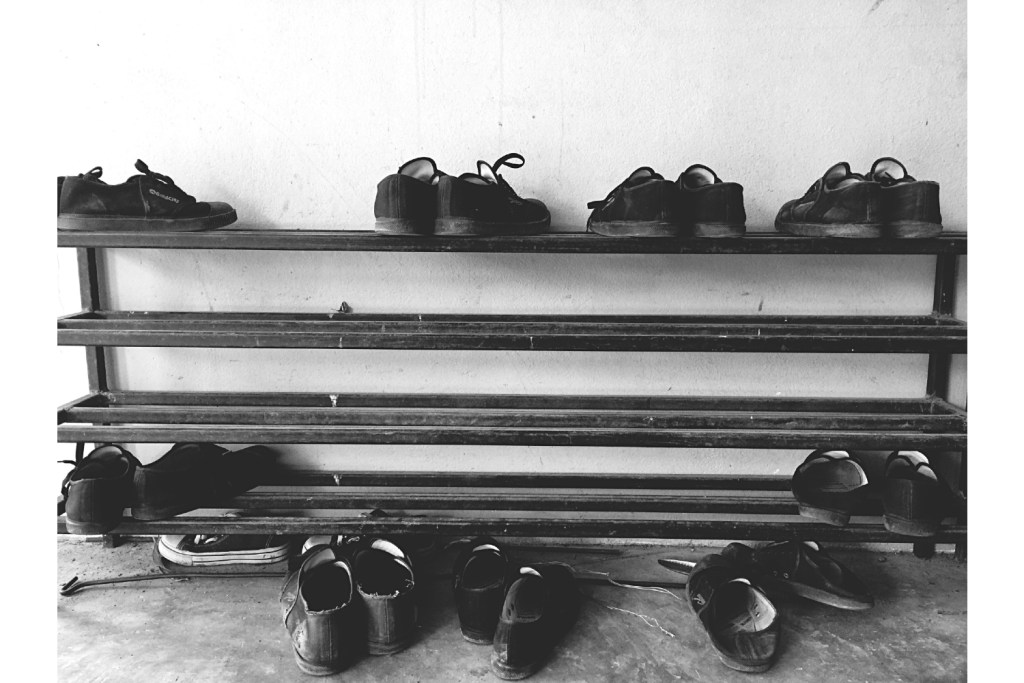 Installing rows of narrow vertical shelves on an entryway wall will put an end to shoe clutter. If you have limited space, be sure to choose shallow shelves, so they don't stick out too much and get in the way. If you don't have an unused wall, you can install shelves in a closet, as well. You can build shelves yourself if you're into DIY projects, but if you're not handy, you can always buy shelves. Metal shelves work well because metal won't discolor or rot if it gets wet as wood does. If metal doesn't match your decor and you want to use wood shelves, consider using cupboard liners on the shelves to prevent water damage.
Clear Shoe Bins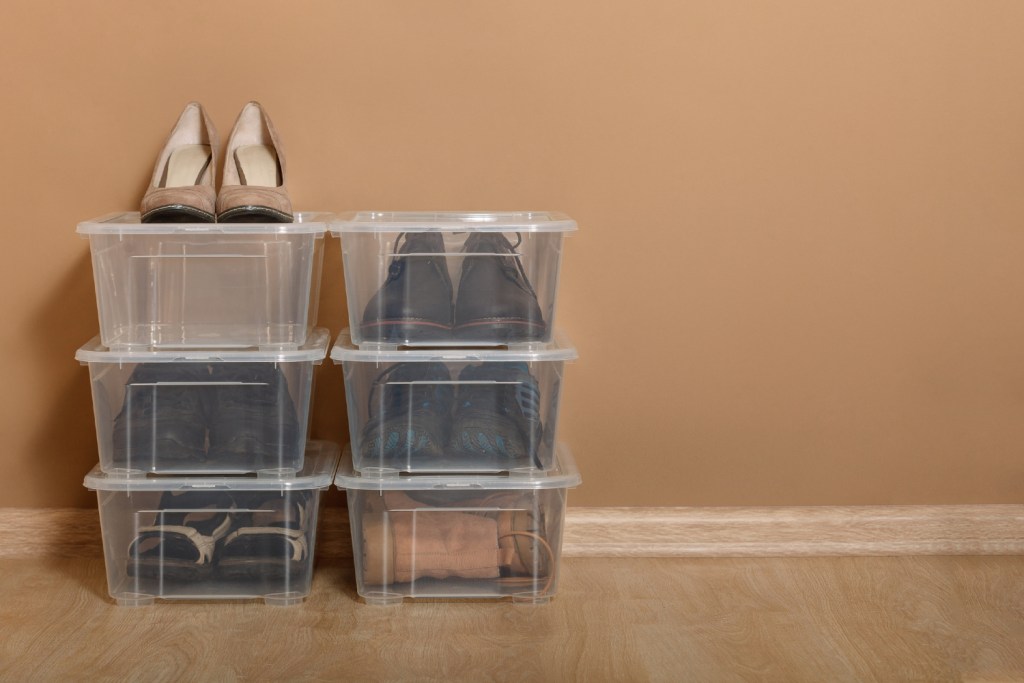 Clear plastic containers can be used for endless amounts of organizing. Finding bins that are the perfect size for shoes is not a difficult task. Clear plastic bins are usually designed to be stackable, which will help with organization and save space. Being able to see through the containers will help with the last-minute rush to get kids out the door, since they will be able to see which pair they want and not have to search for it. Another way to utilize clear plastic is to buy those plastic chests of drawers. You can fit several pairs of shoes in each drawer, and the ease of pulling out the drawer makes finding the right pair simple. One of the best parts about these plastic drawer units is that they often have wheels, which means you can roll them into a closet or another room if need be.
Trays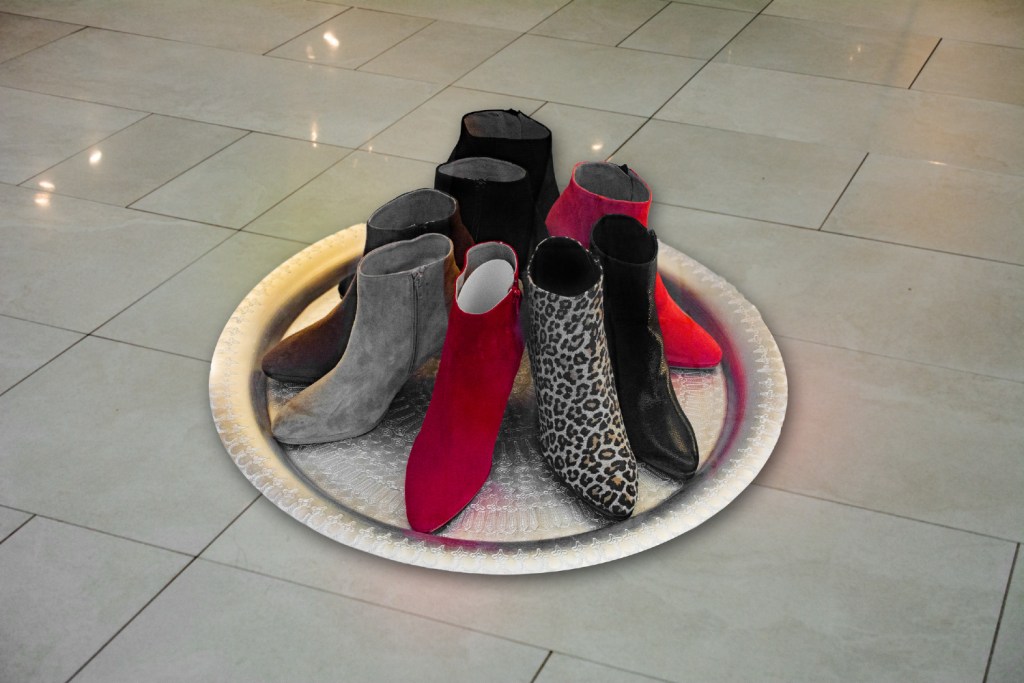 If you don't have a ton of space in your entryway but are craving some organization for all of those shoes, try using a serving tray or two. The tray gets the shoes and boots off the floor and gives a place for the dirt, grass, and water from the shoes to land. The best part about using trays for shoe holders is that you can just pick them up and dump them out whenever it is needed. Another fun tip is to fill a tray will small pebbles and place wet shoes and boots inside. The stones allow the water to sink to the bottom, so the boots have a chance to dry without sitting in a puddle.
Turn Furniture into a Shoe Holder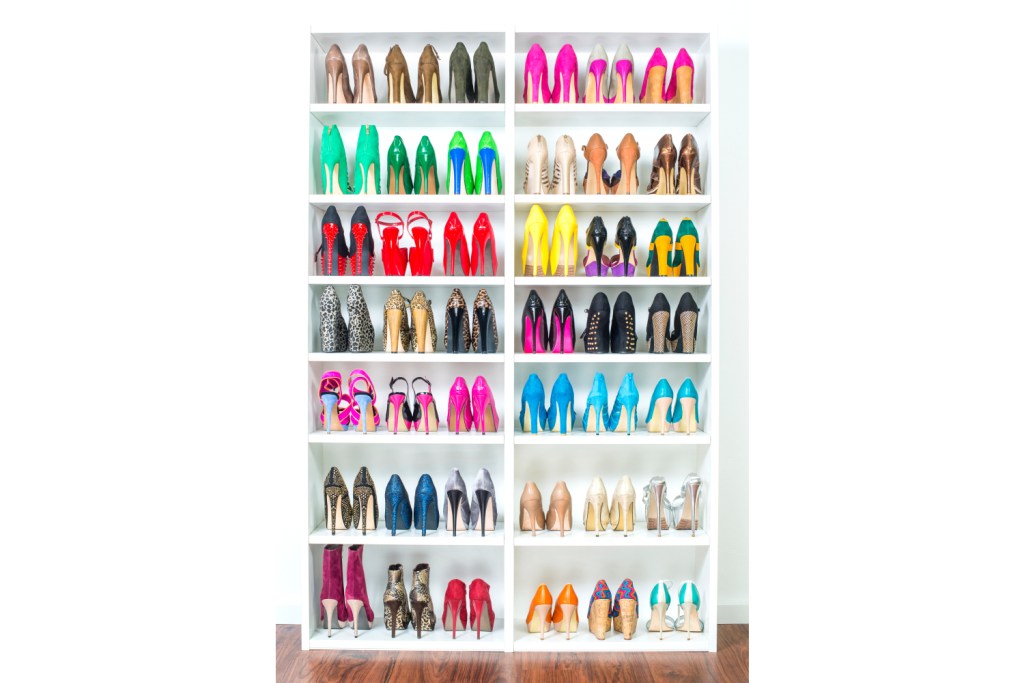 Sometimes, the best organizers are existing pieces of furniture. If you have an unused freestanding bookshelf or an old hutch cabinet that is just taking up space in your storage area, you can quickly turn it into a shoe organizer. Old pieces of furniture naturally have plenty of storage space, so you don't even have to try to make it work for shoes. Bookshelves are also the perfect shoe organizer and come in all shapes and sizes. If you have a harder time keeping shoes organized than you do books, it may be time to turn that bookshelf into shoe storage. Again, consider lining the surfaces with cupboard liners to prevent damage to the wood.
Bath Towel Rods
Bath towel rods can be mounted on the walls of your entryway and turned into shoe holders. This method works best for shoes with heels because they can "hook" onto the bath towel rod, but you can tie the shoes together and hang them over the rod that way, too. This is a great way to show off your pumps, since they will be front and center rather than hidden in a basket or under a bench.
Wire Rack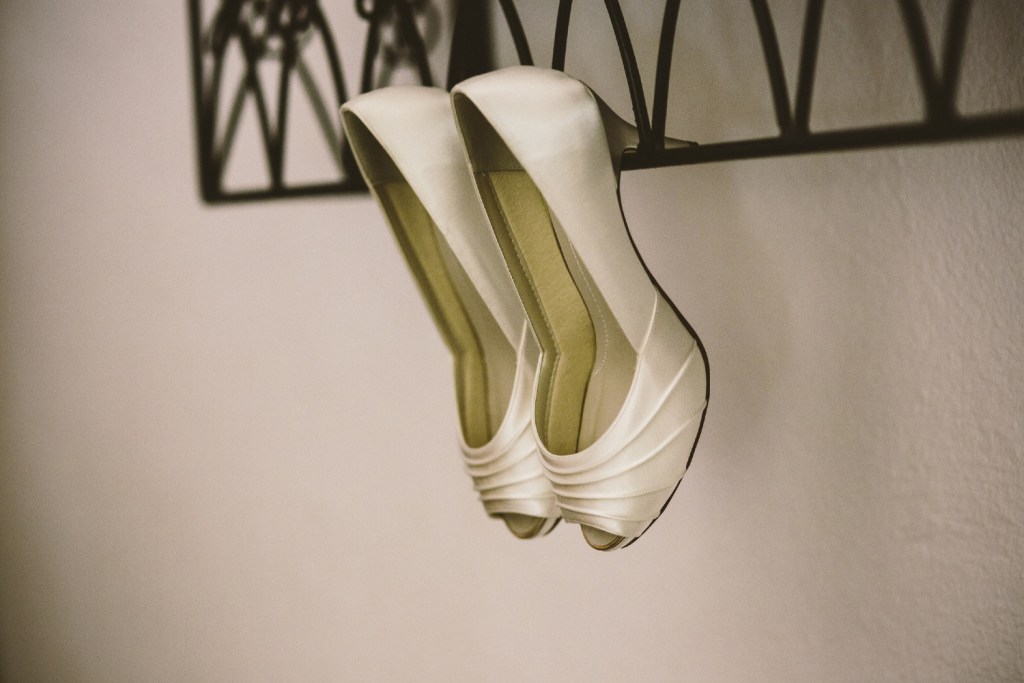 A large wire rack like a garden grid can be leaned up against a wall and used to hold heels. Again, this method only works for shoes with heels because the shoes need a way to hang onto the metal grid. However, this is a great way to display your favorite dressy shoes and will likely act as a conversation piece.
Row of Hooks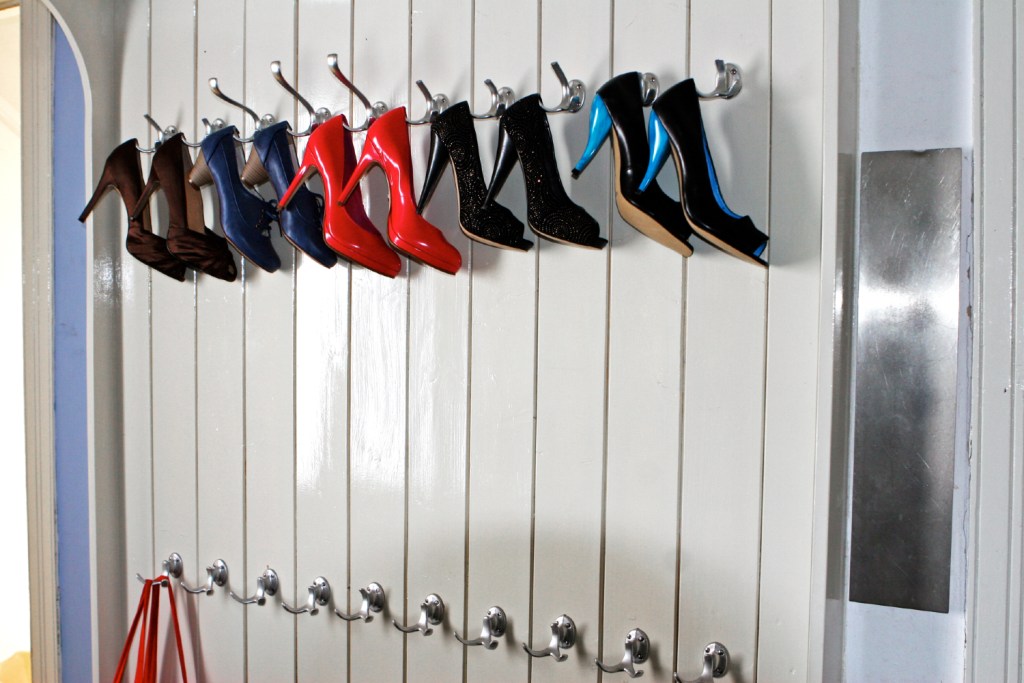 Adding a few rows of hooks to the entryway wall is a great way to get shoes off the floor. Adding rows at different heights is a great way to organize the whole family's shoes. Low racks for the kids to reach, and higher racks for the parents' shoes. You can paint the wood part of the rack that holds to hooks to match the walls if you want them to blend in. Or paint the wood with a fun color to add some pop to a dull area. Either way, this look gives the feel that the shoes are floating on the wall, which is a fun look.
Hanging Racks/Shelves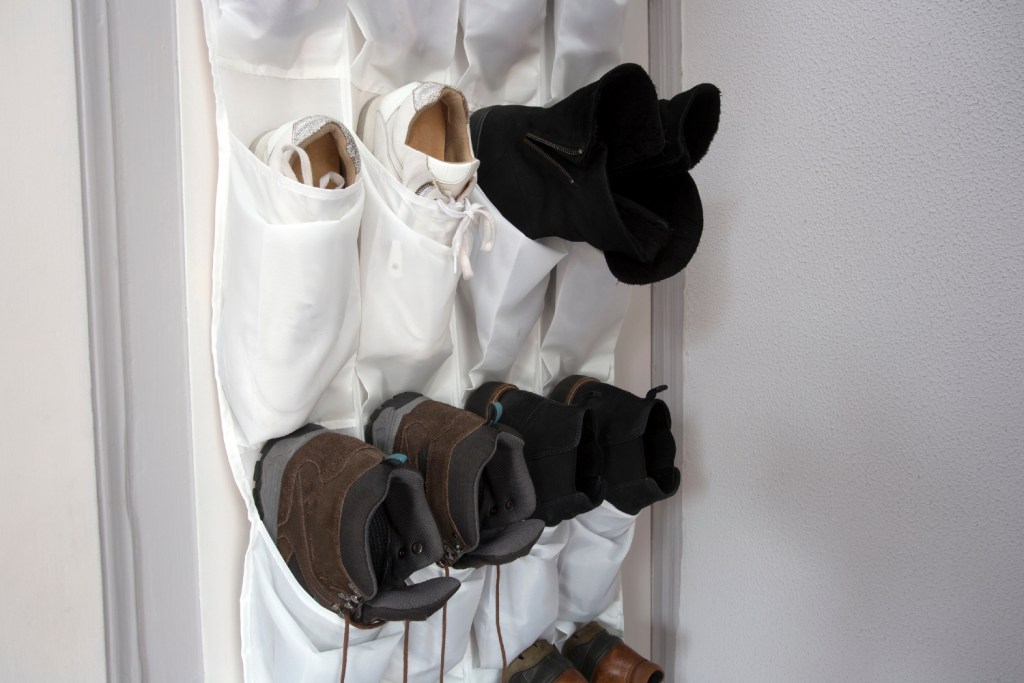 There are all kinds of hanging shelves that are designed for shoes. Some are clear and plastic, and others are wood or metal. These shelves are a great way to organize shoes on the walls of your entryway or on the back of a closet door. You can label each row of shelves, so each member of the family has their own space.
Editors' Recommendations