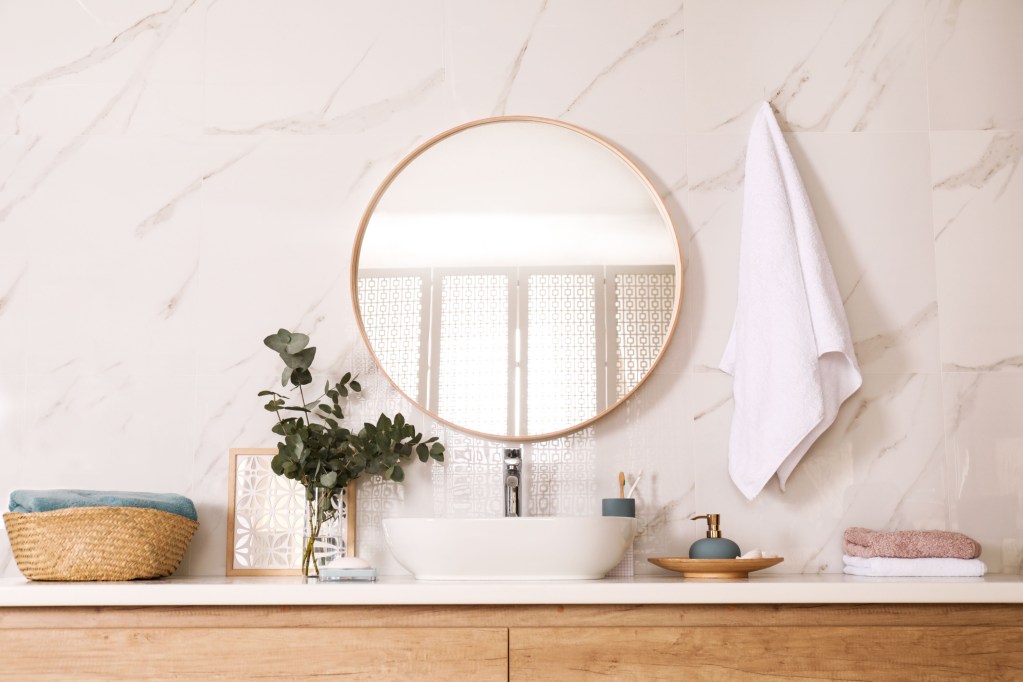 Whether you've recently updated your bathroom or you're looking for a few quick and easy ways to give it a refresh, there's one little change you can make that could have a big impact on the look and feel of your bathroom—your towels. Changing colors, replacing worn or threadbare towels with new and plush ones, and even changing the way you fold and display your towels all have an impact on how your bathroom looks and how it makes you feel.
Gather those scrawny hand towels and remove the damp towels your kids have strewn across the floor. This is how to hang towels in a bathroom to elevate the aesthetic of the space.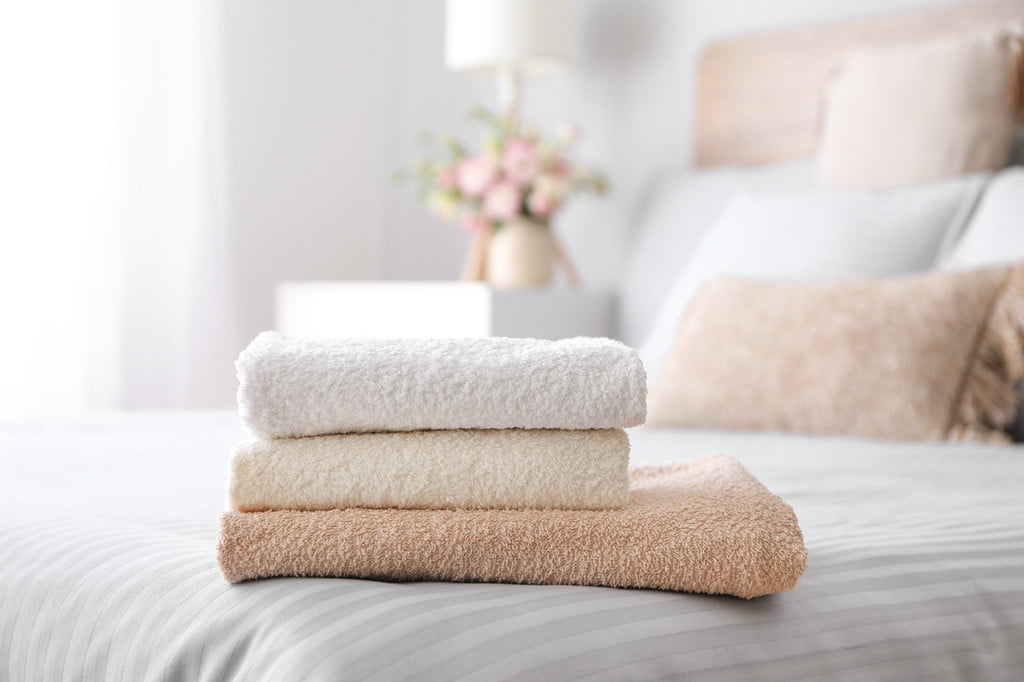 A few basics towel facts
When it comes to what makes a superior towel, it's really a subjective call. Some people like their towels thick and plush, and others prefer thinner but more absorbent towels. The New York Times researched hundreds of different towels and tested dozens to pick the very best towels available today. Some were pricey, others were budget-friendly, but all were judged by the same four criteria:
Size. Were they large enough to envelop you without being cumbersome?
Ability to dry you after your shower. Did they get the job done?
The wash test. How did they handle repeated washings and dryings? Did they fray or shrink?
Air drying. How long did a towel stay soggy after getting wet?
Which towels are ideal for you is a matter of personal preference. But if you're doing a towel overhaul, stick with the same towels and the same colors or color palette to really enhance the aesthetic of your bathroom.
How often should you change your towels?
It is recommended that bath towels be changed about once a week to avoid microorganism growth. Hand towels should be changed even more frequently, as they tend to stay damp.
How many towels do you need in your bathroom?
Most people use about two sets of towels per person, per week. A towel set usually includes a bath towel (or larger bath sheet, if you prefer), hand towel, and washcloth.
How many towels do you need in your linen closet?
Your linen closet should include three bath towels, two hand towels, and two washcloths for each person in your household, giving you an ample supply for rotating and having some available on laundry days.
What is the best towel color?
The best towel color is no color at all. If you're upgrading your towels, go with a classic and opt for all-white. White towels will match your bathroom, no matter what color it is. Additionally, they are easier to clean, won't fade like colored towels could, and will match any other towels you have now or may buy in the future.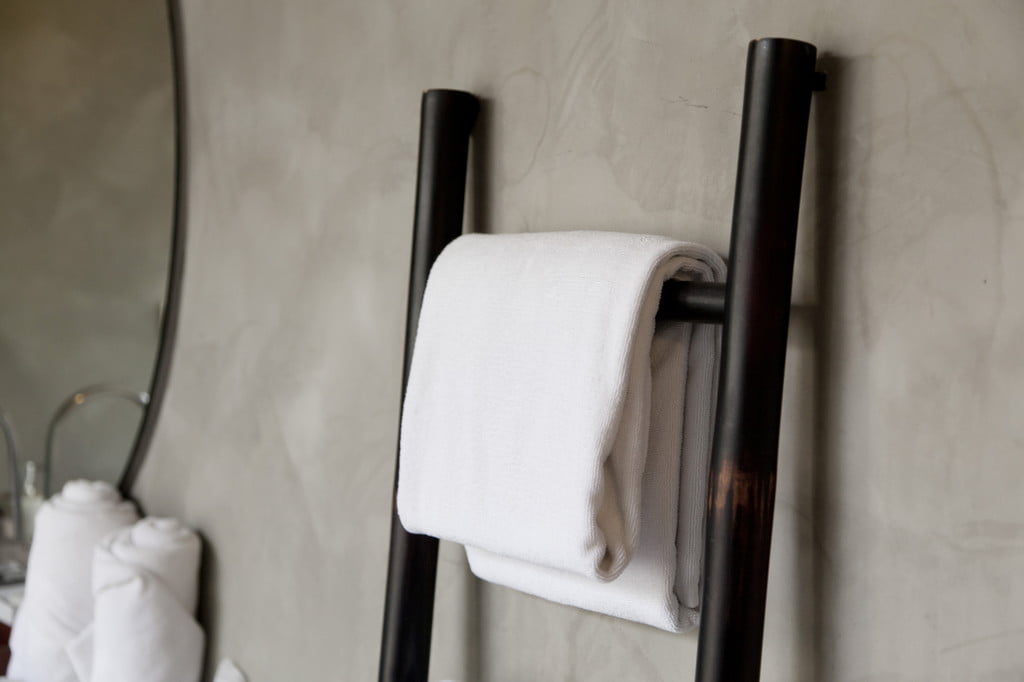 How to hang towels in the bathroom
Should you hang your towel in the bathroom? There's nothing wrong with stacking clean towels, but if you're limited on space or just want to add some interest to your bathroom's design, you can't go wrong with hanging them. How you hang towels in your bathroom can help to elevate the look of the room. It doesn't need to be complicated, but it can make a difference in your bathroom style.
The basic method
Step One: Using a flat surface (make sure it's clean first!), spread the towel so the ends line up neatly.
Step Two: Fold the towel into thirds by folding each long edge toward the middle until both edges touch in the center. Make sure the tag is on the inside. Once the towel is properly folded, drape it over the towel bar.
Step Three: Adjust the hanging ends of the towel until they are even. If you're using a wide-width bar that accommodates more than one hanging towel, be sure to keep the towels separated to prevent mold and mildew.
Step Four: Hang a hand towel over the bath towel. Using the same flat folding method, fold your hand towel vertically into thirds. Once it's folded, drape it over the bath towel. Make sure towels are color-coordinated.
A few more ideas
For wet towels (particularly in smaller bathrooms) an over-the-door towel hook will keep the wet towel (mostly) hidden, easily accessible, and help the towel air dry so it's ready for the next shower.
Baskets can house rolled-up towels to be both decoratively pleasing and practical for bathrooms that don't have a linen closet nearby. Keep colors consistent or coordinated, and keep towels tightly rolled for neatness.
A towel ladder is a unique and stylish way to display several towels on one clever unit and works particularly well in space-challenged bathrooms. The design allows the towel room to air dry while adding to the style of your bathroom.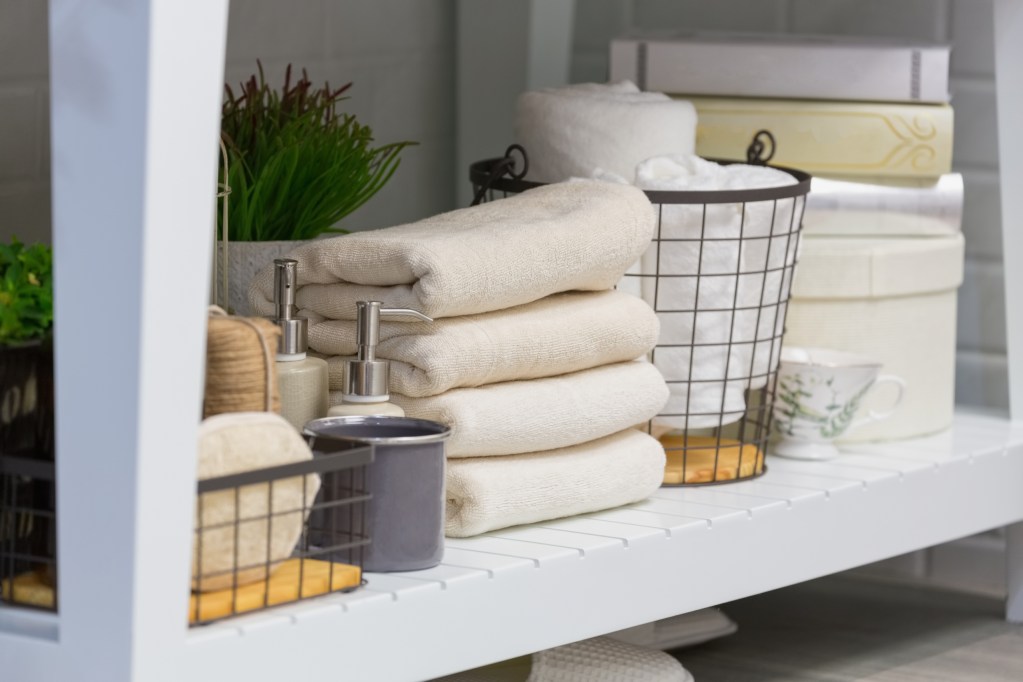 How do you display towels decoratively?
If you want to amp up your bathroom's aesthetic for an ultra-luxurious appeal, hanging and displaying decorative towels is a fantastic choice. Decorative towels likely won't be used and instead are purely for enhancing your interior design. When choosing a decorative towel, you'll want to pick a print, color, and style that suits your existing style. Decorative towels are great for adding accent tones or building upon your color palette. If you use neutral-colored towels for your bathroom needs, then most decorative towels should pair well with your existing linens as a backdrop.
You can use decorative towels and hand towels to adorn your bathroom for the seasons or choose something that will enhance the space all year round. Custom embroidered towels can be great for that hotel-luxe feel. Or, add a fun, colorful print for a more eclectic and "homey" look. Layer your decorative towels over the top of your normal bath towels on drying racks and bars. Or, fold them up nicely to sit on shelves or counters where they can be displayed.
When you're updating your bathroom or just trying to make a few small changes, don't overlook your towels and towel display methods. With just a few simple tricks, you can instantly improve the look and functionality of your bathroom without spending a fortune.
Editors' Recommendations