Beige is a common color for bathroom tiles because it's a neutral, earthy tone that's inoffensive and easy to decorate around. But whether you picked beige yourself or moved into a home with beige bathroom tiles, they can feel pretty bland after a while.
So, are beige tiles outdated? Not necessarily. You just need a good complementary color to liven up the room, and there are several different hues on the color grid that are sure to do the trick. What color goes with beige bathroom tiles? Here are six stunning shades that will make your beige bathroom look amazing.
What colors go with beige bathroom tiles?
Midnight blue
While the best shade of blue for your space depends largely on the amount of light in the room and the type of plumbing fixtures, we generally recommend a deep midnight blue. This bold choice is sure to make the finer details of your bathroom, like metallic finishes and light-colored countertops, stand out. Incorporate this color into the window treatments by hanging a deep blue top curtain, or place a decorative mirror with a midnight blue frame on the wall. If you really love the color, make a bold statement by painting an accent wall with this hue. Or, you could paint the ceiling this color and add some silver and gold stars for a unique starry night design.
Aqua
Aqua is sure to give your bathroom some funky under-the-sea vibes that are perfect for the kids' bathroom. When adding aqua to your beige bathroom, feel free to experiment with thematic elements. Look for a white shower curtain with fish or beachy patterns and hang simple nautical wall art. Get creative with finishing touches like opaque aqua storage drawers or bins, soap dispensers, and toothbrush holders to bring the whole look together.
Forest green
Green can really make a statement in terms of home decor, dominating the decor in rustic farmhouses and luxe lofts alike. A simple sage or forest green can breathe a breath of fresh air into any beige bathroom, adding a touch of much-needed vitality. Forest green hand towels, paint, and window treatments will all look stylish alongside beige tiles. To embrace the green theme further, incorporate natural textures like wood, wicker, and stone for a cabin-like oasis. Another green tip: Add some plants to your bathroom to double down on the nature vibes!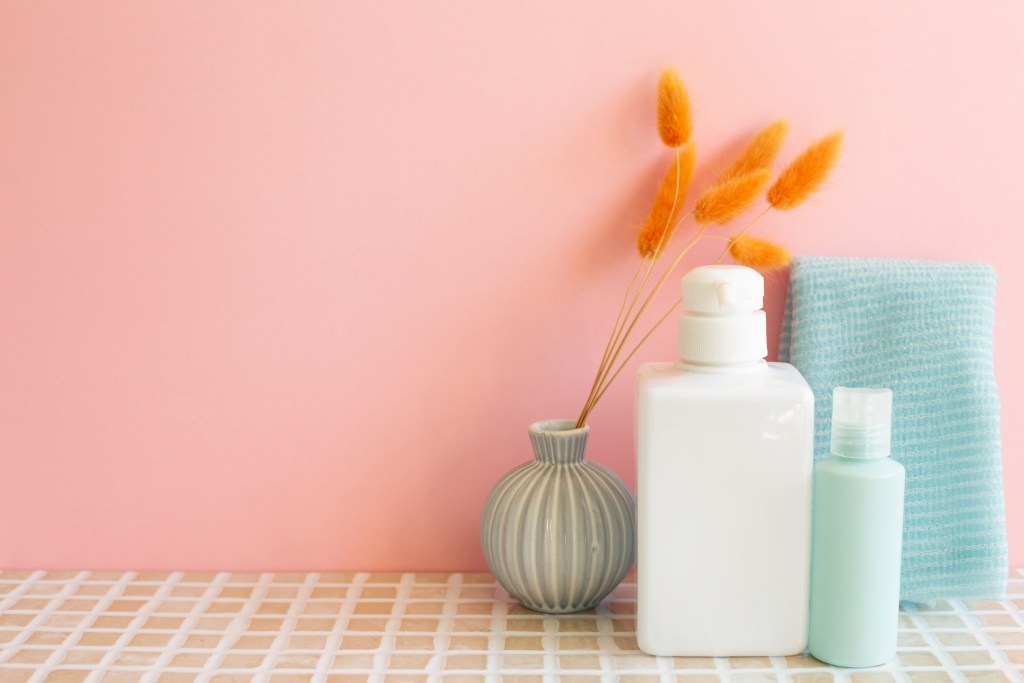 Blush pink
For a cozy, glam feel, blush pink is the right color for the job. Though blush colors are usually light, a medium shade will stand out better against the beige tones. We suggest adding some blush pink candles, hand towels, and a bath mat to add a little bit of fun to the space. If you have any wall space, paint it a shade lighter than your blush pink accessories. Wherever you see fit, this pop of color will be a warm, cheeky addition to your simple beige interior.
Royal purple
Go all-out regal with royal purple in your bathroom. This fun yet classy color will give any dull-looking room the pizzazz it needs. Aside from your typical bathroom items and decor, we also suggest mounting royal purple wall sconces and a violet wall clock. You can also switch up the knobs or handles of your cabinets to match these accents, or grab any purple knick-knacks lying around the house and display them on a hanging shelf.
Warm gold
While bold statement colors are all the rage right now, there's a time and place for subtlety. Create an inviting, luxurious atmosphere with warm gold accents. The sheen will brighten up your beige bathroom just a little, and the darker hue adds a sense of maturity to the space. Try painting some of the accents on your vanity, changing out knobs, or buying other gold bathroom accessories.
Beige is a neutral color, so it pairs well with just about any hue under the sun. To really make an impact, though, there are a few hues that are sure to give you a show-stopping bathroom.
Whether you're looking for something subtle and cozy or bold and fun, one of these colors is sure to fit the bill. Cool shades like blue and green, as well as warmer golds and blushes, can all transform your beige bathroom from drab to fab. If you think your outdated beige bathroom requires an expensive remodel, think again. With a few carefully picked colors and exciting accents, you can design a bathroom oasis that's sure to delight house members and guests alike.
Editors' Recommendations