The color of the year for 2022 is rich and vivid green. Several well-renowned paint companies like Sherwin-Williams, Behr, and Glidden have named different shades of green the color of the year. A natural and lively color, green is peaceful, luxe, and vibrant, making it the perfect new addition to your space.
With its delicate ties to nature, this color is the perfect addition to home design in 2022 and will have you considering switching up your existing theme! Whether you want to revamp your kitchen, dining space, bedroom, or bathroom, green is a versatile tone with several complementary color combinations.
So, if you're curious about how you can hop on this year's "it" color and invite this vivacious and tranquil shade into your home, we have a few ideas you don't want to miss.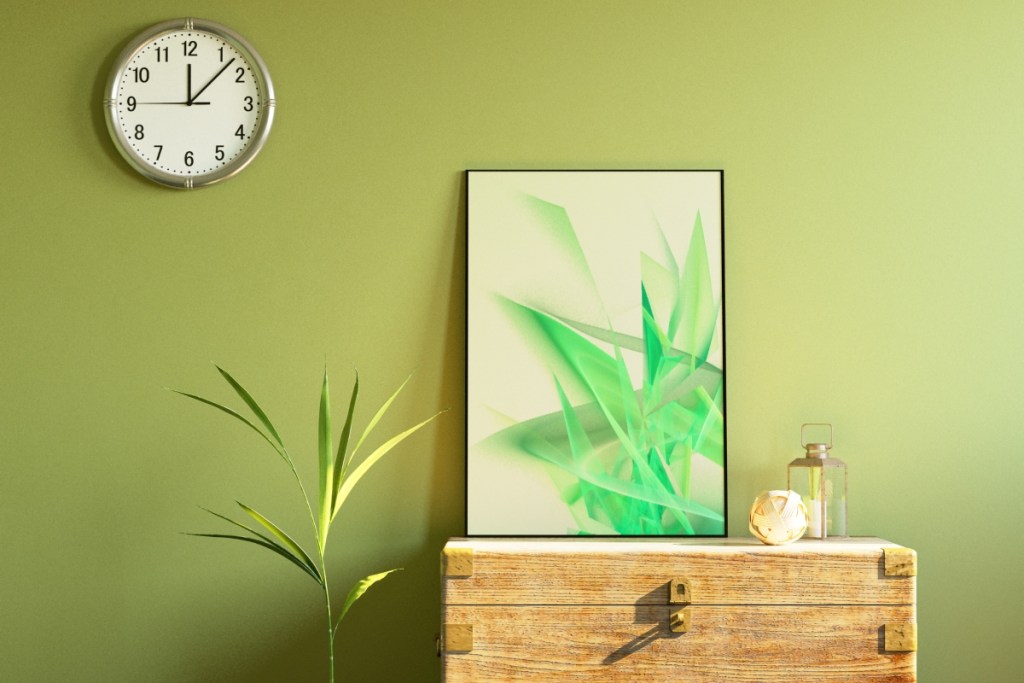 What are the best colors that go with green?
Knowing the colors that go with green is the first place you need to start before bringing this lovely hue into your home. Here are some of the best colors that complement green.
Washed-out blue
Whether you love avocado tones, pastel hues, or evergreen shades, washed-out blue can make a stunning companion color to your home design. Washed-out blues can look gray in some lighting, but the subtle hint of pale blue helps enliven this shade and adds a calming undertone to your color palette. Pair rich and warm green accents with this cool shade to find balance in your color palette.
Rust
Rust is a favorite addition to green-based color palettes. If you're going for a rich green tone for your wall paint color, try using rust-colored accents to help warm up the look of the room. Rust tones are rich, vibrant, and exciting. They make the perfect complementary shade to a green color palette and can help create a luxe feel in any room.
Other shades of green
Of course, when using green, you can't go wrong blending it with a few more shades in the same color family. For example, if you favor a deep, dark evergreen, pair the hue with a washed-out pale green. Or, if you opt for avocado-toned walls, try using jewel-green accents to help brighten the aesthetic of the space.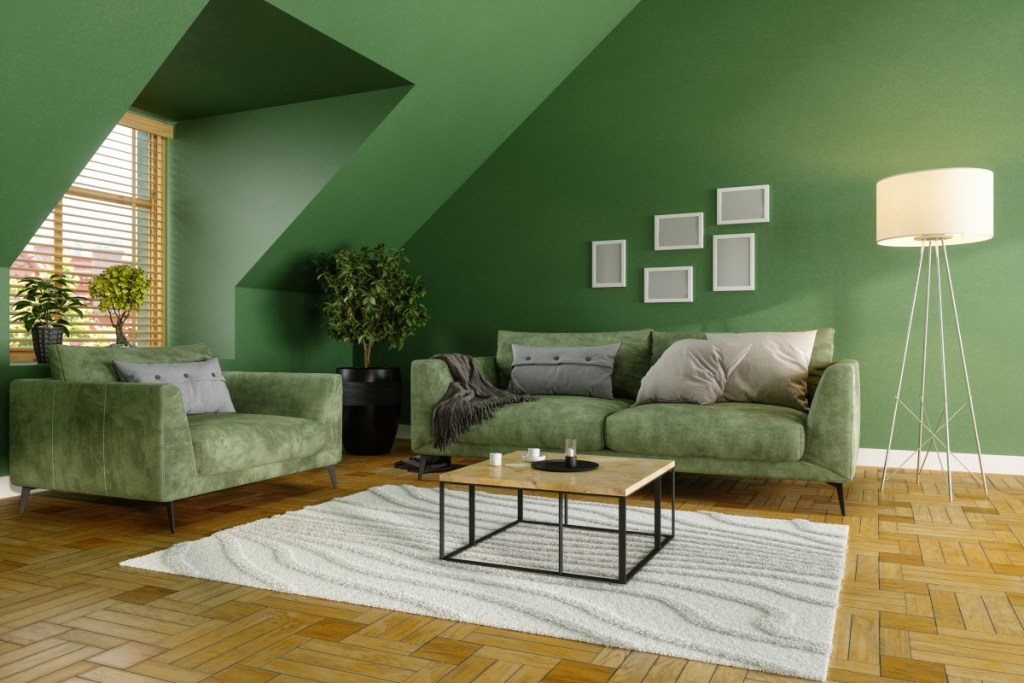 What light color complements green?
Depending on the look you're going for, you'll likely want to add light colors to complement your green tones. Both dark and light green shades can look splendid with soft, lighter tones. Here are some of our favorite color pairings.
Cream
Cream and light tan colors look stunning with different shades of green. For example, say you opt for a light pastel green in your kitchen. Try pairing this shade with cream-colored countertops made of a light wood or stone. Alternatively, a light cream-colored table will make the perfect centerpiece in a dark green dining room. Cream helps add a touch of airiness to a space while allowing you to maintain a natural and earthy aesthetic.
Gray
Gray also has the ability to look fabulous with shades of green. One of the best color palette combinations you can use is a gray-toned green with washed-out blue and silver accents. This gray base will make a room feel cool and collected. Furthermore, gray accents allow you to break away from the norm. Rather than using traditional white or black accents that can look jarring in a space, try using a gentle gray or silver tone that allows you to soften your room's look while also creating a space that feels elegant and expansive.
Pale blue
As we mentioned above, washed-out blues are perfect complements of green. When creating a color palette based around green tones, try adding a wistful pastel blue to help create a natural look to the space. Pale blues, whites, and cream tones look beautiful paired atop an evergreen backdrop. Additionally, this is one of the best color palette ideas for inviting the outdoors in for a gentle, outdoorsy feel.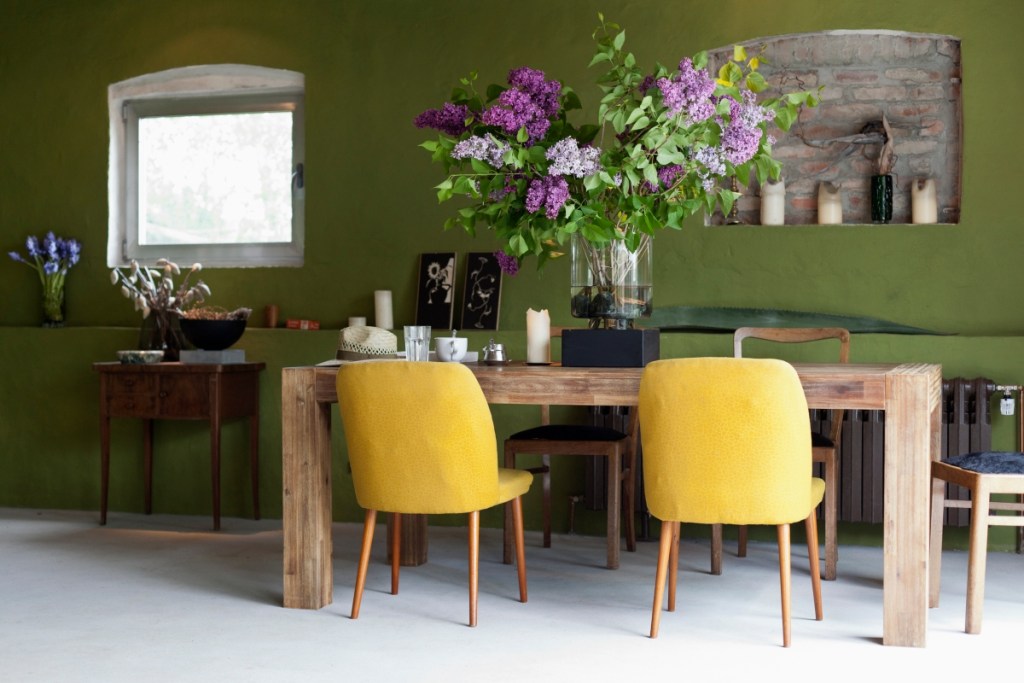 What is a dark color that works with green?
If you prefer darker or moodier tones to add to your home this year, we have some lovely shades that blend wonderfully with 2022's color of the year.
Earthy browns
Similar to creams, earthy browns were practically made for vivid green hues. Browns of any shade or tone look lovely when paired with green, thanks to our associations with this color pairing. When you blend warm browns with green tones, you'll feel more connected to the outdoors. Add more authenticity and organic aesthetics to your home through the use of these two colors, and play around with biophilic design to make these shades really stand out.
Black
Black is a classic addition to a green-based color palette. A great way to pull off this color combination for a sleek and sophisticated look is to pair a rich evergreen with black accents. For example, add a dark black sofa to a velvet-green room. Or use black accents in the bathroom near a green feature wall. An excellent way to pull off black and green is to use the shades with subtlety. Try not to go overboard; instead, pair these colors minimally throughout your space.
Deep maroons
Maroon can really make a statement, which is a wonderful way to pair this color with green. Add a maroon feature wall to an all-green room, or use a maroon-colored sofa. This color combination is best used for homeowners who love a twist on vintage-meets-contemporary design or who favor pops of color. Maximalists may also find that maroon accents in a green room allow them to highlight a sultry and elegant aspect of their personalities throughout their home design.
Green is a lovely color with plenty of potential to make your home feel relaxing and peaceful. Try using some of the above color combinations to take advantage of all this color has to offer.
Editors' Recommendations