Color is one of the easiest ways to transform a space. It can convey a mood, give the impression of greater space, and infuse personality into a design. Since bathrooms tend to be smaller in size, they are one of the easiest rooms to update with color. Adding a splash of new paint or mixing up the accessories can breathe new life into a tired room. What are the hottest hues this year? We did some research and put together our favorites for bathroom colors 2021. Read on to find out which shades are this year's trending bathroom colors.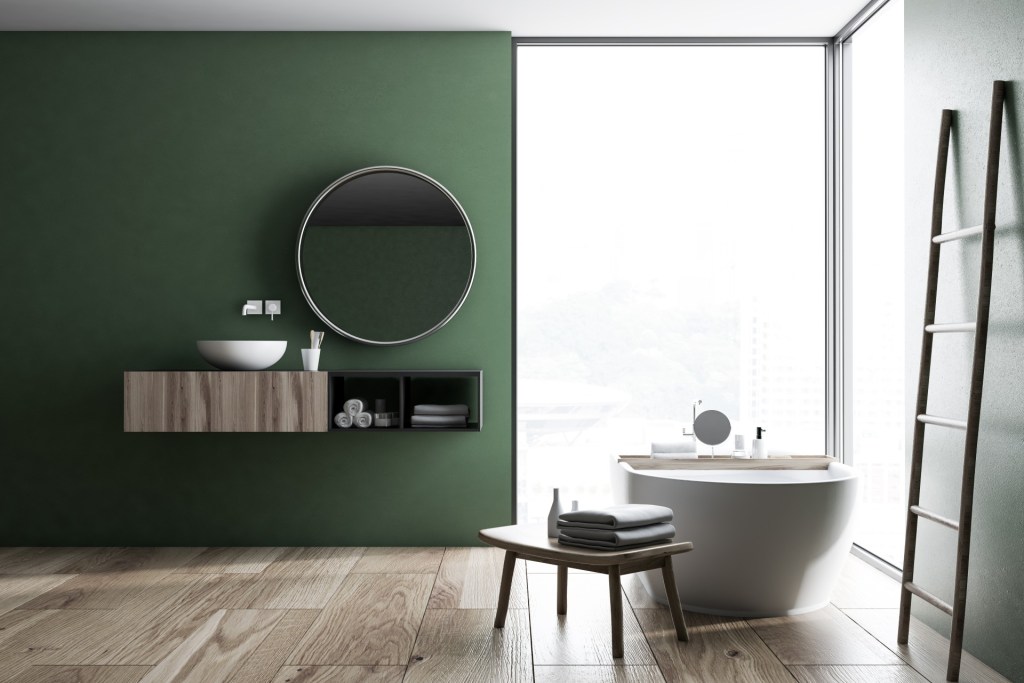 Moody greens
Want to make a statement with color? Rich shades of green are having a moment, and for good reason. Not only is it a soft, serene color, perfect for a bathroom sanctuary, but it complements the move toward nature-inspired design in all areas of your house — but especially the bathroom. Using this lively hue brings a fresh element into any space, and it pairs well with the warm tones of wood. A deep green can also be a great backdrop for crisp white fixtures and gold hardware.
Soft blue
If you are looking to create a spa-like atmosphere, a light, dusty blue is a perfect choice. This neutral hue is reminiscent of a tranquil Caribbean sea and sky. Always a classic bathroom color, this shade will give your bathroom an airy, open feel. It plays nicely with white tile and fixtures. Plus, light blue bathrooms can even increase the value of your house.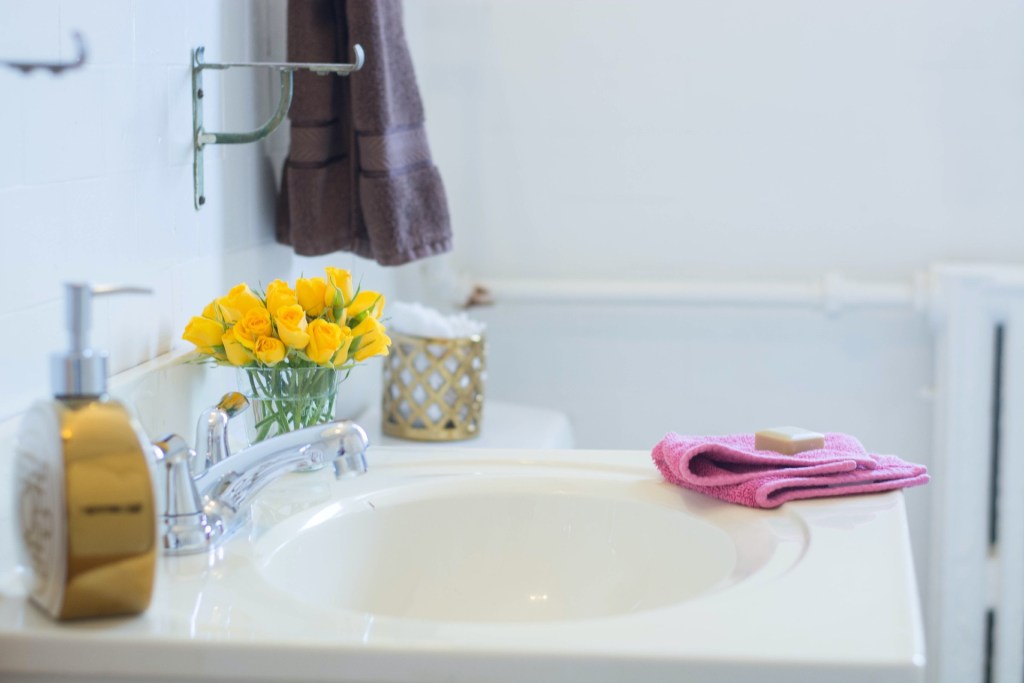 Yellow
Looking to liven up your design? Add a few bright pops of yellow. Bring some sunshine into your bathroom by adding small touches of this energizing hue throughout the room. Just remember, a little goes a long way. We love a clean white backdrop with splashes of yellow in hand towels, a small vase of flowers, or decorative accessories. It's a great way to refresh your bathroom without doing an entire remodel.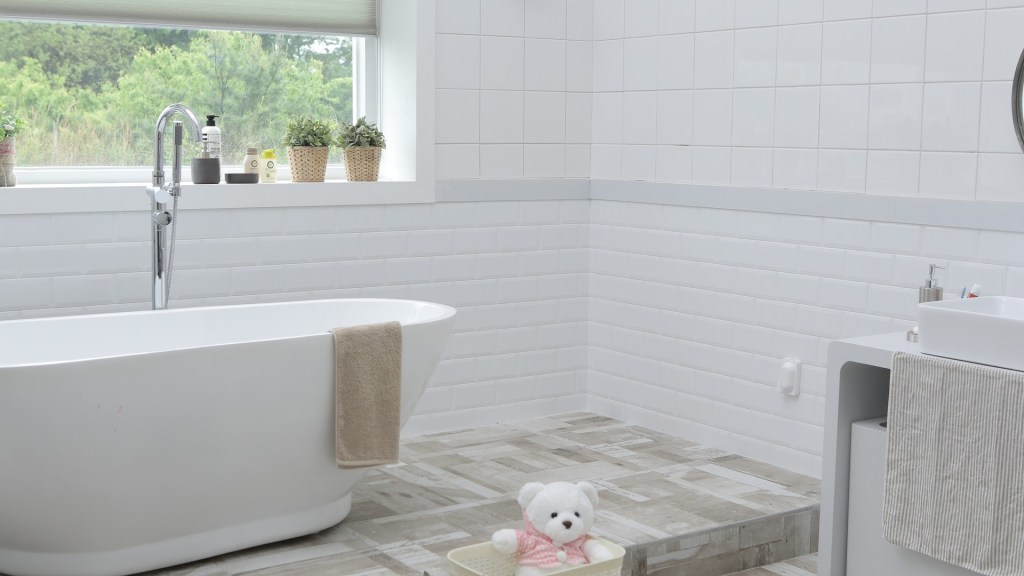 White
Some looks are timeless for a reason—they work. A crisp, clean white bathroom never goes out of style. Incorporating white throughout will make a bathroom feel large and airy. Use it on walls, tiles, and fixtures. We love it paired with neutrals for a soothing aesthetic. Just be sure to vary up complementary shapes and textures to avoid your bathroom looking too stark.
Neutrals paired with bright hues
A few years ago, grays and taupes were all the rage. What if you want to infuse a little life into them without doing a redesign? Try incorporating some splashes of bright color into other elements. A bright accent wall will work in a neutral space, and a shower curtain, hand towels, or small accessories that pull one or two of the colors in will tie it all together. Brighter blues and greens are perfect for this — they offer a saturated hue that still manages to evoke images of peacefulness and serenity.
Blue and white
These two are a classic combination for good reason. They play off one another perfectly. Instead of bringing them in in a standard way, we love the idea of keeping the walls and fixtures white and adding the unexpected element of a graphic blue and white tile. Introducing a unique feature like these into your design will make a statement.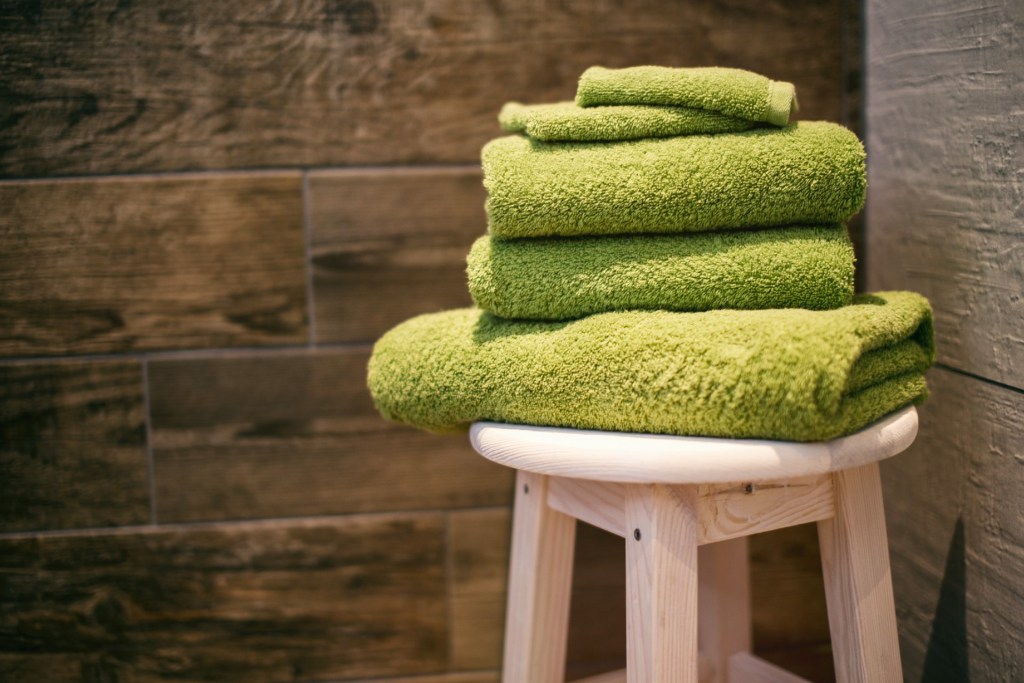 Wood tone
Want to bring a rustic look to your design? The warmth of reclaimed wood is making its way into more and more bathrooms. Wooden shelves give extra storage. Ceramic tiles made to look like aged wood are ideal for water-prone applications. For the ever-popular boho look, use it on a feature wall. Pair it with white, small touches of black, and a scattering of green botanicals to create your own private oasis. It's the perfect way to embrace biophilic design — which studies have shown can help reduce stress.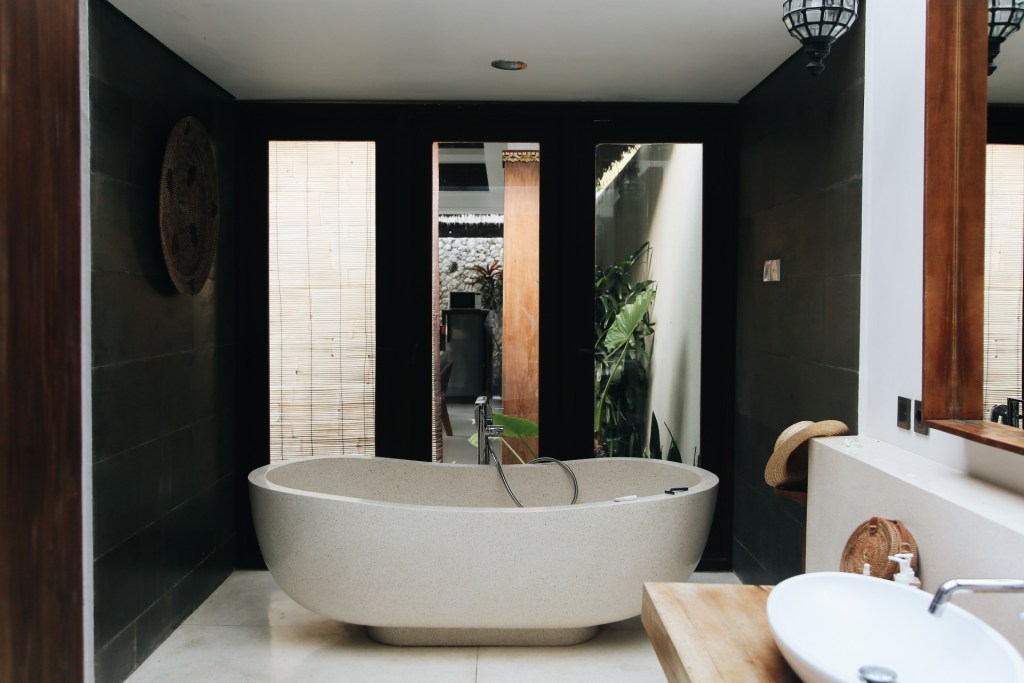 Black
We know, we know. Black? The answer is a resounding yes. The key is using it in clever ways. We love it as a dramatic backdrop to other elements. A modern white stand-alone tub against a matte black accent wall makes an impressive statement. These days, designers are using black in tiles, faucets, and hardware to draw sharp contrasts.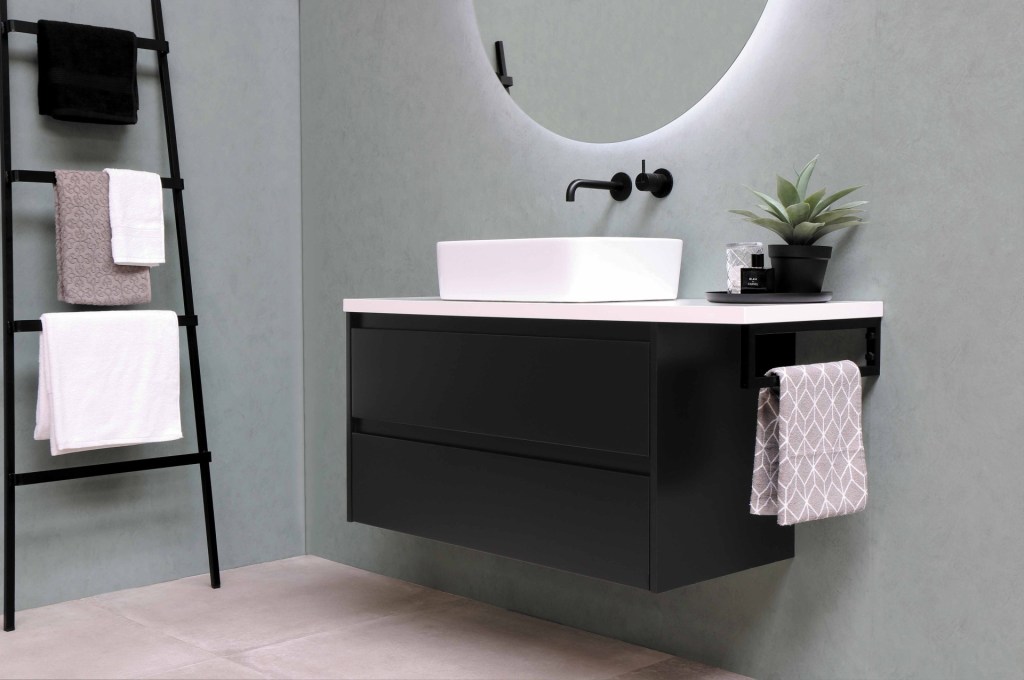 Gray
Gray may be declining in popularity in other parts of the home, but it still reigns in bathrooms. When combined with white, it gives a breezy, open feel to the space. Its versatility lends itself to any style, and its neutral nature allows for great flexibility in mixing up the design with accents and accessories. Plus, it avoids the potential hazards of looking too-austere that sometimes comes with using white as your primary hue.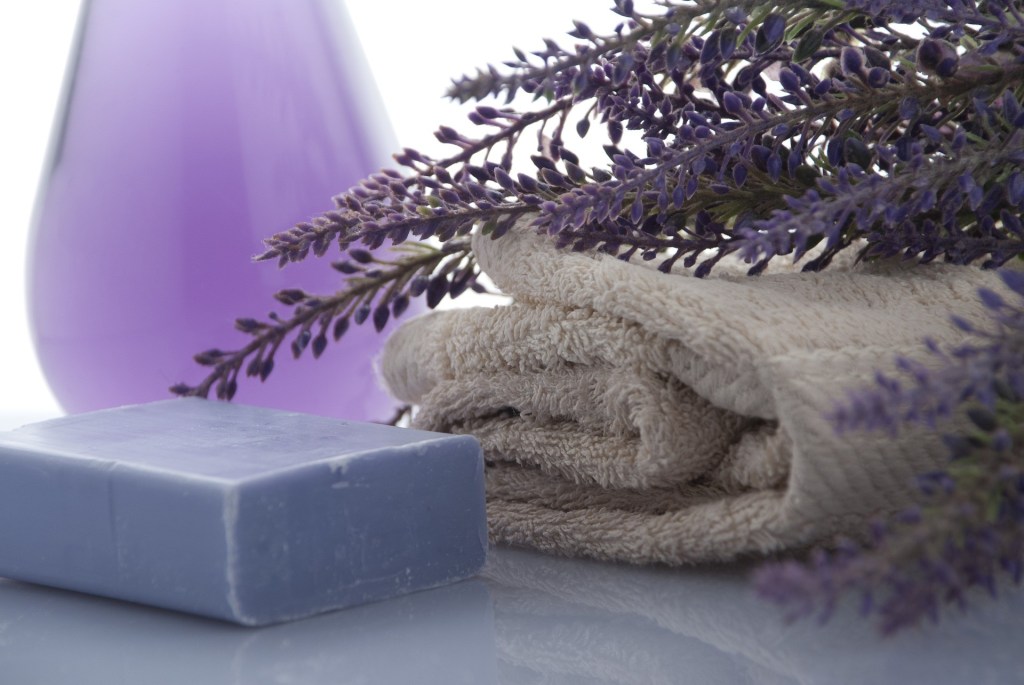 Lavender
Soft purple is one of the most soothing shades on the color wheel. Are we saying to paint the entire bathroom soft purple? Not necessarily, but by adding it to a neutral space with accessories or accent pieces, you can create a bathroom that invites relaxation. Imagine a vase of dried lavender sprigs against a wheat-colored wall. To appeal to all the senses, bring in some lavender-scented soaps. And, if you're feeling really bold, try a lavender accent wall.
Bathrooms are one of the most used rooms in the home. By infusing yours with colors that make your space feel fresh and updated, you will feel good every time you are in it. Staying on-trend doesn't have to mean a full overhaul; even small amounts of fresh colors can make a space feel new again.
Editors' Recommendations