Fall has arrived, and we can finally unpack those fuzzy sweaters, display the decorative pumpkins, and start planning fall gatherings. Before inviting guests over, though, you need to make sure your home is in tip-top decorative shape by lighting seasonal candles, throwing fuzzy blankets over the couches, hanging the autumn wreaths on the front door, and designing the perfect centerpiece. Centerpieces bring life to the table, whether it's an elegant vase for dinner parties or purple and white pumpkins for a Halloween bash.
Be sure to craft this piece with a light touch — there's a fine line between a gorgeous fall centerpiece and a bunch of leaves and pumpkins tossed in the middle of the table. To create a showstopping piece that doesn't look tacky or messy, take inspiration from a few of our favorite designs below.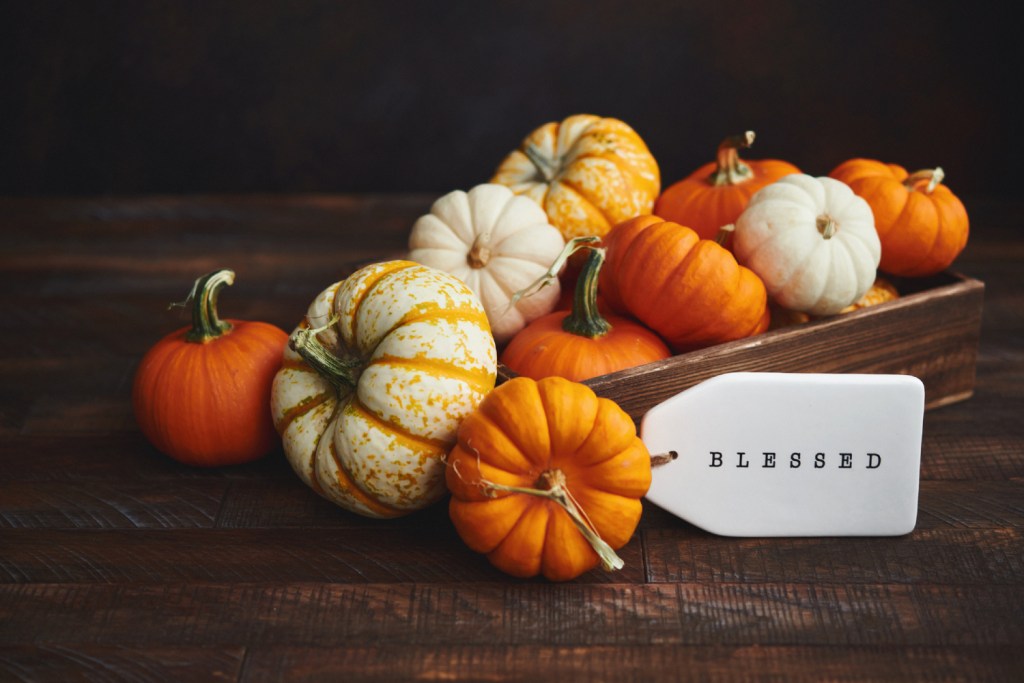 Pumpkins
Pumpkins are synonymous with fall — and that's kind of the problem. Pumpkins can be far too predictable, and won't grab guests' attention as much as a proper centerpiece should. But, with a bit of work and imagination, you can achieve a look that is autumnal but not boring:
Go floral: Consider painting pumpkins with fun floral designs and pairing them with similar dishware for an elegant look.
Create a candle: If you're willing to get your hands dirty, hollow out the inside of this gourd and use it as a DIY candle votive, adding a romantic ambiance to your table.
Keep it simple: To keep it more rustic, place a simple wooden basket with various small pumpkins (and gourds) of different colors in the middle of the table.
Leaves
The falling leaves outside mean you'll have to spend extra time raking and mowing, but the beautiful foliage is worth the extra yard work. Bringing some colorful leaves inside gives a nod to the season without going overboard.
Use a bowl:Fill a small glass or bowl with these leave, or spread them across the center of the table runner.
Add branches: To make a more dramatic centerpiece, place long branches of leaves into a tall vase and fill the bottom with more leaves or small stones.
Substitute in fake leaves: Unfortunately, not every region in the U.S. sees weeks of vibrant, colorful foliage. In that case, pick a few faux leaves from the craft store. Feel free to add a few fake pinecones or sunflowers as well to round out the look.
Plaid
Nothing says fall like snuggling with a soft plaid blanket around a fire.
Add plaid accents: You can bring that same cozy feeling to your dinner table with a plaid tablecloth, napkins, or place settings. If you don't want to cover the entire table in plaid, tie patterned ribbons around each set of flatware or across the center of a vase. For a centerpiece, add colorful flowers or mini pumpkins to a wide vase and tie it with a festive plaid bow.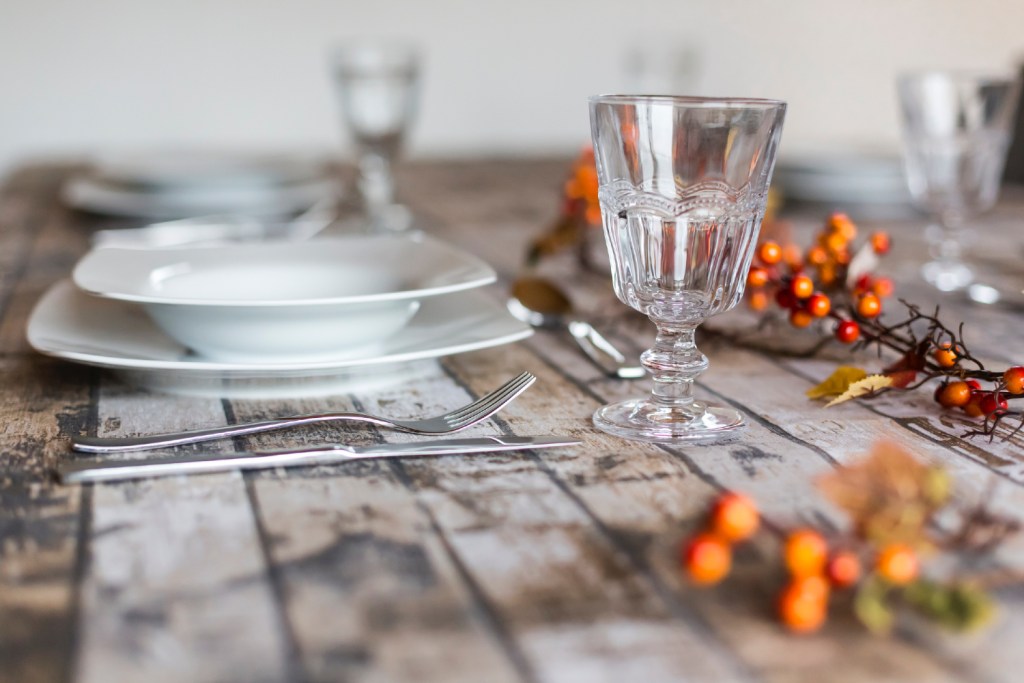 Gooseberries
Those burgundy berries you see everywhere during the autumn season are gooseberries, and they're a great way to add small pops of color to your fall centerpieces.
Keep it simple: If you're going for a minimalistic look, a sprig or two of gooseberries in a tall vase will give you just that.
Go big: For a more rustic or maximalist scheme, add sprigs to your centerpieces that are ready filled with leaves, pinecones, and stones.
Fall flowers
Autumn leaves, and flowers in deep reds, brilliant yellows, and burnt oranges can bring ambiance and color to any table. While colorful leaves are a great addition, living plants bring a bit more vitality to the table.
Mix fall flowers: Consider placing sunflowers in tall, skinny vases or picking a couple of colorful chrysanthemums to add to a small wicker basket or bowl.
Use a pumpkin vase: To really celebrate the harvest season, hollow out the center of a pumpkin and place a floral arrangement inside.
Be judicious about pops of color: For a more elegant, streamlined design, opt for a few brightly colored flowers and fill the rest of the table with soft neutrals.
No matter what kind of fall festivities you are planning, a good centerpiece can elevate your design and incorporate the coziness of autumn into your home. All of the ideas above should inspire you — it is up to you to bring your personality and creativity to whatever design you choose. Whether you combine the styles above or opt for a centerpiece that's off the beaten path, as long as you create a piece that's full of color, texture, and shape, it's sure to be a crowd-pleaser.
Editors' Recommendations