Inspired by big-city industrial lofts filled with eclectic art and neutral color palettes, contemporary industrial design has emerged as a luxurious yet grounded home design style. With exposed architecture, weathered materials, and soft color palettes that pay homage to minimalistic decor, the contemporary industrial design blends modern pieces with cozier rustic furnishings. If you are interested in this sophisticated and eclectic style, then you've come to the right place.
Below, we'll show you just how to blend contemporary design with industrial decor to create an expansive and bold look in your space.
What is contemporary industrial design?
Contemporary industrial style is a blend of the minimalist appeal of contemporary design and the rugged, factory-inspired industrial aesthetics. This design sensibility gained popularity in big cities where developers began to renovate old loft apartments, complete with exposed brick, metal ceiling ducts, and classic industrial piping, into expensive pads. To counteract the darkness of traditional lofts, homeowners and designers alike began pairing these design components with more modern touches like glass, sculptures, and plants to create a more open look.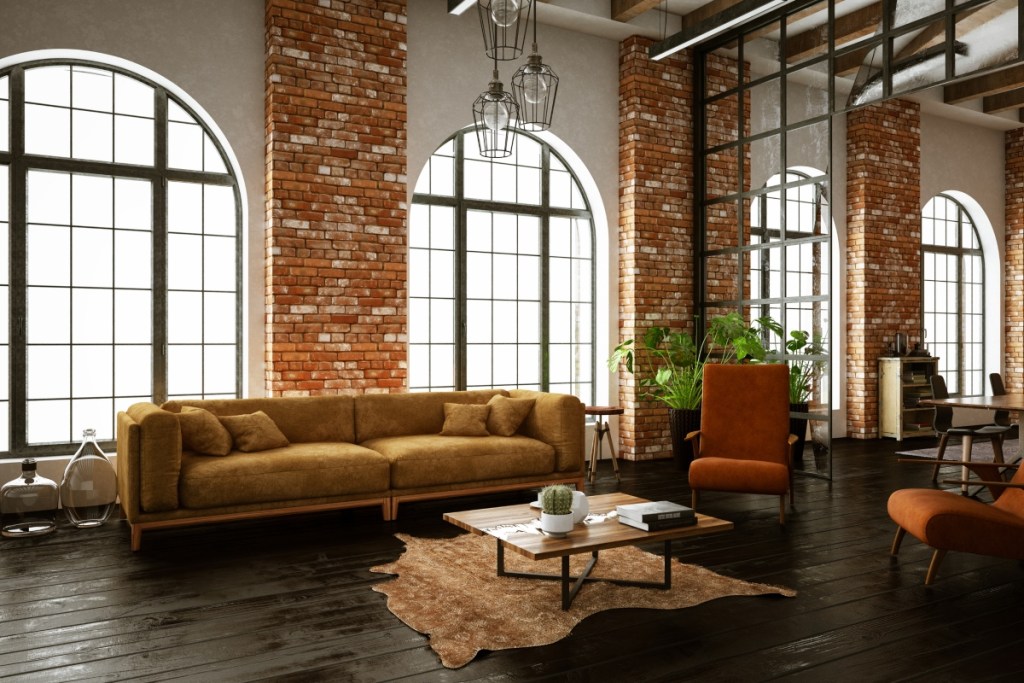 Blend dark colors with lighter neutrals
Industrial design is well known for its dark colors, largely due to the red brick, metal piping, and grey-toned flooring. Alternatively, contemporary design features bright color palettes, simple flooring, and clean lines. Pairing these two styles into a coherent design is a challenge, but doing so carefully creates a fun space with a ton of character.
If you prefer a cleaner, more minimalist look, combine neutral walls, rugs, and artwork with darker accents and metallic finishes. On the other hand, you can create a bolder space with concrete or dark tile flooring and light-colored furniture. Then, incorporate small glass side tables and simple white curtains to bring more light into the room.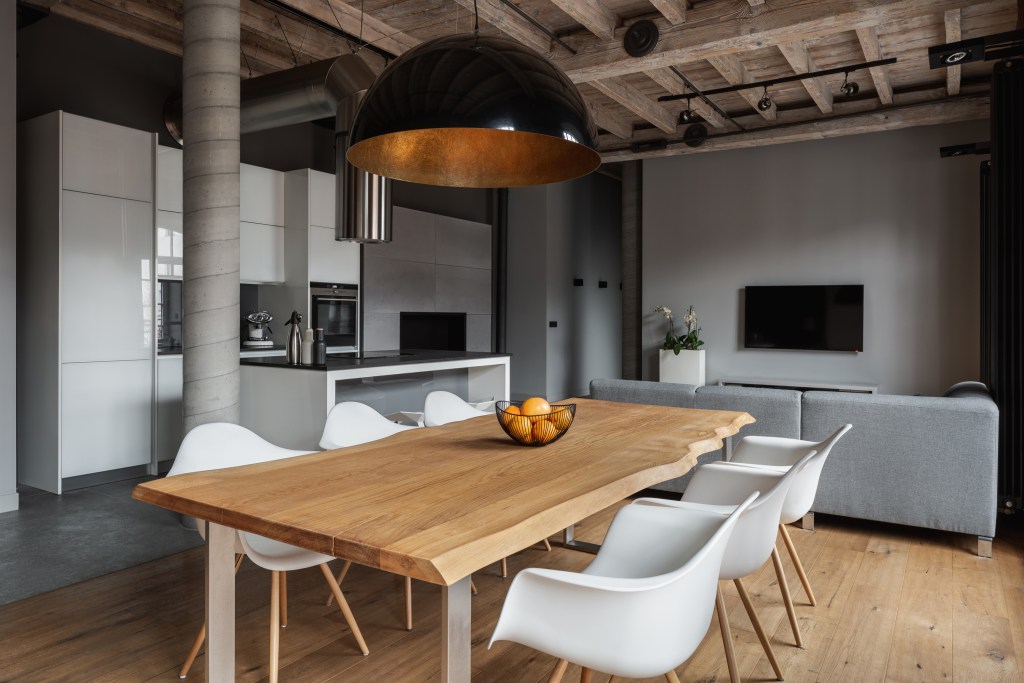 Add some statement lighting
While a lot of the fun of contemporary industrial design stems from the blend of seemingly opposite aesthetics, it's equally important to create cohesion, emphasizing how these styles are similar. To achieve this, opt for statement lighting. For example, try adding a grand metal and Edison bulb chandelier above your dining table 0r hanging metal pendant lighting in a reading nook. Exposed bulbs are also trendy right now, and this might be just the statement piece you need to bring the whole space together.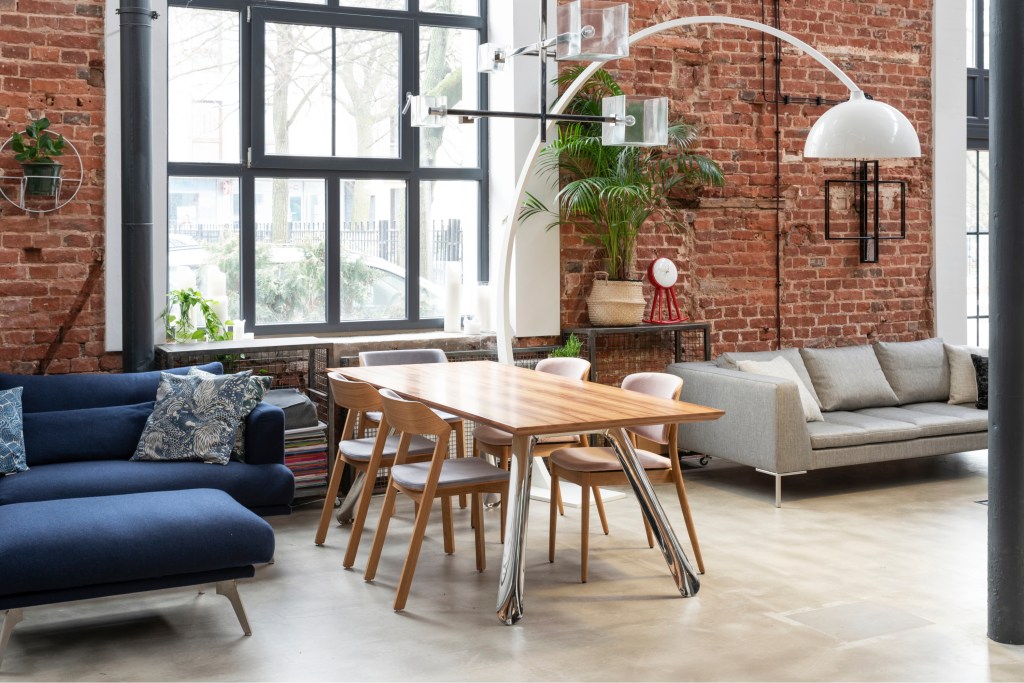 Use metal finishes
There's one tried and true rule for homeowners looking to create the perfect blend of contemporary and industrial aesthetics: Don't forget the metal finishes. Metal hardware, lighting, exposed pipes, shelf brackets, and other small details can hone in on the industrial look without making the space feel too dark or factory-like. To keep a touch of modernity, complement the heavy metals with lighter, airier decor to brighten up the room and prevent it from feeling claustrophobic.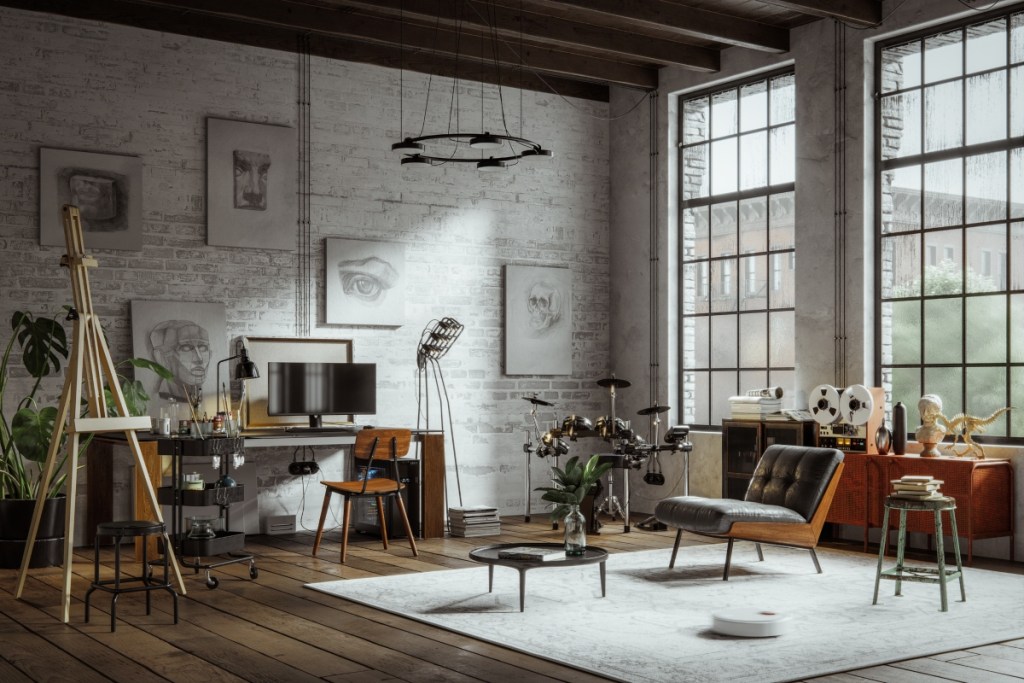 Place modern art pieces on a brick wall
Reminiscent of old factories, brick walls can provide an eclectic and rugged touch to any space. Whether you opt for faux or real brick, adding some modern art alongside it can create the perfect blend of the two design styles. For those who love the eclectic look, brick walls are the perfect backdrop for a funky gallery wall. To pull off the look, opt for simple paintings or illustrations that have a neutral palette. Create visual interest by changing up the sizes and shapes of the frames. Otherwise, keep it clean and modern with simple frames and symmetrical placements.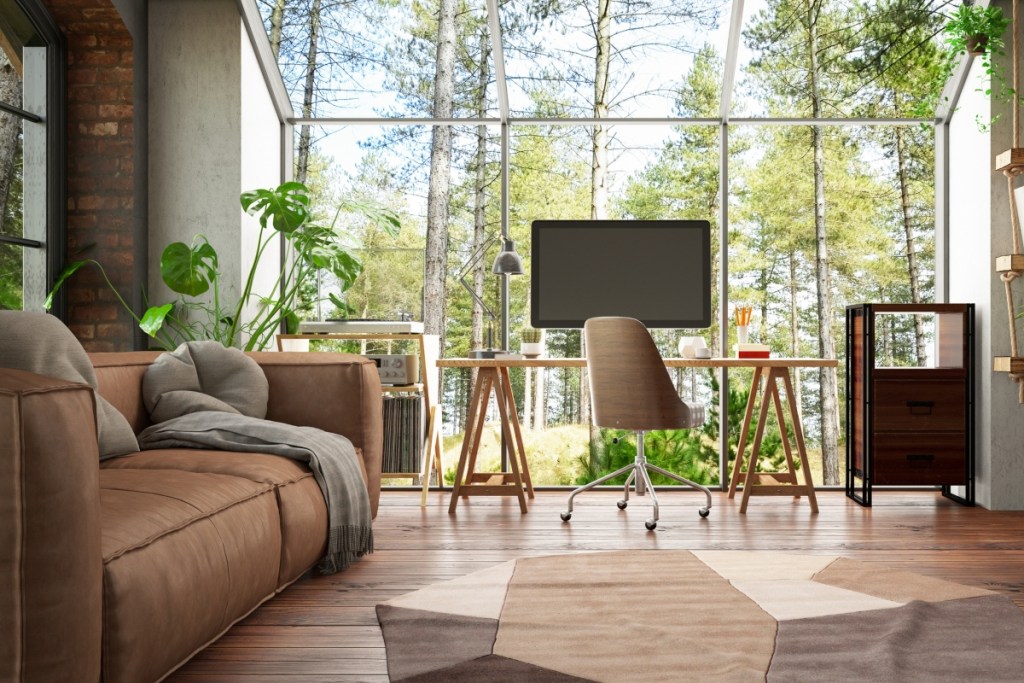 Accentuate your windows and natural lighting
As mentioned above, one of the best ways to create a seamless contemporary industrial design is to emphasize the similar elements of these styles. Accentuating windows and natural lighting is the perfect way to do so. Both industrial and contemporary decor feature oversized, sleek windows with minimal framework. These large windows add a modern touch and often invite plenty of natural light into the space. Both decor styles also use thin, airy curtains or nix curtains altogether to maximize the amount of natural light entering the room. To take advantage of these large windows, limit clutter and any other distractions that pull focus away from them.
Contemporary industrial decor is a modern take on a rugged look, making it perfect for those who love the character of old buildings but the functionality of modern decor. Featuring industrial architecture and contemporary color palettes, these two styles blend beautifully to create a stylish and sophisticated design that will make your pad the talk of the town.
Editors' Recommendations