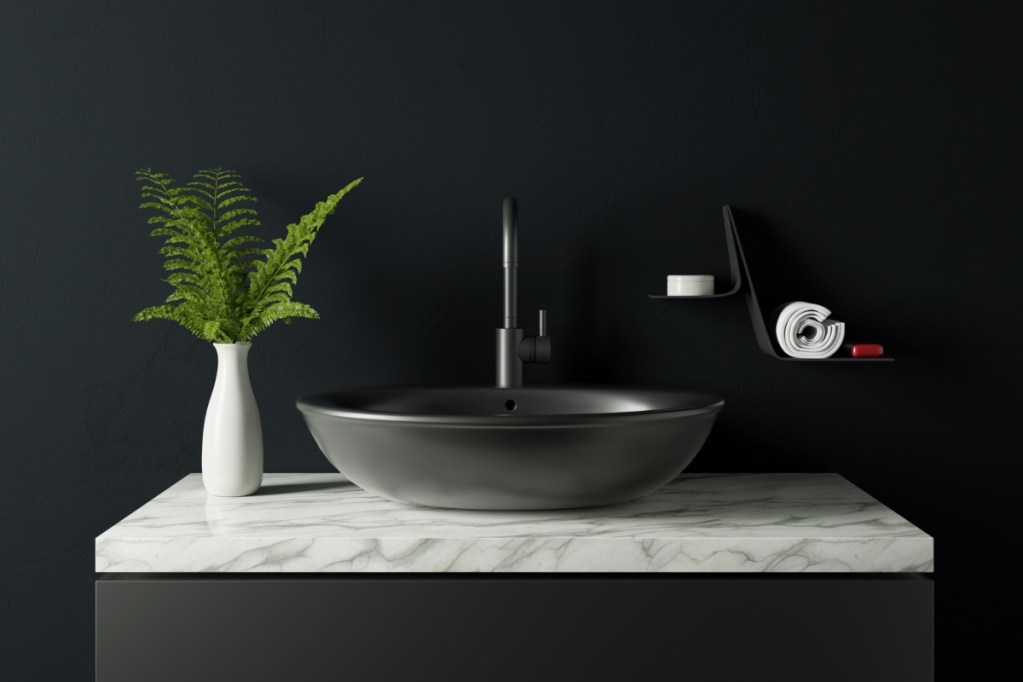 White bathrooms are a thing of the past, as gorgeous all-black bathrooms make their way into our interiors. The all-black bathroom is dark, dramatic, and modern, perfect for creating a warm and inviting space fit for relaxation. But styling an all-black bathroom can be tricky. If done poorly, you might wind up with a space that feels flat and lackluster.
To prevent your all-black bathroom from looking like a nightmare, we've gathered some amazing Instagram designs that are sure to inspire your next update. So say goodbye to the all-white interior and use these tips to create a luxe and intimate aesthetic in your black bathroom.
Open up the palette to additional dark colors
One of the best things you can do for your all-black bathroom is to invite additional dark tones into your color palette. Sure, it's possible to pull off a strict all-black color palette. But for the average homeowner, using a few additional dark colors may be beneficial to create more visual interest.
Tones like dark green, dark blue, gray, or brown can break up the space and add more definition to an all-black palette. For example, check out this design featured on @gothicdecor on Instagram. The designer used a dark green accent shade on the wall to pair with the glossy black tile throughout the room. This gives the space a more luxe and refined look and prevents it from appearing visually flat or dull.
Consider a feature or statement piece to create a focal point
The biggest hang-up homeowners find when styling an all-black bathroom is making it feel like a flat, one-dimensional space. When you use the same color repeatedly, it's easy for the design to feel lackluster or monotonous. To prevent this from happening, add a feature or statement piece to the room to create a natural focal point. The focal point will draw the eye and create more visual appeal.
Take a look at @lux.interiors on Instagram, who shared this stunning black bathroom designed by @klukva.interior.design. This all-black bathroom features a light-toned wooden shelf with additional lighting to highlight the statement piece in the room. This shelf naturally draws the eye and creates a focal point in the design. To create your own focal point, mimic this design by adding a statement color or texture to the room through a shelf, wall decor, mirror, or cabinet. Placement is key, however, so be sure to keep the focal point central to the overall design.
Blending nature with the dark tones
With @placefortyeight on Instagram, they show us the importance of blending natural and organic decor with a dark color palette. You want the bathroom to feel warm and intimate, not overly dark and dismal. So, to achieve a mature and sophisticated look, add natural materials like wicker, tweed, wood tones, and plants to accentuate the space. Additionally, metals like copper and bronze have a natural quality that can spruce up your bathroom and break up the monotony of black tones while adding a more organic touch.
Add wood textures to create a warm and natural aesthetic
Wood textures and black color palettes seem to go hand in hand. The black hues offer the perfect backdrop, while the wood materials create stunning focal points and accent pieces. If you're styling an all-black bathroom, consider adding wood accent pieces like @bungalow.am.feldrand on Instagram. In this design, we can see that the designer opted for a unique wooden counter by the sink and additional wooden details on the shelf. These wooden materials add a warm and natural aesthetic, breaking up the dark color palette and offering a more biophilic touch to the design.
Be intentional with tile and stone to add more variety
Since all-black bathrooms pose the risk of generating a flat and lackluster design, it's important to be intentional with your choice of materials. Mixing matte and gloss tiles can be a great way to create more dimension in the space and prevent a flat look within the design. Choosing various tiles, decor, and other materials to place in your bathroom will make the design more visually intriguing and lively. Additionally, choosing tile or stone that adds an organic touch helps prevent the all-black interior from feeling too cold or impersonal.
Consider this design by Instagrammer @sheffieldsemi1930s. The designer opted for an organic stone sink with a wooden counter to help create a focal point in the all-black design. Also, the copper tub and glossy tile add variety to the entire aesthetic, making the space feel natural and inviting. Be sure to use a blend of textures to enhance your bathroom design.
The all-black bathroom has gained much popularity as homeowners turn away from the all-white bathrooms of the past few years. However, this new aesthetic presents a unique challenge to make a space that doesn't feel flat or underwhelming. But by adding additional tones, a variety of textures, and more natural elements into the design, you can create an all-black bathroom that feels luxe and cozy, perfect for your needs.
Editors' Recommendations