The new year is always a time for new beginnings, and what better way to start the new year off than with a new bathroom design? If you've been thinking about remodeling your bathroom, 2023 could be the year to finally take the plunge. We have five awesome bathroom design trend ideas that you will love — keep reading to find out more from design experts about adding one (or more) of them to your home's decor.
Technology
It seems like technology advances more every year, and 2023 will be no exception. Dave Adams, the VP of marketing, entertainment, and home office furniture at BDI, said, "You can expect technology to have a home in every room of the house."
Not only will smart home items, such as lightbulbs controlled by a central hub, continue to pop up in rooms like the bathroom, but expect to see more technology incorporated into items like showers and faucets. You don't think you need a smart shower until you experience the luxury that is stepping into a preheated and steamy shower on a cold morning.
Home spa
Carrie Schulz, the head of design at Block Renovation, told us that an increasing trend in home bathroom design is to create a home spa — a calming, warm space where you can relax. She suggested homeowners "work with natural materials, soft textures, and layered neutrals" to achieve this. A towel warmer in the corner will round out the day spa feel.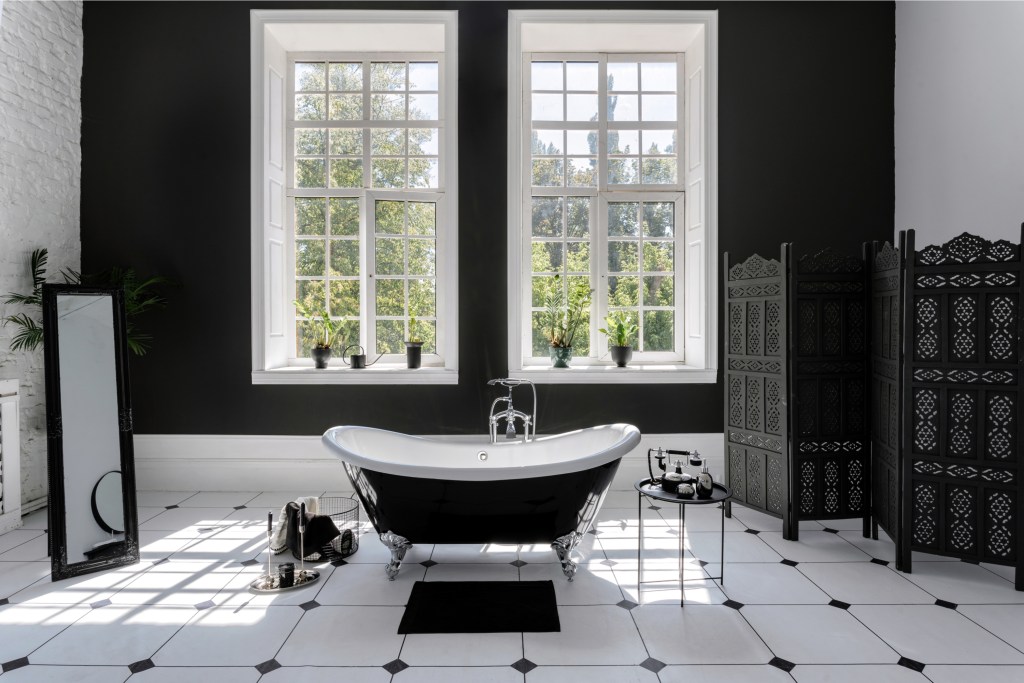 Colors
Schulz reminded us that greens, blues, and peachy tones will remain popular color choices in 2023. Light colors in the bathroom give the space an open and airy vibe, which is necessary for many bathrooms. Schulz also stated, "it's a bit easier to clean since you can better make out things like strands of hair or dust."
Geometric shapes
If you want to give your bathroom a bit of a modern personality, consider using geometric shapes. "Playing with geometric shapes and forms is a great way to keep a space dynamic, while also keeping things clean. Think freestanding tubs, column sink basins, round mirrors, and light fixtures," said Schulz. Don't be afraid to try a shape that you wouldn't normally pick — that's kind of the point.

Update fixtures
If you're not ready for an entire bathroom remodel, swapping out a fixture or two can work wonders. "Add personality by swapping out a dated sconce for an architectural light, update your medicine cabinet for backlit mirrors, or add a pop of color with a new faucet," Schulz suggested. This is also a great opportunity to incorporate some new tech or fun shapes.
Home design trends come and go, but one thing that never goes out of style is a bathroom you actually want to spend time in. If your bathroom could use a facelift, one of the five ideas above will surely give your bathroom some new life. Whether you're looking to do an entire remodel of your bathroom, apply a fresh coat of paint, or just swap out a fixture or two, one of these ideas will suit your decor ideas. What better way to ring in the new year than with a new bathroom design!
Editors' Recommendations