The bathroom is one space where you need a lot of storage. Whether it's for towels, makeup, hair products, shaving equipment, or any other items you need to get ready for work in the morning or a night out on the town, you want easy access to these items when you need them. If you have a small bathroom, it can be difficult to find somewhere to keep all of your toiletries and tools. So, how do you organize the space effectively without sacrificing the overall aesthetic?
Finding functional storage that is also stylish shouldn't be a challenge — you just have to know where to look. These four storage methods for your bathroom will give you the space you need, all while looking gorgeous and staying on budget.
As with any remodel, though, proper planning is key. Before you decide on anything, remove everything from your bathroom and take stock of what you have. Throw away or gift any unused or duplicate products, or place them in a hall closet until you need them. Bathroom cabinets can get messy, and cleaning them all out before you add storage will give you an idea of exactly how much additional space you really need. Plus, you just may find that face lotion you bought on your travels and forgot about, so it's a win-win.
Add shelving wherever possible
For bathrooms that have a floating sink or vanity, use the space below it and add another floating shelf to store towels and accessories. Dress up the shelves a bit by keeping things like cotton balls, Q-tips, and soaps in glass Ball jars. If you don't have room for another shelf below the sink, invest in a few baskets for your towels and washcloths. Dark wicker baskets work for a rustic, farmhouse look, while metal finishes elevate contemporary designs.
Add a bar cart
Bar carts aren't just for alcohol and glasses. Use one with wheels to create additional storage in your bathroom. These carts are available in simple and ornate designs, so you can find one that best fits your bathroom's scheme. With this mobile set of shelves, you can keep hairspray, gel, lotion, extra toilet paper, and other necessities close by at all times. Then, if guests come over, you can always wheel it out of the bathroom and into a closet to provide a roomier space that's a little less cluttered. For a more permanent solution, incorporate the cart into your design and add candles, plants, and essential oils to its shelves for a more luxurious look.
Purchase a storage ladder
Over-the-toilet or freestanding storage ladders can squeeze extra storage into a small bathroom. No more searching in cabinets for your face wash or extra shower gel. Shelving ladders provide plenty of space to stack what you need on them, keeping everything visible and available at your fingertips. You can also put candles, picture frames, and books on it to create a design focal point for the space.
These ladders are available without shelving as well. If you just need a spot to hang towels and robes, grab a ladder with rods or shallow steps.
Bonus: If you don't like the look of a ladder, you can create the same effect using floating shelves or hanging baskets above the toilet.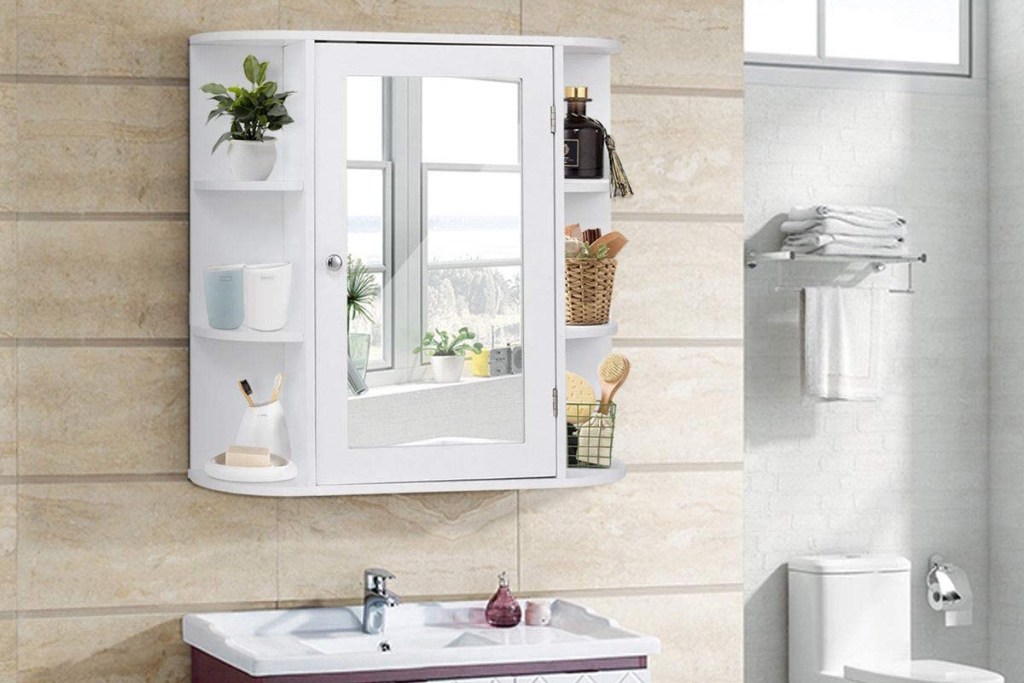 Find a deep medicine cabinet
Medicine cabinets are not an especially trendy feature right now, but they're certainly space savers. It's so easy to reach behind the mirror to grab your toothbrush or lotion, and the vertical storage ensures all of your items are visible. Medicine cabinets also come in many shapes and sizes, so you'll be sure to find one that works with whatever space you have in terms of both fashion and function.
Often medicine cabinets sit above the sink, but many choose to install them over a toilet. It all comes down to personal preference. Many mirrored options come with built-in lighting to make getting ready in the morning breeze, like this one from West Elm with contemporary metallic finishes. If you want a more rustic look, find some old cabinets at an antique store and refurbish them with a little sanding and a new coat of paint.
All of these organizational methods are relatively cheap to implement, and they're all DIY-friendly so you can transform your bathroom into the (organized) oasis of your dreams over the course of a single weekend.
Editors' Recommendations