To install or not to install floating kitchen shelves — that is the question many designers and homeowners ask themselves these days. Floating shelves have risen in popularity over the past decade with the farmhouse design trend, and are often found in more modern kitchens to complement a sleek design and linear look. But are they right for every kitchen and every homeowner? The answer is no. There are tons of ideas for kitchen floating shelves on the market, but pulling them off can be tricky.
Floating shelves can be perfect near awkward corner cabinets and give you much easier access to your most-used kitchen items, but you'll want to have a really good concept of exactly where to use them, how deep they should be, and how to make the most of them before you begin. Here are a few things to keep in mind.
The pros and cons of kitchen floating shelves
If you're remodeling your kitchen, you may be asking yourself, "Are floating shelves good in the kitchen?" The answer depends on your personal style and commitment to cleaning. Here are a few pros and cons to consider.
Pros:
Modern, on-trend design
Easily display gorgeous kitchen glassware and decor
Ideal for breaking up rows and rows of cabinets
Perfect for areas (like corners) where cabinets don't work
Help the kitchen feel open and airy
Cons:
Dust, dust, and more dust
Difficult to keep clean
Less storage space than cabinets (if replacing large cabinets with shelves)
Not ideal for people with a lot of "stuff"
Can be dangerous if you overload them with too much weight

What do you put on floating shelves in the kitchen?
Floating shelves can be used for a variety of purposes and come in many shapes and sizes. Depending on the length and height of the hanging shelves, there are a lot of options when it comes to decorating them. If the goal is to use them for functionality only, you can stack dishes, mugs, and glassware on the shelves, giving you easy access to grab what you need. If the goal is to use them less for storage and more for design, you can line them with candles, signs, spices, and other decorative plates and bottles. We're of the "less is more" opinion when it comes to the kitchen so things stay clean looking and your eye isn't drawn in too many directions.
You can also buy shelves with hooks underneath or install them into the wood to create a space to hang coffee mugs or tie fresh herbs for even more storage options.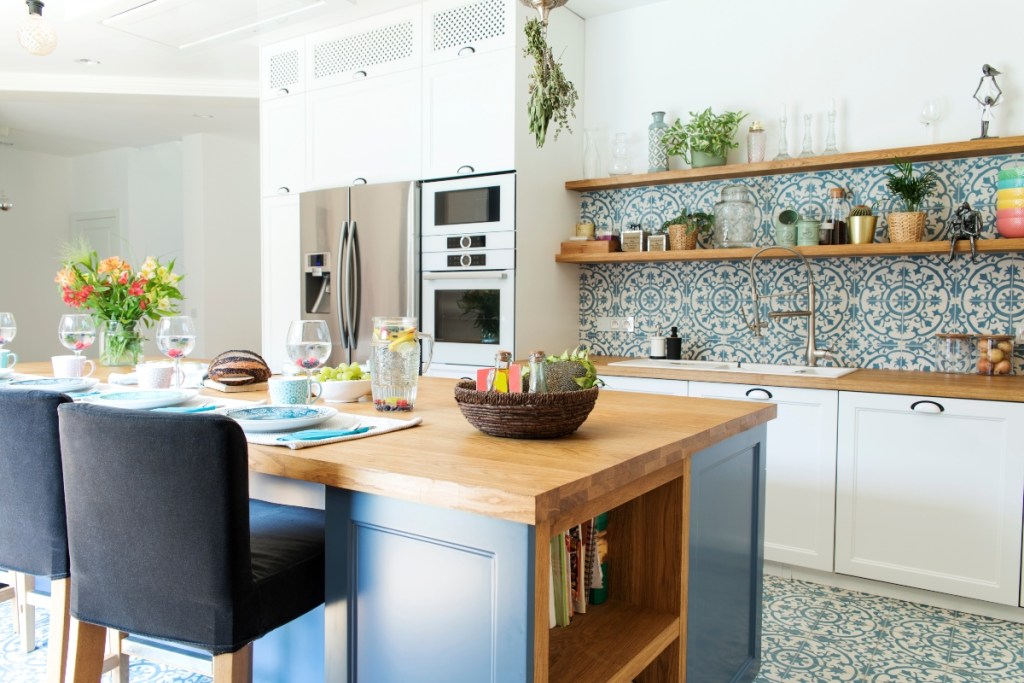 How deep should kitchen floating shelves be?
Typically, shelves that are 10-12 inches deep will work for most dishes and decor. One question many people ask is, "Do you install floating shelves before or after the backsplash?" For the most support, we recommend installing them before any backsplash to ensure they are anchored into the wall studs. If you want to keep heavy items on your floating shelves (i.e., cookbooks and large pots) or your shelves are long and deep, buy the strongest anchors available and make sure they are placed every three to four inches for the most support. You don't want to overload your shelves and create an unsafe disaster in your kitchen.
If you already have tile up on the wall, enlist the help of an expert to chisel out the tile where the anchors need to go. Repatch the walls and replace the tile once the shelves are secured.
We love the concept of floating shelves in the kitchen. They break up the monotony of long rows of cabinets and can be used in a variety of kitchen designs — from farmhouse to modern to boho. If you are a minimalist, you can place just a few significant items on the shelves to keep the room looking tidy. If you're more of a maximalist, you can place jars, pictures, plants, and other colorful items to bring a little personality into the space.
Floating shelves can be hung in corners, above the sink, in one line underneath a row of cabinets, or can replace most or all upper cabinets in a kitchen. It really depends on your individual style and what you want your kitchen aesthetic to be. Just keep in mind items on the shelves (and the shelves themselves) require a lot of care and dusting to keep the room looking clean. Dust builds up quickly, so make it a habit to wash items on the shelves weekly. The only thing left is to sit back and admire your hard work and the beautiful kitchen you've created.
Editors' Recommendations