Rustic touches in interior decor are very in style right now, and one of the best ways to achieve this look is with distressed wooden shelving. Though they add the perfect touch to a country-style home, this feature can also complement a more contemporary style, adding warmth and character to balance out the strong lines and industrial accents of modern decor. This is excellent news if you don't want to renovate your house but would like to spruce up some rooms with a conversation piece.
If you're looking for rustic shelving ideas, you've come to the right place — we've scoured through hundreds of options on Wayfair and narrowed it down to our favorites. If you'd rather roll up your sleeves and customize your own, take a look at these options for a hit of DIY inspiration.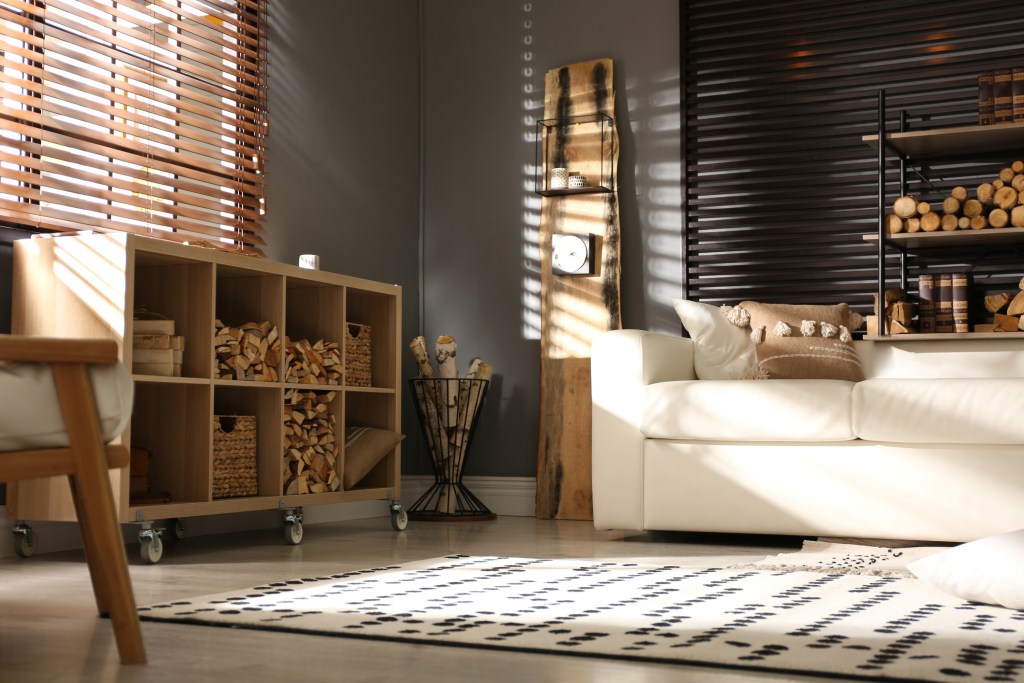 Spread out decor in your living room
You can often transform a living room with just a few well-chosen pieces. Simply add a shelf or two to any bare wall that could benefit from more storage to add more visual interest to the room. If your end tables, existing shelves, and mantle are crowded, installing a floating shelf or two can spread out the decorations and give the room a cleaner look. If you think you don't have the space to add some houseplants to your living room, think again. Installing two or three shelves like these will give those plants a place to thrive.
Add storage in your bathroom
The bathroom can always benefit from a little extra storage space, so why not remodel to add fashion as well as function? Even if you don't have a ton of square footage in your bathroom, adding a shelf or two can make the room appear larger since the shelves eliminate clutter.
If you have the room above your toilet, a multi-shelved unit with a towel rack like this 3-Piece Cedar Solid Wood Tiered Shelf can store extra towels, toilet paper, candles, and more. The reclaimed look also adds a touch of warmth to the coolness of the tile.
If you don't have a ton of room for tiered shelves, pare it down and just install one. This Devyn Floating Shelf comes in four different colors, so you'll certainly be able to find one that matches your current color scheme.
Last, corners are often wasted space because they're difficult to decorate and utilize. Instead of leaving them bare, try out some corner shelving units.
Organize your accessories in your bedroom
Even if you don't spend a ton of time in your bedroom, you can still benefit from a shelf or two in there. Shelves with hooks are a great feature to organize clothes, belts, hats, and more off of the floor and declutter your room. Also, kids love having their own shelves to hang their backpacks and coats on, so a shelf or two in their rooms can't hurt either.
We also recommend placing a large wooden shelf above your bed. This decorative feature can give you a place for keepsakes, candles, picture frames, and more.

Save space on your kitchen counter
In the kitchen, there's no such thing as too much storage. Trying to organize all the spices and condiments as well as your newest tools and gadgets in this area can be a challenge. This is a great opportunity to incorporate rolling shelves. This way, you can bring in small tools and appliances when you need them, and roll them out when you need a little more floor space.
If you do have some wall space to play around with, install a shelf above the stove to hold the seasonings and oils that you use the most so they're within reach while you're cooking.
Shelves are key to maximizing storage, improving organization, and reducing clutter. Wayfair is full of hundreds of options for any budget and any aesthetic, so you're bound to find a few that capture your personality. If you don't have the time or energy to sift through all of the options on the site, start the fan-favorites above. On the off chance that you don't find the perfect piece, don't be afraid to flex your DIY muscles. Pick a simple wooden shelf and play around with different stains and paints to make a unique piece that's tailor-made for your space.
Editors' Recommendations