When you want to try something new, where do you go first? Likely, the answer is YouTube. Whether it's learning how to install an air conditioner or repair a leaky faucet, countless doers share their expertise with the world via YouTube, making it one of the greatest sources for tutorials and instructional videos.
If you have the bug for redecorating or upcycling, there are plenty of YouTubers that can provide some fresh inspiration and high-quality how-to videos. These six channels deliver excellent content in entertaining and informative ways. Whether you choose to follow the videos or use them to inspire your own creation, you'll love following these crafty DIYers.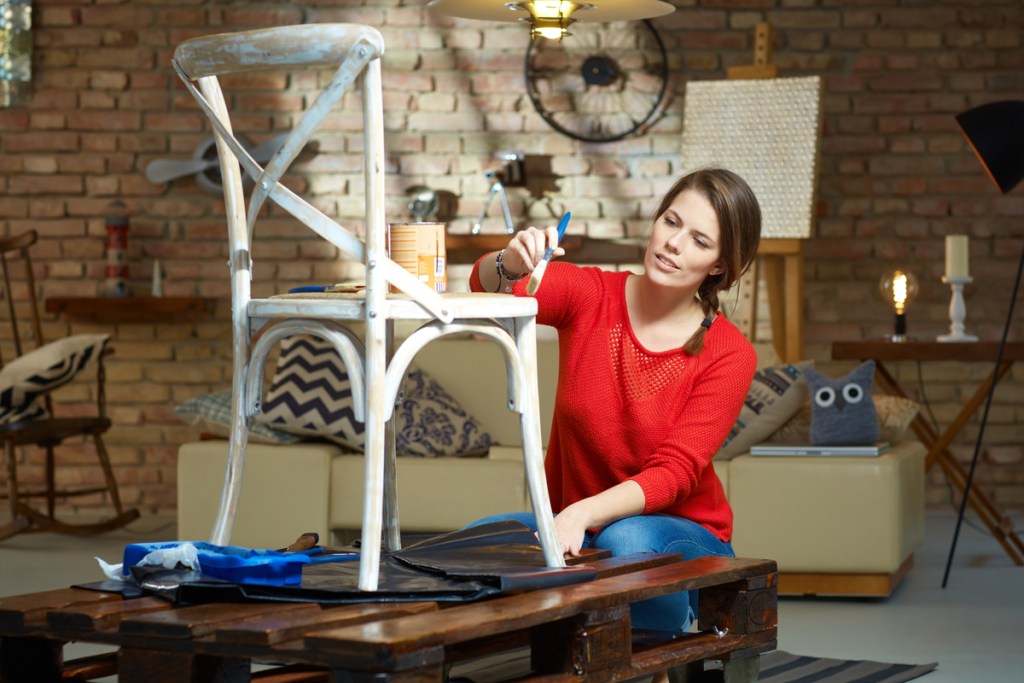 With over 746 thousand followers, Made Everyday with Dana features a huge variety of easy-to-follow DIY instructional videos about all things sewing. On this channel, you will find tutorials teaching you to sew your own clothing, bags, baby items, and quilts. Additionally, Dana also shares detailed technique videos to boost your skill level. The projects are fairly simple, using common items and leaving enough room for you to exercise your own creativity. Start watching to learn the basics, and walk away with all the tools you need to take on your next big project.
Handmade by HGTV is a crafting and DIY channel that shares new project videos each week. While the television channel features the biggest names in home design, the YouTube channel highlights smaller DIY bloggers, giving them opportunities to share their skills and present their newest projects. With videos about remaking thrift store specials, propagating houseplants, creating unique home and holiday decor, and much more, HGTV Handmade offers a little bit of everything crafty. Join this channel's 630 thousand subscribers and try your hand at a new skill.
ThreadBanger is the channel for DIY projects that are a little off the beaten path. Boasting more than 3.75 million subscribers, this channel has a quirky, fun, and upbeat approach to its DIY projects. Man vs. Pin and Corinne vs. Pin, the two hosts try their hand at trending Pinterest projects to see just how doable the pinned posts really are. To see more of these YouTubers in action, check out the other playlists including Man vs. House, Man vs. Science, and Corinne vs. Cooking.
Alongside the popular DIY website of the same name, this channel is loaded with unique and creative ideas including recipes, home decor, calligraphy, and more. Fans of the classic lemonade/iced tea drink (popularly referred to as an Arnold Palmer) should try out the Lemon Tea Cupcakes recipe, a dessert made with real tea and baked inside a lemon. This channel is also a great place to find boredom-busting projects that only take a day, such as learning how to custom etch glass jars or decorate a room with tape. The instructional DIY videos are concise and easy to follow, sharing everything you need to know to nail the project on your first attempt.
If you thought Etsy was just an online storefront for crafters, think again. The YouTube channel offers deeper insight into small business owners and their crafts, sharing hundreds of instructional videos. Join their following of nearly 80 thousand subscribers and learn detailed DIY and crafting skills from the Maker Processes videos, or follow along with the How-To series to make your own creation.
Aubrey was just a DIY-loving college student studying graphic design when she started this channel. Now, she's the host of one of the most popular crafty YouTube channels out there. Her Dazzle DIY channel has reached 412k subscribers by sharing DIY design projects that are perfect for college and high school students. She specializes in making the most of small spaces, sharing vintage album art, thrifty organizing ideas, and other dorm room (or bedroom) decorating ideas.
Whether you want style inspiration or a step-by-step guide to complete your project, YouTube has an influencer for you. These six popular DIY video channels deliver outstanding content including loads of how-to videos and craft-along videos that cover a wide range of creative topics. Once you hone your skills, you might even be inspired to join the ranks and create your own DIY channel. Let us know if you do, and we'll add you to the list!
Editors' Recommendations