Many people get bored with their furnishings and décor — it happens. When it does, why not push yourself out of your comfort zone and try out a few trendy, new home designs? If you're on the hunt for a different style, consider incorporating rustic home décor into your space. The best part is that you don't need to undergo a full-scale renovation to get a taste of this aesthetic.
Blend a few rustic pieces with your existing design to create a unique style that's a little cozy, a little luxurious, and entirely you.
Rustic themes with modern accents
If your home is already a little rustic, bring it into the 21st century with touches of modernity. The easiest and least expensive method is to keep the statement pieces and update the decor. Keep the furniture and heavy heavy objects in place and your wallet (and your back) will thank you.
Utilize modern accents and strategically place decorations that will show your guests that you've taken a rustic theme and made it all your own. For instance, add sleeker elements like granite (or quartz) countertops in the kitchen, oversize bathroom mirrors, and glass side tables. Consider hanging solid picture frames and dark, square lighting fixtures to add a contemporary flair.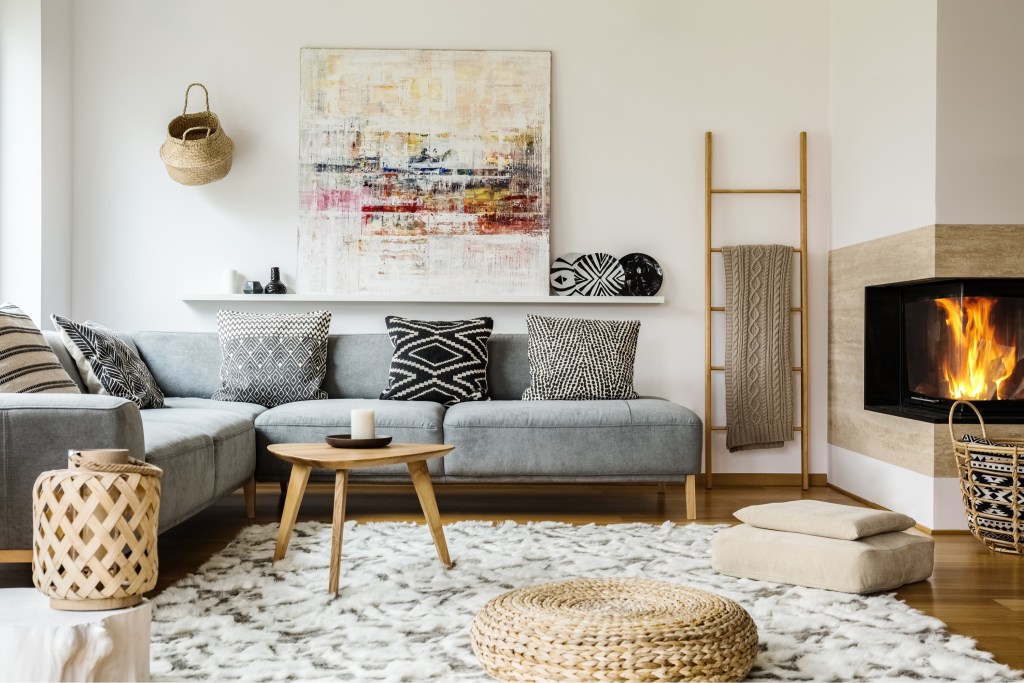 Modern themes with rustic accents
On the other hand, you might live in a high-rise apartment or modern house in one of the newest developments in town. Despite the modernity of your home, you can still include elements that bring in comfort and a touch of history.
Warm up the kitchen by adding a large wooden farmhouse table to gather around for family meals. In general, wooden pieces are a quick and easy way to add a rustic flair to the room, so look for wooden side tables, picture frames, and shelves. Also, start using dried flowers in vintage vases along with decorations that once saw real-life use on a farm. Think butter churns, milk buckets, horseshoes, and other items that can be upcycled to become storage or unique wall decor. A few strategically placed vintage pieces of furniture can add a touch of antiquity to your space, even if the house was built only a few years ago.
Long story short, carefully placed accent pieces are the key to finding the perfect balance between rustic and modern styles. In a house ruled by rustic furniture and architecture, bring in stainless steel or minimalist accents like a large overstuffed sofa or simple, clean rug. On the flip side, placing a big antique sideboard in an otherwise updated dining room prevents the area from looking too cold and uniform.
Create a dedicated space
Sometimes mixing and matching just might not work as a blended theme throughout your entire house. It may end up looking busy, confusing, and as if you couldn't decide between two styles. That's okay — when it doesn't work, it doesn't work. However, you can always create a specific room or an area of a room dedicated to one style or the other, no blending necessary.
Just keep in mind that some spaces lend themselves more to one style over another. If your home's architecture and vibe are more modern, then you may want to keep big family spaces like your kitchen and living room in that same style. On the other hand, you could easily set up bedrooms and bonus rooms with comfy rustic-styled furnishings accented with folk art on the walls.
The final word
By bringing together more than one style and artfully integrating them, you can create a visually interesting space that has layers of textures, designs, and impacts. Following one design to the letter can end up looking boring and maybe even a little cookie cutter. While the houses in the most recent issue of Architectural Digest may look jaw-dropping, keep in mind that that's someone else's style and vision. Take inspiration from these styles and mix it with other influences to create a space that's uniquely your own.
There are no rules in today's world. Who's going to judge you for experimenting with new furnishings and décor? Not many. With a little imagination and a weekend or two of remodeling, you can make it work.
Editors' Recommendations