Many contemporary homes have open-concept living, meaning fewer walls and shared space between rooms. It's a great idea for those who entertain or want minimal disruption between spaces. It's also good when you have small children and want to keep an eye on them while you're cooking, folding laundry, or watching TV. If you have one large area for your living room and dining room, there are some things you can do to get the most out of each room.
Of course, there's a lot to consider when it comes to which colors to choose, how to arrange furniture in a living room/dining room combo, and what wall and other decor can be used to blend the spaces together. Here's how to find the right mix that works in one collective space.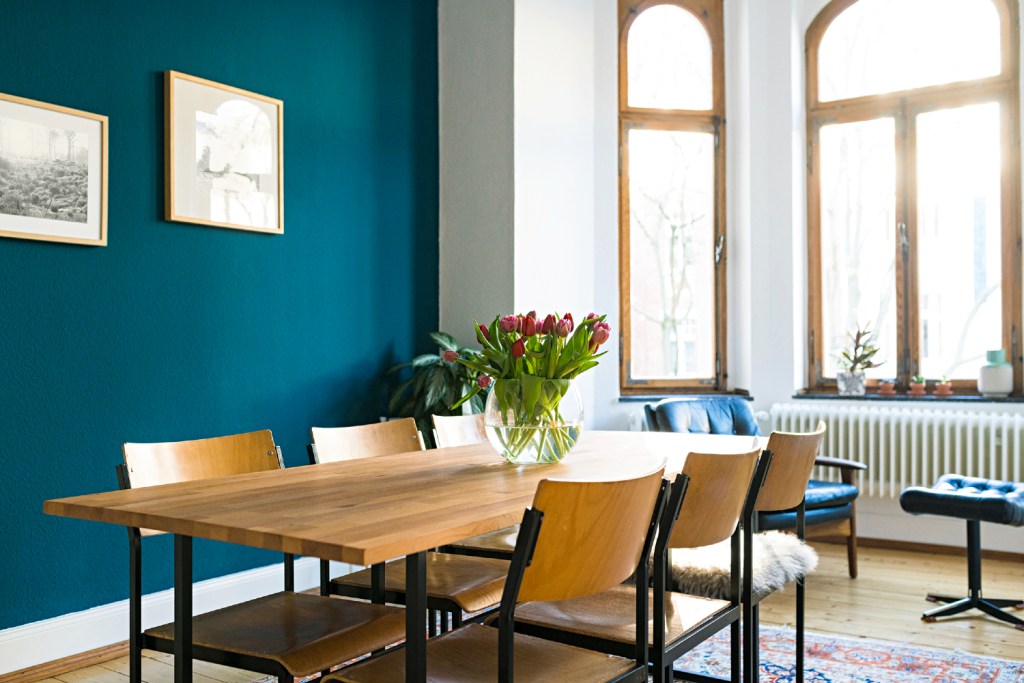 Small living room/dining room combo ideas
If you're dealing with a relatively small space, where and how you place furniture becomes a big focus.
Create cohesion with furniture of similar heights
Instead of making two distinct spaces with a small room for each, you can combine the room by using similar heights of your living room sofa and dining table so it looks like one cohesive room.
Use area rugs to create "rooms"
Adding an area rug underneath the table gives it a bit of definition as its own "room" without sectioning the spaces off from one another and making it feel even smaller.
Downsize your furniture
We recommend using a smaller dining table or round table with four smaller chairs so that there is still adequate room to walk behind furniture. For the living room, choose a smaller sofa, and instead of armchairs, try using two larger poufs, so your line of vision carries throughout the length of the room.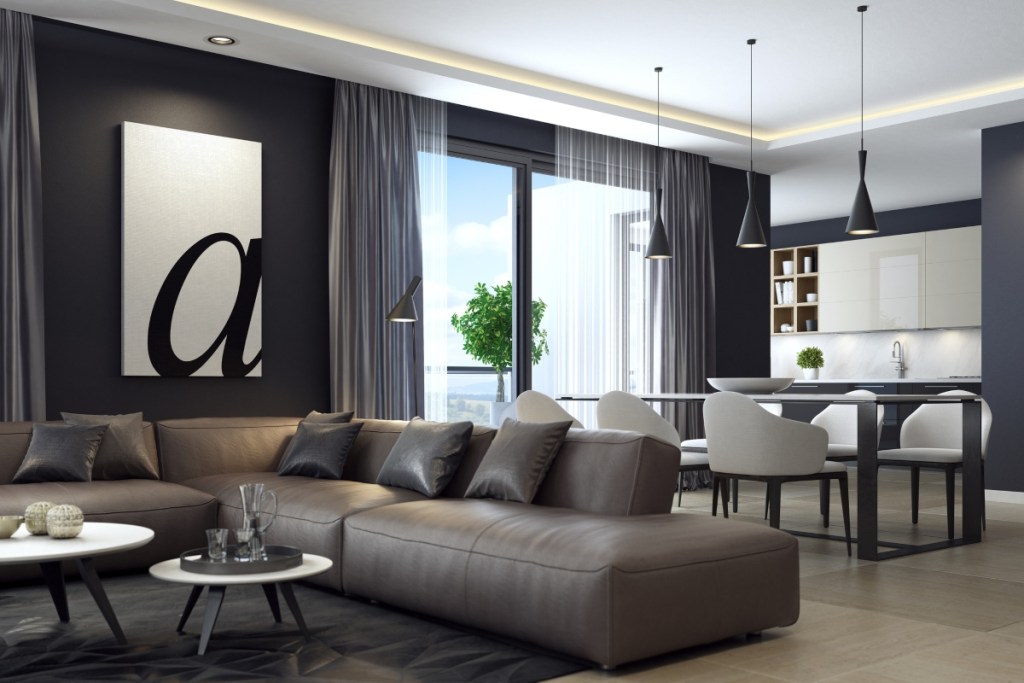 How to arrange furniture in a living room/dining room combo
If you want to create two distinctive areas
Close off the living room with a sofa table at the back of a sofa pointed away from the dining table. That will give a sense of one room ending and another beginning. You can still blend the two by using similar color palettes, carrying warm metals in lighting and hardware, but it defines each space as its own.
If you want the spaces to flow together
Consider placing two couches parallel to face each other with a small table in the middle. That leaves the room open directly to the dining space, which works well if you entertain a lot and can be used as extra seating for guests. This also works well if you have a rectangular living room/dining room layout.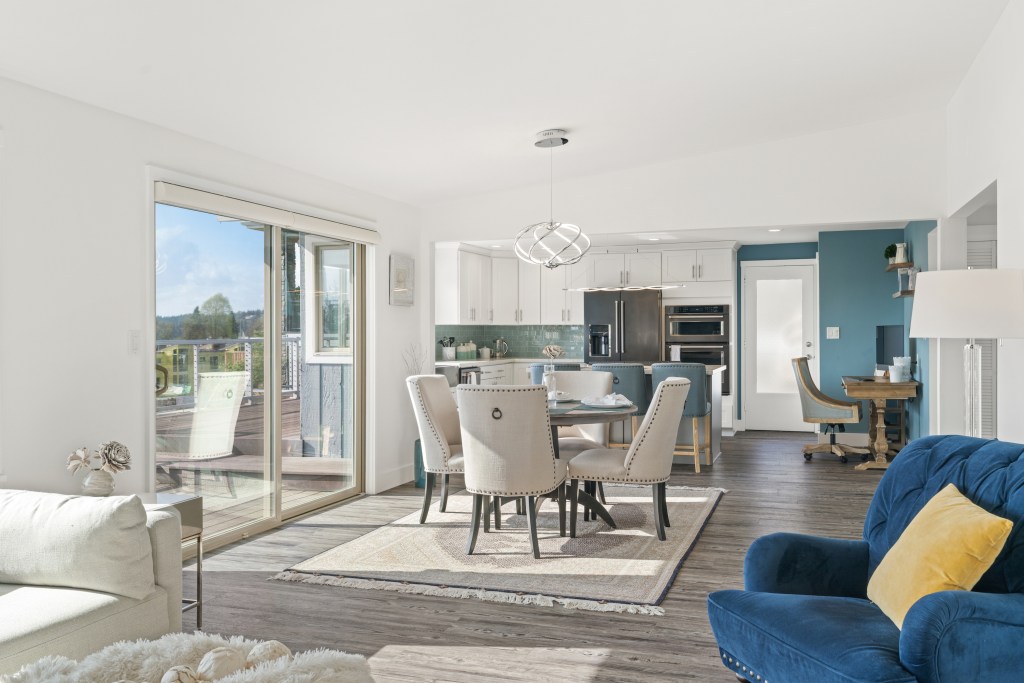 Minimalist furniture layout in living room/dining room combo
If you want to make the most out of a small space, try minimalism for a design choice. This means less "stuff," including furniture and decor, which keeps the room feeling open and airy.
Draw the eye up
If you have a fireplace in your living room on one wall, use the mantel to decorate with some taller decor, like taper candles, to draw the eye up. This can also be accomplished with tall floor lamps next to a sofa or curtains placed high up on the wall to give the illusion of a taller space.
Use statement pieces
Leaving the room feeling a bit less stuffed full of things allows you to play with the decor you do use. Statement pieces like an area rug between the living room and dining room or wallpaper on one wall will blend the two rooms together without feeling overwhelming.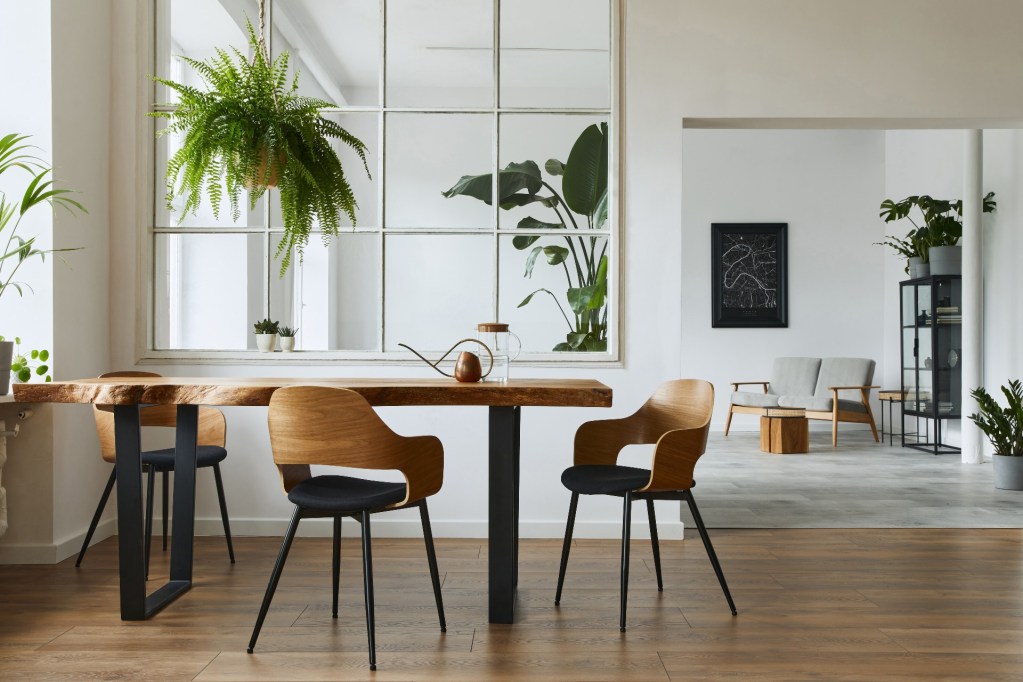 Decorating a combined space
Once you have the furniture set, you can play around a bit with the colors and style of each space. If you prefer your dining room to feel more formal, you can use traditional furniture and decor while still keeping your living room more casual. The key is to find a few materials or colors you like for both spaces and blend them together so the overall aesthetic is cohesive. Perhaps that's a rattan basket that matches the tones in your dining table or couch pillows that have the same color palette as your dining room chair cushions.
Focus on the pathways and use empty space
Homeowners often struggle with creating clear and defined pathways that enhance the flow of the space. A zigzagging walkway between the dining room and living room will create too much division and appear visually cluttered. Not to mention that it will also make both rooms trickier to navigate! Instead, focus on clean lines and utilizing pathways as empty space.
Keep a few feet of clearance between the dining table chairs and wall to allow plenty of movement. Then, allow the path to flow either between two sofas into the living space or behind/beside a sofa with plenty of room for clearance. If the walking path is interrupted by a sofa, chair, or table, it will break the flow and make the space feel too closed off. Take advantage of empty walking space to create proper pathways through the home.
Playing with textures and fabric can help join dining and living spaces together without making them look like exact replicas of each other. Feel free to mix metals, fabrics, and colors to add character without feeling disjointed. You can also select a piece of furniture — say a wheeled metal bar cart that can be used to entertain in both rooms — and place it in the middle to help join the spaces together.
Editors' Recommendations