When styling a small laundry room, you've likely struggled to find a paint color that brightens the space. The challenge with small laundry rooms is that they often appear dark, bleak, or dingy, making your already small area appear more cramped than it actually is. To prevent this from happening in your home, it's best to choose laundry room colors that help illuminate and expand the room's look. We've chosen four amazing paint colors perfect for opening up and brightening a small laundry room.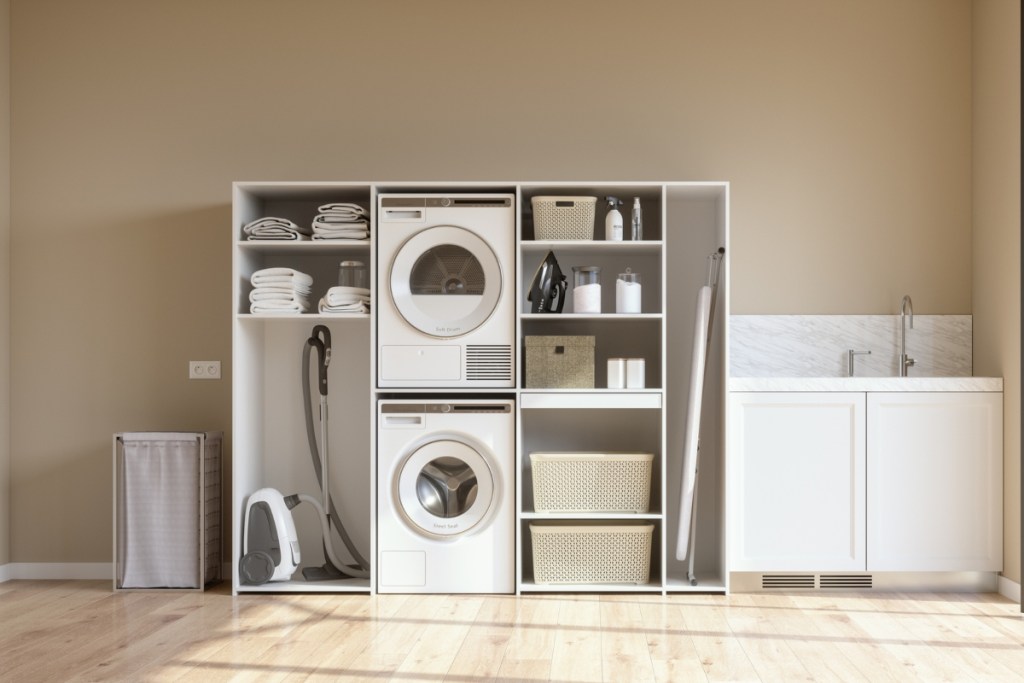 What is the best color for a laundry room?
White
One of the best and most popular paint colors for laundry rooms is white. White is often used to help brighten and expand the look of the space without detracting from your existing home design. For many homeowners, white is the perfect go-to shade for this cramped area of the house because it's a color that blends beautifully with any design style while also illuminating a dingy laundry room setup. In addition, as a neutral tone, white creates the perfect backdrop for any interior design aesthetic. From farmhouse to modern styles, homeowners can incorporate white into their spaces and add elements of their preferred interior design aesthetic.
When using white for your laundry room, don't limit yourself to stark whites if you prefer to create a unique aesthetic. Soft white, cream, and even beige can be excellent choices for a neutral laundry room. Choosing an off-white color with blue or yellow undertones also can be appealing in the space by adding more depth to your design. White and off-whites are great shades for small laundry rooms that lack a window or natural lighting because they help to reflect the available light, making the space appear brighter and more open.
How do I brighten my laundry room?
Blue
Brightening a small laundry room is all about knowing how to manipulate the available lighting to create a space that feels open and cohesive. If you lack natural lighting or are working with orange or yellow-based fluorescents, we recommend using blue shades or paint colors with blue undertones to cool down the look of your space. Pale blue, periwinkle, and blue-toned white are great solutions for creating a light, airy feel in your small laundry room. These shades are best for modern, coastal, and traditional design aesthetics.
Yellow
If your laundry room has a window with plenty of natural light, you could benefit from painting your walls a pale yellow or a white with yellow undertones. This will create a vibrant space that feels warm and light. The yellow tones will be reminiscent of a sunset and help produce a relaxing yet expansive feel in your laundry room. This warm shade is also best suited for farmhouse, cottage, and rustic designs that value warm colors to create a cozy atmosphere in the home.
Alternatively, a bright yellow can work in some laundry rooms where natural lighting is nonexistent. However, it's recommended that you use bright yellow as an accent tone on a singular wall rather than throughout the entirety of the space, as yellow can sometimes appear too demanding or overwhelming for some design aesthetics.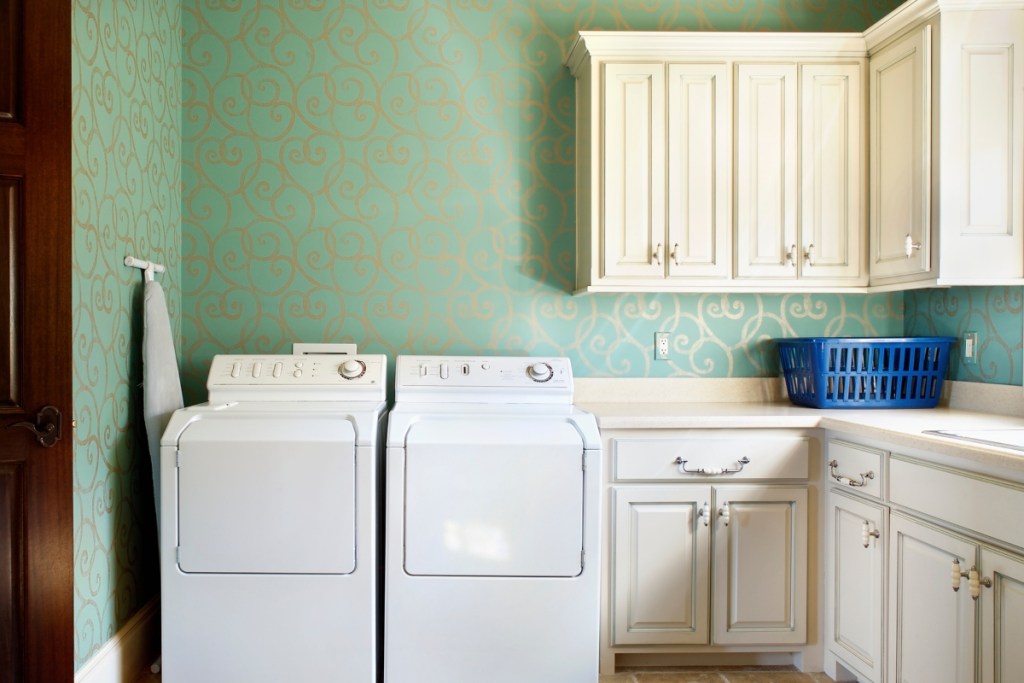 Which small laundry room colors will open up the space?
Mint green
This year, many homeowners are looking for ways to spruce up their spaces without relying too heavily on neutrals. If you're looking for a fun small laundry room paint color that will brighten and open up the look of your space, we recommend trying out a mint tone in your room. Mint green or blue can be a wonderful and refreshing addition to your laundry room. The cool yet earthy tones are perfect for people aiming for more lush and bright effects in their designs.
Additionally, mint-colored wallpaper with a unique pattern can be the perfect accent for your space, allowing you to create a more open and vibrant aesthetic in your laundry room. For people experimenting with the new maximalism trend or who want to try out grandmillennial decor, mint wallpaper can be a fun and unique way to bring pattern and color into your space.
Laundry rooms are tricky to decorate due to their often dark and dingy nature. With little to no natural lighting in most of these spaces, it can be challenging to find the right paint color to suit the look you're aiming for. Fortunately, these four fantastic laundry room colors are great for illuminating and expanding the look of your space without expensive lighting or decor. Try using whites, blues, yellows, and greens to help enhance the appeal of your tiny laundry room.
Editors' Recommendations