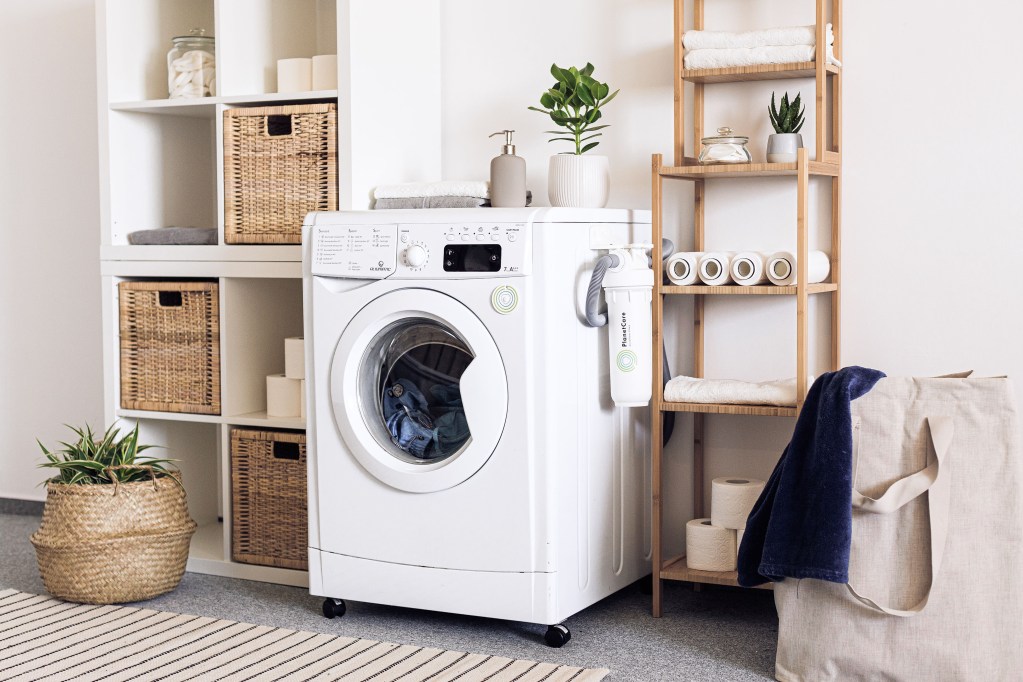 Laundry rooms are notoriously very small. Finding space to fold, iron, or hang clothes is not always easy. Worse, these rooms have a tendency to look dark and dingy, making laundry chores feel more like a hindrance. If you want the experience of doing laundry in your home to be a pleasant one, you'll want to take advantage of some creative small laundry room design tips that will make your small laundry room look huge.
Modern laundry rooms often make use of vertical space, brighten up the walls, and use space-saving small laundry room ideas to make the room look big, even if it's really not. Instead of cramming everything into a tiny room, open up the area with these eight DIY small laundry room ideas.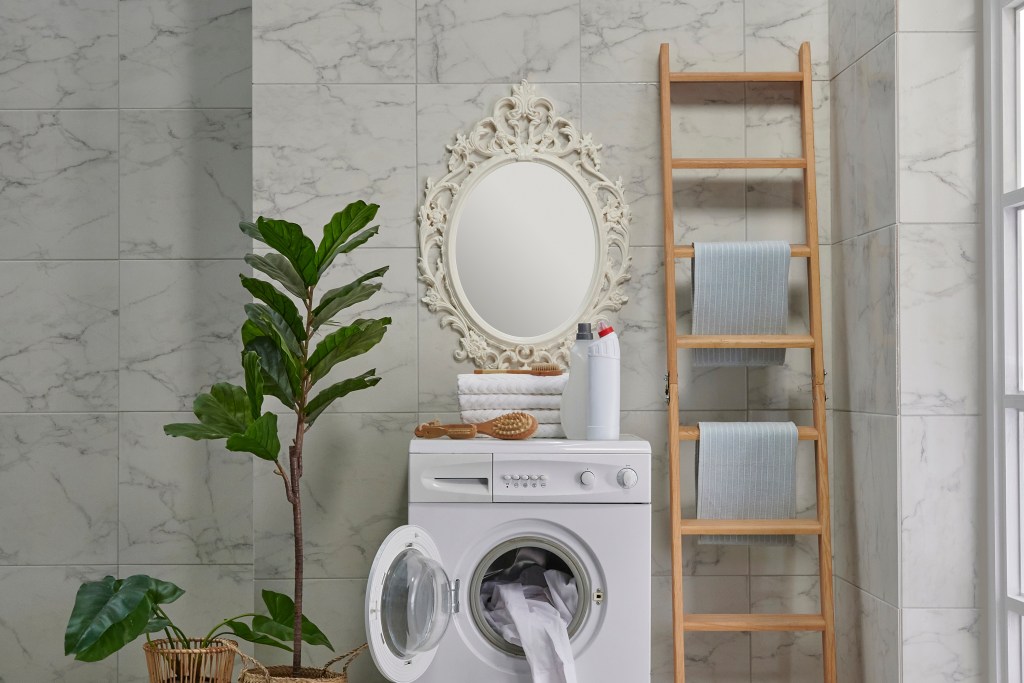 Hang up big mirrors
Let's start with the walls, shall we? Mirrors give the illusion of space within a room. Any type of mirror will do, whether it's a full-length or a circular mirror. We suggest large, floor-to-ceiling mirrors if they fit your space. You can find expansive wall mirrors online, including ones that peel and stick. This functional design technique alone will truly do wonders for making your small laundry room look and feel spacious. (Bonus: If the mirror is large enough, you've got a place to check out your appearance on those days you pull your shirt right out of the dryer to wear.)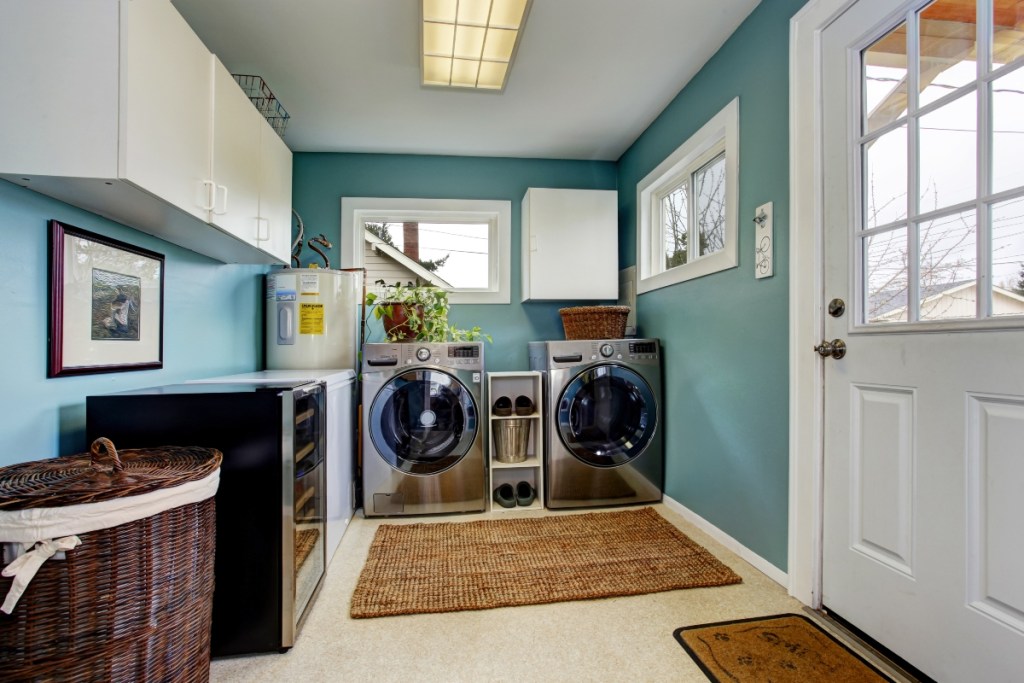 Paint walls a bright color
Dull colors can weigh down the mood of a room and even make it feel smaller than it already is. For laundry room walls, we advise using one bright color, even if it's just on an accent wall and the rest are white. A pop of paint color, whether it's orange, pink, or bright blue, can also give the illusion of space in your small laundry room — and brighten your mood as you do your laundry!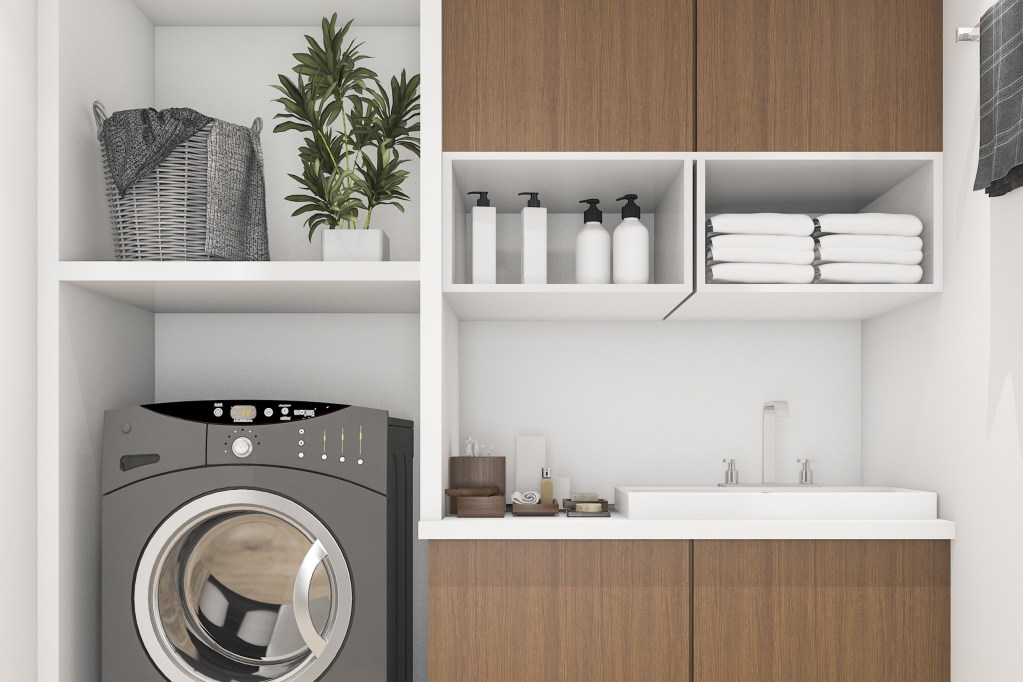 Install vertical shelving
Your small laundry room will inevitably need spots for storage, but where could that be with such little space? We suggest installing simple shelving on the walls to store items such as detergent, fabric softener, and paper towels. Making use of wall space, as opposed to floor space, will be key to making your small laundry room seem huge.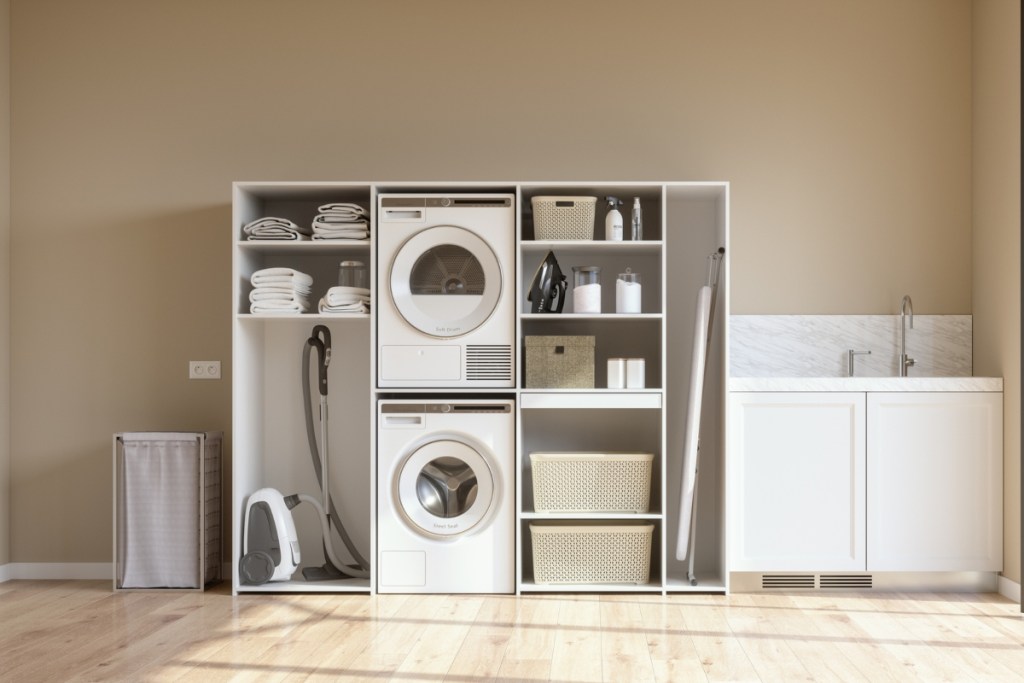 Invest in space-saving laundry units and furniture
If you have a washer and dryer that can be stacked vertically, rather than sitting side by side, this will make up a good amount of space. If not, invest in a large unit on which you can place both the appliances that offer storage both above and below them. If that's not in your price range, you can also buy a metal shelving unit that will give you storage space above the washer and dryer.
Use a foldable drying rack and ironing board
Your laundry room will also need spots for folding and hanging clothes. Rather than having a fixed folding surface and drying rack, use ones that can be folded up and stored away. Anything collapsible is your friend. You can even find drying racks and ironing boards that can be attached to the wall and pushed up when not in use.
Use the space behind the door
Making use of the space behind the door works phenomenally to make space in the rest of the room. You can buy an over-the-door storage piece or over-the-door hooks. You could also hang hooks on the wall behind the door or on the door itself to hang clothes to dry or to hang other items on.
Add open shelving
If you're going to add any other type of storage, we suggest you ditch the drawers and cabinets, and definitely don't use anything too bulky for storage. Drawers and cabinets can give the room a closed-off feeling. Instead, use an open shelving unit, preferably one where you can see through the back to the wall. This will, again, give your small laundry room the illusion of having more space than it does. Plus, it's a place to store things so they don't take up space. Remember to get a shelving unit that's as thin and tall as possible, so you take up more vertical space and less horizontal space, making your small laundry room look and feel so much bigger.
Install ample lighting
One of the reasons your laundry room may feel dark, dingy, and cramped is due to improper lighting. Thankfully, installing ample lighting to brighten your small laundry room is a quick and easy fix. When choosing light fixtures for your laundry room, you don't want anything too large, which could weigh down the space. Instead, seamless, simple fixtures that provide plenty of light are better suited for maximizing the limited space you're working with. Avoid big chandeliers, ceiling fans, or elaborate light fixtures. Rather, opt for lighting like recess lighting, simple wall sconces, round, non-hanging ceiling pendants, or under-shelf LED lighting to best brighten the room. We also recommend going for a whiter light tone instead of a warm yellow, which will help to expand the look of the space.
Additionally, if your laundry room has windows, it's best to opt for sheer curtains or simple blinds, which can easily be opened to allow ample lighting to enter the room. Dark, black-out curtains will close off the laundry room visually, and a lack of light will make the space feel cramped. So, try to open up the windows to allow more light to flow in to help enhance the room's visual appeal.
Small laundry rooms can certainly be a pain, especially since it is a room designed to get done what can be a pretty big task: the laundry. But with some DIY small laundry room ideas, you can transform your laundry room from small and cramped to big and tall in no time. Using mirrors and bright colors on the walls, as well as installing all the right storage units and hanging and folding spots, can give your small laundry room the spaciousness it needs. Try out these space-saving ideas for small laundry rooms if you think yours could use some opening up!
Editors' Recommendations