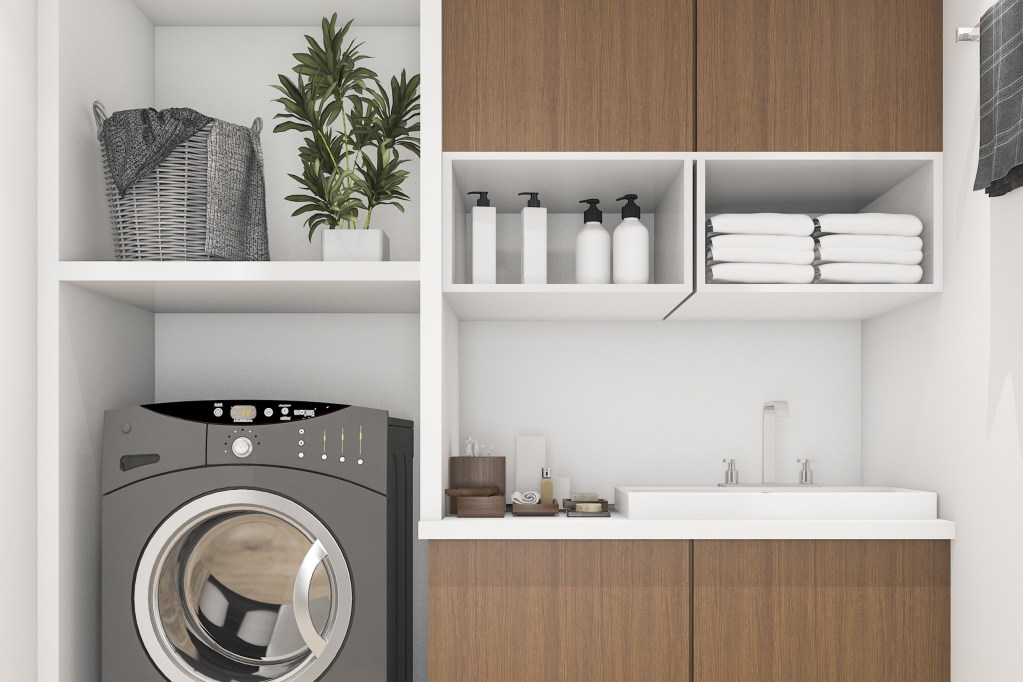 The basement is a great spot for a designated laundry room due to its open layout and utility hookups. Often, though, the aesthetics leave a lot to be desired.
Your basement laundry room doesn't have to be dingy or dull; you can make your space more functional and stylish with a few simple changes. Your newly renovated space may even make you enjoy doing your laundry! Here are eight of our favorite basement laundry room ideas and a few considerations to keep in mind while remodeling.
Use color to energize the space
Basements are usually dark and dreary, but you can add warmth and cheer to the space with the right color scheme. We recommend using light neutrals with a few thoughtful accent colors. For something fresh and calming, choose light shades of green and neutral blues. If you prefer a crisp, clean look, pair white with a soft neutral beige or brown. To add some energy to the laundry area, consider using a bold accent color like a bright blue or red.
Don't be afraid of bold patterns
The basement is a great spot to experiment with striking wallpaper and bold patterns. These design elements can really add some excitement and personality to the space. There are a few different ways you can try out this style. Use peel-and-stick wallpaper with a geometric pattern or bold design to create an accent wall or coat all the walls in the area. If you have a shelving unit, you can use bright wallpaper or contact paper to back each cubby. Also, consider adding a patterned rug to tie the space together and prevent your feet from freezing on the cold basement floor.
Use a variety of storage options
Storage is key to any laundry space. Open shelving is ideal for items you use often, such as detergent and dryer sheets. Countertops can also provide additional storage space and a spot for folding clean clothes. Cabinets, cubbies, and other closed storage units are better for stashing away things you don't need as frequently, like other cleaning products and seasonal items. Incorporate a few types of storage options to really make the most of your space.
Separate the laundry area
Some homeowners are lucky enough to have a separate room in the basement for laundry. But if your basement is one open space, it's useful to divide the space by function. This can help keep your basement organized, give it purpose, and optimize the space you have. Designate one corner, wall, or closet for laundry (depending on where your utility hookups are located). Then section off the area with doors, curtains, or a room divider. Separating the space from the rest of the basement clutter and activity can make your laundry room feel calmer and more put together.
Make the most of your space
Laundry rooms are not usually huge, so making the most of your space is crucial. Install countertops along the length of the wall to ensure you have plenty of space for sorting and folding your clothes. You should optimize your vertical space too. Add floor-to-ceiling cabinets next to the washer and dryer. Utilize the space above your appliances too by installing open shelving or a drying rack.
Incorporate multifunctional pieces
If your laundry area is tight on space, prioritize pieces that are convertible or have multiple functions. For example, you could use a storage unit with attached hanging rods to add more storage and air-drying space to your laundry setup. Or look for a stow-away ironing board that can be mounted on the wall and folded down during use. There are many options available with storage shelves and hooks for added functionality.
Don't forget decorative accents
Maybe you're asking yourself, "How can I make my basement laundry room nice?" If that sounds like you, it's time to start decorating. Though functionality is king in any laundry room, the right decor can transform the space into a warm and welcoming area. Add touches of your style with wall art, rugs, and stylish storage baskets or jars. Consider adding some greenery to liven up the place, too. If your basement doesn't get a lot of sunlight, a faux plant can be just as effective as a live one.
Mirror, mirror on the wall
In addition to your artsy accents, or even instead of them, consider large mirrors for your laundry room to open up the space and make it feel larger. You can either hang a decorative mirror on the wall or stick full-length mirrors to create an entire mirror wall. This is a tried-and-true trick to make a small space seem bigger.
Basement laundry room remodel considerations
Why are laundry rooms in basements? Many homeowners choose to add laundry rooms to their basements because of the easy access to water, electricity, and gas hookups. Cellars also offer an open layout, giving you more space to dedicate to a laundry area. Plus, having the washer and dryer on a different level than the living area can dampen the noise and keep the rest of your home quieter.
How can you prevent disasters caused by laundry appliances? When it comes to laundry appliances, flooding and fires are two of the most dangerous concerns. To avert disaster, choose high-quality appliances and supplies, such as braided steel washer hoses instead of rubber ones. You should also consider hiring a pro to set up your new devices.
Should you choose a gas or electric dryer? The best dryer type for your home depends on the connections in your laundry room. However, if you have a gas hookup and electric outlet, it's best to choose a gas dryer. While they can cost more upfront, they're less expensive to run, saving you cash in the long term.
What about ventilation? Dryer ventilation must be routed up and out of the basement. It's best to hire a professional contractor to install your dryer vent.
Is it bad to have a laundry room in the basement? Absolutely not! With these design tips and safety considerations, you can create a laundry area that you'll genuinely enjoy using every week. First, ensure your appliances are installed correctly and are safe to use. Then you can really transform your laundry room!
Make sure the space is functional with plenty of storage options and counter space. Then add some design touches with energizing color schemes, bold patterns, and decorative accents. We can't promise you'll suddenly begin to enjoy doing the laundry, but at least you'll have a beautiful new space to do it in.
Editors' Recommendations