Bathroom shelving can be both stylish and functional, especially in a smaller bathroom. We often see bathroom shelves over the toilet because of its vicinity to the shower (usually right next to it), but you don't want to keep products lined up for everyone who enters to see.
There are ways to maximize space in your bathroom and still keep your shelving looking fresh. All you need is a little imagination and some inspiration, which we've given below.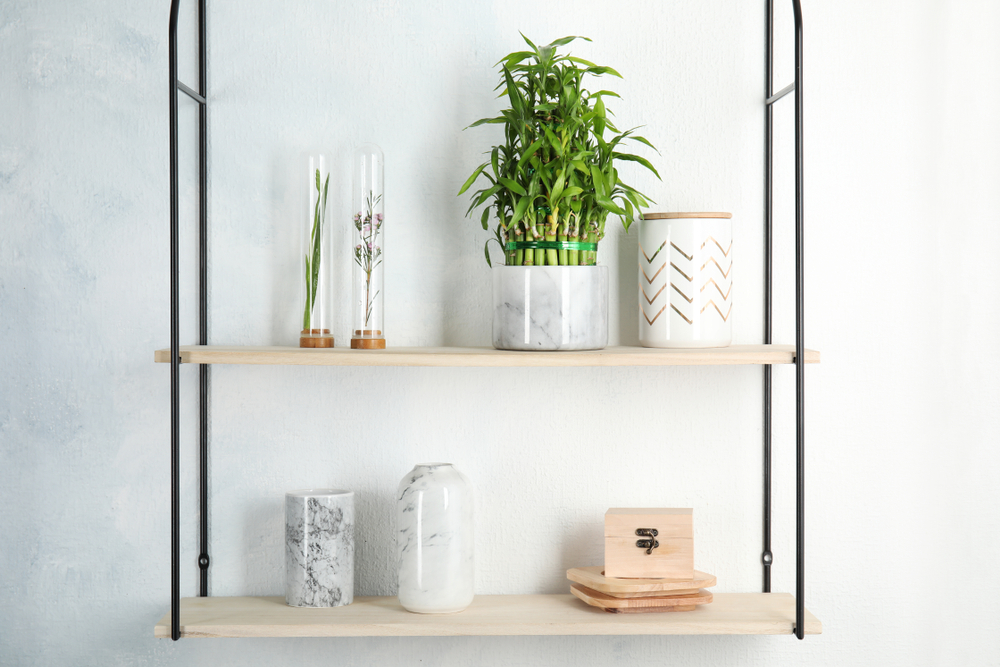 How many shelves do you need?
First, measure the space above your toilet to see how long and how many will fit. Ideally, you want bathroom shelves that sit around 12 to 18 inches apart so you can store jars and other items without them looking too crowded together.
Then, look for items that can store products you use every day, like cotton balls, Q-Tips, bath salts, or lip balm. We , and you can find various sizes on Amazon for reasonable prices. If you want to hide the items inside so no one can see them, opt for ones that are colored, , also from Amazon.
Other bathroom shelving decor
If you don't necessarily need the bathroom shelves for storage, but instead want to use them to showcase decor for the space, there are so many ideas. Bringing nature indoors is a big trend, and you can place different sizes of plants and succulents on the shelves.
The humid air in a bathroom is ideal for living plants, and it gives a serene environment to relax and unwind. You can also roll up hand towels or washcloths for a spa-like experience and add candles to the shelves of varying heights.
Types of bathroom shelves
There are many styles and sizes of shelving depending on your space, and they are a design all on their own. If you have a more narrow space to work with, it doesn't mean you have to skimp on design. We love this from Amazon, and it fits just enough to provide storage and style.
If you have more room on your hands, we love these from West Elm. They come in three sizes, so you can buy one of each to maximize storage and add in decor. Choose the material (dark wood, natural wood, metallic, or wrought iron.) based on what's already in your bathroom to complement the colors in your flooring and cabinetry.
There are so many ways to decorate to make your bathroom shelving pop and become a critical design element of your space. You can add containers for storing items on the shelves. You could also use the shelves to hold spa-like accessories, such as bath salts in crystal containers, candles, books, and plush towels, giving you everything you need to relax.
Editors' Recommendations