Whether you have a finished basement or one that's barely livable, your basement probably doesn't have a whole lot of natural light. While there are other ways to brighten this space (proper lighting, for one), the paint color you choose for your basement will make or break the space.  The right shade can enhance the basement, making it appear larger, and can also contribute to an overall happy, comfortable atmosphere your friends and family will love.
With a fresh coat of paint and a few well-chosen pieces of decor, your basement will no longer be just a drab laundry room or overflow storage space. These are the popular paint colors for basements we love and we think you will too.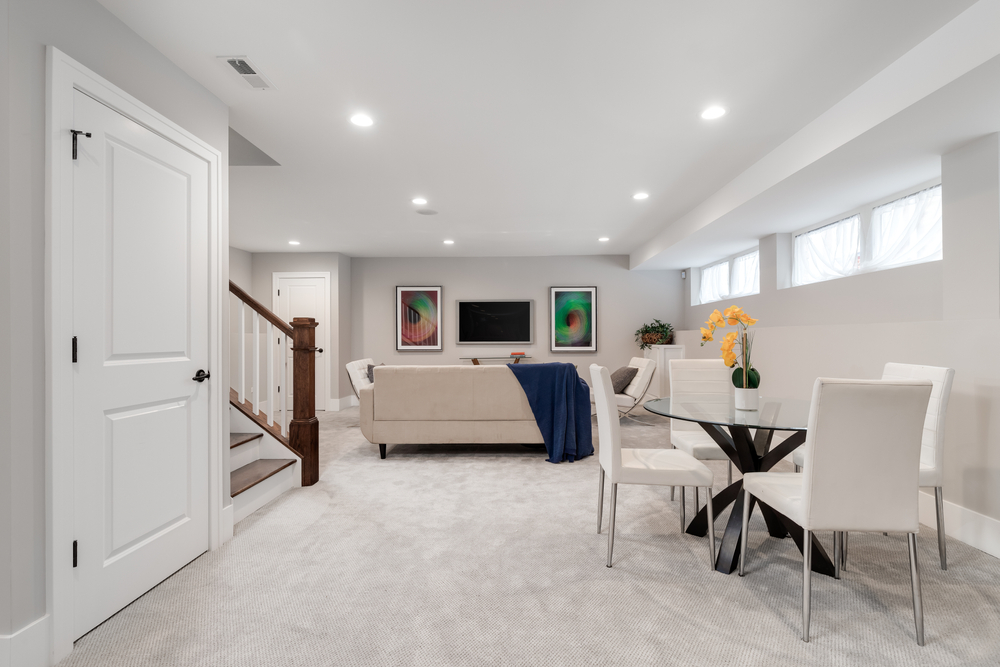 Bright white
Bright white is a fairly predictable choice, but that's because it's one of the most effective colors for a basement. White reflects light well, so it can maximize whatever illumination is in the room, natural or otherwise. Even if your walls are already white, consider applying a fresh coat with a slightly glossy finish to really make the room shine.
As you shop for the perfect shade, you'll begin to notice that white is just as variable as any other color. Some whites have cool blue or gray undertones, while others are warmer with hints of pink and yellow. Hues with cooler undertones like High Reflective White are closer to true white, delivering maximum illumination to your dimly lit space. As you paint, don't forget to look up. Painting the ceiling a bright white will open the room up and create the illusion of a higher ceiling.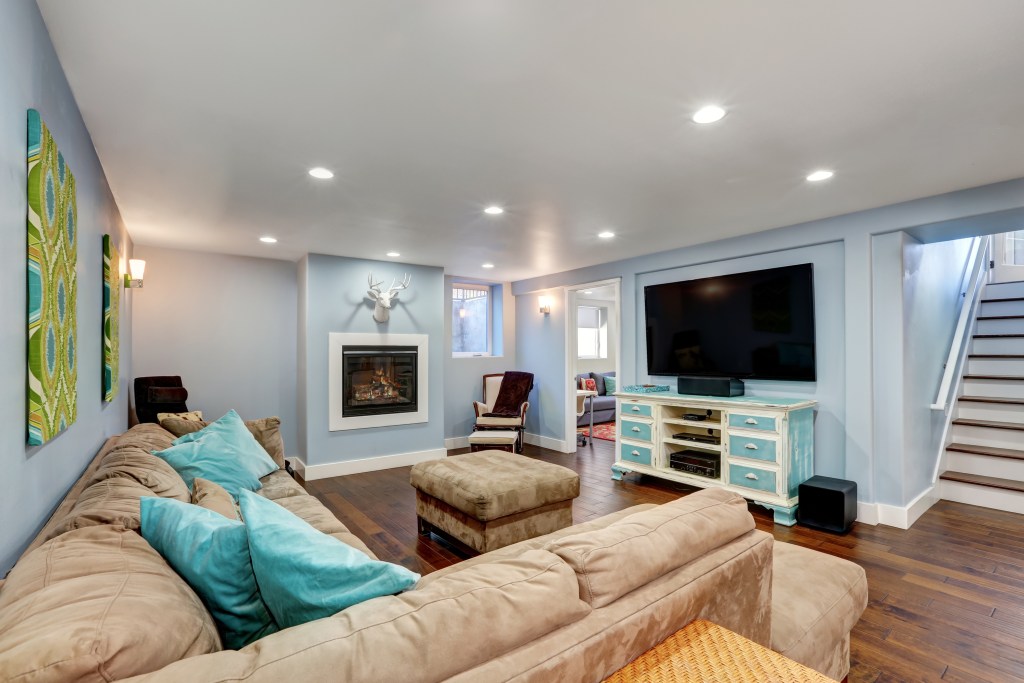 Light blue
White isn't for everyone, as many find that this shade looks overly sterile and stark. To add a little fun while keeping it bright, opt for light blue to brighten up a dark basement all while keeping it cozy. Hues like Minor Blue are bright enough to make a statement but soft enough to make for a not-so-distracting background.
These colors work better for fun spaces like playrooms or guest rooms where you need to inject a little more personality. Decorate with neutral colors to create a more relaxing space, or use pops of bright, complementary colors like red and orange to bring more energy to the room.
Soft gray
Soft gray paint is a designer's old-reliable when it comes to basement walls because they brighten and soften spaces without creating the sterile and industrial feeling that white can give off. Soft grays reflect natural light to bring even more brightness into a typically dim room. It's neutral enough to comfort any guest, but the depth of the grey makes it feel a little cozy.
If you intend to use the basement as a second living room, soft grey will give the room a relaxed and soothing vibe, but don't forget to add colorful accents to keep it interesting. By adding a few throw pillows and patterned accents, your basement will go from drab to fab in no time.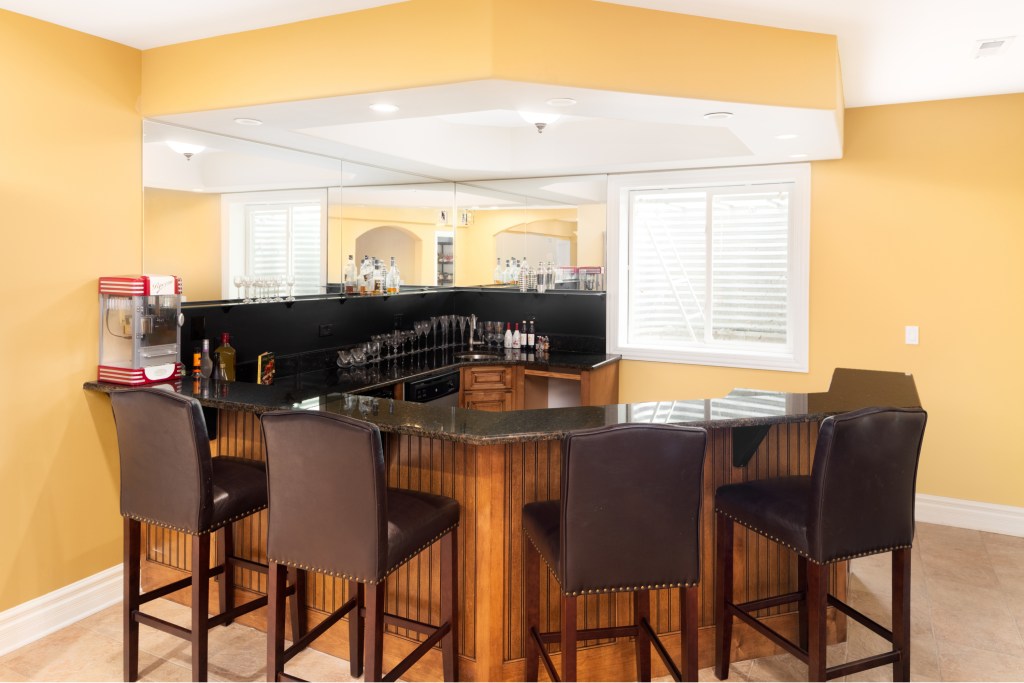 Warm yellows
If your basement lacks natural light, which many do, incorporate yellow walls to brighten up the room. Yellow also has the pleasant side effect of being one of the happiest home design colors.  Yellow paint, like soft gray, amplifies whatever light hits it, and the bright hue makes the basement a little more playful. Yellows with tan undertones can be quite versatile, as they're colorful and bright, but not so bold that you'll grow out of the look or get sick of it after a few months. If an all-yellow basement will be too overwhelming, consider an accent wall instead.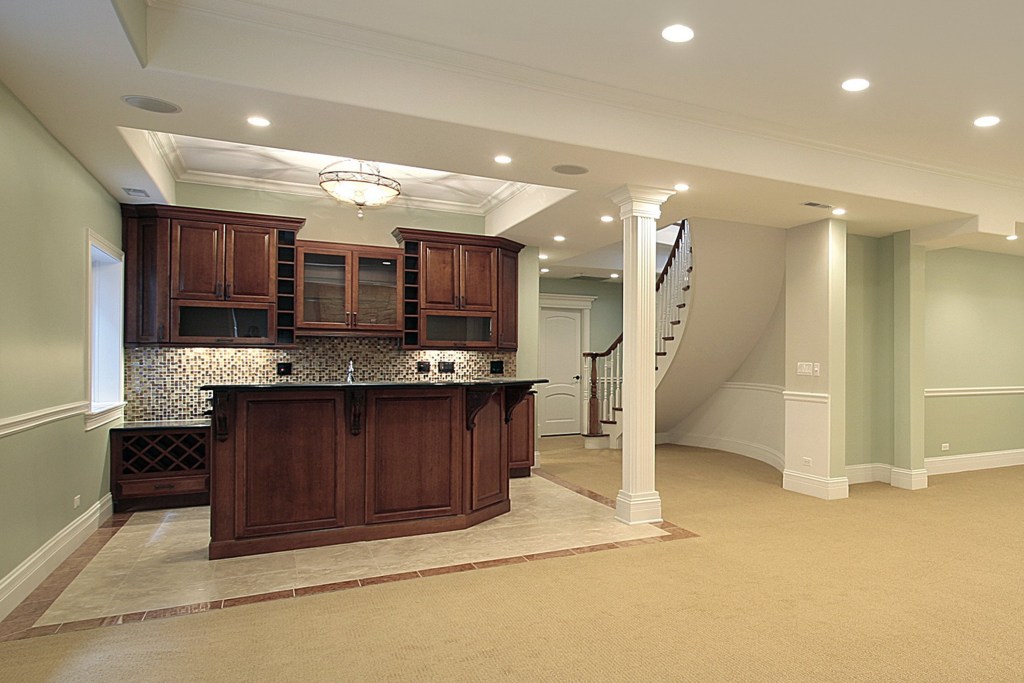 Natural greens
If the thought of a green basement conjures ideas of '70s-style pea-green shag carpet, worry not. Greens are making a comeback for interior decorating because, when used smartly, they can add dimension to the room without overwhelming it with a bright, bold hue. Vibrant greens can lend inspiration to an otherwise dull basement and work best when paired with dark tile and wood. Darker greens, on the other hand, are more sophisticated and work well in a lounge or other relaxation space. Pale shades of green will enhance natural light and appear almost white or gray in larger spaces.
Go dark
It may seem counterintuitive to paint a dark room a dark color, but deeper shades can bring just the right amount of drama if done correctly. The basement is already dark, so why not embrace it and play around with light and dark to create contrast in the room that's riskier and more interesting? Instead of flooding the space with light, which can detract from the drama, incorporate light furniture and wall decor to bring subtle touches of brightness to the room. Lighting is still important here, but consider installing dimmers so you can transform the space from a bright playroom to a more moody lounge whenever you please.
If you think your dark and dingy basement is a lost cause, don't give up hope just yet. With a fresh coat of the right color paint, the entire energy can change. Be sure to choose a color that pulls out all the natural light available, and don't forget to add fun accents to avoid a boring and monochromatic space. Unused basements amount to wasted living space, so transform yours into a liveable area that gives you and your guests even more space to relax, play, or just spend time together.
Editors' Recommendations