If you're looking at home improvement projects that will give you a return on your investment when you sell your home, consider remodeling your basement. If you don't have a finished basement, finishing it will not only increase the livable space in your home but give you confidence that your money will come back to you when you sell. The first question you're probably asking yourself is, "How much does it cost to finish a basement?" Unfortunately, there isn't a one-size-fits-all answer, but we break down the possibilities below.
Before you get too far ahead of yourself dreaming about all the ways you're going to decorate your new basement, it's important to think about its functionality. Adding spaces like a bedroom or bathroom in your basement will increase the price of the renovation, as will a basement bar or movie room. But these usable spaces will also increase your resale value. You'll want to know your plan before getting quotes because not only will additional electrical, plumbing, and sheetrock be needed for these spaces, but you'll want to be sure any contractors you use have the requisite expertise to get the job done.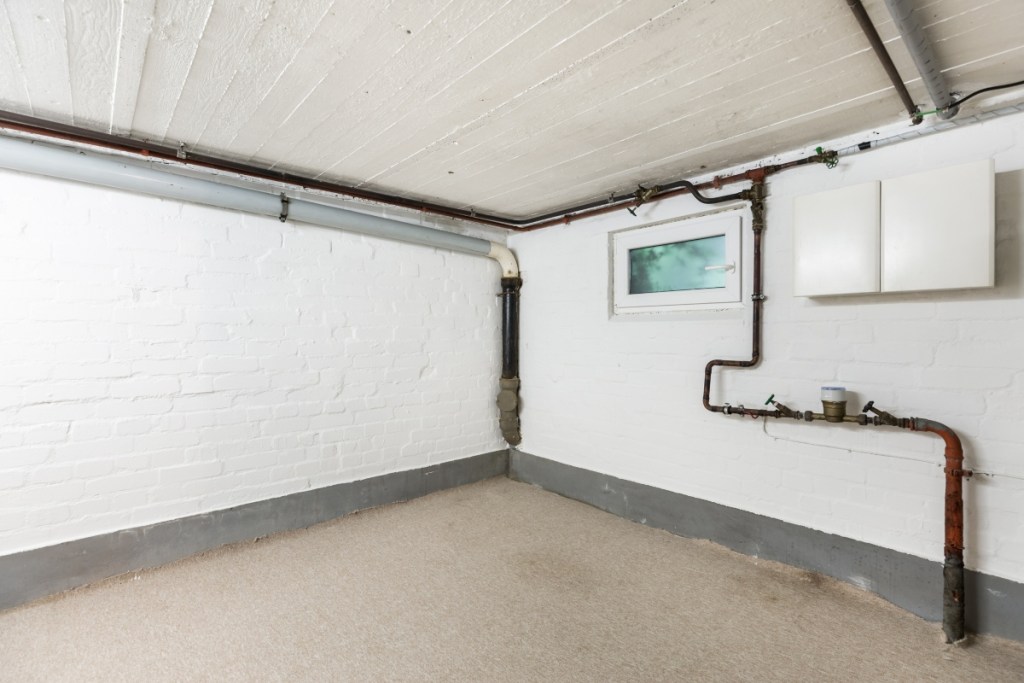 What is the cost to finish a basement?
If you are wondering, "How much should I budget to finish my basement?" you can plan on a range of "$2,800 to $33,985 with the national average at $18,395," according to Home Advisor. They also provide a handy calculator to give you a ballpark on price. You can expect to pay around $25 per square foot, so you'll want to know your total square feet to get a high-level idea of what you're looking to outlay.
Of course, that can go higher or lower depending on the way you'll use the space, the quality of materials you choose (e.g., carpet versus hardwood floors), and how much labor is required (plan to spend 10 to 25% of the total project cost on labor).
Other considerations are the area of the country where you live and supply chain issues like the ones the United States is experiencing now due to the pandemic, which can impact everything from wood to insulation and everything in between.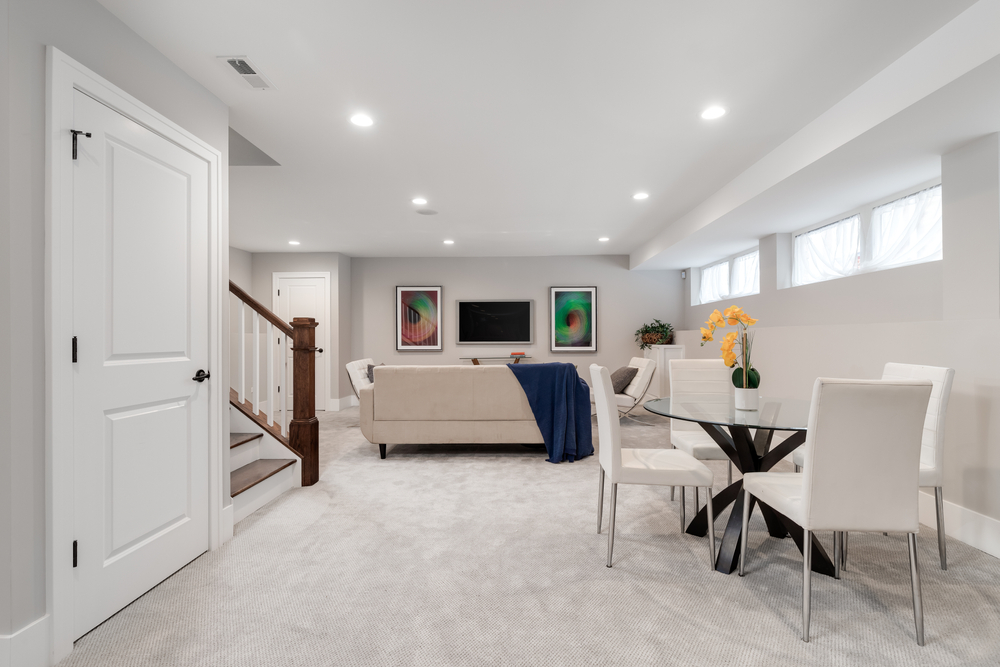 Is finishing a basement a good investment?
If you are in need of extra space for kids, guests, or entertaining, adding usable space can feel like an investment in your mental health. The good news is that it's also an investment in your future. Home Advisor estimates that finishing a basement can provide as much as a 70% return on your investment. If a buyer is looking for something specific like a bedroom (or two) downstairs for teens, a dedicated guest suite, or a home theater area, and you already have it built for them, you may even see a larger return. Given the number of people now working from home and looking for office space, a separate, finished part of the home can make a big difference.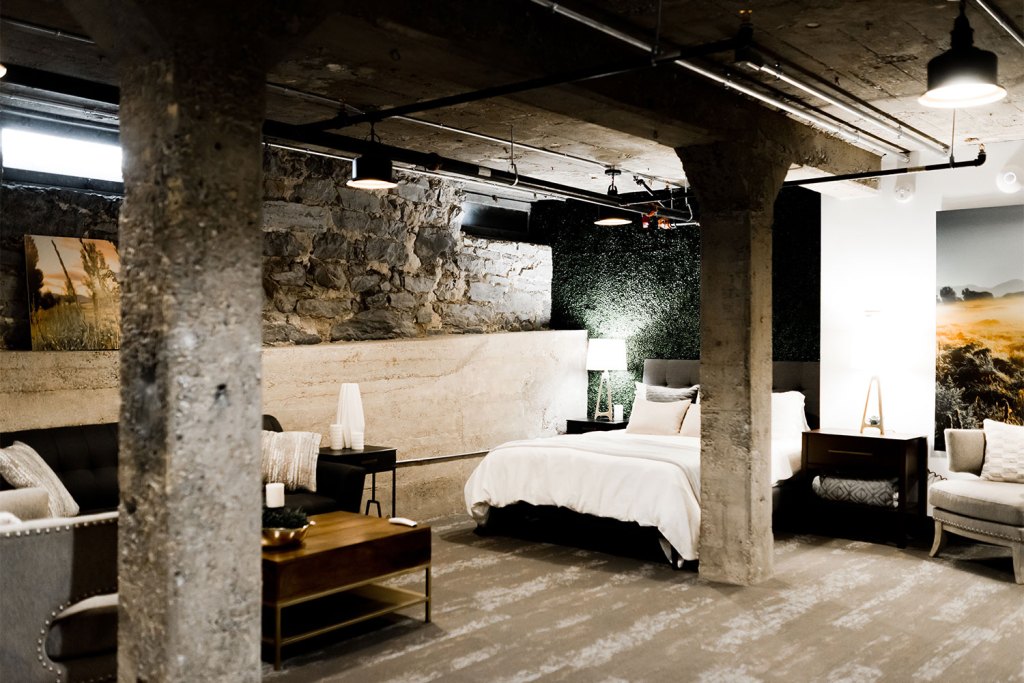 Tips for finishing a basement
There are certain parts of finishing a basement best left to the experts, like plumbing, ductwork, and wiring. Others can be done by the homeowner, depending on how confident you feel in your DIY game. Thanks to YouTube tutorials, you can do tasks like framing, installing insulation, and painting to save on cost.
Don't forget about permits
If you do plan to do any of the work yourself, don't forget to get the proper building permits first (building permits cost about $1,350 on average). If you don't, you could have big delays that impact the overall project timeline.
Work with a designer if the budget allows
If you have it in the budget to work with a designer, you could have a set of blueprints drawn up to show you all the possibilities that exist with a blank slate. You'd be surprised at how concrete floors and exposed brick can be transformed into an entirely new space with a little imagination.
Test for radon
There are a few other cost considerations as well. Before doing any work, you'll want to test for radon, an odorless radioactive gas that can get into your basement from the soil. Hire a licensed contractor to ensure this gets done and tested correctly.
Research materials carefully
You'll also want to do some comparative shopping online or in stores for finishes, doors, flooring, and bathroom fixtures. These can really put a project over budget, so understanding how much you want to spend on materials before the project begins can help with any surprises down the road.
Remember lighting
Finally, if your basement only has egress windows or there isn't a ton of natural light, think about the types of overhead and ambient lighting you can add so the space won't feel dark and cold. This will help with the resale value, too!
A finished basement is an investment in your home. While this can be an expensive project, a finished basement adds value to your home — for you and for any potential future owners. With these tips, you'll be able to create a great space.
Editors' Recommendations