Basements are multi-use rooms, often acting as storage areas, extra living spaces, laundry rooms, offices, playrooms, and just about anything else you can imagine. Sometimes, however, it takes a bit of work to transform this subterranean area into a livable space that's comfortable to relax in. Whether you're finishing your basement or just giving it a quick remodel, picking the color for the walls is no easy task.
Choosing from hundreds of color options can become very overwhelming very quickly, so we're breaking down the best basement paint colors for both large rooms full of natural light and cozier spaces in need of some brightness.
Light gray with pops of color
You may not immediately think of gray when you think about bright and welcoming colors. However, gray is an ultra-popular color for both interior and exterior paint jobs, and light gray can immediately bring a little brightness to any basement. This hue still has a touch of softness, so it doesn't look as sterile and cold as pure white.
If you're working with a basement with limited natural light, be sure to pick a very light shade to counteract the lack of light, or else the walls will fall flat. For a classic look, pair this light gray with neutral furniture and warm it up with earth tones like browns, creams, and forest green. To nail the modern look, opt for bold, colorful details that draw the eye. Top it off with lots of overhead lighting to make the room feel more expansive and welcoming.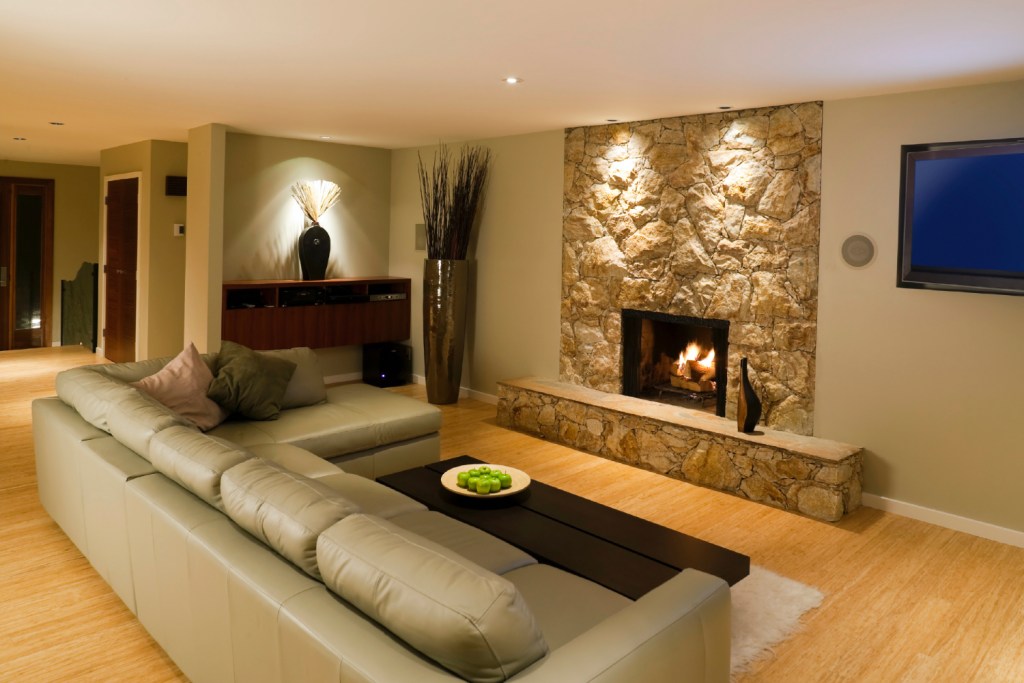 Greens and wood
The shade of green you choose depends almost entirely on the brightness of the basement. Lighter shades of green reflect more light and create a more youthful vibe, while darker shades are more mature and dramatic. For example, a bold, lime green accent wall is the perfect touch for a child's playroom, while a guest room or office would benefit from a calmer sage green. Either way, be sure to accent it with pale yellow or neutral throw pillows, art, and area rugs to break up the monochrome and make the room more visually interesting.
Your basement will also benefit from some added life, so add a few plants to give the space energy all while sticking to the color theme. Wood furniture of all shades works well with greens, as does wood flooring, so incorporating rustic elements can make this space truly stand out.
Red and white
Nothing makes a statement quite like bold red paint. Unlike light gray and lime greens, red paint won't necessarily brighten a dimly lit basement, but it will create drama. If you intend to take a risk with red, make sure you have plenty of light to counteract the darkness of this shade. To balance the striking hue of the red, make sure your furniture, area rugs, and decorations are light, neutral colors. White furniture and area rugs are not great for people with kids and pets, but it makes for a fun retro-themed adults-only lounge.
If the thought of an entirely red room makes you uneasy, consider painting an accent wall instead. With just a touch of red on one wall, you'll also have more flexibility to incorporate darker furniture and accents.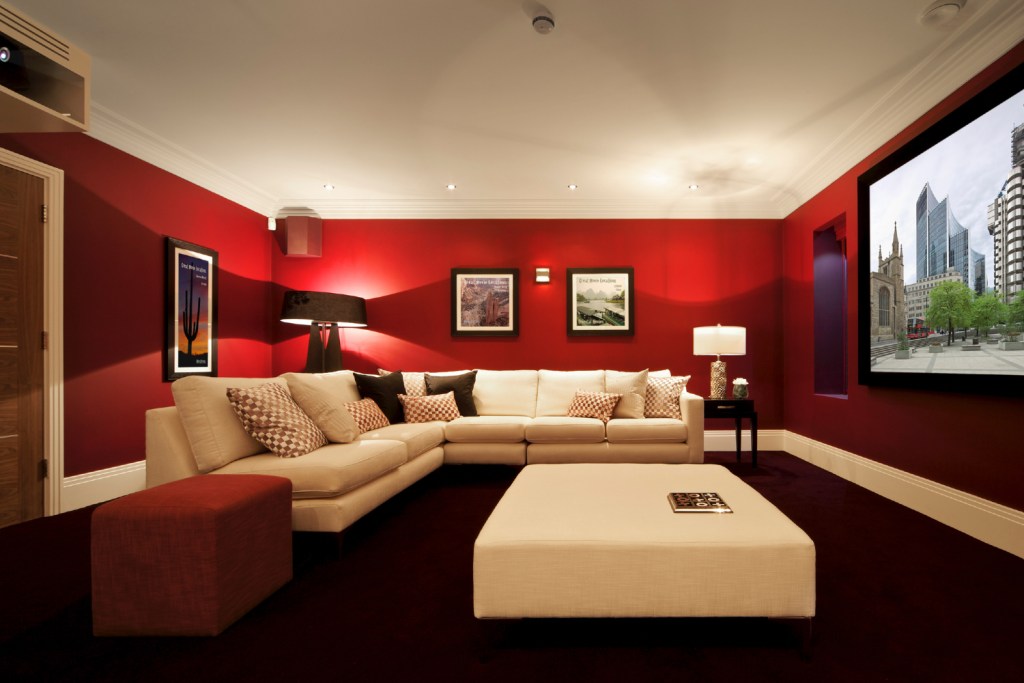 Dark or light blue
Dark blue, like forest green, can add drama to the basement. If you have proper lighting, dark blue walls can add a classy vibe to the room, making it perfect for a study, cocktail lounge, or guest room. On the other hand, light blues work well in poorly lit basements since they are calming and welcoming, making it a perfect color for a game room or playroom. Decorate with soft neutrals for a chilled-out vibe or liven up the room with pops of orange and light pink.
A finished, welcoming basement allows you to take advantage of all the square footage in your home. Sometimes, all you need is a fresh coat of paint to create a room that neither you nor your guests will want to leave. Whether you use one of the options above or just take inspiration from them, you'll be sure to find yourself with the finished basement of your dreams.
Editors' Recommendations