It's a fact that green spaces improve mental health. This study confirms that green areas such as parks are extremely beneficial to one's mental health. So bring in some of that revitalizing energy into your home with fresh shades of green paint. Green living doesn't have to mean a wall of live succulents and mosses or a thriving greenhouse. Try painting your kitchen green, or your bedroom a rich shade of emerald, or your bathroom a relaxing sage hue. With a single coat, you can transform any wall to boost your mood and energize your space.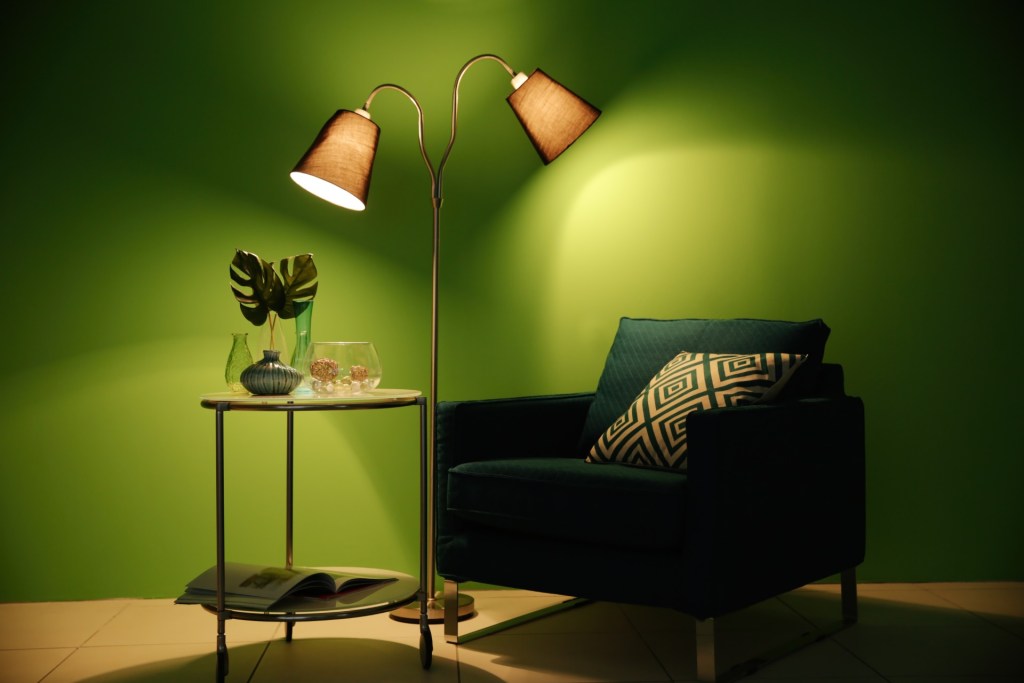 Icy lake mint green
This pale mint green teetering between frosty blue and seafoam green is best for bedrooms. It's a calming green that reflects any available light during the day but helps you settle down at night. It also works best with neutral furniture colorways like beige, white, and other blues.
Since this is such a delicate color, you'll likely have to prime your existing wall before painting your first coat. For a more whimsical effect, extend the paint to your ceiling, giving your bedroom a completely different feel. Worry Free Painting explains the many benefits a painting a ceiling, one of them being an updated effect.
Fern leaf green
When we think of fresh green shades, fern leaves come to mind. Their vibrant hues exemplify a true green found in nature, so this color looks great in kitchens and living rooms. One such hue is Glidden's Antique Green, which, despite its name, will give your room a fresh makeover.
Feel free to order a free swatch if you want to keep your options open, but prices differ depending on which formula you choose: Interior paint, interior paint and primer, or exterior paint and primer.
Fern greens look extra good when paired with brown or white furniture. Think wooden chairs and dining tables, white cabinets, and brown photo frames.
Opulent emerald green
Darker greens like emerald are definitely moodier and more dramatic than their brighter counterparts, but they're still a good palette (yes, pun intended!) cleanser compared to your run-of-the-mill beige or blue wall. Choose emeralds that are more on the green side than the blue for a more vivid hue.
Paired with similarly luxurious jewel tones like ruby and amethyst and metallic accents, emerald green truly pops. It caters to more adult tastes, so if your house is full of lively young children, reserve this color for your home office or bathroom.
Parrot green
Perhaps the brightest shade on our lineup, parrot green is a showstopper. Fun, bright, and eye-catching, parrot green will liven up living rooms, kitchens, and playrooms. Off-white and light neutrals like sand and ginger help tone down parrot green walls. You can also decorate your walls with decals and shelves to soften the shade.
However, use bleach white or dark furniture if you really want to make your verdant wall pop. Keep in mind that bright walls are more likely to show stains and dirt, so choose a semi-gloss shine if this is your concern.
Pine forest green
This shade leans on the bluer side of green, resembling dark teal. It's a soft color, yet it's versatile enough to be brighter or darker depending on your preference. This shade is fit for bedrooms and living rooms. Pine forest is a timeless color that looks great during snowed-in holiday seasons and on bright spring days.
Furniture like white marble-top tables with metallic legs and brass pendant lights contrast well against this shade. Use a white or off-white trim to break up the paint or go for a monochromatic look and paint doorways and window panes in the same shade. Architectural Digest says, "For monochromatic newcomers, a small space—like a bathroom—can be an ideal starting ground."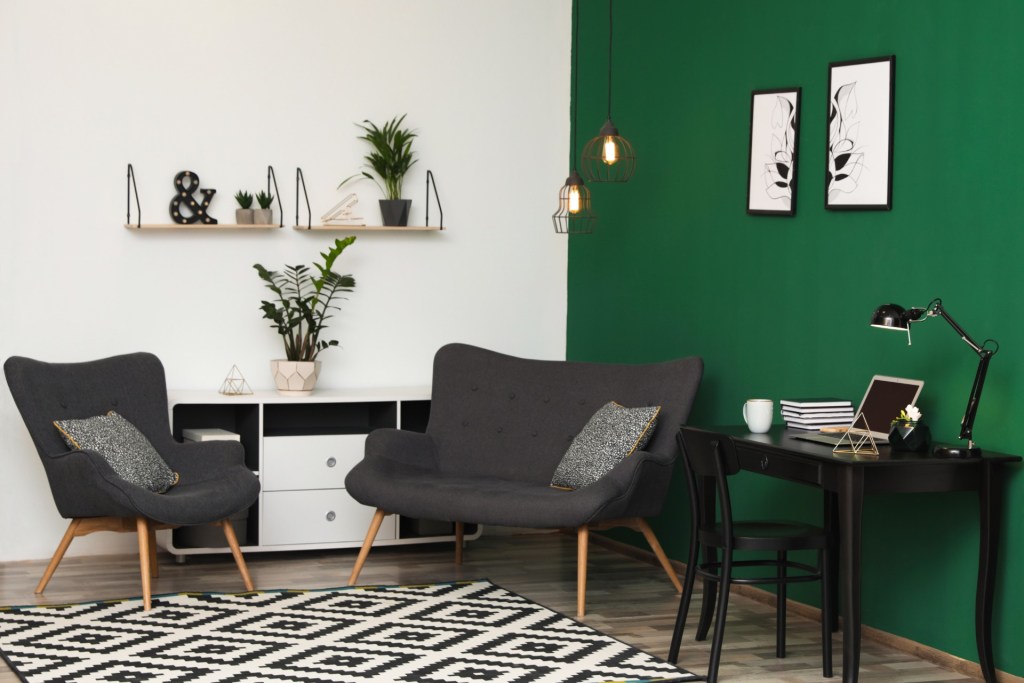 Dark sage green
Lastly, you can try dark sage green if you want a safe choice that looks good on any wall. A little more muted than avocado green, but brighter than military green, this is a good compromise between blinding shades and gloomy colors.
Dark sage green feels great in rooms that overlook green scenery outdoors. Opt for rich brown furniture like woven chairs, leather sofas, and natural wooden tables. On the other hand, stick with off-white accessories and furniture for a soft, dreamy look.
With infinite color choices, deciding on a single shade can feel daunting, but you can narrow it down to six of the freshest shades of green on our list. From mint to pine, green is the envy of other popular home paints. This versatile color works in living rooms, bedrooms, kitchens, and bathrooms, so rest assured that no matter which shade you choose, it will look great.
Editors' Recommendations