Are you ready to say goodbye to the neutral white kitchen look that has dominated interiors for the past few years? Looking for a little color? No matter the variation, green interiors are on the rise.
This timeless hue brings a fresh, clean look to any design, and it is popping up in more and more rooms every day. Whether it is a bold or a soft variation, incorporating any color into a kitchen can offer challenges. How do you get it right? When is it too much? Follow our seamless guide to incorporate this vivid hue and make your kitchen sizzle.
Shades of green
The color green is associated with nature and growth, and different shades of the color will add a different vibe to your kitchen Soft, light greens can give a room an airy aesthetic, while deep forest greens can provide a cozy, grounding element. A rich emerald green adds a luxurious touch to a space because it echoes its jeweled inspiration. A pop of mint green livens any design, while a deep olive brings an earthy element.
Shade selection
When selecting your shade, think about what it is you want to achieve. How do you want the kitchen to feel? Are you trying to energize the space or give it a timeless elegance? Ensure the shade selected and the amount of it you use will give you the look you imagine.
Green is versatile because it pairs nicely with many other colors. It works particularly well with white and black, but if you want to introduce other colors, think back to the classic color wheel. Colors on the same side of the wheel, such as blue and yellow, will give your design a balanced, harmonious feeling. Those on the opposite side, like red, orange, and purple, will read bolder.
Accent options
Painting walls any color other than white is always a daring move, but it can turn a room from forgettable to memorable overnight if done right. However, if you're dealing with a small space, or you're just not sure about adding green to your whole kitchen, small accent paint additions might be the right choice. Green-painted drawer and cabinet pulls or a green backsplash will look wonderful in your kitchen.
If you have a large expanse of walls with nothing, consider adding open shelving or art. This gives the eyes places to rest. Since every room has different lighting, it is a good idea to paint a small section of the wall with a selection of samples. This way, you can see how they look in your space throughout the day.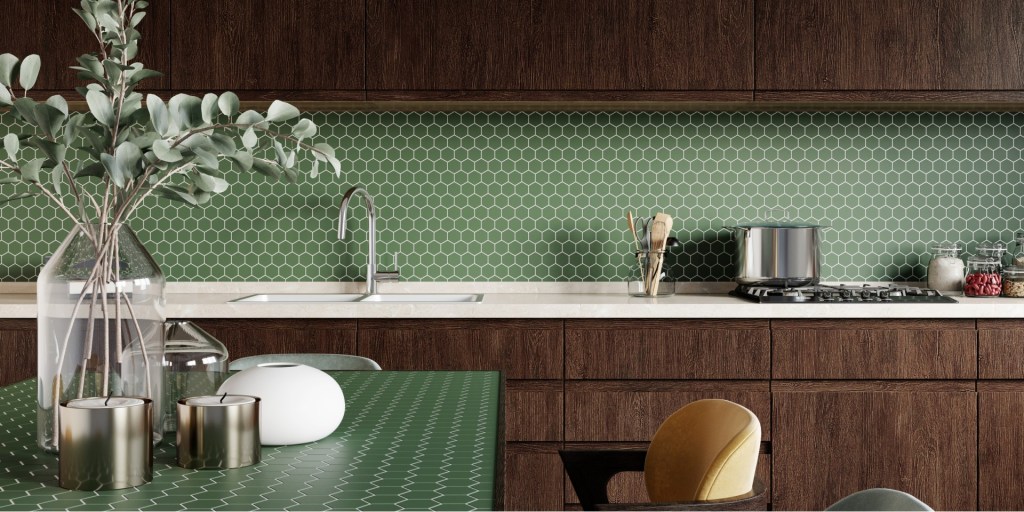 Ideas to get you started
One of the hottest trends in kitchen design today is colored cabinets, and green is no exception. Not only will they bring interest to your kitchen, but they are also much more forgiving than white cabinets. If you aren't ready to go all the way, use colored cabinets on the bottom and white or wood on the top. A muted earthy green works well in a traditional space. Emerald with aged brass hardware makes a bold statement, and mint or lime green will add a pop of color and create a truly original design.
Bringing color into a kitchen gives the space personality and life. Whether it's on the walls, cabinets, or in accents, infusing your kitchen with this trendy color is a seriously good idea. With so many variations, this ageless hue can work in any design. Give it a try today — you'll be amazed at the difference it makes.
Editors' Recommendations