Home decor trends, including kitchen cabinet colors, come and go as the years go by. But replacing or changing your kitchen cabinets can be an expensive and time-consuming task. Instead, you can opt for alternative methods to revamp and refresh your space, such as painting your cabinets a new color.
The last thing you want is for your kitchen to look like you dropped it into your house with no regard for the colors in the rest of your home. These are our favorite kitchen cabinet color palettes that will give your space a fresh look for years to come, no matter where the trends lead.
Wooden-colored kitchen cabinets
Within the past several years, we've seen everything from blonde bamboo to dark mahogany trending. There's no getting around the timeless nature of wood; it's warm, and it brings a comforting organic quality to your design. Wood pairs well with earth tones, like the colors of rocks, stones, pebbles, trees, marble, and granite.
Whether you're picking a wood tone or a color finish, consider buying a cabinet door in the color you choose so you can see how it looks with the other colors in your kitchen. People often make the mistake of only checking how a cabinet color looks next to their wall paint. Keep in mind that the cabinet color will play off colors from the floor, the countertop, adjacent doors, and trim, and you want to be sure that everything pairs nicely together.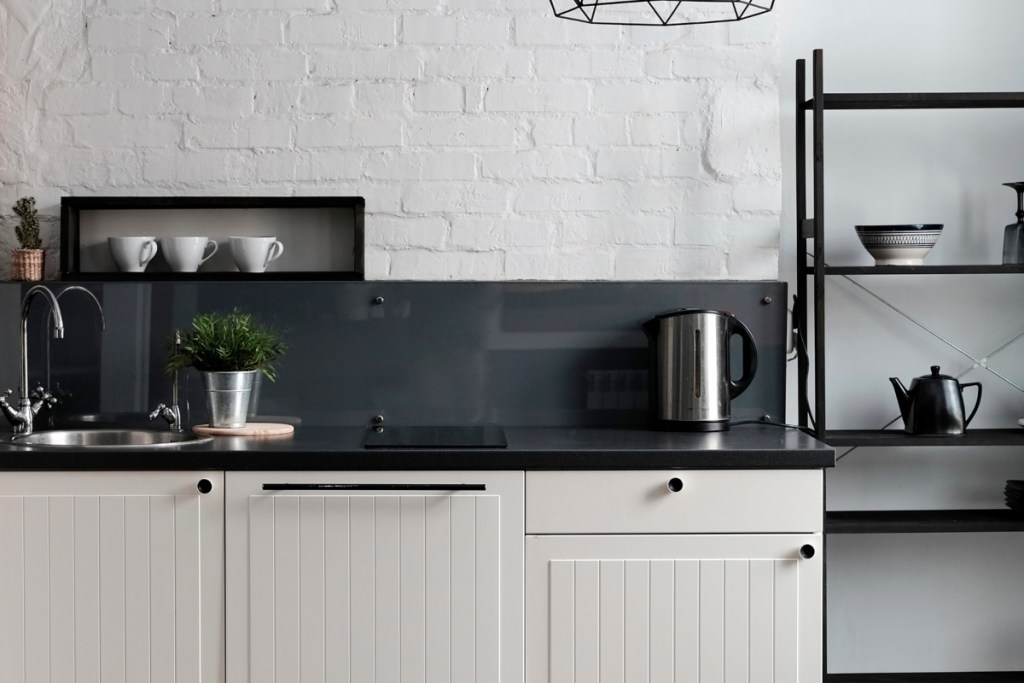 White
Bright white or cream kitchen cabinets never go out of style. Paired with simple shaker-style doors, they can be dressed up with glass inserts or be part of a color palette that includes bright countertops and an artsy backsplash; the options are pretty much endless.
Again, the amount of light your kitchen gets has a lot to do with which shade of white you pick. Cream cabinets in a subdued light can look yellow, and depending on how the light hits, it might end up looking like you have a mix-match of colors rather than the seamless look you are going for.
Gray
The beautiful thing about gray cabinets is that there are so many shades to choose from. From blue-gray to rich, nearly charcoal grays, these tones are inviting colors that pair well with bold colors and muted colors alike.
When pairing gray cabinets with the rest of your kitchen, stainless steel or matte black finished appliances look ultra modern and cool. A subway tile in a soft white complements both the cabinets and the appliances, and a veined white countertop finishes things off brilliantly. Hardwood flooring in an ash tone throughout the house and neutral walls would bring the color story together nicely.
Orange
If you're going for a retro vibe or a true pop of color, try painting your kitchen cabinets orange. This especially looks great alongside wood-stained or white-colored countertops. You can also complement your orange kitchen cabinets with different colors of decor, such as yellow, green, and brown.
Blue
Many shades of blue can do wonders in kitchens. If you are thinking about using blue but are wary of doing an entire kitchen, consider painting your island instead. If you have a hutch or pantry cabinet, you can use blue there and treat it as an art piece in the kitchen. Incorporate it in the backsplash (you can intersperse a bold color here and there with white subway tiles), and use it in your accessories.
Red
Believe it or not, red matches in a lot of kitchens. It's all about finding the right shade that will flow seamlessly with the color of your walls and countertops. This can also work if you have splashes of red throughout your kitchen. For example, if you have red cabinets on your island, get smaller red appliances or a red canister set.
Sometimes your kitchen needs a refresh, and that's a perfect time to reassess the color of your kitchen cabinets. Whether you go for a bold color or a classic white or wood-stained hue, it's great to open your home up to change in its decor.
Editors' Recommendations