A full kitchen remodel is expensive and time-consuming — sometimes, a complete gut job just isn't in the cards. If your kitchen needs a facelift, there are plenty of ways to refresh your kitchen without any major renovation work. Since this space is where most spend hours upon hours cooking, entertaining, eating, and even working it's crucial to ensure that any updates are both stylish and functional. (Bonus: Depending on your home improvement projects, you might just be increasing the value of your home as well.)
We found eight no-renovation kitchen ideas that you can implement during a weekend that will make a big difference to the look of your room.

Brighten up the room with paint
Paint is one of the easiest and cheapest ways to change the look of your kitchen completely. To keep fingers safe from wayward blades, it's always best to keep the kitchen light and bright. To do this, we love colors like Sherwin-Williams' Extra White or Valspar Swiss Coffee to keep the room feeling open and airy. To add a bit of edge to the space, feel free to paint an accent wall a darker color.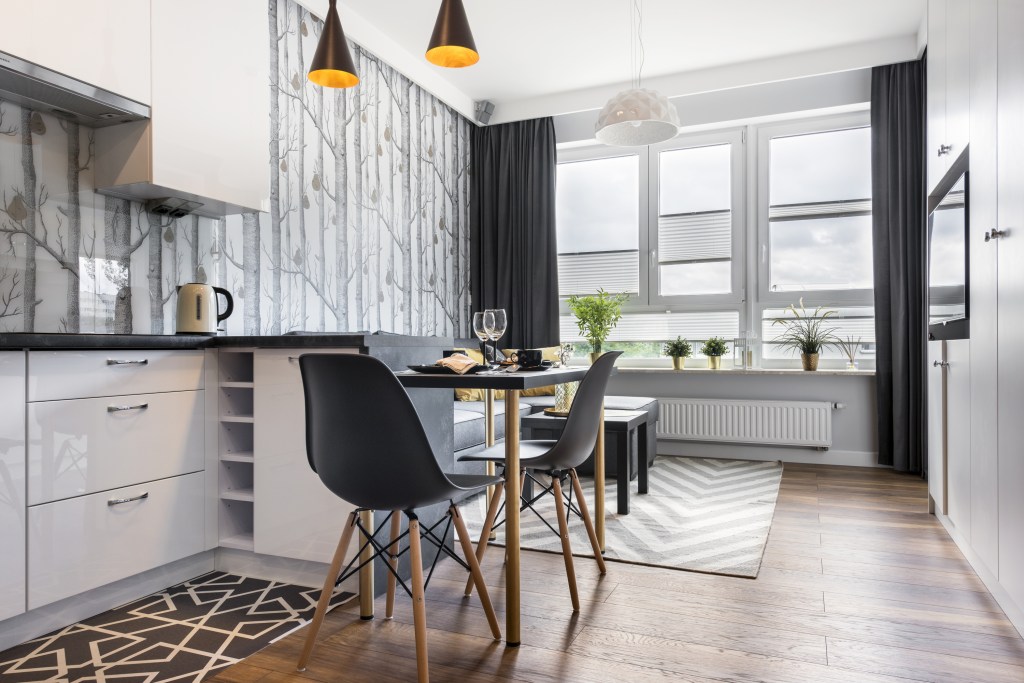 Add texture to the walls
To prevent the kitchen from appearing washed out or too boring, wallpaper one wall to invite in a farmhouse-like feel. Finish off the look with a shiplap feature wall or wainscotting. Both add a bit more dimension and texture to the space, giving it the warmth it deserves.

Hang pots and pans
For a more antique touch to the room, hang old pots and pans from a pegboard or on antique hooks behind the sink or above a prep area. It will give the kitchen a cozier vibe and create a conversation piece that will delight any guests.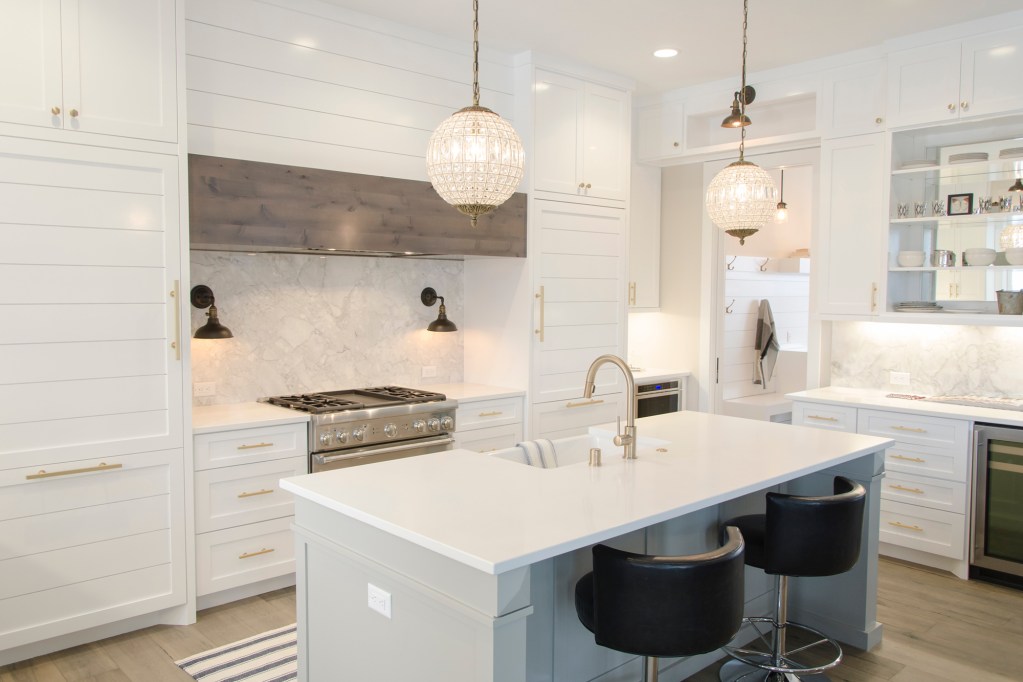 Light up your kitchen
Light fixtures are a great way to modernize your kitchen without a complete remodel. It's amazing how brand new fixtures can give a room so much more character, add more brightness to a dark space, and quickly update the design. We love mixed metals for a kitchen to keep things interesting, so consider combining copper pendant lights with wrought iron sconces and brass hardware on the cabinetry. This eclectic look is key to an industrial-chic space but looks fabulous with modern, streamlined styles as well.

Add fun textiles and patterns
Adding different textures makes for a more interesting space, so try to incorporate different materials and patterns, then balance them out with neutral paint and furnishing. For a statement piece, remove the kitchen cabinet doors underneath your sink and install a damask sink skirt for a rustic touch.
Rugs are another way to warm up the space and add some visual and textural interest. Consider placing a brightly colored rug in your eat-in area and adding a matching runner underneath the sink. For a classic look, we recommend this dark blue and grey chevron rug, available at Wayfair.

Replace cabinet door handles and knobs
You'll be surprised just how much cabinet knobs and drawer pulls transform the overall look and feel of your kitchen. We're obsessed with muted gold accents, which are a great way to upgrade your kitchen on a budget.

Invest in your kitchen essentials
Before spending money on upgrades and appliances you don't need, take some time first to consider the utensils you use every day. Improve your kitchen's organization with in-drawer organizers or mobile carts to store any utensils, tools, and other small pieces you use every day. It will save you so much time in the kitchen if you have these oft-used tools close by and easy to find.
Alternatively, take the old utensils jar up a notch and add a muted gold bar rail like this one from Rejuvenation and hang your utensils above your stove or on a nearby wall to showcase them.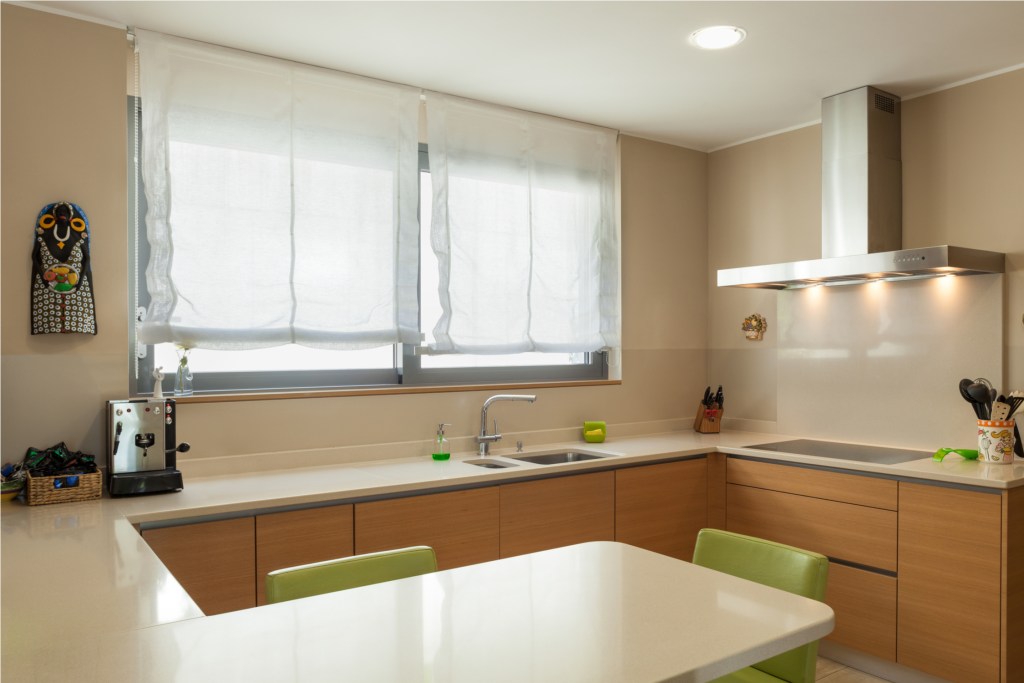 Don't forget about the windows
Kitchens look so grand when they're bathed in natural light, but it's also crucial to have privacy at night when entertaining and serving family dinners. Adding plantation shutters above a sink window or dramatic curtains to a sliding glass door adds some interesting character all while ensuring your family's privacy. Look for window trimmings in different colors and materials to inject some personality and warmth into the room.
These are just a few ways to update your kitchen without breaking the bank. Whether you're in an older home or a new build, all it takes are a few cosmetic changes to showcase your personality and upgrade the entire space. Floor-to-ceiling remodels can be fun, but sometimes a can of paint and a new rug are enough to give yourself a brand new kitchen.
Editors' Recommendations