Is it time for a kitchen refresh? Sometimes, all you need is a new paint color with an interesting technique to make your kitchen stand out. Give your kitchen a brand-new boost with a painting project that you can handle in a weekend.
Painting is a great DIY project because you don't need anything more than just a paintbrush and some painting accessories. If you're renting or you aren't ready for a massive renovation, you can still get a kitchen redo that won't break your budget or your back. Let's find your next kitchen paint idea.
Black cabinets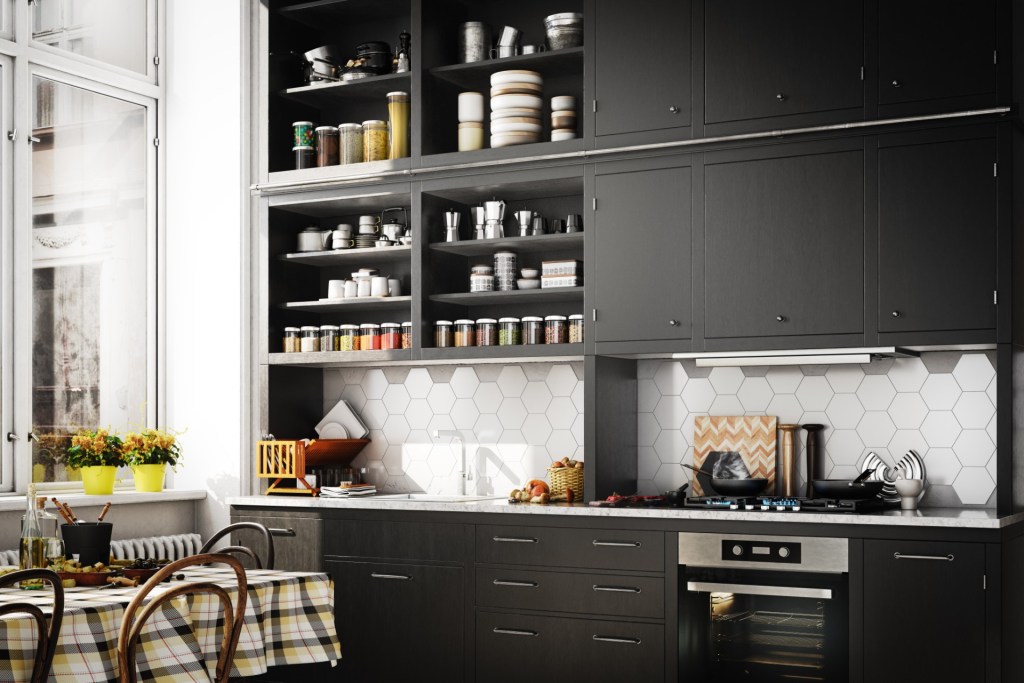 Painting your cabinets black is a bold choice, sure, but bringing a bit of Old Hollywood to your kitchen can make any dish you're making feel just a little more glamorous. Black cabinets match a variety of wall colors, and black can help hide blemishes and scratches in old cabinets.
For best results, a matte black paint can recede into the background as a bold yet neutral choice. Swap out your hardware to match, and you've got yourself a brand-new kitchen space.
DIY faux marbling
If it's your countertops that need a redo, you can get the look of upscale marble with a little paint and some patience. It all starts with a few coats of white paint. Add in a mixture of gray ombre tones for marble veins using varying widths of brushes.
Once you've gotten your marbling down, coat the entire area in a super-shiny glaze to emulate the shine of real marble. A tiny bit of ultra-fine, clear glitter could add the realistic appearance of mica deposits in granite. Plus, the entire project costs a lot less than real marble.
Earth tones and Old-World colors
Old-World kitchens are enjoying a comeback, so using those golden yellows and terra cotta oranges could create a dramatic yet cozy kitchen for you. Take a look around to plan your approach, then create your Old-World haven.
Common earth tones include yellows and oranges, and other choices could be lovely moss greens and ocean blues. Whatever your inspiration, stick with a simple color palate so it isn't overwhelming.
Bold kitchen island
If you're lucky enough to have an island in your kitchen, painting the island a vibrant, contrasting color can be a dramatic choice. Choose a royal blue that picks up the natural hues in your granite countertops, or choose a bright yellow that coordinates with your white cabinets. Whatever you choose, go for bold.
Paint the ceiling
We sometimes forget about the "fifth wall," so painting your ceiling could be a dramatic and visually interesting way to update your kitchen. Painting a ceiling white and upping the sheen to eggshell could add visual height to your kitchen space. Choosing a vivid color such as an emerald green that wraps down an inch or two on the wall itself can also create the illusion of height.
Paint your appliances
Paint designed for various appliance finishes has improved in recent years. Take your fridge or dishwasher up a notch with an interesting or bright color choice. You can also use one of the many faux-metal finishes to change up your tired appliance finish to something trendy.
Be sure to choose a paint specifically made for your appliance finish, or you may not have the best results. Check the information on the paint can or the product listing if you're buying online.
Paint your floors
If you're able to paint your floor, it could be time to upgrade it with a fresh coat of paint. You can paint over a wood or concrete floor with a dark color for a vibrant choice, or you could stencil a pattern onto the floor for a visually pleasing finish that would revamp your kitchen. You can choose a color combination or stick with something monochromatic.
Rediscover the white kitchen
Every designer boldly proclaims the death of the white kitchen every year, and every year it makes a comeback — and there's a good reason. A white kitchen with thoughtfully chosen hardware is a long-term design choice. It never looks dated, and it always feels fresh as trends fall by the wayside.
If you aren't ready to make a huge change in your kitchen, freshening the cabinets and/or walls with a fresh coat of crisp white paint can make a huge difference. Use accessories to get your color fix and enjoy the streamlined look that feels bigger than it actually is.
Changing up your kitchen with paint
Paint is simple and allows you to change the look and feel of your kitchen without attempting a considerable renovation. Paint can cover a variety of imperfections from low ceilings to poor natural light and highlight your kitchen's strengths.
Take a look around your kitchen and imagine what color or painting technique can help transform the space. Take a chance with colors or refresh with classic white. Either way, you may find yourself falling in love with your kitchen space all over again.
Editors' Recommendations