If you're looking to make your wooden floors dazzle, strongly consider painting them white. The result will be a clean, sleek, and refined look that simply cannot be ignored. Although giving your wooden floors a whole new paint job can seem pretty daunting and downright intimidating, the journey to painting them can be done properly with confidence if you follow these steps.
Spot test before the big paint project
Most wooden floors can be layered with paint. Just to be safe, it is always a good idea to test a small section of the floor before beginning this project. Follow these steps:
Find a small area of the floor. Choose corners or under furniture, such as beds, couches, or anywhere that typically covers the flooring section.
Apply a tiny amount. It should be enough to be noticeable; apply the desired white paint onto the wooden floor. Then, let it dry completely.
Check up on the paint spot. Within 24 hours, take a look at the paint spot and check for any potential deficiencies, such as peeling, cracking, or bubbling.
If it's looking clean and flawless, pick a white paint that is best for the chosen floor, such as latex-based or a traditional oil-based paint. Here are the pros and cons of both:
Latex-based wood paint: This dries very quickly, has reduced fumes, and is eco-friendly, but it is not as durable, pigmented (depending on its quality), and the effectiveness of its formation is slow due to its chemical formula.
Oil-based wood paint: This can handle foot activity and other rough use (vacuuming, mopping, etc.), is very resistant to stains and scratches, and is typically long-lasting, but it tends to be banned in certain places due to its unhealthy emissions. Plus, it can take a long time to dry fully.
Prepare before the painting begins
The tools and supplies needed for a problem-free and prepared paint project include a broom, vacuum cleaner, rags or paper towels, sandpaper, water (or solvent), paint brushes or rollers, painters' tape, and a paint tray. Then, do the following:
Sand the floor thoroughly. Run the sandpaper along the surface of the wood floor in a circular motion. This helps smooth out and flatten the surface for a flawless paint application.
Clean up along the way. Use the broom or vacuum to clean up debris and dirt. Then, use a rag or paper towel that is moistened with warm water to wipe the surface down. A clean area is important for an effective paint finish, since dirt and debris would get mixed in with the paint.
Tape around. Use painters' tape to tape around edges, so paint can't bleed into parts of the adjacent wall where you don't want it to. Remove the tape after the paint dries completely. In other cases, painters' tape can be used to create patterns and shapes for an artistic paint job.
How to get started painting
Now that you've gotten this far, you're ready to begin. Follow these steps:
Edges need to be cut accordingly. Take the paint brush and cut in at the wood floor edges with the white paint. A good idea would be to paint approximately 2-4 inches of the wooden floor from the wall around the whole room. Later, the painting process is much easier after the outline has been created.
Begin rolling the paint. Generously pour the white paint on the paint tray and begin to roll the paint on the floor. Keep the angles straight and paint smoothly along the wood grains, so the paint application is even and sleek. Then, leave the area alone and let it dry for about 24-48 hours or the recommended time suggested by your brand of paint. Be sure that it is dry enough to be walked on.
Is the white paint looking a little dull or needs more strength? Once the previous paint application has dried, roll another layer of the white paint on. Let it dry completely.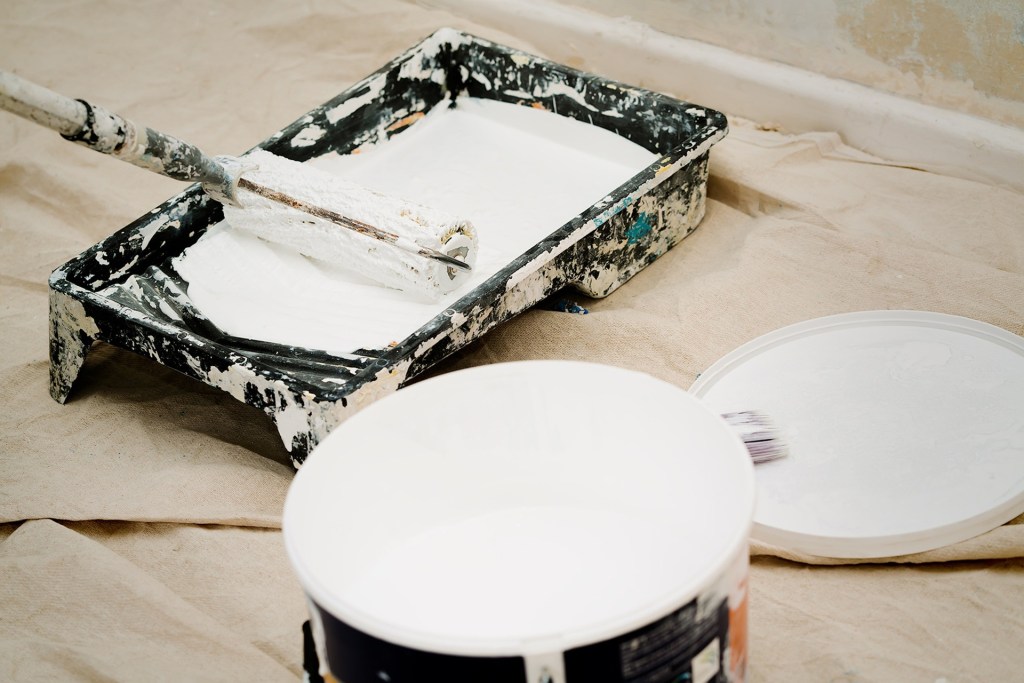 A successful paint job is highly dependent on proper preparation, cleanliness, and careful consideration of the painting itself as well as everything around it. Bring the wooden floor of choice to life with a white-paint finish that will take away any dullness and weariness. You can brighten up any room with a newly painted white floor that looks sleek, clean, and modern. In many cases, a fantastic paint finish can look a lot better than the wood itself.
Editors' Recommendations