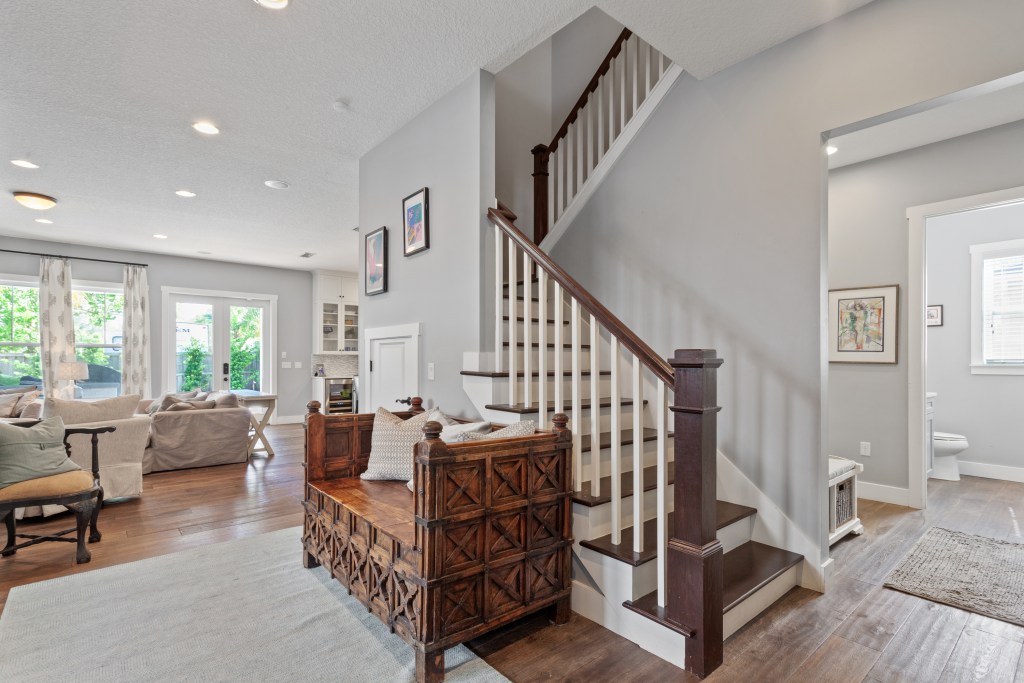 If you want to change the interior of your house, you can change out throw pillows and invest in new furniture, but your stairs are a set thing, right? Not quite. You may not be able to move stairs or rip them out entirely, but you can get creative about your stair design.
Changing up your staircase can be one way to upgrade the look of your home and it isn't as difficult as you may think. If you aren't sure how to accomplish this, we've got 25 ideas ranging from subtle to dramatic to help you figure it out. Keep reading for inspiration on how to update your staircase.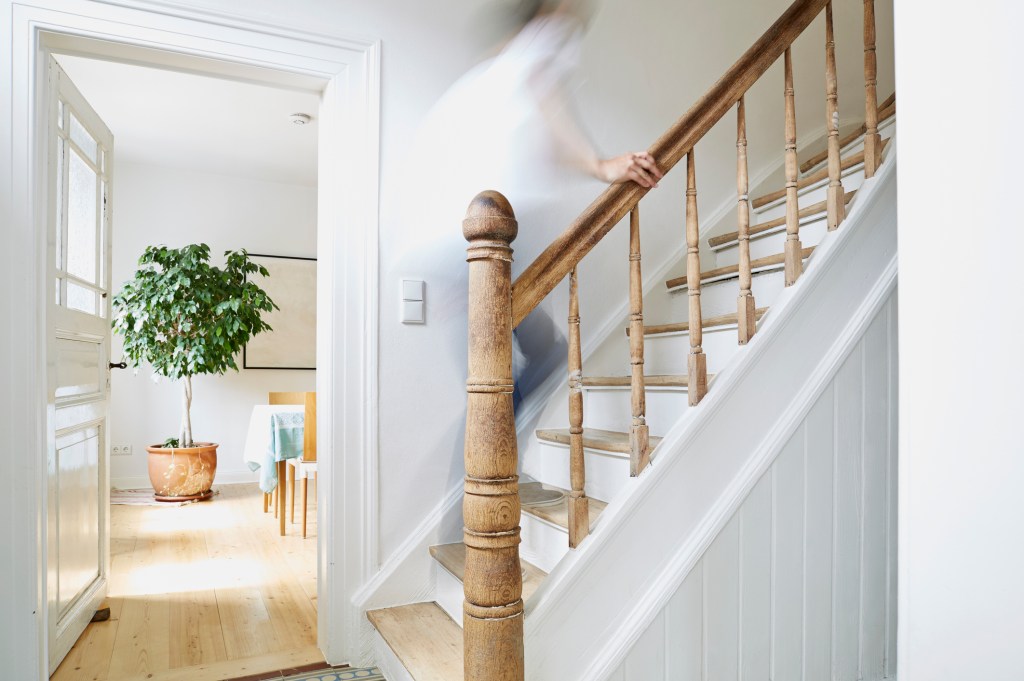 Upgrading your staircase
Some of the projects here take just a few minutes while others are more involved, but all of them will refresh your staircase and give your stairs a chance to shine as part of your decor and not just a forgotten transition. You may want to incorporate more than one of these ideas too, depending on your existing decor and what you are trying to accomplish.
1. Add fabric
Stair runners or stair rugs can both upgrade the look of your stairs and provide you with a comfy place to put your feet. The trick is to use a sticky back, whether it's a pad or a simple glue product that's safe for stairs. You'll want to protect your stairs and prevent falls by keeping that fabric addition secure. Remodelaholic shares a fun and unique way of using fabric on your staircase, and it's inexpensive too.
2. Use a stencil
If the thought of fabric isn't appealing, a simple stencil can accomplish the look of a runner without the hassle of securing fabric. Stencils allow you to create repeating patterns on each of your stairs for a continuous design look without trouble. Choose a stencil that fits your home's existing decor. Bold colors make bold statements, but don't underestimate the power of a subtle color change when you look at the whole staircase together.
3. Add underside color
Painting the risers of your stairs gives you two views — one when you see the natural wood going down the stairs and another when you look at the color going up. Whether you choose subtle colors like going from white to gray, or you paint something like a rainbow, it's a significant refresh.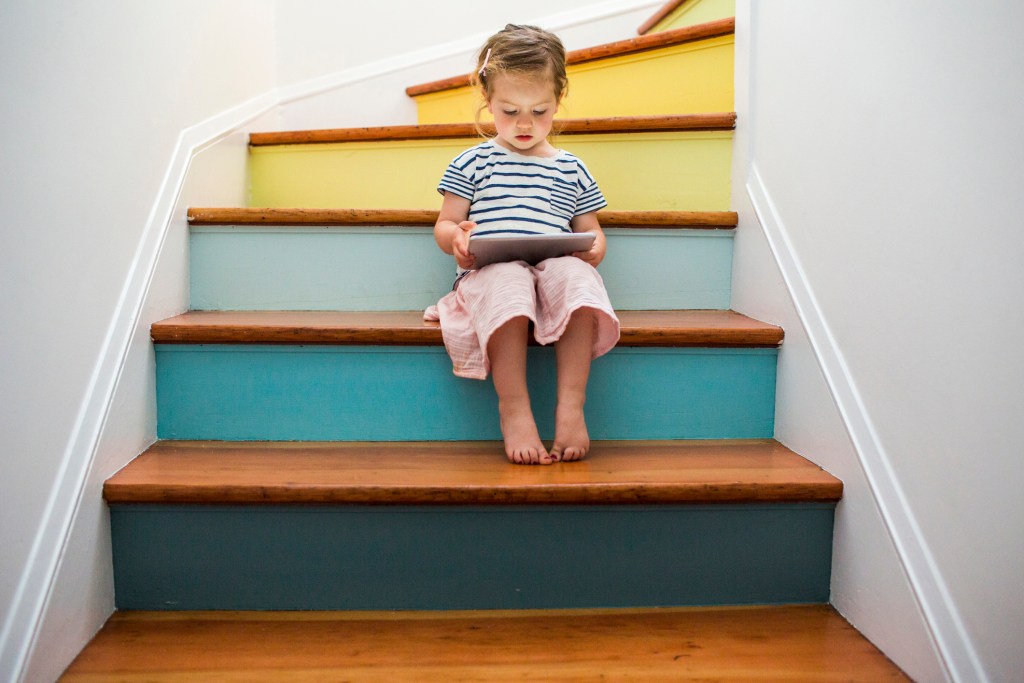 4. Paint the steps
If your steps aren't that attractive in the first place, you can use paint colors to create uniformity and upgrade the style of the steps themselves. Sometimes, a fresh coat of white paint can open up space — even when it's just the stairs. Or, you may want to experiment with a different color than white for a pop of color.
5. Add candles
Electric ones that is. You can place small electric candles that work on a timer between the banister rods on your stairs. At night, they'll begin to glow and give your staircase a magical feeling with little effort (and no fires). Your staircase will instantly become an elegant focal point rather than an eyesore.
6. Use baskets
If you've got a wide-enough staircase, small baskets on the first few steps at floor level can help wrangle toys and other belongings. Use the baskets to help other family members organize or remember to return things to their rooms, for example. Place baskets against the wall so that people can reach the banister for safety coming up and down.
7. Create built-in storage
If you're doing a remodel, adding storage underneath the stairs can help alleviate issues in small spaces. Cut between the studs on one side of the staircase to expose ingenious places for open shelving or replace a fixed stair board with hinge-style options for hidden storage right in your staircase.
8. Paint the wall
Painting the wall behind your staircase creates a dramatic change for that transition. Be bold and paint the wall and stairs the same color for a dramatic focal point or keep it simple with a nice neutral color. Either way, a fresh coat of paint will freshen up the vibe.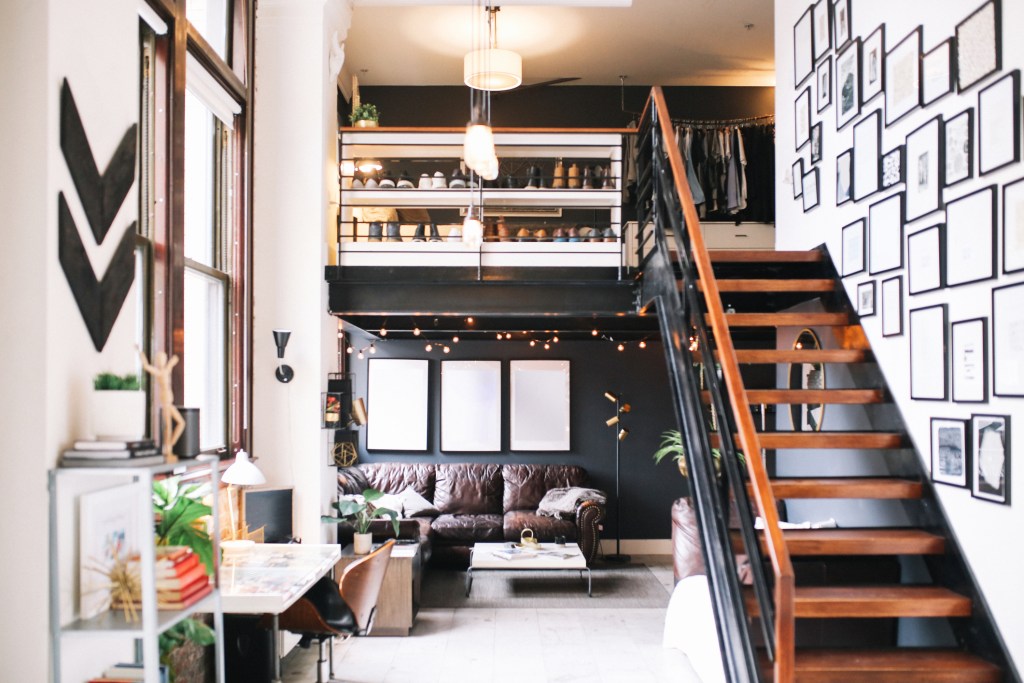 9. Add a gallery
One of the best places for a gallery wall is the staircase. Use this area to showcase some of your favorite art pieces or all of those family photos you can't get rid of but don't know what to do with.
10. Change the lighting
Take out that boring light fixture and replace it with one that makes a statement. You'll be amazed at what a sculptural or dramatic light fixture can do to change that space.
11. Add outside light
If your staircase is against an outside wall, consider adding a window or skylight to the space. It makes a closed-off area feel expansive and natural light is always a good thing — especially in small, enclosed spaces like some staircases.
12. Restore the wood
If you have some time and natural wood grain on your stairs, gently refinishing the stairs to restore their beauty is well worth it. Stairs are often one of the best pieces of craftsmanship in your home so why not highlight them?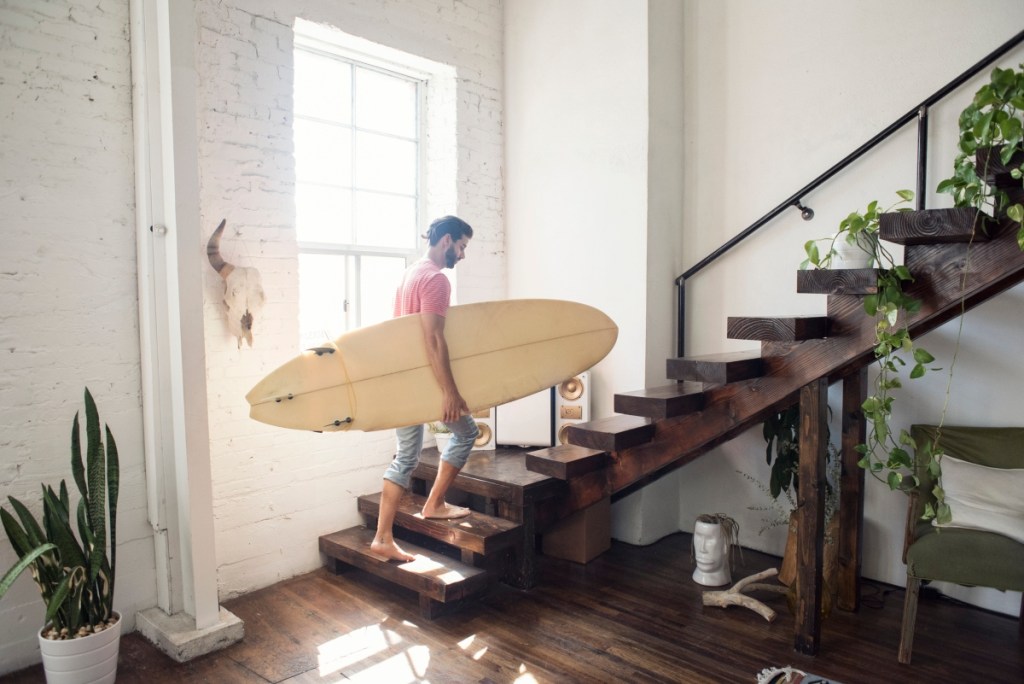 13. Accent an L-shape
L-Shaped staircases can transform just by changing out what's in the corner. Use a plant in summer for something fresh, add a small tree for holiday cheer, or place a small table with a lamp — the possibilities are vast and endless.
14. Make a home office
If you have a storage room under your stairs, consider opening it up to make a small home office. Remove the doors and parts of the wall (if it's safe) to reveal space for a small desk and wall space for organization. You could also create a small playroom for kids if office space won't prove useful in your household.
15. Change the handrails
Another dramatic change, altering the handrails, can be a big statement. A simple coat of paint can change the look in a weekend, or installing something entirely new could be just the upgrade you've been looking for. "Changing up the look of your wood stairs can be as simple as picking a new railing design or switching out the posts for something a little different," said Woodstairs.com.
16. Use decals
Decals are a quick way to add a quirky bit of personality to your stairwell that you can change out regularly. Holiday options get you in the spirit, while funny sayings or even simple numbers give you a quick update.
17. Invest in wallpaper
If you don't trust your painting skills, adding wallpaper to stair risers, the wall, or even both can provide enough personality to transform the staircase. Choose something bold, coordinating patterns, or go for one big design choice. Or wallpaper the side of the staircase for an instant mural.
18. Create statements with washi tape
If you want something a little more unexpected, Washi tape can help you. Lay it down like a waterfall, use horizontal stripes, or decorate the risers.
19. Add LED lighting
Stairs can be hard to see, but with simple LED lighting strips, you can make sure stairs are safe. Add down the wall for a movie theater effect or place underneath, so the stairs seem to float.
20. Build a bike rack
Exposed stairs are the perfect place to store bikes indoors without leaving them for you to trip over. They're aesthetically pleasing and functional.
21. Take a chance with chalkboard paint
Have some little artists in your space? Encourage their (or your) creativity with chalkboard stair risers. It's always changing and always fun. Bob Vila has several suggestions along with a chalkboard-painted staircase.
22. Consider the height
For a bold statement, take out your traditional railings and replace them with rails that extend to the ceiling. Or knock out the wall enclosing your staircase and do the same. Open the space while keeping it safe.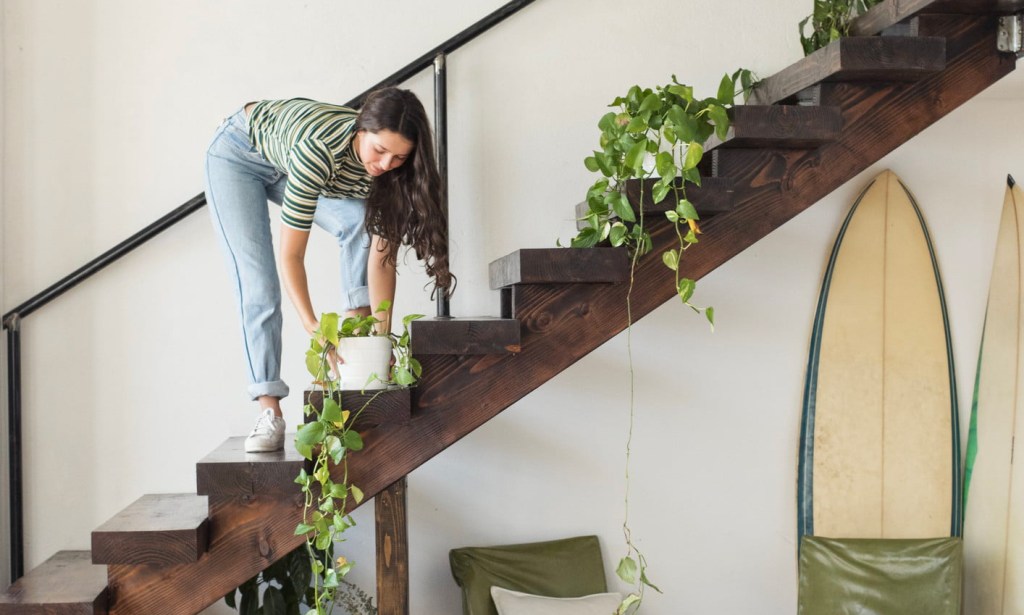 23. Add plants
If your staircase gets enough light, add small planters in between banister rails for a lush, green look that cleans your air. Add fake plants for a low-maintenance option. Balcony Garden Web stated, "Growing spilling plants on individual stairs will add more appeal and will also cover as they'll drop down!"
24. Change to tile
Tiling either the riser or the staircase gives you a new look without worrying about chipped paint or frayed runners. Tile is meant to last and will give you a unique look that is sure to be a conversation piece.
25. Use cladding
ESB Flooring explained, "Cladding is the process which consists in covering an existing structure with new material, thus creating a totally new look without the need to change the original form. In construction, this term is used to denote the process of applying one material over another." You don't need to tear out the staircase. Cladding goes right over your stairs or risers (or both) for a completely redesigned staircase.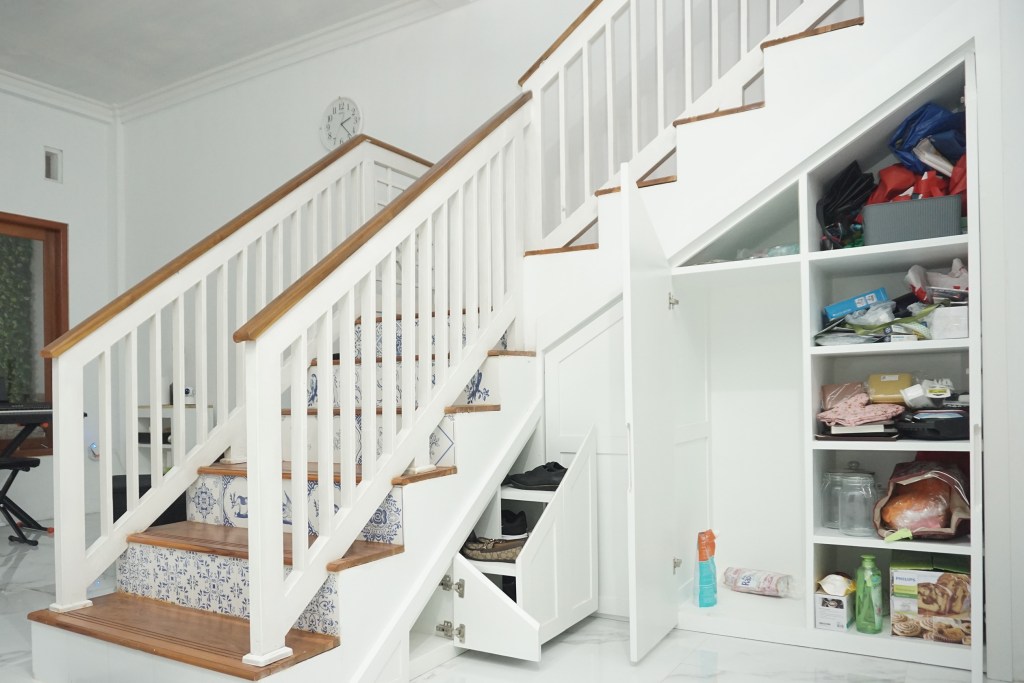 What factors should you consider when designing your staircase?
Before you begin redesigning your staircase and giving it a facelift to enhance the appeal of your home, there are a few things you'll want to consider.
How much space you have to work with
First, determine how much space you have to work with. Some staircase solutions like understairs storage, adding a bike rack, or creating a large gallery wall won't be suitable for every home. If you have a closed-off staircase or are working with an older home, you may have to consider adding a fresh coat of paint or new wallpaper to better save space.
Your budget
Your budget will also determine the scope of your staircase project. If you're working on a tight budget, paint, wallpaper, and wall decals could be the way to go. However, if you can splurge a little, it may benefit you to invest in new lighting, add a new railing, or consider purchasing some plants to spruce up the space.
Why does your staircase need a redesign?
Before embarking on a redesign, ask yourself why your staircase in is need of one. Is the space dark and drab? Does the staircase feel empty? Too claustrophobic? Or does it lack color and personality? Knowing why your staircase needs an update can help you narrow down exactly what you need to do to improve it.
If you have stairs in your house, you may feel stuck with them or that they're holding back your redecorating aspirations. Or maybe you've totally forgotten about your staircase and have never considered refinishing it. Whatever the case with your stairs, dt leave them out! Changing up the look of your stairs can transform the vibe of your home and provide a design focal point no matter where it's located. Make a subtle change or go big — the results will be worth it!
Editors' Recommendations