Closets are a bit of a blessing and a curse — they hide all of our stuff out of sight, but when we need something from inside the closet, it can be hard to find if the closet isn't organized. If your closet or storage space is always a mess, it may be time to add "Organize the closet" to your spring cleaning to-do list.
While it may seem like a daunting task, closet organization can be really simple when you take some advice from the experts. Jane Stoller, the founder of Organized Jane and author of "Decluttering for Dummies," Lauren Saltman, a professional organizer and owner of Living Simplified LLC, and Annette Harris, the founder of Harris Financial Coaching, offered up some of their top closet storage ideas to help you out.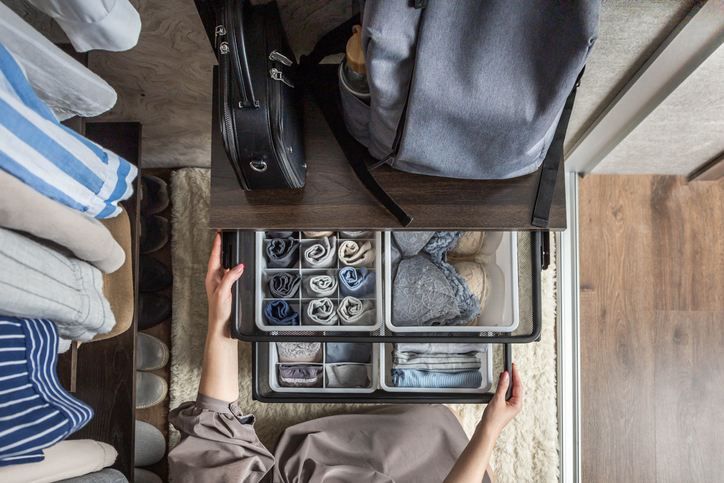 Declutter first
Before you start rearranging items in your closet, the best thing to do is to declutter. Get rid of things you don't want and haven't used in the past year or two. Naturally, this will free up space for you to organize and make everything neater. "Do not be tempted to skip the most important step: declutter first!" Saltman said. "Don't waste your time organizing items you don't want."
To do this, Saltman suggests taking everything — yes, everything — out of the closet to start. Try to sort items by category as you empty out the closet. Then, sort them into three piles (or place in three boxes or bags): Keep, Toss, and Donate. You'll then set the Toss and Donate piles aside and focus only on what you're keeping and returning to the closet.
If it's difficult for you to part with clothes, Harris has a unique idea: Turn all of your hangers backward when you put clothes back in your closet. "If you're struggling to declutter your closet and eliminate some of the clothes you no longer wear, turn all of your hangers backward," she said.
"Next, go throughout the year and wear the clothes you adore the most. Doing this task for one year allows you to go through all four seasons of the year to wear your favorite outfits. You want to be sure to mark a date on your calendar one year in advance so that you don't forget to check back in with your closet decluttering. Finally, at the end of one year, if you find that any of your hangers are still turned backward, then you should donate or sell those clothes. Not only can you declutter your closet, but you can also earn a little extra money on the side."
Make a plan and get the correct organizers
Now that all of your items are in front of you, create a plan for organizing them and decide what supplies you might need. This could be hangers, bins, boxes, drawers, and more. Stoller suggests using hooks for certain items. "Always have hooks on hand, even the self-stick ones, to make spaces around your home more user-friendly," Stoller said. "Hooks for hair bands, cords, jackets, backpacks, hoodies, purses. The list is endless!"
An expert tip from Saltman is to keep all of your organizers uniform. Use the same types of bins, even if they're in different sizes, and the same types of hangers so that everything looks and feels neat.
Label and sort by category
Now it's time to put your items away. Place objects of the same category together. For example, have a bin for shoes, a bin for towels, a bin for decorations, and so on. Then, be sure to label the bins neatly so you always know what goes where. "Working systematically (by item type in a clothing closet or by shelf in a hallway or linen closet) is all you need to do to get organized," Saltman said.
Put less-used items on high shelves
If your closet has shelving, you'll also want to place items that you don't use very often near the top. Be sure to place each item in a bin and label that, too. Saltman also suggests keeping a slim stepladder in your closet so that you can easily reach whichever items you end up organizing on your top shelf. Otherwise, things can come falling down and become quite unorganized when you go to pull something down.
Keep a "Donations" box
Both Saltman and Stoller agree that all households should have a donations bin or box to help keep closets clean. Keep this in a communal area where everyone can place unwanted items whenever they need to. This way, things don't end up at the back of the closet unnecessarily.
"Use a labeled bin to remind yourself and others constantly to declutter," Stoller said. "Even better, donate the unwanted items to someone who can use them."
Saltman added, "Make sure everyone in the home knows where this bin lives so they can easily add to it."
Organizing your closet doesn't have to be a nightmare scenario when you follow tips from the experts, including decluttering, labeling, and sorting by category. Organizing professionals encourage people to have a set plan for how they will arrange the items they want to keep and also to have a donation bin to declutter as time goes on. With these five closet storage ideas, any closet can go from a complete disaster to the tidiest storage space you've ever seen. It takes some time and dedication, but it will save you the time and effort to locate your belongings in the long run.
Editors' Recommendations