With such a wide array of household items that need storage, the garage often becomes the default storage to get items out of sight and out of mind. In an effort to keep the main areas of your home organized, the garage can easily turn into a mess that doesn't even fit the car anymore. If your garage is getting out of hand and you're tired of parking your car in the street, don't sweat it. We've put together a list of the 12 most clever organization ideas that'll free up a parking spot in your home garage.
To make room for your car while using your garage for storage, the trick is to look for ways to save floor space. Getting items off the floor is what will create the space you need for your vehicle. If you've filled your garage with overflow items from home, this means that it's time to get resourceful. With a little creativity, a bit of reshuffling, and the right components, you can organize your garage and return your car to its rightful place. Let's take a look at our favorite tips to keep your garage tidy and preserve your parking space.
Wire racks
These slim shelving solutions are useful for a variety of reasons. Because of their sleek design, wire racks take up little room and leave you with lots of space for your items. They are sturdy but lightweight, making it easy for you to move them around as needed — especially if you choose a model with casters. Another plus of wire racks is their visibility. They make it easy for you to see what is on them and encourage you to arrange your items neatly.
4-Shelf Adjustable, Heavy Duty Storage Shelving Unit
Overhead racks
When space is limited and you have oversized items to store, the ceiling can become the unexpected solution to your storage dilemma, suggests Home Depot. With an overhead storage rack, you can make use of your "fifth wall" to hang those large bins, sporting equipment, or boxes that would otherwise take up a lot of precious floor space.
FLEXIMOUNTS 3×6 Overhead Garage Storage Adjustable Ceiling Storage Rack
Hooks
Grab-and-go items that are used on a regular basis need to be easily accessible. With wall hooks, you can designate a spot for your coats, cables, or rags to avoid disorganization. If the walls are being used for other storage solutions, hooks can also be installed under cabinets or onto the ceiling to hang frequent-use items near the areas where they are needed most.
Multi-Function Hooks for Indoors/Outdoors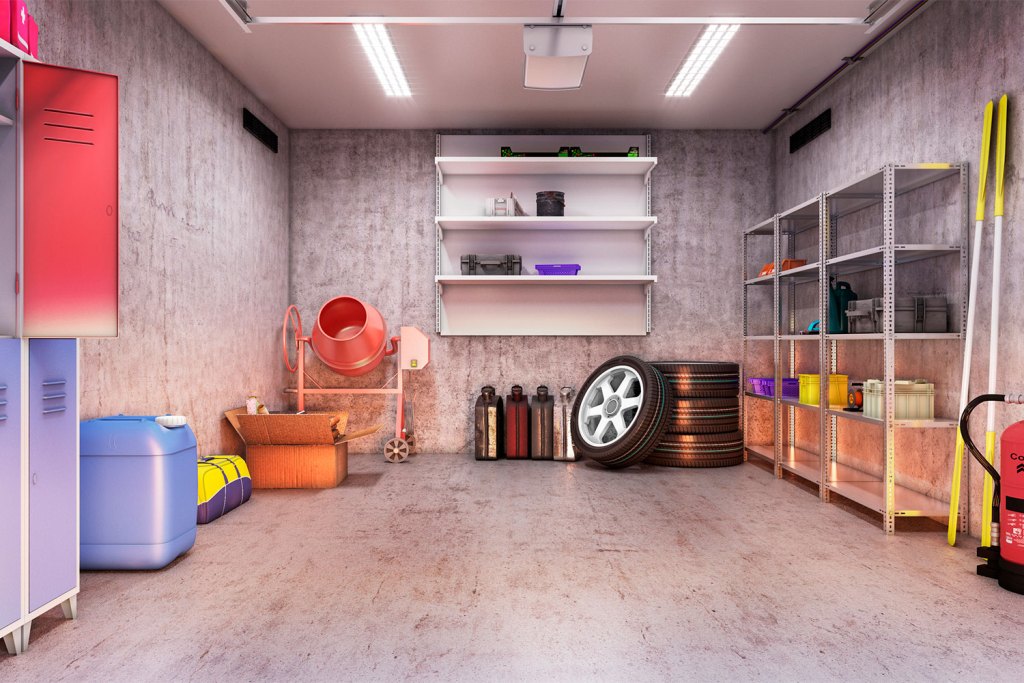 Pegboard
When you have a variety of tools that would be best organized on the walls, a pegboard is the perfect answer to your organization needs. These clever boards are a cost-efficient and convenient way to mount a collection of items right onto your wall. The best thing about pegboards is that you don't have to make a ton of holes on the walls and can rearrange your collection as needed.
Wall Control Metal Pegboard
Cabinets
These classic storage furnishings never go out of style. Thanks to their versatility and durability, you can use cabinets to store all kinds of items and keep them hidden behind closed doors. Cabinets are available in different sizes and materials to accommodate your storage needs and personal preferences. Some of the most popular garage cabinets are made from rust-resistant metal and heavy-duty plastic to provide long lasting storage.
BS Lockable Storage Cabinet
Steel Storage Lockable Cabinet
Corner shelves
When you need to make the best use of all your space, corners are invaluable nooks that should not be overlooked. You'll be surprised to see how many items can be kept in corner shelves and how much space is freed up when you get ingenious about angled compartments. Install a floor unit or shelves that are especially designed for corners and truly make the most of every inch of your garage.
SafeRacks Garage Storage Rack
Storage tubes
If you have golf clubs, fishing rods, or other long items that need a home, storage tubes are the best way to go. They keep elongated objects such as umbrellas in their place and allow you to store them in a vertical position. That way, they take up minimal floor space and keep your walls available for other items that must be mounted.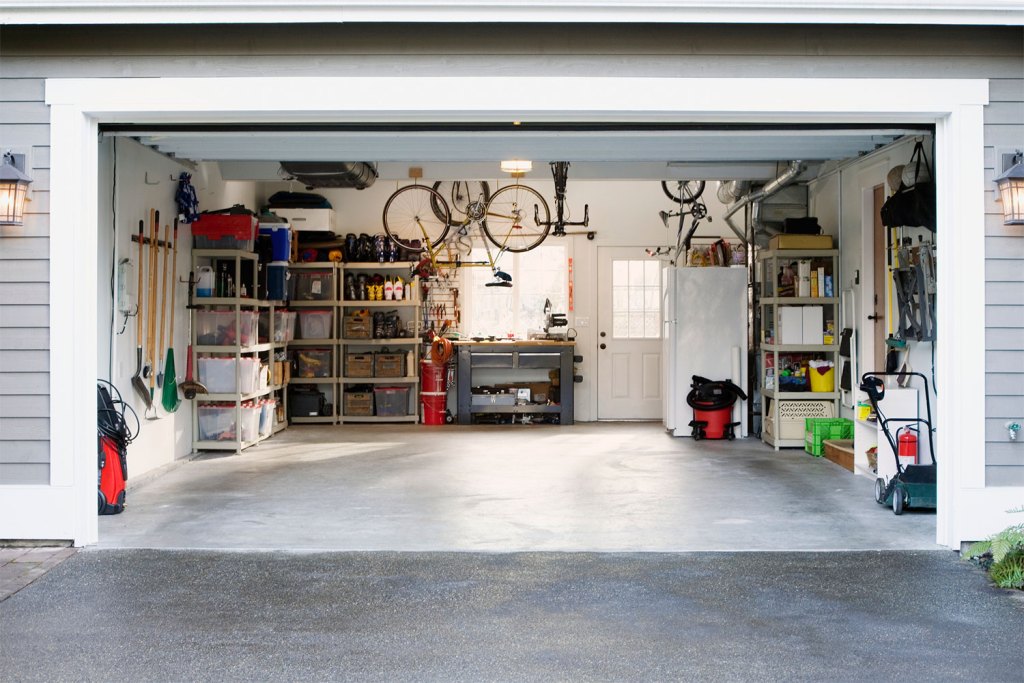 Corral for sporting gear
If you have more footballs, basketballs, and soccer balls than you can count, you know that storing them is very tricky. Because of their round shape, they roll easily and simply don't like to stay in place. But with a wooden frame and some bungee ropes, you can easily create a ball corral to keep your sporting equipment in place and readily available anytime you want to throw or kick a ball around with your kids or friends.
Sports Ball Mesh Net Nylon Bag Large
Cubbies
These preschool favorites are popular because they offer lid-free storage and easy access for a variety of items. They are perfect for those types of items that need to be grouped into categories. If you organize certain objects by color, material, or purpose, you can put each in its own cubby and ensure that they don't get mixed up.
Humble Crew Supersized Wood Storage Organizer
Rolling utility table
When your garage doubles as a workshop, you need a tabletop surface to get work done. In these cases, a rolling utility table can be the perfect solution. It allows you to use it as needed and roll it off to the side when you're done, in order to make room for the car. Plus, many rolling utility tables are designed with drawers or shelves that provide additional storage space for you.
Giantex Rolling Storage Cart w/ 4 Drawers 2 Shelves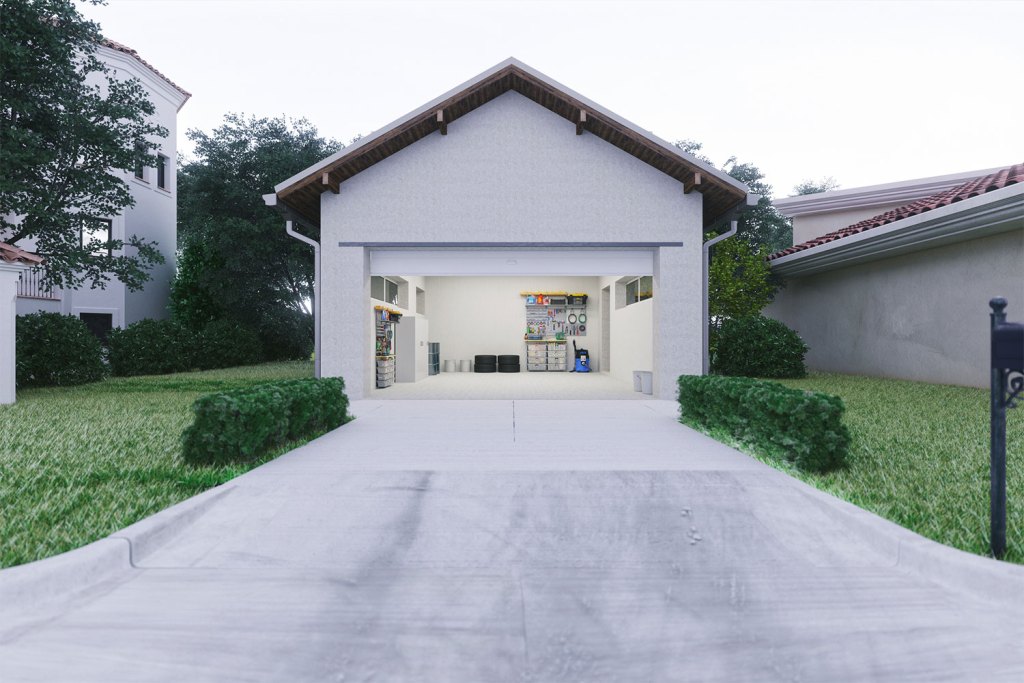 Folding table
If space is very limited, then a folding table may be best for you. Simply open it up to work and fold away when you're done. These slim tables take up very little space when they're folded, so you can maintain the organization and efficiency of your garage.
Office Star Resin Multipurpose Center Folding Table
Magnets
Working with a lot of small metal objects creates a real organization challenge. Pieces fall, they get lost, and before you know it, they're everywhere. But there's a very clever way to avoid this problem. Simply place magnets on the back of your metal shelves or pegboards and effortlessly attach your Allen key, wrench, or metal files to the other side. No hooks needed, just science.
Loveimag Powerful Neodymium Bar Magnets, pack of 24
Clearing up your cluttered garage for parking space is no challenge when you get clever about the use of space. Reimagine your layout and use walls judiciously to clear out floor space for your car, as suggested by Lowe's. With the ideas on our list, you won't believe your eyes when your garage is a well-organized and efficient parking space that also doubles as the ideal storage area. Also, to make your garage feel more like a true extension of your home instead of just an overlooked storage area, read our guide on modern garage decor ideas everyone will love.
Editors' Recommendations