Let's face it. We've all asked ourselves how to organize our kitchen cabinets in a way that is functional and helps us flow through the space while we prep and cook our meals. However, sometimes, separate organizers, drawer inserts, and existing cabinets simply aren't enough. So, what should you do?
Custom cabinets may be the key to revolutionizing how you organize your kitchen. Custom cabinetry is a great way to maximize space and enhance the flow of kitchen organization. Small kitchens and pantries, in particular, can benefit from custom cabinetry because it allows you to take advantage of the space available without an entire overhaul or remodel.
Below are some of our favorite ideas for adding custom cabinetry into the space without breaking the bank or taking on a massive kitchen renovation.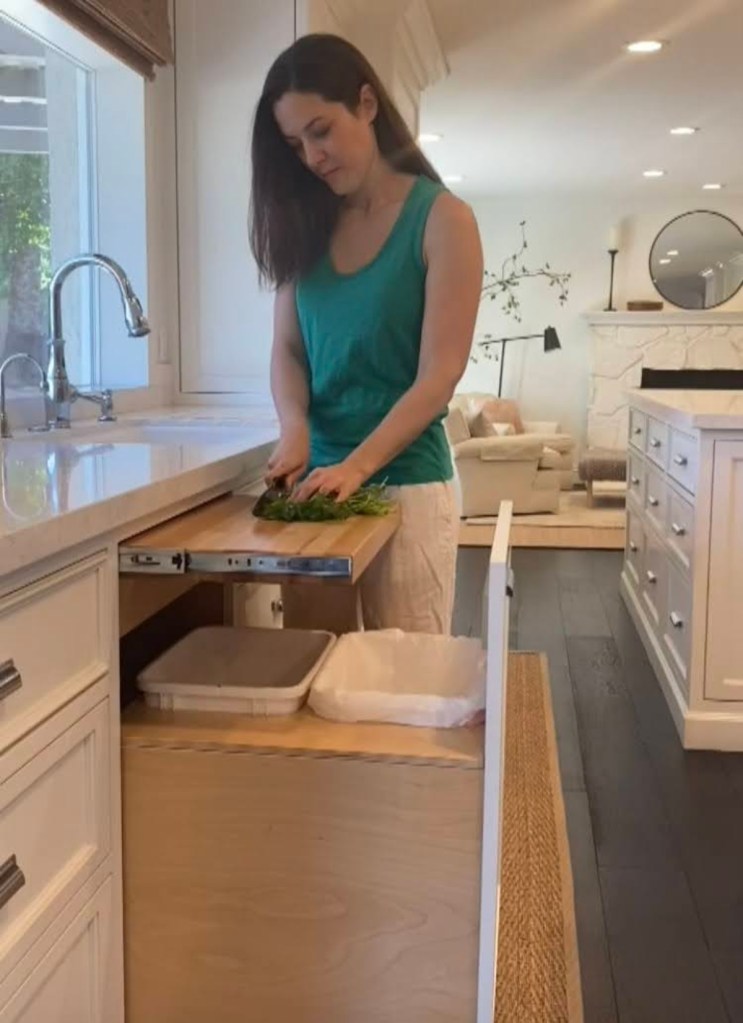 The pull-out cutting board counter
The pull-out cutting board is a game changer for the home chef. This pin from The Brain & The Brawn on Pinterest features a custom pull-out cutting board above the trash can. Built-in drawers to hide the trash exist in many kitchens today. However, for many, the drawer or space above the trash can go unused.
Wasted space is something we should all avoid in our kitchens if we want to maximize our workflow. And what better way to do so than to install a sliding built-in cutting board, perfect for chopping veggies! The best part is that any scraps are easy to toss into the can, saving you time and hassle during cleanup.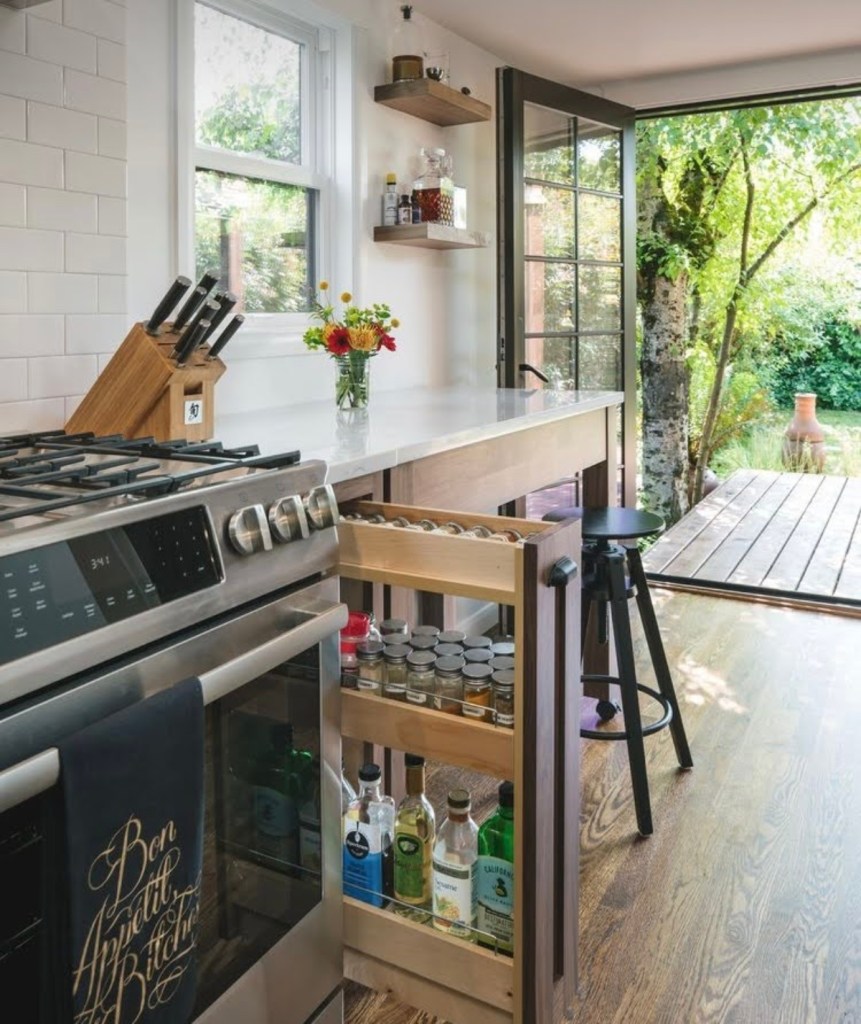 The classic hidden spice rack

We've all seen those hidden spice rack kitchen hacks, but there's a reason this is such a popular choice for homeowners looking to customize their kitchens. Spices can take up a lot of space, especially if you're a home cook who likes to experiment with flavor. And while spice shelves and cabinets may have worked in the past, many people require a more efficient and streamlined approach to spice organization.

A hidden spice rack can be as simple as a pull-out vertical drawer between the fridge and the wall or as intricate as a custom cabinet built into your existing cabinetry like the one in this pin. Spice drawers are also great space-saving solutions if you prefer a smaller budget for upgrading your space.
The pull-out utensil organizer
Utensil organizers can make for cute kitchen decor, but let's face it: Many of us have a lot of not-so-aesthetic utensils. While wooden spoons and spatulas may look pretty on display, many of our silicone and plastic tools are better off hidden in a custom organizer.
Pull-out utensil organizers like the one seen in this TikTok by @bouwmanscabintery allow you to store your utensils vertically to save space while also clearing the counter, so your kitchen doesn't appear too cluttered. And of course, this means you can store plenty more utensils in the removable containers that fit in this cabinet rather than trying to stuff them all into a small drawer organizer.
Hidden coffee bar

If you're an avid coffee lover, you know the hassle of maintaining an aesthetic coffee bar setup while keeping your spices, grounds, Keurig cups, and coffee tools nearby for easy access. @truelove_designs on TikTok features a hidden coffee bar built into the cabinetry. With a shelf above the espresso machine and plenty of drawer space beneath the coffee bar itself, there's a ton of space to store your morning goods without leaving the clutter out in the open.

Custom hanging mug hooks, drawer organizers for your favorite coffee materials, and an easy hideaway cabinet drawer can help create a seamless look while still giving you plenty of organization.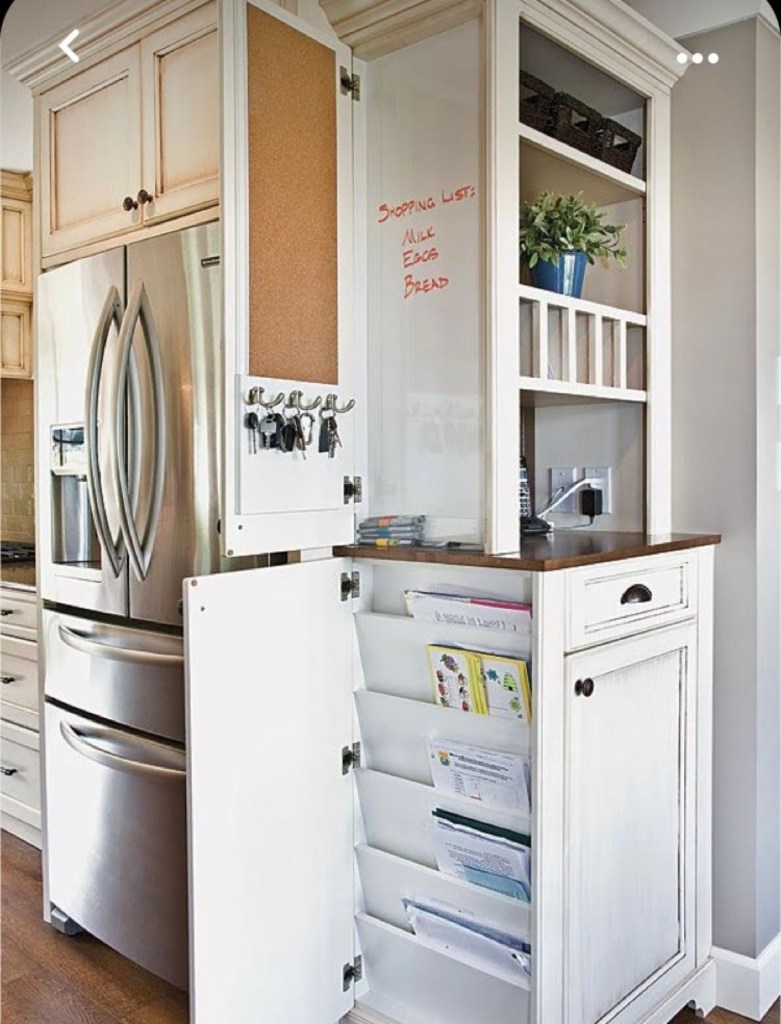 The home hub organizer cabinet
Home hubs have quickly become a popular feature in many homes. With smart technology, coat racks, bulletin boards, and several calendar and mail organizers to keep a family on the same page, home hubs have garnered much attention in the past few years. However, these hubs can get messy and aren't always aesthetically pleasing.
So, people like Fine Homebuilding on Pinterest have opted for a home hub organized cabinet that offers more privacy, thanks to its built-in and hidden features. This home hub has a bulletin board built into the door, hooks for keys and lanyards, a whiteboard for family notes, and a few organizers for mail or other important pamphlets. Home hubs like this are ultra customizable so you can cater to your family's needs while also hiding all these details whenever you host guests.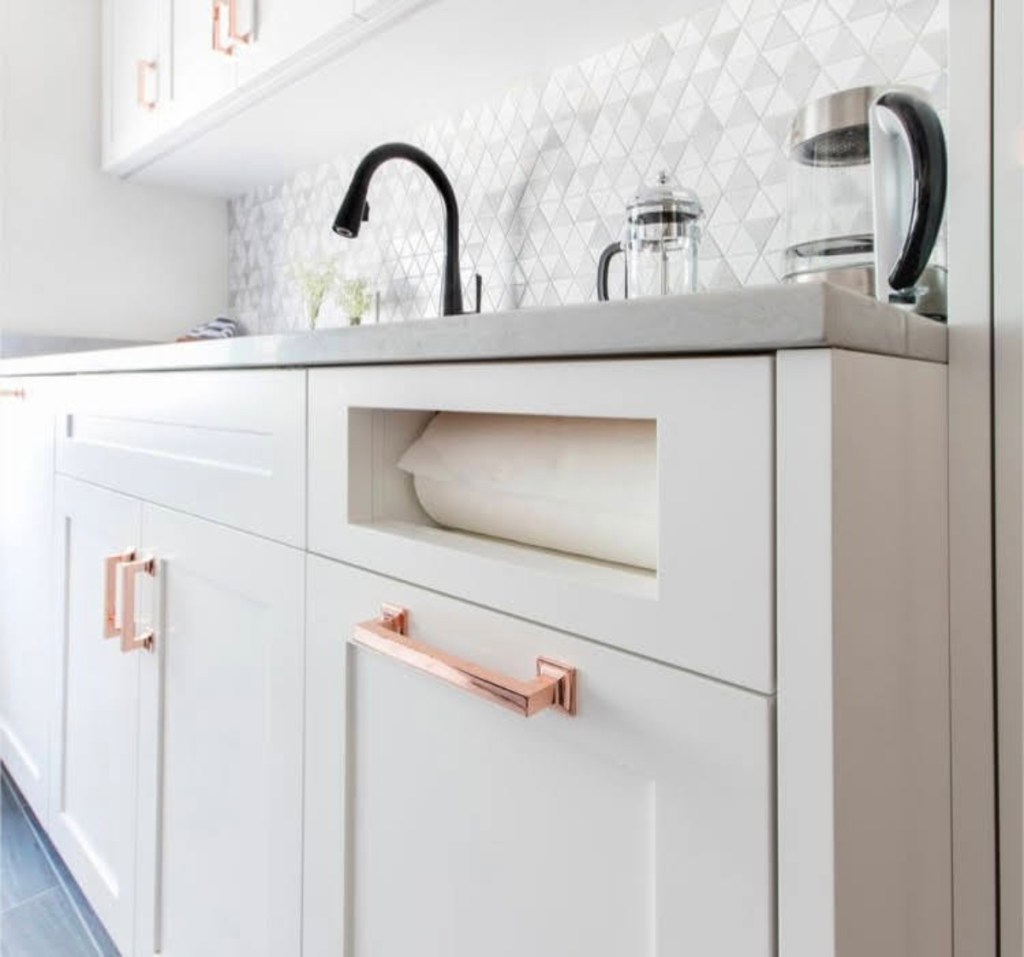 Built-in paper towel holder
Built-in paper towel holders have also become a common feature in kitchens. These custom additions clear up counter space and give you a unique way to store paper towel rolls. For example, Sweeten on Pinterest shows a built-in paper towel holder above the drawer to the trash can, perfect for pulling out a sheet whenever there's a mess without the roll taking up too much space. And don't worry, changing the roll is super easy! Many custom additions like this look seamless and are simple to use.
Custom container drawers for baking supplies
While deep cabinet drawers are also becoming a more popular feature in kitchen cabinetry, one addition quickly making its way into the home is the custom container drawers for baking supplies. In this TikTok by @mattadlard, we can see the perfectly fitted slots for the dry goods containers. Items like flour, sugar, and rice easily store in these containers. And just as we see in the video, they are simple to remove for deep cleaning or for creating a more mobile workspace. Or, you can scoop out whatever you need without removing the container.
Custom cabinets can create a more functional and stylized kitchen. They clear up counter space and enhance the workflow of the kitchen. Whether you opt for pull-out pieces that offer more functionality or add features that maximize your space, these solutions can be revolutionary to add to your home.
Editors' Recommendations