Is there anything more annoying than a small kitchen? There's nowhere to put your cooking tools, you have to pick and choose which countertop appliances to keep, and forget about finding anything in your cabinets quickly.
When dealing with limited counter space, fewer storage areas, and less square footage overall, organizing your kitchen can be a major frustration. But don't write the room off completely just yet — the internet may have all the answers to your pleas. With these creative tips from TikTok users, organizing a small kitchen won't seem like such an impossible task. Keep reading to learn more about a few of our favorite tricks.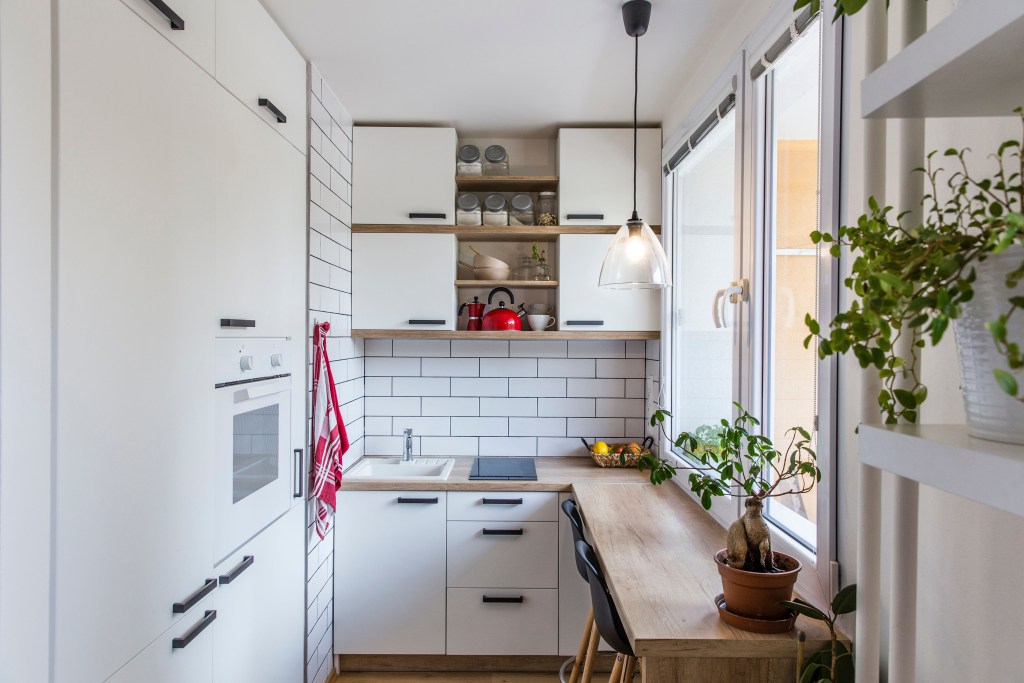 Storage hacks for organizing a small kitchen
Small kitchens often feel cluttered and messy simply because they lack ample storage space. These ideas from @lonefoxhome can help you not only create more storage options but also make your whole kitchen a bit more functional.
Hang up measuring tools
The first tip he suggests is hanging up measuring spoons and cups. When cooking or baking, it's often difficult to find the right size measuring tools, especially if you have them thrown in a drawer. Consider using Command hooks to hang them on the inside of a cabinet door. Put them in order of smallest to biggest so you can quickly grab the one you need.
Use an over-the-toilet shelving unit to create storage space
LoneFoxHome also recommends using an over-the-toilet shelving unit to create more storage space in your kitchen. Place the storage unit above your trashcan and use the shelves to house cleaning supplies and small appliances that don't fit on your counter. He also uses stylish wicker baskets to organize his cleaning supplies to make the whole space more aesthetically pleasing.
Create a spot for your trash bags
The third storage hack can help you save more space under your kitchen sink. LoneFoxHome repurposes a mounted paper towel holder as a trash bag holder. This hack makes it easier to grab a new garbage bag when needed, and you can recycle the bulky box to clear cabinet clutter.
Optimize your pantry
One of the biggest pain points in a small kitchen is food storage. Most people with tiny kitchens aren't lucky enough to have a dedicated pantry. In really tight spaces, there may not even be enough room to add free-standing storage! Instead, you're forced to make the most of the space you have. But if you use these helpful suggestions from @bryannah_kay, optimizing your food storage can be simple and aesthetically pleasing too.
The main goal of organizing your pantry space is to ensure every item is visible and accessible. Organizing with this objective in mind can help ensure you'll be able to find what you're looking for when you need it. It can also help prevent hidden food items from expiring before you use them because you couldn't see them and forgot about them.
@bryannah_kay provides a few methods for making the most of food storage:
She places her spices on a three-tier spice rack so every item is visible.
Her baking ingredients and bulk foods are in clear, airtight containers with labels.
For the rest of her food, she categorizes items by use and displays them on lazy Susans for easy access.
Small kitchen organization ideas for messy bakeware
No matter what size kitchen you have, organizing pots, pans, and bakeware is a challenge. If you find yourself removing everything from your cabinet whenever you're looking for a baking sheet, this inventive hack is for you. This life-changing tip from @mama_mila_ is so simple that you'll wonder why you didn't think of it yourself.
The creative TikToker gives an office file rack new life as a tray organizer. She places the file rack in the bottom of a cabinet and puts a different baking sheet or tray in each divider. With this easy kitchen hack, you'll be able to find your cooking supplies as soon as you need them.
Though living in a home with a small kitchen may not be ideal, there are plenty of ways you can make the most of your space. TikTok is the perfect place to go for creative kitchen organization hacks. The app is full of suggestions for optimizing your kitchen to make it more functional and stylish. From utilizing lazy Susans and wall-mounted hooks to repurposing paper towel holders and office supplies, there are lots of unconventional ways to clean up your kitchen. These are just some of our favorite small kitchen organization tips, but there are so many more waiting to be discovered online. So stop stressing and start organizing today!
Editors' Recommendations