If you're working with a small kitchen, you understand the struggle to find space to store your cooking materials or have a solid area dedicated to prep work. The challenges that these tiny spaces bring to your home can hurt your functionality and make preparing meals a nightmare. Fortunately, there are several simple solutions to overcome these setbacks so you can use your tiny kitchen to its fullest potential.
Here are eight small kitchen ideas that will help you take control of your space and get back to making delicious meals you and your family are sure to enjoy.
What is the best design for a small kitchen?
Whether you have an L-shaped kitchen, kitchenette, or galley-style setup, knowing how to design your kitchen to maximize its functionality is essential. Here are some of our best tips for creating a space that exceeds expectations.
Designate a separate prep area
One of the most vital spaces to have in your kitchen is a designated prep area. If you have a small kitchen, you're likely struggling to find enough counter space to chop vegetables or prepare your meals. To fix this, we recommend setting aside a designated area for your prep work. Try to keep this area clean and clutter free to make prep time more manageable. You can section off a portion of your counter, use a small table, invest in a wall-mounted drop tabletop, or try out a mobile cart to create a space fit for prep work.
Add a mobile kitchen island
These days, having mobile furniture is a lifesaver for many homeowners. Small spaces, in particular, can benefit from portable tabletops, chairs, or kitchen islands to help maximize the space available. When choosing a mobile cart, find something that can quickly be stationed off to the side of the room or in a closet when not in use. When you're ready to begin cooking, wheel out your kitchen cart to use as extra counter and storage space.
Store your clutter in plain sight
When storage is limited, it's time to get more creative in how you handle your clutter. One of the best ways to store your kitchen gadgets is to hide them in plain sight. Use your standing mixers, tea kettles, dishware, and food containers as decor. Rather than trying to hide away your materials, find creative ways to display them that will work them into your kitchen design. Dish shelves, knife wall holders, and hanging pot chandeliers can also help you make room for storing other kitchen essentials.
How can I make the most of my small kitchen?
If you're looking to make the most of your small kitchen via additional storage solutions or organizational hacks, then you've come to the right place. Below are some of our favorite small kitchen storage tips to help you make the most of your space.
Use multipurpose items
Multipurpose appliances or furniture can go a long way in a small kitchen. As we mentioned above, kitchen carts are a fantastic solution for maximizing storage while also having a mobile prep station when you need it. Additionally, fold-out tabletops or countertops are excellent solutions for creating additional workspace as needed. You could also invest in dual-purpose appliances or kitchenware to cut down on the clutter you have in your space.
Take advantage of organizational tools
While it can be tempting to toss your silverware in a drawer or stack all of your pots and pans atop one another, investing in organizational tools may be a much more beneficial option. Using hanging pan racks, drawer dividers, sheet pan organizers, canned food stands, or lazy Susans can help you tackle the overwhelming clutter inside your kitchen cabinets. By organizing all of your materials, you can create additional space to help enhance the storage available.
Utilize vertical space
When it comes to small spaces, vertical storage is your best friend. Hanging knife holders, wall shelves, pegboards, magnetic shelving units for your fridge, and hooks to store aprons and pot holders can help clear up some of the clutter in your kitchen. Search for vertical organizers or wall hooks to hang some of your kitchenware. This will open up space in your cabinets and allow you to create some functional wall decor as well.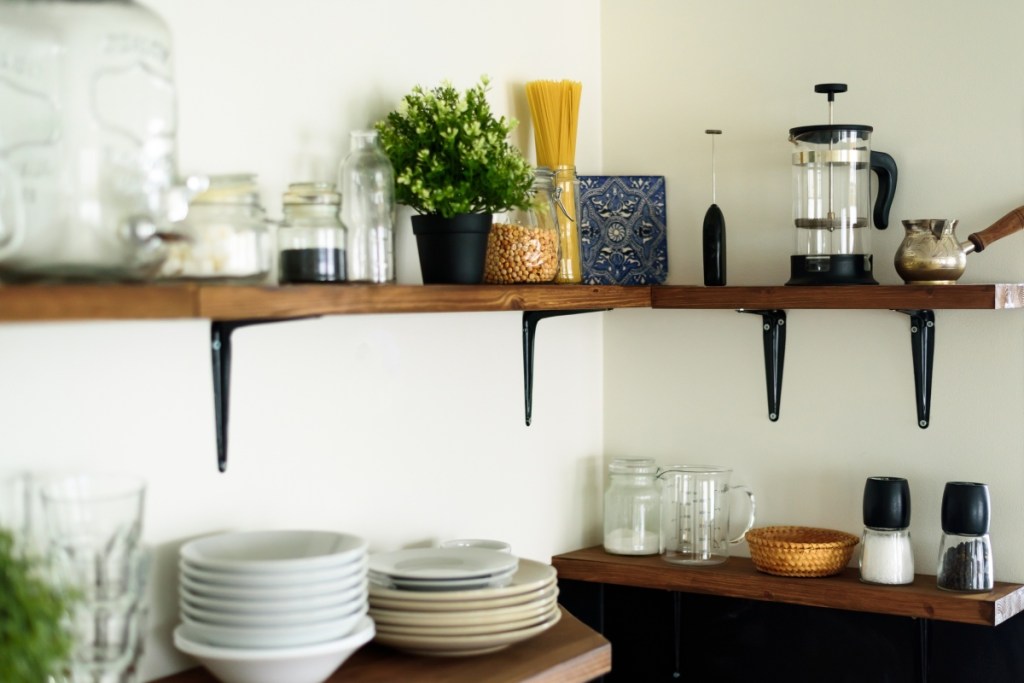 Remodeling ideas for small kitchens
If you're interested in taking on some unique DIY hacks or want to tackle a miniature remodel, there are a few simple solutions that can transform your tiny kitchen.
Try out some custom cabinets
If you're up for it, building custom cabinets for your kitchen can be life-changing. Whether you work with a professional or go the DIY route, creating custom-built cabinets allows you to organize your kitchen based on your needs. For example, do you want a specialized spice rack? Maybe you have a lot of pantry goods that require additional storage. Or perhaps a hidden fridge or toaster oven is a high priority for your space. Whatever your situation, custom cabinets can be a welcome addition in a cramped room.
Add a pegboard or open shelving
Pegboards are an excellent option for people looking to save money while also creating vertical storage solutions. Once you screw your pegboard to the wall, the organizational ideas are endless. Use hooks or shelves to store your beloved kitchenware.
Alternatively, you can skip the pegboard altogether and take out any existing upper cabinets that are taking up space. Replace your cabinets with open shelving, where you can put your materials on display. Not only is this option visually appealing, but it's a fun design hack that can make your room feel much larger than it is.
Trying to maximize the space in a small kitchen can feel overwhelming. However, it's much easier to tackle your tiny space once you have the right tools, such as mobile carts, fold-out tabletops, dual-purpose appliances, or vertical storage organizers. Focus on functionality first and foremost, and feel free to hide your kitchen clutter in plain sight. These are some of the best ways to transform a small kitchen space into a space that is useful and enjoyable to cook in.
Editors' Recommendations