Many homeowners and renters struggle to decorate a small interior and make it feel more expansive than it is. It's challenging to add personality and charm to a space while also maintaining a feeling of openness. Adding too few adornments leaves the space looking barren, but overdecorating can make the home feel cramped. So, we turned to the experts for their best tips on how to make a small space have all the glam and character of a bigger home.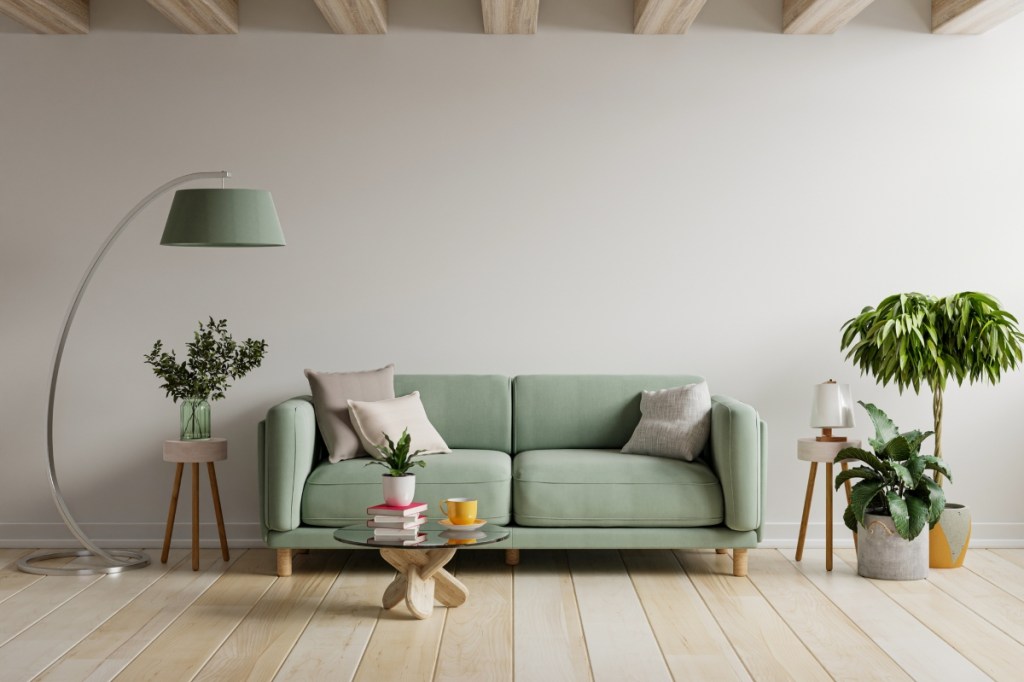 Raise your furniture
Monika Drazdauskaite, Interior Designer at Planner 5D, provided some expert advice on picking out the right furnishings for your small space. She shares, "When selecting a sofa, it is recommended to consider its shape and the 'visual weight.' Select a sofa with legs, as it feels more lightweight in space than pieces placed directly on the floor with their entire weight."
Raising sofas and couches off the floor can also create the illusion of more space since more floor area is visible. This tip goes for other large pieces of furniture as well including console tables, coffee tables, sofas, chairs, and beds.
Stick to a neutral or light-colored palette
Most interior designers recommend that, when decorating a small house, you can't go wrong with light colors and neutral tones.
Eugene Colberg, a Brooklyn-based architect with over 25 years of experience, says to "keep it simple. In order to make a small home look bigger and better, and more functional, simplicity in design is key." Choosing a light neutral color palette will create an airy feel in the home while also creating a minimal look that doesn't crowd the already small space.
How to design a small living room
The living room is a special place for family and friends to gather and spend time watching TV, playing board games, or just chatting and relaxing. To ensure your living area is comfortable and livable, decorate this small space with a light touch.
Hang your curtains higher
Drazdauskaite also recommends hanging curtains higher than the window frame to give the illusion of taller ceilings. She recommends "mount[ing] the curtain rods 4 – 10 inches above the window frame to make the windows and ceiling look visually higher and give airiness to a small room."
Light-toned and solid-colored curtains are also a good way to add an airy openness to the space. Patterns can appear too busy for the confines of a small room, so it's better to stick with a solid color, preferably in a neutral tone.
Use a large area rug
In addition to light curtains and decor, Drazdauskaite shares that choosing a large rug is another trick that makes the room look bigger. While it may sound counterintuitive to some, choosing a big rug that sits comfortably beneath most furniture pieces, and leaves at least two feet of clearance from the walls, can give the illusion that your room is bigger. When choosing an area rug, choose one with a simple pattern or solid color for the best results.
Opt for mirrors in your decor
Both Colberg and Drazdauskaite recommend adding mirrors to your home design to open up the look of your space. Mirrors reflect light, making the room appear brighter and lighter. Opting for a large full-length mirror in your living space or a unique piece above the sofa are both inexpensive ways to transform your space.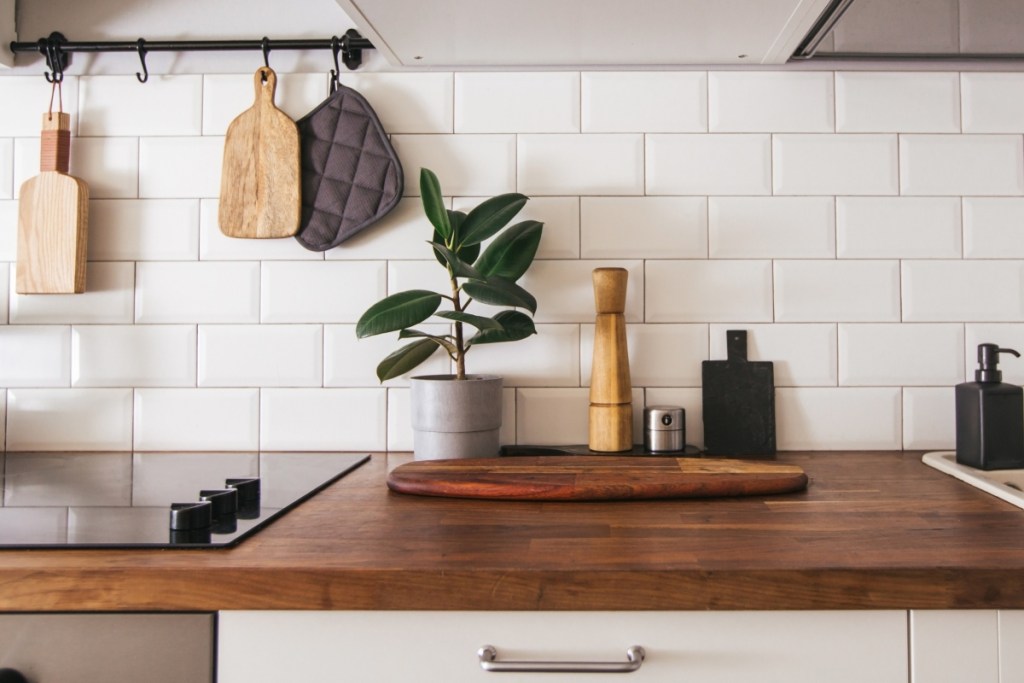 How to design a small kitchen
Aside from the living room, many homeowners ask experts for their best small house interior design kitchen tips. Here's what they have to say.
Open up your space
To create a cohesive and open look in your spaces, Colberg says it's important to create a cohesive space with rooms that blend into each other. He states, "It doesn't help to have a small kitchen, a small dining room, and a small living room — it's generally better to have one large multipurpose space." Dividing walls can create a closed-off look in your home, so try to create flow wherever possible. If you're prepared for a bigger renovation, consider removing walls to create an open concept design.
Invest in hidden storage
Although open shelving is a popular trend in home design, it can easily give way to visual clutter, making small spaces feel even more cramped. The alternative? "Have a lot of storage behind doors instead of open shelving," suggests Colberg. With effective, hidden storage solutions, you can keep your walls open and clutter-free.
Add some greenery
When designing your space, keep it refreshing and lively. Drazdauskaite suggests adding plants to your home decor, stating, "Plants make even the smallest space feel fresher and lighter." Adding hanging plants, succulents, and other small details throughout your space can make an otherwise dark or closed-off space feel more open and welcoming.
Designing a small space is all about being creative, changing the orientation, height, color, and textures of a few key pieces to create an airy and light feel to your small space. So, with these expert-approved tips, your cozy pad can feel larger than life.
Editors' Recommendations