Your home is a reflection of who you are — the colors that make you happy, the design style you prefer, knickknacks and artwork that tell the story of your life. And while it's easy to see your personality reflected in rooms like your bedroom or your living room, a lot of the times bathrooms lack personality.
It doesn't have to be this way, though. You can inject a bit of individuality into your bathroom design, while still creating a space that's inviting and serene. From revamped flooring to luxurious vanities, rain head showers to brand new fixtures, there are tons of ways to make a large impact in this small space. To get the biggest bang for your buck and create a design that will be refreshing, fun, and uniquely you, listen to what the experts have to say about this home improvement project.
We've reached out to some of the top industry experts for their guidance on your next bathroom design project. With these tips and tricks, you can upgrade your space to create the spa-worthy bathroom of your dreams.
Where do you start?
Bathrooms aren't the biggest room in your home, but they still have a massive impact on the aesthetics and energy of the entire space. For best results, try to strike a balance between eye-catching and demure so you can relax in a room that's as exciting as it is tranquil.
First, find the focal point
Interior designer Anna Franklin of Stone House Collective recommends homeowners start by deciding what the focal point will be.
"Investing in beautiful flooring tiles is a great way to add impact to the space. There are so many great options for floors, and you can go bold with the flooring and add in neutral pieces elsewhere to make it the focal point of the room," she said.
If you'd prefer the focus point to be more vertical, that works, too. "The same goes for bath/shower tile as well," Franklin continued. "If you do opt for an interesting tile pattern or color for the bath/shower area, be sure to install glass shower doors so that the tile remains visible instead of blocked by a shower curtain."
Megan Hersch, interior designer, founder, and COO of roomLift, said that cohesion is key when it comes to statement tiles. "If you can use the same tile from the bathroom floor into the shower floor, the space opens up. Less obstacles, less changes in elements feel more peaceful," she said.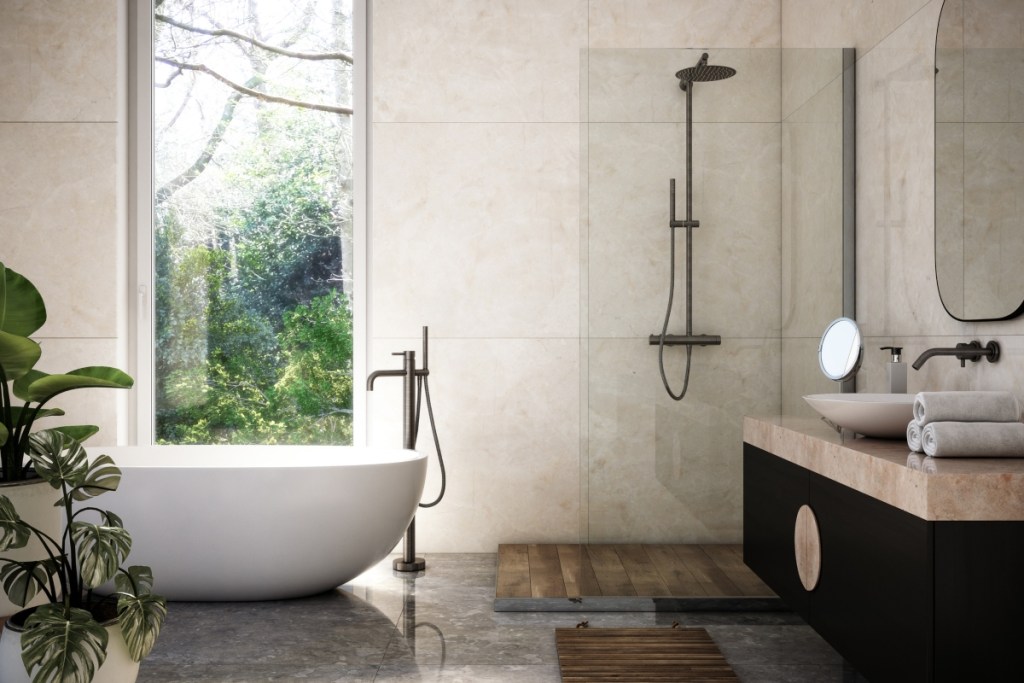 Pick one (or two) highlights
For a carefully curated space, concentrate on a few, highly personalized pieces that can make a big difference.
Ask yourself how you will use the space
"If you like to take time for yourself by relaxing in a warm bath, installing a unique bathtub can make the space feel extra special," Franklin explained. "Look for a soaking tub that stands alone and has special style features such as clawed feet. These kinds of tubs can make a bathroom feel extra luxurious."
Don't forget the final touches, either. "To further inject your style, add a tub caddy tray in wood, brass, or black," Franklin said.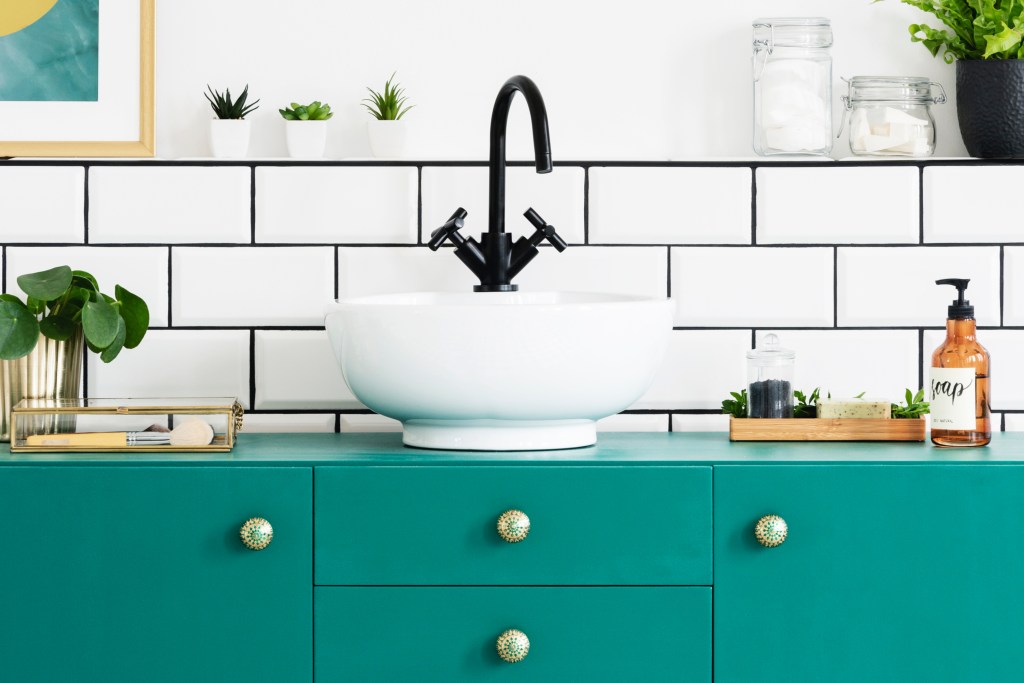 Think about color
Bathrooms are an ideal room to add personality and character through color. If you don't want to commit to a bright or trendy design, opt for some fan-favorite themes.
"The bathroom vanity is another space you can play with the design of the bathroom," Franklin said. "If you want to keep the space neutral, opt for a natural wood vanity with a black or white countertop. On the other hand, you can choose a painted vanity in your favorite color, whether that be an earth tone like olive green or a calming navy blue."
Hersch agreed. "Black and white patterned tiles are at the same time on-trend (which means you can find a lot of options stocked right now) and historically timeless."
Then, just add a pop of color via wallpaper, paint, or in the vanity itself for a fun touch.
Bathrooms should play a dual role, both calming you down at the end of the day and inspiring you while you get ready the next. You can achieve this, as our experts recommend, by keeping the focus on one or two items and designing the space around them. Then, it's as easy as finishing it off with pops of color, deluxe fixtures, and neutral basics. If you follow these guidelines, you can decorate a bathroom that emanates a sense of fun sophistication, but that also feels like it belongs to you, be it a small powder room or a master bath.
While many of these renovations are DIY-friendly, be aware of the limits of your handiness. If you don't have experience with plumbing or tiling, don't be afraid to call an expert for help. Doing the remodel yourself can save you a lot of money on labor costs, but that won't matter if you need to bring in a crew for a costly repair.
Editors' Recommendations