If you're living in a large city, you know how important outdoor space can be. If you're lucky enough to have a highly coveted balcony, you owe it to yourself (and any guests you entertain) to transform it into a cozy outdoor oasis worthy of your time and energy. Even if it's small, there are so many ways you can decorate it to offer a fun and inviting place to sip your morning coffee, curl up with a good book, or host friends for cocktails after work.
We've come up with five cozy small balcony ideas to get your creative juices flowing. They work on balconies of every size, and they won't break the bank. They will, however, be the envy of anyone who steps foot into your home in the future. You've been gifted with outdoor space, so take advantage of it and turn it into a private escape you can disappear into when you need a little me-time.
How to decorate a balcony
Looking for some cozy balcony ideas? These five options are perfect for an inviting, intimate space.
Add a dining area
When the weather is nice, elevate your mealtime by dining alfresco. Place a small, round table and two chairs on the balcony so you can eat breakfast and watch the world around you. For those working from home, use this setup to get a little work done while soaking up the sun. We love the idea of a fold-up table that's lightweight (like this one from Ballard Design that is available in three colors), so if the weather does turn bad, you can fold it up and bring it inside.
Consider floor seating
If your balcony space isn't large enough for a table and chairs, adding floor pillow seating is the perfect way to make the most of the space you do have, all while keeping things comfortable for you and any guests. This is a great option if you're renting and unsure if your next place will have a balcony. Instead of splurging on outdoor furniture, you can simply purchase a few cozy pillows that you can take indoors if need be. We love these pieces from Society 6 for their cheerful designs, and the high-quality design ensures they won't lose their shape when you sit on them.
Get a hammock
Who doesn't love floating in the air, legs outstretched while the sun hits your face? Hammocks are a great option for a balcony because they come in a wide variety of sizes and lengths, so you can stretch it to fit the length of a small balcony or tie it in one corner if there's more space.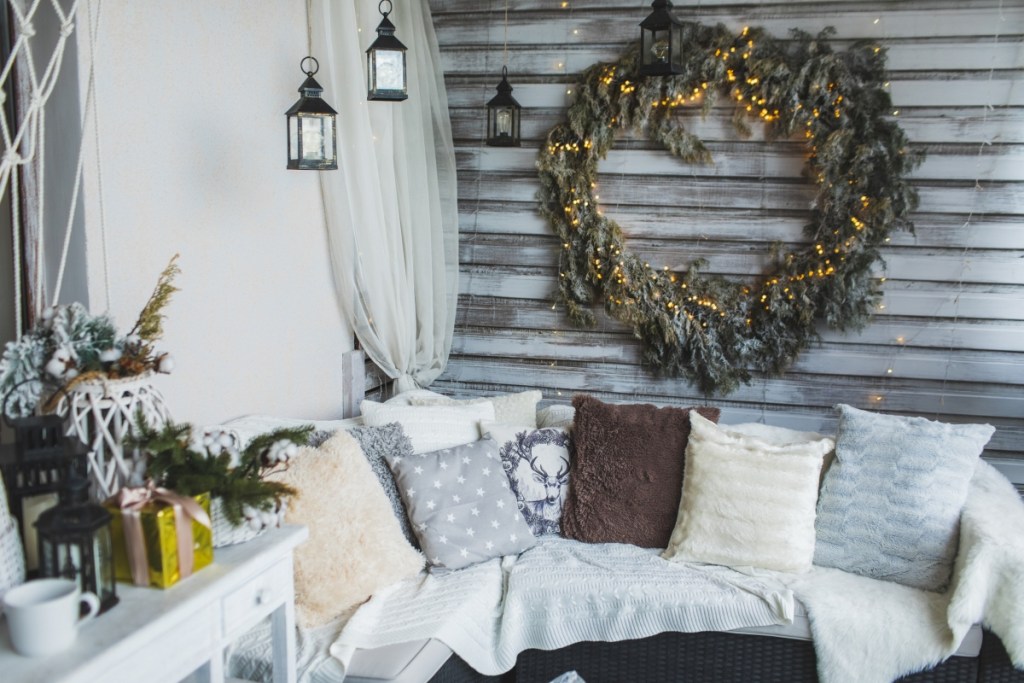 Create a cozy corner
If you have the space for built-in seating, consider installing a bench to provide even more room to work and play. Then, you can add textured pillows and luxe throw blankets to keep everyone cozy when the temperature drops. On the other hand, protect yourself from the sun on those hot summer days by adding taller plants in the corners. These can also provide a little more privacy for those with balconies that face others. For even more security, add a bamboo shade that you can roll out when you want more privacy and wrap up when it's time to soak in the sun.
Draw the eye up and down
There's nothing worse than wasted space, so get creative and try to add some fun decor along the walls, in the corners, and even across the railing. Hanging plants in the corners or on a wall trellis will draw the eye up and out to make the entire space feel larger. The same goes with lighting: Stringing lights overhead and on the balcony railing maximizes the light and ensures the party keeps going even after the sun has set. Finally, choose a patterned indoor/outdoor rug for the balcony floor to bring more visual interest to the space and make sure it's comfortable to go barefoot.
Adding personal touches like the ones mentioned above will immediately turn your balcony from a rarely used space into an oasis you can hang out in for hours. As the months go by, change up your space with seasonal candles, perennials, and holiday-themed decor to keep the area exciting.
Because balconies are small and separate from the main area of the house, they provide ample opportunity to experiment with patterns, colors, and textures without detracting from the aesthetic of the rest of the home. As long as it feels inviting and tranquil, you can't go wrong. So sit back, relax, and unwind after a long day. Once you're done, you'll wonder why it took you so long to transform the space.
Editors' Recommendations