While unpacking your Halloween decor this year, you'll likely run into broken, rarely used, and dated pieces that don't have a place in this year's design. In that case, it's time for a shopping spree. Whether you are going for spooky, scary, or adorable, there is something for everyone when it comes to decorating your porch for the holiday. When reimagining your home's decor this season, the front door is the perfect place to start. It's like your home's warm smile, inviting guests in and beckoning trick-or-treaters toward their next handful of candy. It can also be seen from the street, so any neighbors or passersby can appreciate all your hard work.
These eight Halloween door decoration ideas will make your house the envy of all your neighbors this year. No matter what your style, we're pretty certain one (or more) of these will catch your eye.
Halloween wreath
Wreaths aren't just for Christmas anymore. There are tons of gorgeous fall wreaths, from ornate floral arrangements to minimalist copper pieces, that can add a little flair to your front door. If DIY isn't your thing, we love this adorable pre-lit bat wreath from Pottery Barn. The black rattan branches and plastic bats add a spooky vibe, but the mini LED lights bring a little brightness to this dark arrangement. For a more decadent touch, check out this Luxe Gothic wreath from Grandin Road, complete with pearl-studded mini pumpkins and orange roses.
Candy wreath
Halloween is all about the candy, so take your wreath design one step further and make it edible, filling it with your favorite sweet treats. Find a bunch of candies with yellow, orange, and green wrappings and attach each piece of candy to a foam wreath using a hot glue gun or pins. Layer them around the foam until you have a piece that just begs trick-or-treaters to stop by.
Turn your door into a gravestone
All you need to make this one come alive is paper, spray paint, and a little imagination. First, cover your front door with paper or signboard, then spray paint the entire surface with grey paint. Using a permanent marker or black paint, write a name, date of birth/death, a witty epitaph, and any other features you can think of to complete the look.
Bring on the cobwebs and spiders
Head to The Home Depot for a front door spider mural that will give the jeepers and the creepers to anyone who dares to enter. If you'd rather DIY this creepy-crawly, you can make spiders using black balloons and pipe cleaners. Keep in mind that balloons are fairly quick to pop, so be prepared to recreate your spiders every so often.
Make your door into a Jack-O-Lantern
Halloween and pumpkins are basically synonymous, so why not turn your door into a giant one? Tape orange wrapping paper across the entire door, then create the face of your jack-o-lantern with gold, white, or black construction paper.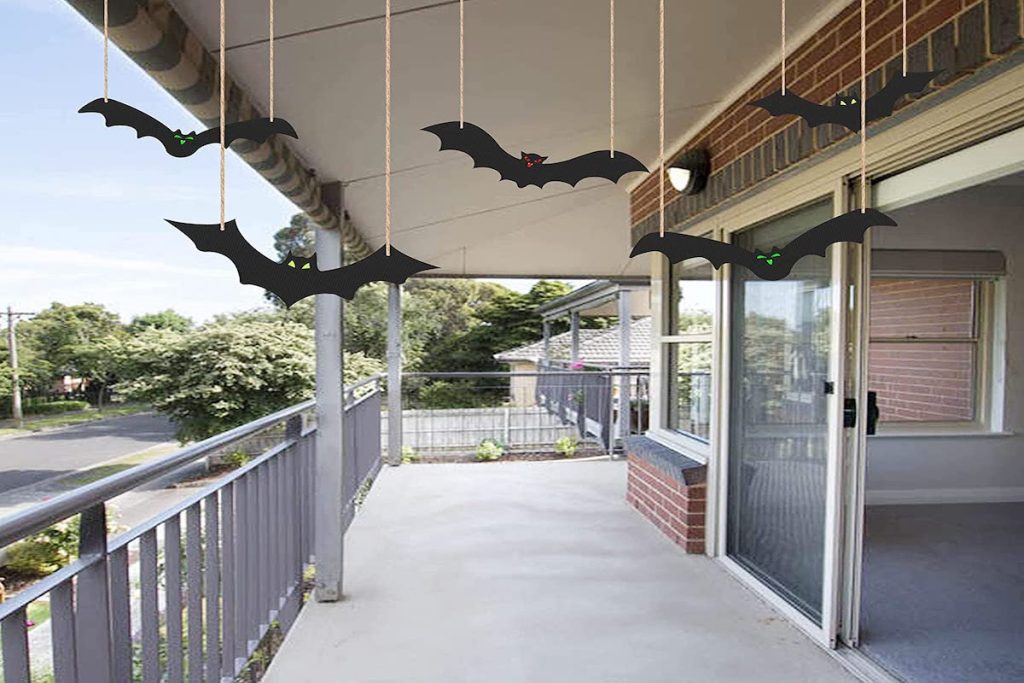 Go bat crazy
To save time and money on your entryway decor, buy these Halloween bats and stick them across your facade, starting about a foot from your front door, continuing up and across the door, and ending at the top right, creating the illusion that the bats are flying right across your door.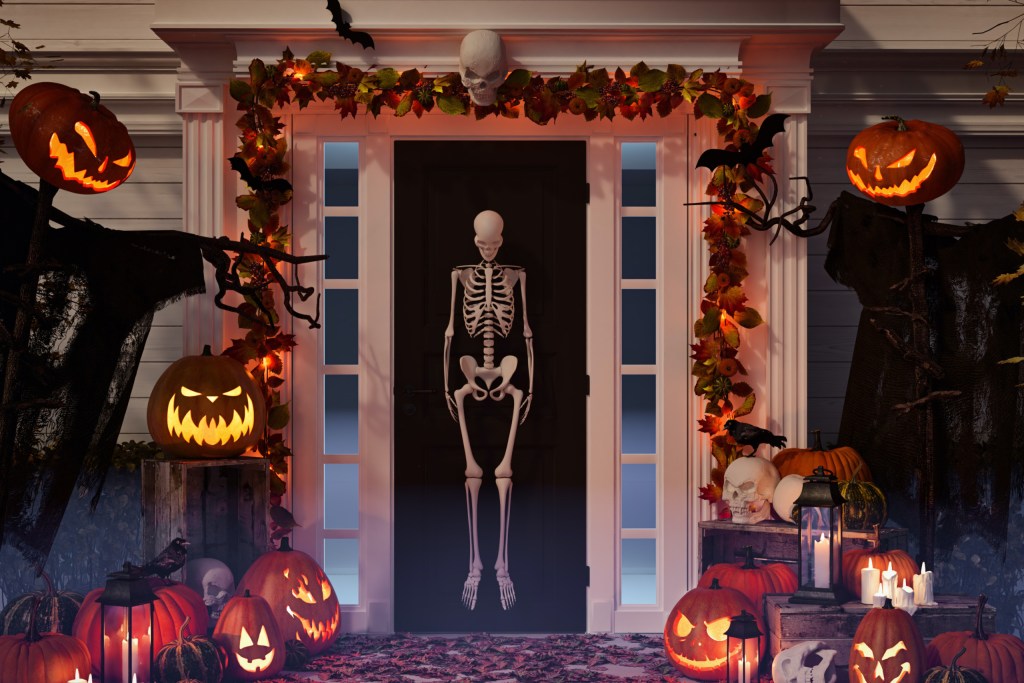 Skull-crushing
You can buy skulls at your local dollar store, craft store, and even grocery store at this time of year. Tie a bunch of these little plastic skulls together to create a spooky banner of hanging heads. To lean into the haunted house vibe, tie them to a door knocker or hang them from a wreath holder.
Witches legs
If you don't have enough space on your door to maximize your design, place a pot or urn next to your front door and place these purple witch's legs inside. This whimsical design makes it look as if a witch tumbled headfirst into your hydrangeas, making for a silly and kid-friendly design.
Whether you purchase these products as they are or DIY your own versions, any of these fun Halloween decorations will make your home a must-see spot this year. The only thing holding you back is your imagination, so have some fun, be a little creative, and construct the ultimate Halloween door of your dreams.
Editors' Recommendations