Customizing your home's storage areas can be an expensive project that takes too much time. And if you rent your home, it may not even be a possibility. With under-cabinet storage, you can easily increase your storage space without drilling any major installations or elbow grease.
Buying in bulk is a money saver but when your storage space is limited, it may seem difficult to take advantage of these offers. Get your finances and your home organized with efficient under-cabinet storage that helps you save money and space. You can use them under the bathroom sink, in the kitchen, or hallway closets to keep your home tidy and fully stocked. Let's take a look at our favorites.
SimpleHouseware Two-Tier Sliding Baskets
Best for Small Spaces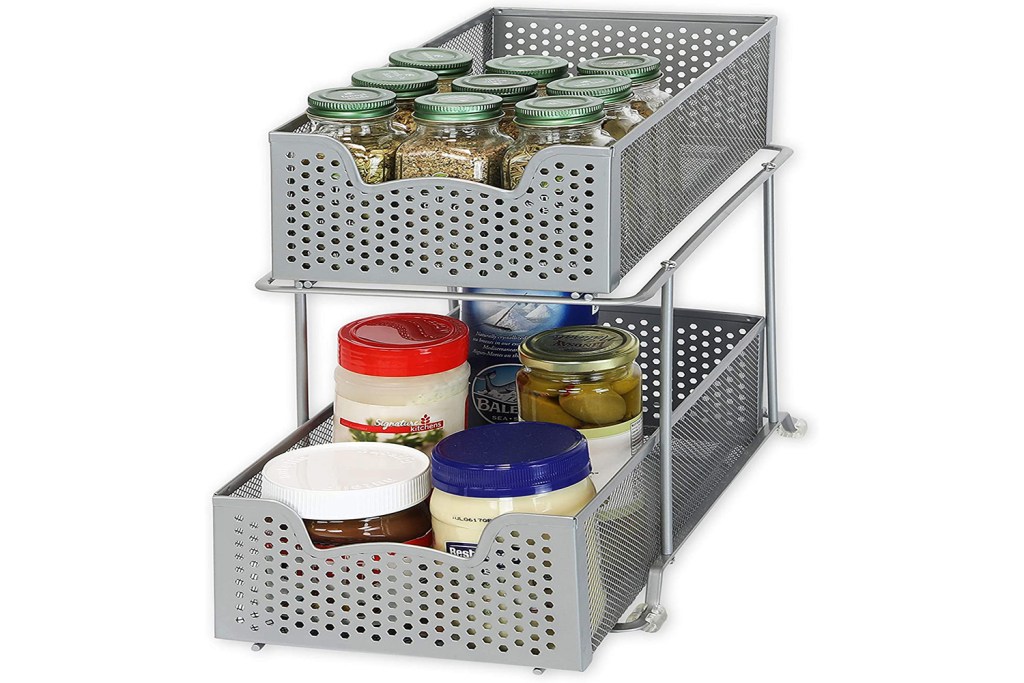 The SimpleHouseware Two-Tier Sliding Baskets is an easy-access, storage device with a sturdy metal construction and classic silver coating. It features two tiers of drawers that instantly double your storage space and provide easy access to kitchen, bathroom, or pantry items. The stackable design of these cabinet drawers is convenient and modern to help make your home even more efficient.
ClosetMaid Two-Tier Kitchen Cabinet Organizer
Most Durable
With an attractive and durable nickel finish, the Closetmaid 3088 Two Tier Kitchen Cabinet organizer features an innovative easy glide system with baskets that slide independently. If your cabinet base is at least 12 inches wide, this storage solution can help keep your kitchen organized. Its industrial appearance enhanced by a modern epoxy coated steel makes any storage area look effortlessly organized.
Rev-A-Shelf Two-Tier Pull-Out Cabinet Organizer
Best for Organization
When you're looking for a sleek organization system that has it all, the Rev-A-Shelf 2-Tier Wire Pull Out Kitchen Cabinet Organizer is the answer for your home. Access your cleaning products or accessories easily with this sturdy two-tier siding wire basket system. With a simple installation, you can double up your cabinet space without any permanent installations. This versatile organizer holds up to 100 pounds and offers maximum storage capacity with a smooth chrome finish.
Organized storage helps keep a tidy home and makes it easier for families to buy in bulk. The under-cabinet storage items on our list help you save money and allow you to stock up on your favorite household products. Arrange your home and keep it in order with these efficient storage systems that are attractive and functional.
Editors' Recommendations