Apartment living has plenty of advantages, but when it comes to storage, your small space can lack in that department. When you've decorated every corner and you have limited square footage, where do you stash all of your clutter? You need strategic small apartment storage ideas that work for you, not against you; luckily, that's what we're here for.
If you're looking for ways to maximize storage in a small apartment, you'll need to get creative in each room. From taking your storage vertical to choosing pieces of furniture that multitask and adding shelving that can transform the room, here are nine genius ways to make the most of your storage solutions.
1. Transform your entryway
If your apartment lacks a proper closet to hold coats, shoes, and all of the things you need before you head out the door, transform the space with decorative hooks to hang items, baskets to create drop stations, and open shelving that gives you storage and flexibility in your entryway. If you have room, add a bench that also doubles as storage. Your entryway can be stylish, inviting, and set up to give you tons of extra storage.
2. Multifunctional furniture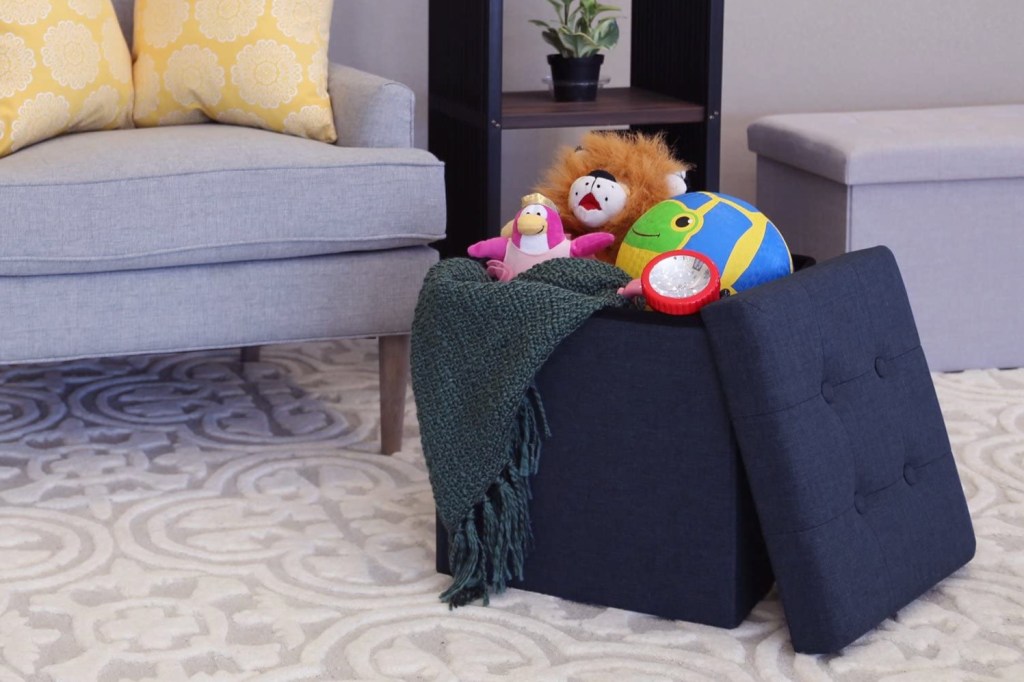 Choose furniture that multitasks in your living room. Storage ottomans allow you to put your feet up while secretly storing your extra pillows, blankets, and toys. Benches can give guests an extra place to sit while also allowing you to stash items away. TV stands often pull double duty as an entertainment center and extra shelving to house a few of your items.
3. Go vertical

It's time to take your storage vertical by adding shelves up your walls. Don't be afraid to hang shelves in corners and close to your ceiling for extra footage and space. Take over the back of doors for hanging storage solutions, too. This vertical trick will make the room look bigger because it draws your eyes up, and you'll have more storage space.
4. Under the bed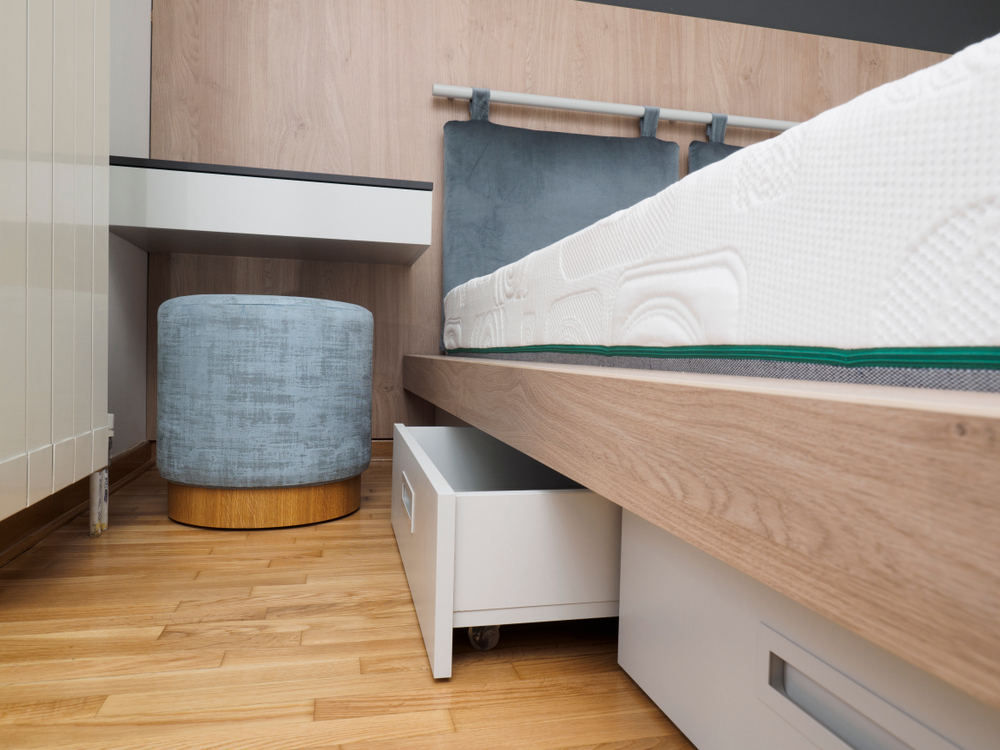 Reclaim the space under your bed for tons of extra storage. Choose under-bed storage bins and a platform bed you can raise up to access your extra space; or, if you can raise up your current bed, go for it. Don't let the underside of your bed just collect dust bunnies; that's prime storage space in any size home.
5. Make the most of your bathroom
From hanging shelves above your door, hooks on the wall, a storage ladder for decor and towels, baskets under the sink, and a lazy Susan for makeup and personal care items, smart storage solutions can help you maximize your small bathroom space.
6. Small tool storage
Transform your kitchen with storage solutions that make cooking, baking, and entertaining in the kitchen easier. Break out the pot racks, shelves, and hooks to make more space in your small kitchen. These items will help you make the most of your cabinet space and fill the empty and wasted space.
7. Take off the doors
Cabinet and closet doors take up precious space that could be better used if you simply remove the doors. With open shelves, you have more inches to stash away items and display your favorite decor. While this trick is a real space saver, you'll still have to stay organized, or the open shelves can quickly look cluttered.
8. Add a cart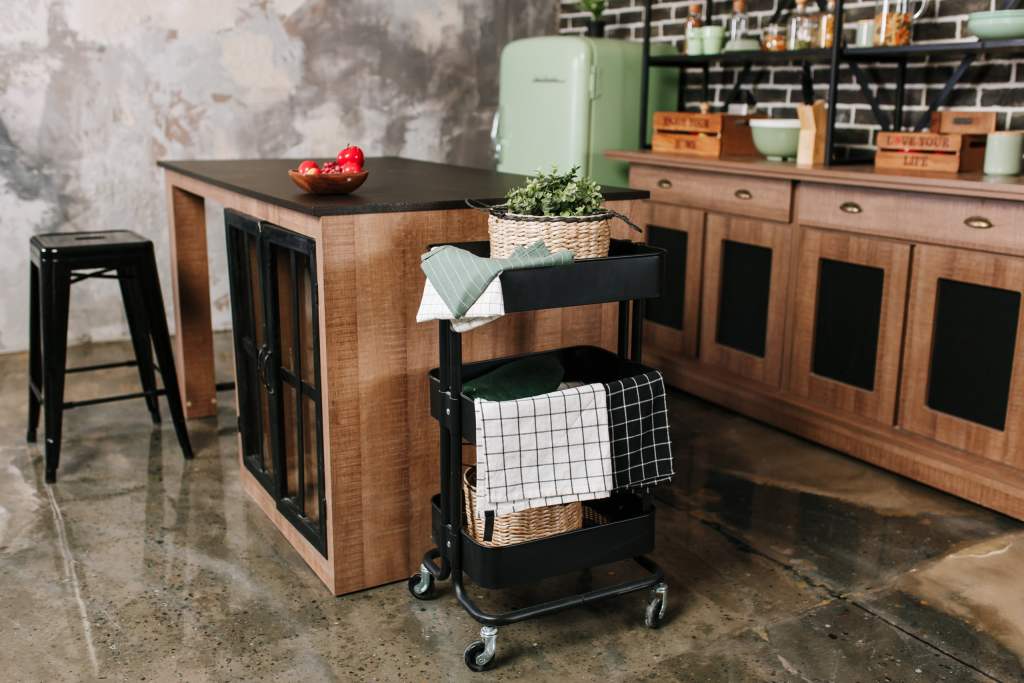 If your kitchen workspace is limited, adding a cart to the end of your kitchen counter will give you more room to prep and give you a space to stash extra kitchen items. Plus, as you cook, you can move the cart around the kitchen so that everything you need is within reach.
9. Float your furniture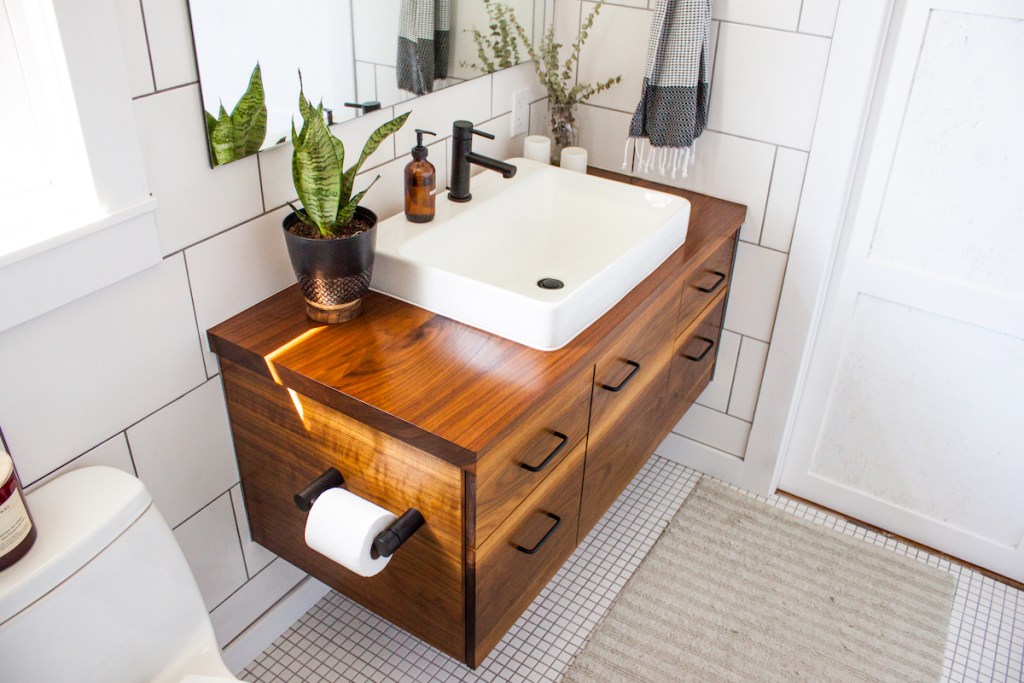 From floating desks, nightstands, and even a dining hutch, furniture that floats, or is attached to your wall, opens up space in the room, offers storage above and below, and can help you get creative with your design and space issues. Often, floating furniture has a smaller footprint and is perfect for apartment living.
Before you start adding shelves, baskets, and hooks to your apartment, you'll want to begin by decluttering. This will allow you to take inventory of what items need to be stored and what items are just cluttering your space. Then you can really dive into adding new storage solutions to each room.
While we would all love to have rooms full of walk-in closets, a kitchen that has endless counter and cabinet space, and a bathroom that has drawer after drawer, the reality is no home ever seems to have enough storage. However, when you live in an apartment, sometimes the places you need to add storage solutions aren't always so obvious but can really transform your space.
Editors' Recommendations