When it comes to decking the halls of your farmhouse or log cabin, the best approach this Christmas is using rustic decor that complements the charm of your home and sparks plenty of holiday joy. From worn wood frames to natural elements, you can adorn your space with wintery pieces that are sure to wow your family and friends. Of course, just because you're using plaid, natural elements, and wall signs doesn't mean your decorating scheme has to feel like everyone else's. It's all about how you incorporate these elements.
Looking for some inspiration with your Christmas decorations this year? Keep reading — we've collected ten unique ideas that will appeal to your cozy country style in a fresh and modern way.
Copper color palette
This year, professional designers and creative homeowners alike are experimenting with unique color palettes that diverge from the traditional red, white, and green hues. If you're looking to revamp your Christmas decor, opting for a copper palette could be just the change you need! Copper is neutral, metallic, and pairs lovely with lush browns and dark greens. Sanctuary Home Decor uses copper pieces as their staple for one of their Christmas decorations, and we love it!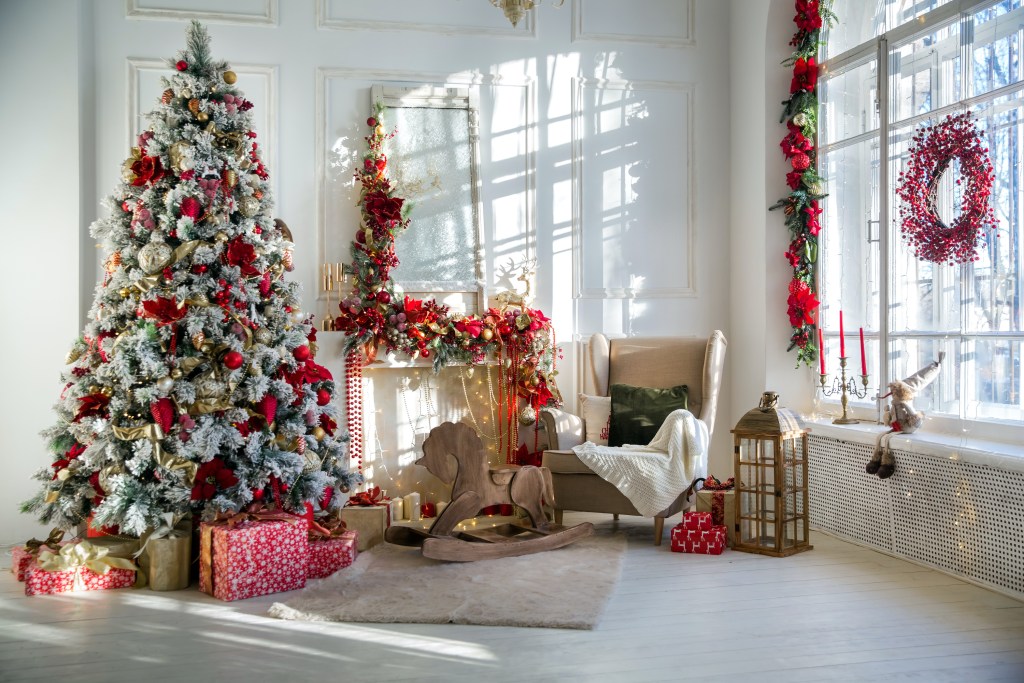 Classic red, white, and gold
If you want to take a more classic approach when it comes to adorning your farm home or rustic cabin, you can't go wrong with a traditional red, white, and gold color scheme. The Painted Hinge showcases this palette, showing how to make these colors look lively against white and natural wood-toned furniture. As a final touch, the centerpiece on the table is a simple setup of a gold plate, tall candles, and small red ornaments.
Use plaid to dress the space
When looking for rustic Christmas decor, you can't go wrong with plaid. Red and black plaid is a trending choice for blankets, couches, and pillows. As seen in this design by White Arrows Home, this technique helps brighten the dark wood textures of a log cabin and draws attention to the plush furniture.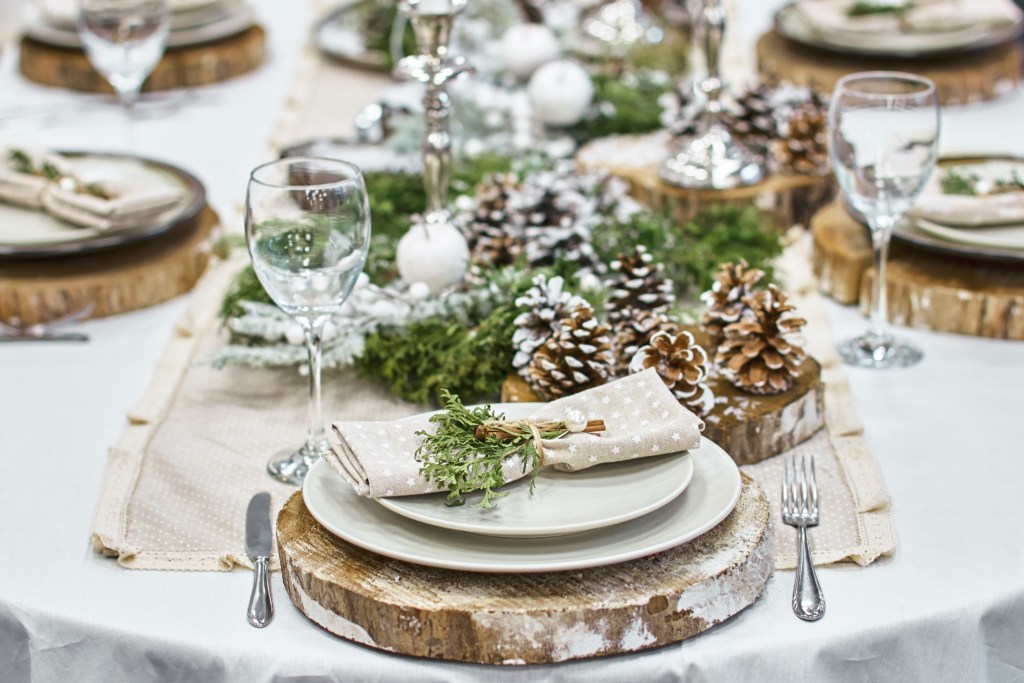 Natural elements look stunning
A key feature of rustic design is using natural elements wherever possible. This Christmas, go all-natural with a real Christmas tree, festive garland, and pine cones to bring a bit of the outdoors inside. Country Sampler Magazine showcases how to incorporate these natural elements into your kitchen with fruit bowls, wooden frames, and garland.
Drape fairy lights around wood beams
Wind fairy lights around wooden posts or pillars for a magical glow. Or, mimic this pinner and hang bulbs above the fireplace to illuminate the mantel. For a more organic look, wrap garland around the beams and hang some mistletoe overhead to complete the Christmas aesthetic.
White and blue brighten a log cabin
This year, bring the winter wonderland vibe to your dark, rustic log cabin with soft blues, whites, and silver. Follow in Creative Cain Cabin's footsteps and decorate with light blue napkins, white tablecloths, and silvery ornaments to create a snowy escape inside your home.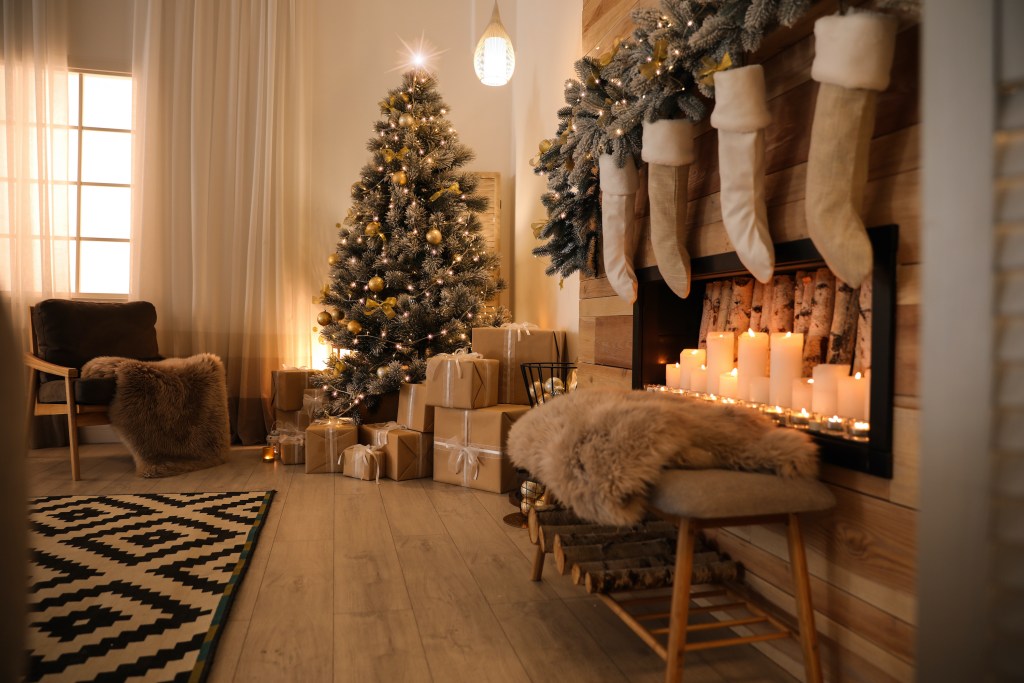 Show off the fireplace
Whether you have a farmhouse or log cabin, showing off your fireplace will make a statement in your home this holiday season. Like Wedding Chicks on Pinterest, you can drape garland across the mantel, decorate it with some lively candles, and dress up the hearth with plenty of pine cones and ornaments.
Keep it light and bright
Many homes naturally have plenty of light, and you can brighten this space even further with white-colored items like stockings, beaded garland, pillows, and Christmas signs. Pinterest user Tiffanyish's version of a bright fireplace is like a breath of fresh air, incorporating white stockings, beads, pillows, and white paneling.
Wall signs are welcoming
Farm homes are well known for their abundance of wall signs, encouraging guests to make themselves at home. This season, invest in signs that display merry quotes written in stunning calligraphy, to softly say, "Happy holidays!" Wilshire Collections' simple Christmas sign in the entryway makes for a super adorable way to inspire merriment.
When in doubt, DIY
Whether you're a cabin lover or you prefer farmhouse decor, both styles can benefit from a DIY Christmas project. Beaded or braided garlands, pine cone centerpieces, wooden trees, rustic sign frames, and fairy-light ensembles are just a few DIY Christmas decor ideas that will transform your holiday scene this year. Also, these little personal touches go a long way toward infusing the home with your personality.
If you're looking for some rustic Christmas decor ideas that are sure to wow your family and friends as you celebrate the holidays this year, head over to Pinterest. To stay on trend this year, take advantage of copper and neutral palettes and try your hand at a DIY project or two. We also encourage you to take inspiration from these ideas to make a holiday-themed scheme that's all your own.
Editors' Recommendations