One of the greatest challenges with stone fireplaces is finding decor that feels authentic while also standing out against the natural stone. You want a look that radiates comfort and coziness without coming off too cluttered or detracting from the beautiful masonry of your fireplace. So, we've come up with eight fantastic stone fireplace ideas to help you achieve a gorgeous look that suits your style and needs. Your decor doesn't have to feel tacky or out of place. Let us walk you through the best ways to adorn your stone fireplace mantel for a nature-inspired setting.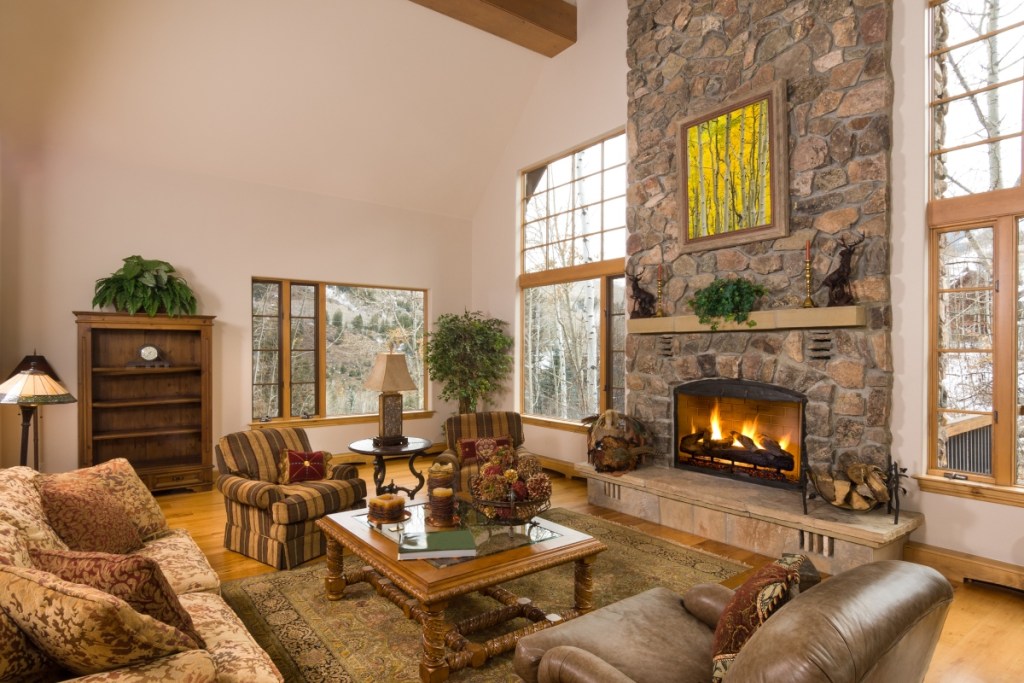 How to add a natural look to your stone fireplace
Since stone is a natural material that adds charm and character to your space, adorn it with decor that highlights the stone fireplace's authenticity.
Use plants as decor
One way you can highlight this nature-inspired look is by adding some plants to your mantel. Plants look beautiful against the stone for several reasons. They add color, invite a softer texture to your design, and blend perfectly with the stonework. Plants like ivy, succulents, and small ferns look stunning atop a stone fireplace mantel. Experiment with different types of greenery or opt for flowers to add more color to the design.
Hang a wood shelf
Some stone fireplaces don't come with a mantel. If this is the case for your home, you may feel that decorating is next to impossible. The good news is that you don't have to let this hinder your design. Instead, consider hanging or installing a wood shelf above the fireplace opening to add more texture, color, and functionality to the space. Wood shelves look rich and authentic, working naturally with the stones. So, hang a wood shelf to help you uplevel your fireplace design.
Add more sophistication to your fireplace mantel
Stone fireplaces are often a feature of rustic design. However, modernists may feel as if the natural stones feel too harsh in their space. Instead of painting over the stonework or contemplating a major remodel, add some decorative pieces to give the area a more sophisticated touch.
Add a mirror
Mirrors are an excellent addition to any fireplace mantel design. Add a round mirror or a mirror with an arched top to create more shape and dimension in the overall look of your fireplace. Mirrors add sophistication and elegance to your design by adding a fragile touch to your stone fireplace's natural tough exterior. Additionally, mirrors can help open up your space and invite more light and life to your mantel.
Use glass vases
Glass vases are another gentle addition to your fireplace mantel decor. Add glass vases filled with flowers or other plants to include more nature-inspired elements in your design. Alternatively, you could fill vases with stones, add a candle, or leave them empty, depending on the look you're aiming for.
Add paintings and picture frames
Paintings and picture frames can add a vintage touch to your decor while introducing more color to the overall design. Stone fireplaces tend to be dark, grey, or made up of muted tones. This lack of color can feel drab in some spaces, so livening up the look is essential. Use a couple of picture frames or paintings to adorn your mantel or hang a large piece above the fireplace if the space allows.
Use candles or lanterns in your design
Candles and lanterns bring a soft and gentle light source to your design. For a vintage look, opt for candelabras with long white candles or place your candles in glass jars. This will invite elegance and antiquity to your design, creating a more authentic look. You could also consider using small lanterns on your mantel or placing larger ones beside the fireplace opening for a more rustic design appeal.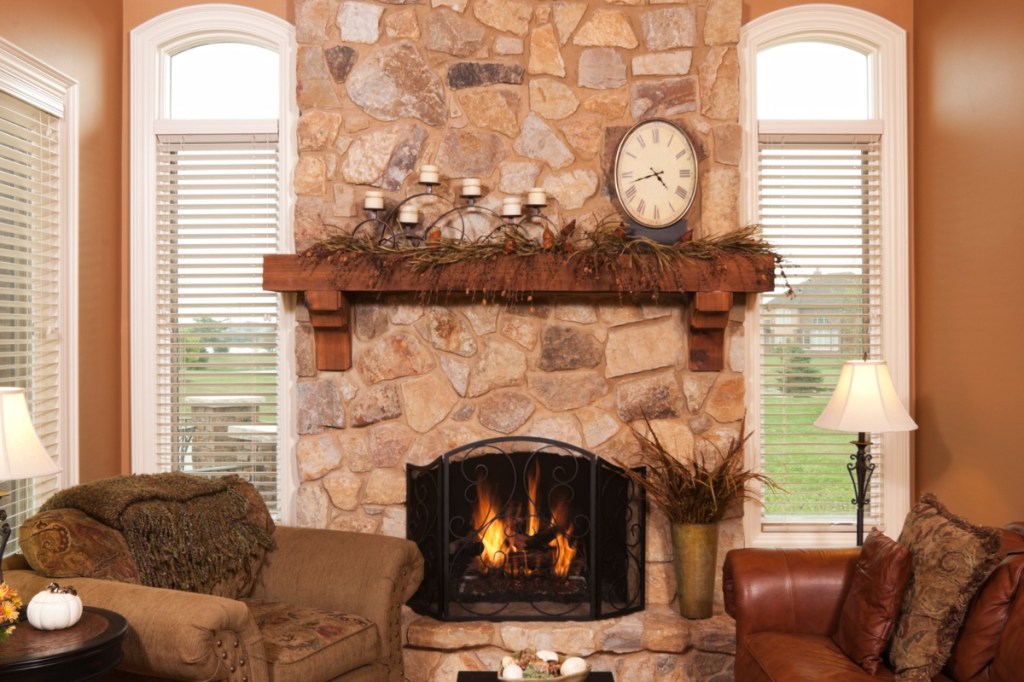 What to avoid when decorating a stone fireplace
When it comes to decorating a stone fireplace, be careful not to drag down the space with your decor. Below, we'll cover a few things you should avoid if you want to amp up the look of your stone fireplace.
Don't add more stone pieces to the design
Generally, adding more stone to a stone fireplace is a bad idea. Adding too much stone to your space can make the design look cold or harsh. While there are certainly ways to incorporate stone into your design, like placing pebbles in a glass jar to keep a bamboo plant in place, it's typically better to avoid stone decor pieces altogether.
Avoid using dark colors on dark stone
Additionally, you want to ensure you avoid using too many dark colors in your design. Most stone fireplaces are grey or laid with muted toned stones. This means that they can often be dark in color. When decorating, it's best to avoid too many dark colors in your palette and instead opt for lively alternatives like green, blue, white, or cream. However, if your stone fireplace has been painted white, you may prefer using black or other dark colors like evergreen and navy to make your decor pop against the bright background.
As you decorate your stone fireplace, keep in mind how you use texture in your design. Adding plants, glass, or small fabrics will soften the look of your mantel, allowing for a more cohesive design. Additionally, use colors like green and blue to invite warmth and vitality to the cold stonework. With these tips, you'll be able to create a stunning design atop your stone fireplace mantel.
Editors' Recommendations