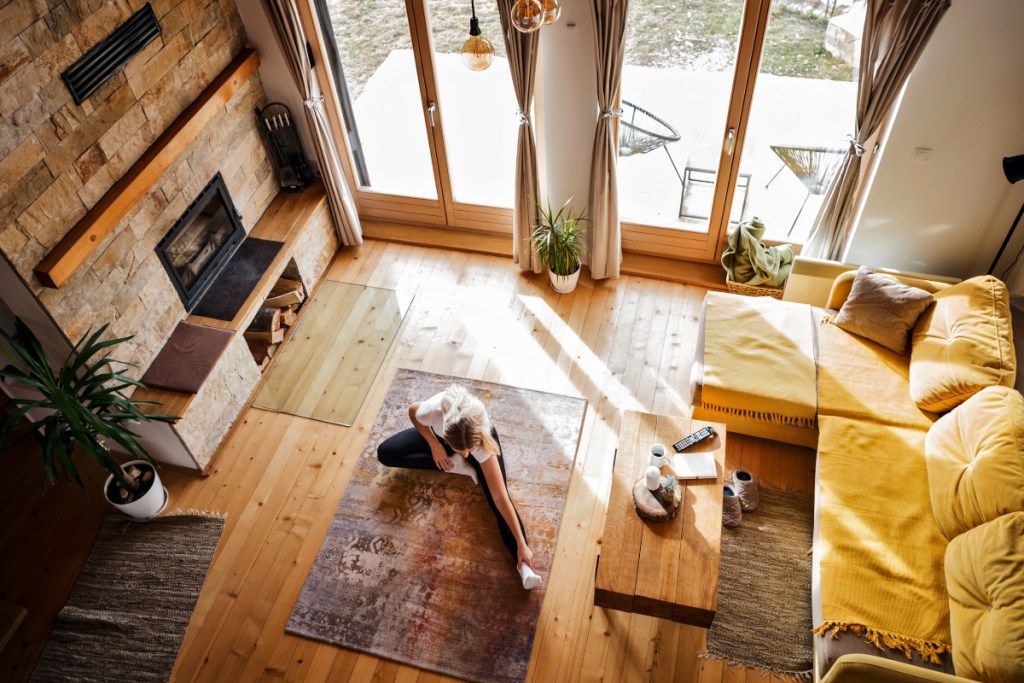 Cabins radiate a sense of coziness, warmth, and comfort for the lucky homeowners who get to experience their atmosphere. However, there is a tendency for these spaces to become dark, kitschy, and overwhelming when improperly decorated.
With so many earthy textures and dark tones to work with in the design, it can be challenging for homeowners to create a gorgeous, modern space. What you truly need is a fresh take on traditional cabin decor that will brighten the room and restore that sense of comfort and coziness that you adore.
To avoid the decorative woes of cabin ownership, we've gathered a few tips to help you create a more modern log cabin interior design.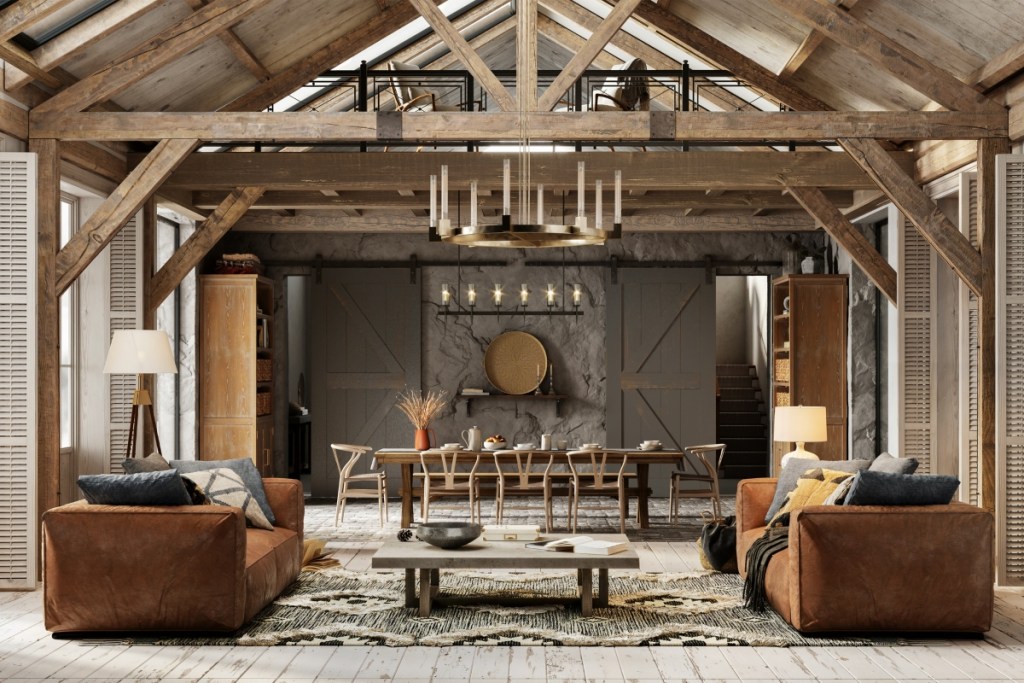 What to know before decorating a log cabin
Before you can jump into your remodel, familiarize yourself with the common pitfalls DIY designers often fall into. While every home will have its own challenges, cabins come with some unique problems that homeowners should avoid.
Too much wood can be overwhelming
One of the most common struggles when implementing a fresh, modern log cabin interior design is the overwhelming amount of wood present in the space. Traditional cabins are notorious for their log-lined walls, rustic wooden floorboards, and timber beams, but this can lead to a dark and crowded room.
Subdue this wood overload with light, bright fabrics, furniture, and decor. Some cabins already have a stone or brick fireplace to help break up the space, so think about incorporating these elements into your design as well.
The space may look kitschy
When it comes to log cabins, there's a thin line between cute and tacky. Many cabins offer natural rustic charm, but homeowners tend to get carried away creating a space that's overly themed. Adding too many rustic pieces, dark woods, and knick-knacks can clutter and overwhelm the space.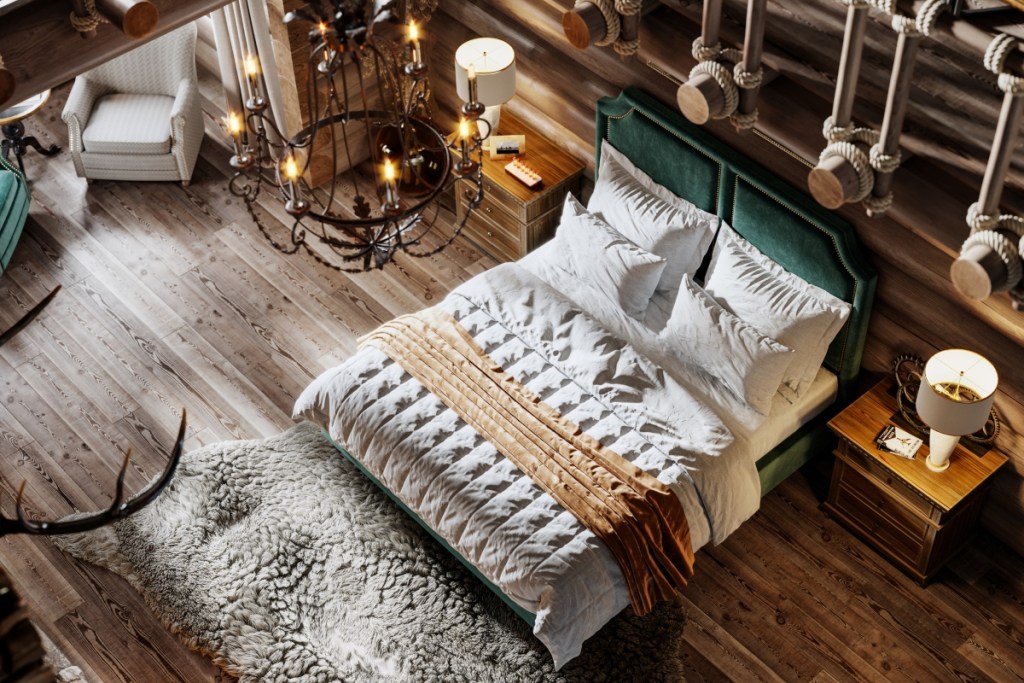 How to update the modern cabin look
Now, it's time for the fun part: carrying out your new design. Below are some of our tips for curating a successful modern design plan for your cabin.
Use modern light fixtures
Statement lights, glass fixtures, pendants, and chandeliers can transform the look of your cabin, brightening up the space and creating a nice juxtaposition against the dark wooden tones of your room.
Modern lighting, like drum pendants or globes, introduces rounded shapes in your design, breaking up the rigid lines that accompany logged walls or plank flooring. Search for statement pieces in round or irregular shapes that will make your design look more interesting. Don't be afraid to opt for multi-lighting solutions like multi-pendants or chandeliers to add some elegance, as well.
Opt for lightly colored rugs
Since cabins have a tendency to be dark and imposing, using light-colored fabrics can help brighten the space. Rugs in soft beige, cream, or grey can lighten the room and make it feel bigger and more open. Additionally, lighter fabrics on sofas, blankets, and chairs can also liven up a dark room.
When choosing a color palette for your modern cabin design, you can honor the building's rustic, natural charm and add a little color by using earthy neutrals like green, taupe, navy blue, and other gentle tones.
Use mirrors and glass in your design
Mirrors and glass features are light and fragile when compared to the typical rustic materials found in log cabins, creating an interesting contrast throughout the space. Circular and elliptical mirrors look best against the horizontal lines of log cabin walls but feel free to lean into the rustic aesthetic with vintage pieces. Additionally, mirrors reflect light extremely well, making the rooms feel brighter and more open.
Glass tables, vases, and decor help create a gentle and sophisticated style in your home. Don't forget to maximize the most impressive glass feature of all: windows. Position furniture so that it doesn't block out natural lighting, and utilize oversized windows as a statement piece in your design.
Experiment with color and plants
Statement colors like blue and red can add more vibrancy to the atmosphere, while plants bring life and vibrancy to your home. Adding plants of all shapes and sizes is also a natural and subtle way to add a little color and texture to your design and break up all the neutrals.
Soften the space with textiles and fabrics
Neutral-toned rugs, muted linens, and lightly patterned upholstery can lift your cabin design and give it a modern appeal. Consider leaning into neutral and lighter hues to brighten the space, as cabin aesthetics tend to be a bit dark and cramped. Additionally, adding varying patterns and textile materials will help create more layering in the space, providing more dimension. Think about what sorts of draperies, upholstery, rugs, tablecloths, blankets, and pillows you have. Leaning into rustic aesthetics with your textiles, such as adding wool blankets or faux fur, can help tie the modern aesthetic with existing cabin decor.
Find a balance with the materials in your design
Too much wood and stone will create an aged, overly rustic cabin design, while too much class or metal will feel out of place. The goal is to balance your interior decor between the natural cabin materials and the more modern touches. We recommend aiming for a 70/30 ratio when modernizing your cabin decor. 70% of the home should feature log cabin walls, exposed wood beams, stone fireplaces or walls, and any other natural cabin aesthetics. The remaining 30% of your design should showcase glassware, circular furniture, lightly toned textiles, modern appliances, and other contemporary pieces.
When looking at your space, determine whether the two design styles are competing with one another or working in harmony. Aim for that 70/30 ratio and try to blend the modern fixtures and additions with the natural existing features of your cabin.
Updating your modern cabin is about balancing the rustic atmosphere with contemporary accents to give you a home that's both cozy and updated. Don't be afraid to use modern lighting in conjunction with antique decor, or pair simple, white leather couches with an ornate rug. Finding this balance between modernity and cabin decor will allow you to rest and rejuvenate in a comfortable, luxurious space that exudes tranquility.
Editors' Recommendations