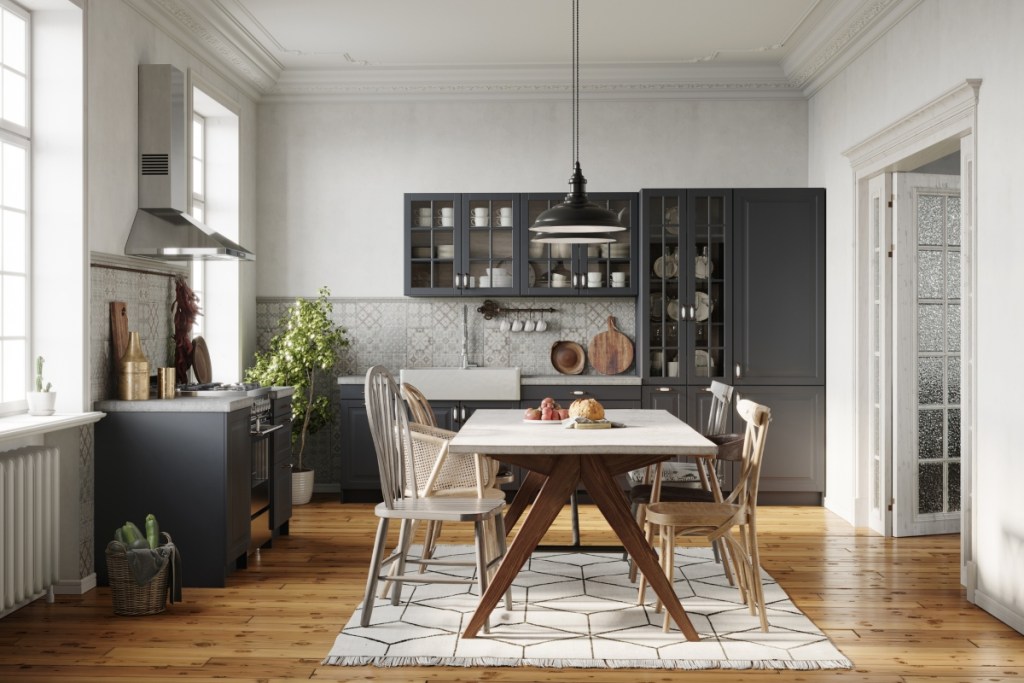 If you're sick of your dark kitchen and want to brighten it up, there are many things you can do to achieve a lighter, cheerful space. Your kitchen is a room where you spend a lot of time cooking, entertaining, prepping, working, and hanging out with the family.
You want it to feel airy and inviting, and too many dark colors can leave it feeling old and drab. It doesn't mean there can't be color in the room, far from it, but if you want to know how to brighten a dark kitchen, here are a few general guidelines to help you get started.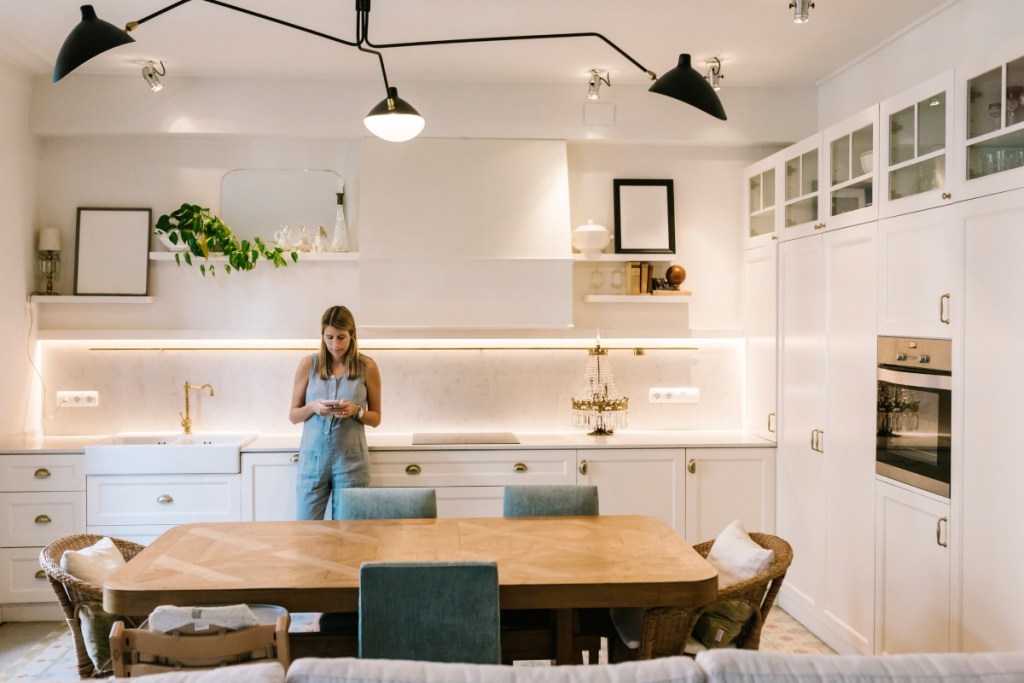 How can I make my dark kitchen feel light and airy?
A few areas in a kitchen can turn a dark space into one that feels warm and welcoming.
Paint the room
If you have dark cabinets, you may be wondering what paint colors you should use. Opt for lighter paint on the walls. It doesn't have to be stark white, but find a lighter shade of grey or blue to give it warmth without darkness. Of course, white is a classic that will never go out of style, and it keeps the room feeling open and energizing.
Choose lighter tile
If you've settled on your dark cabinet color, you can add contrast by choosing a lighter backsplash to break things up. We love crisp white subway tile, but to keep texture and interest, you can also add a lighter tile with a pattern like this one from Ocean Mosaics. Light doesn't have to be boring, and there are so many types of backsplash on the market to choose from.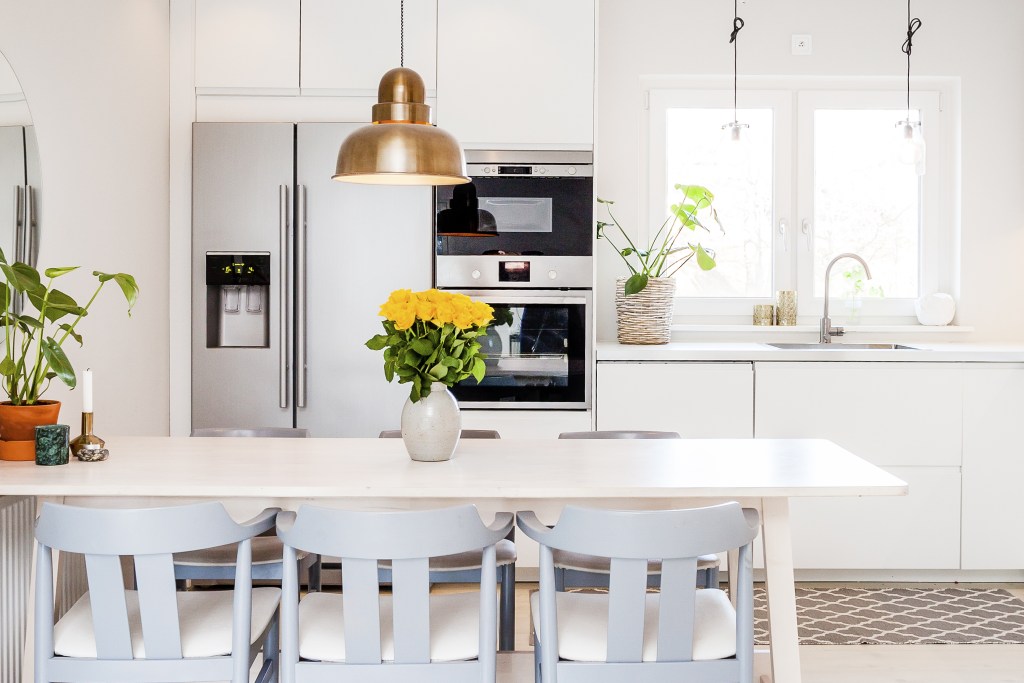 How can I make my dark cabinets lighter?
There are a couple of ways to change the look of your dark cabinets without a complete rip and replace.
Paint your cabinets
You can completely transform the look of old, dark cabinets with a fresh coat of paint. Find a semi-gloss or satin in a lighter shade of cream or white (we love matte, but it's not ideal for kitchens that need to be cleaned regularly). You could also find a light shade of yellow or mint green for a color that won't overwhelm you.
Use open shelving
If you've got wall-to-wall dark cabinets and want to break it up, take out sections and add open shelving instead. This will allow the room to feel less heavy and bring airiness to the space. You could also consider glass doors instead of solid doors on several cabinets for additional light.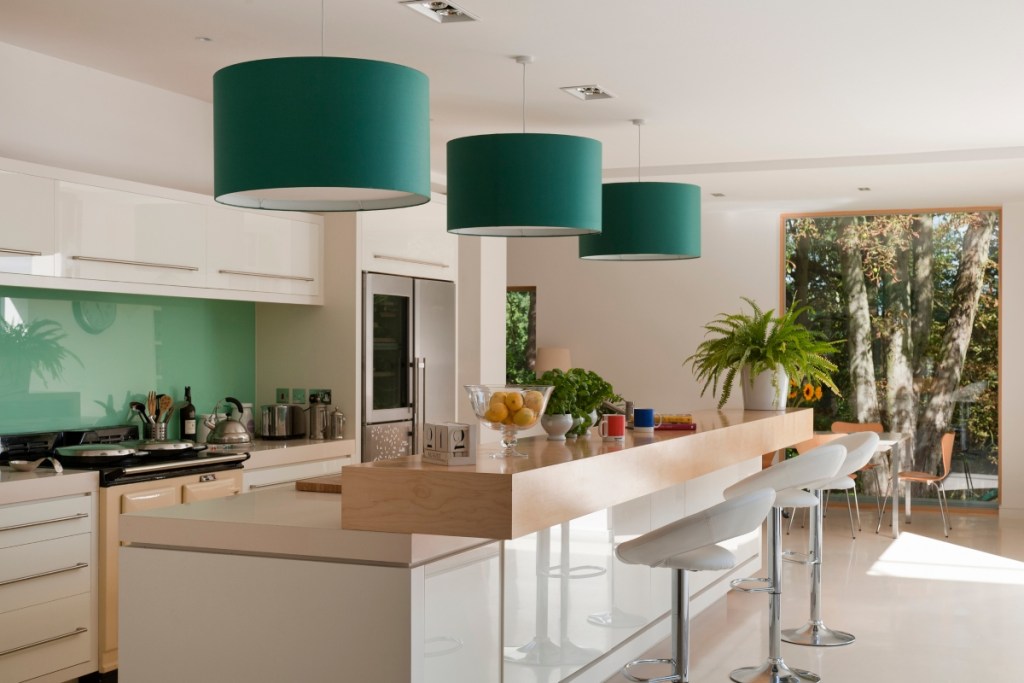 Other ways to brighten a dark kitchen
Don't forget these tricks if you still feel like your kitchen is too dark.
Lean into lighting
Lighting is one easy way to brighten a drab kitchen immediately. Make sure you have plenty of it — over the sink and kitchen island, throughout the room using in-ceiling lighting, and under kitchen cabinets. The kitchen is a room that can never be too bright, but you can put dimmers on the main lights when you want to have some mood lighting for entertaining.
Less is more
We're not saying you have to go completely minimalist in the kitchen, but having too much clutter can often make the room feel crowded and dark. Choose a few decor items or must-have appliances to leave on the counters and keep the rest tucked away. We're always fans of plants in a kitchen to keep the room lively.
These ideas will help transform your dark kitchen into a light, bright space. Because it's such an important room in your home, you want it to feel inviting and like a place you want to spend time. It's also important to keep the room light for prepping and cooking. Because many kitchens also became workspaces during the pandemic, it also makes sense to have a bright space to get work done.
Use mirrors to bounce light
Using mirrors to reflect light is a simple and effective hack for brightening any dark room. If you're struggling with a dark kitchen but don't want to do a complete revamp, adding a mirror or two could help illuminate the space. Consider adding a mirror opposite a wall with a window to help bounce light. Alternatively, you may consider opting for a retro-style mirrored backsplash.
A large standing mirror against a blank wall can also expand, illuminate, and adorn the space, saving you time and money or decorating while bringing light into your dark kitchen. The trick is all in the placement. So, experiment with different placement techniques or use multiple mirrors to get the desired effect.
Once you implement any of the ideas above, you'll be amazed at how quickly you'll notice a change in your kitchen. It's the heart of the home, and it should feel welcoming to all who enter.
Editors' Recommendations