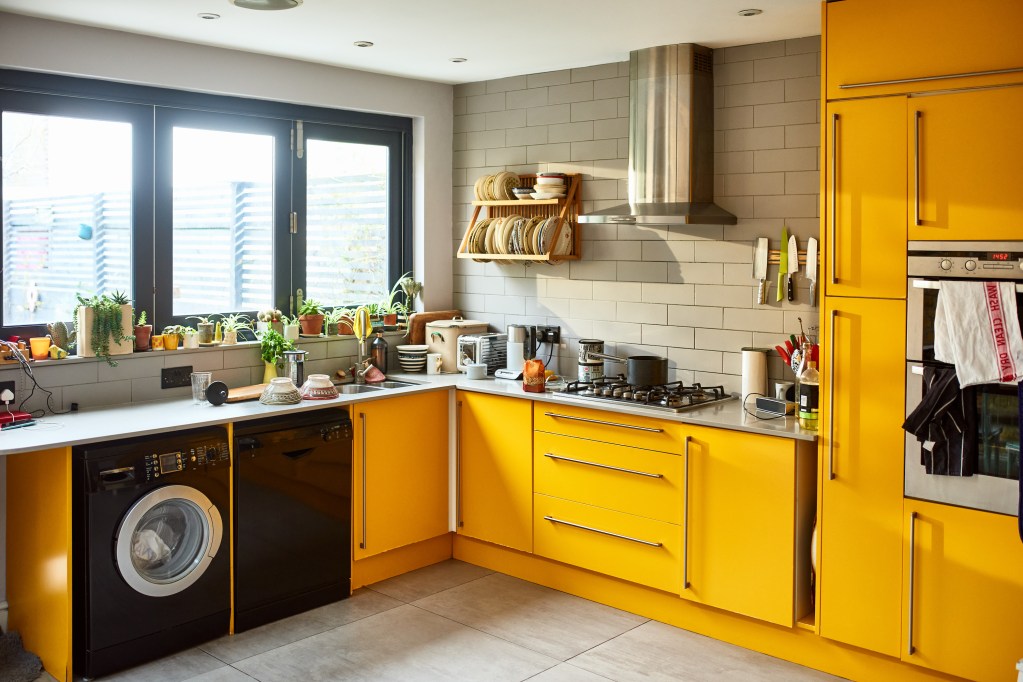 If you're in the mood for a kitchen redesign or remodel, you may be considering introducing a new color into the mix. While we love a crisp, white kitchen, yellow (in all of its lovely shades) is making itself known to designers and homeowners alike. A yellow kitchen is bright, sunny, and cheerful, the perfect combination for a room where everyone gathers to play, eat, and work. If you're in love with the hue but wondering what you do with a yellow kitchen, we've got some ideas. If you need some inspiration, look no further than these Instagram designs to get you in the mood to transform your kitchen space.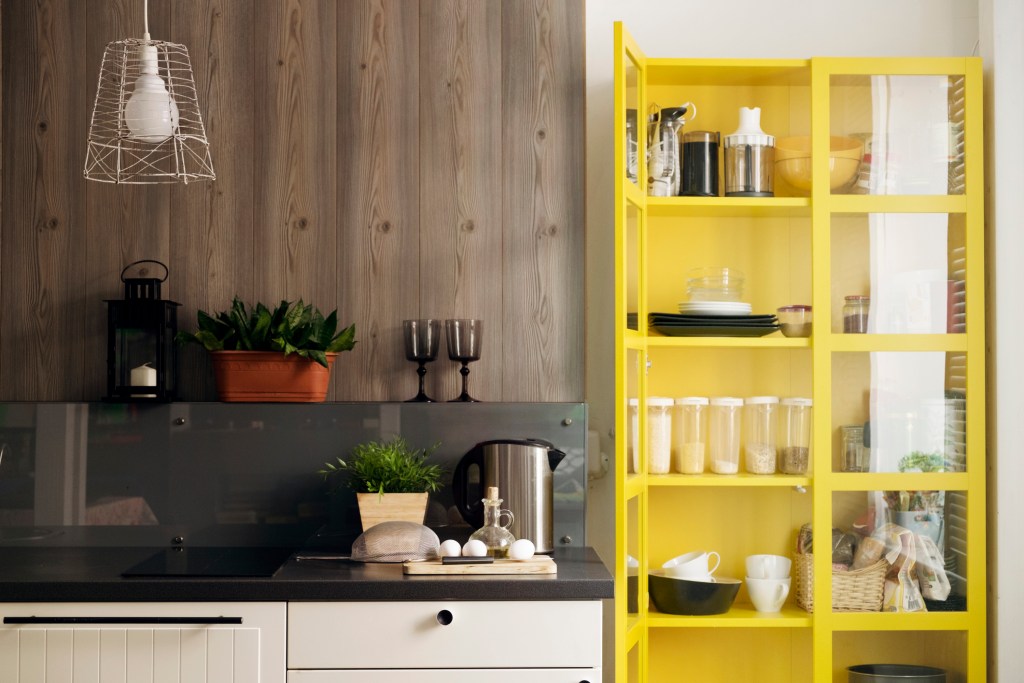 Is yellow good for a kitchen?
We adore the color yellow for kitchens. There are so many shades to suit your personal taste, and the hue can completely transform the look of the space. There are so many ways to incorporate yellow — from wall color to cabinets to wallpaper and everything in between. Here are a few of our favorites.
Mustard yellow cabinets
The before-and-after pictures tell it all in this kitchen remodel. The yellow color opens up the space to give it a warm, welcoming feel. The simple decor, white walls, and understated backsplash allow the color to shine on its own.
Yellow cabinets with open shelves
We love the combination of lower yellow cabinets with open, floating wood shelves above to complement the warm tones of the cabinets. Note the brass accents of the under-cabinet lighting and hardware that pair perfectly with the yellow tone being used.
What color goes with yellow in a kitchen?
You can play other colors up or down, depending on your style. We love greens and oranges, but yellow is so versatile. If you're wondering what color goes with yellow in a kitchen, consider pulling in navy, black, white, and other complementary yellow tones without detracting from why you introduced the yellow hue in the first place.
Yellow and gray
We love this combination of yellow walls with lighter gray cabinets. Neither color overpowers the other, and the designer added natural wood elements and warm metals to balance the look.
Using tile for accents
This kitchen design keeps things simple with bright yellow cabinets and white walls and countertops, while the backsplash adds a gorgeous royal blue accent. This kitchen doesn't need a lot of help, but choosing a couple of simple items like a coordinating vase or bowl completes the look beautifully.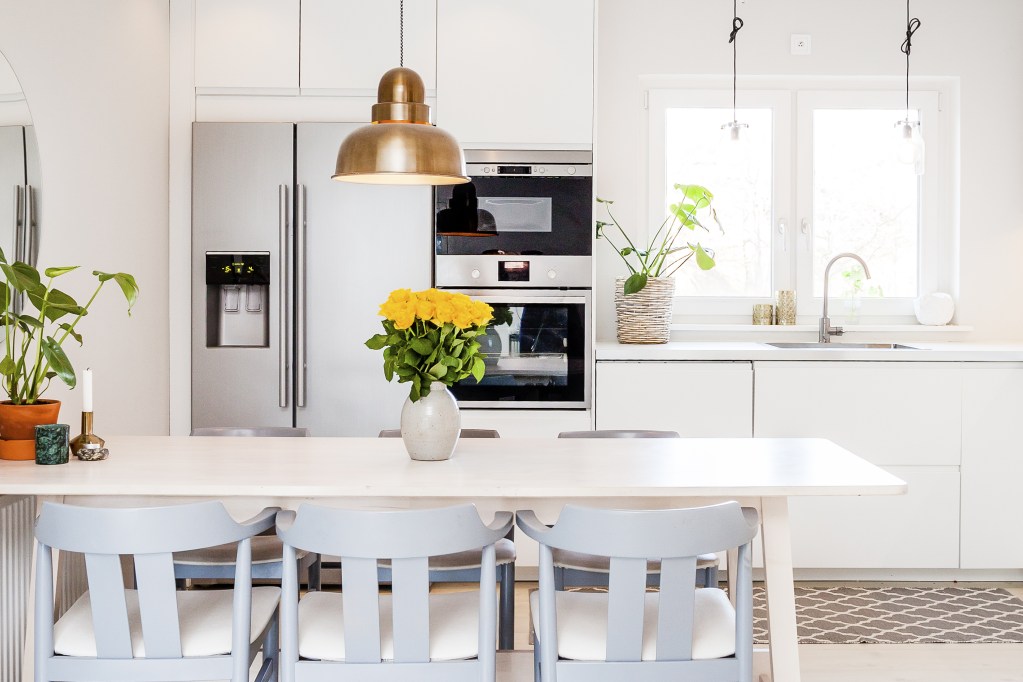 How do you start introducing yellow into a kitchen?
If you're not totally sold yet on ripping out your cabinets and replacing them with all-yellow ones, start small. Doing so will help you decide if you love the color in a way that won't break your budget. You might not like your kitchen in yellow after all, but it's much easier to change the paint or some accents than replace all of your cabinets or backsplash.
Start small
We love this idea if you're still playing with the color. Use decor items to play around with various shades of yellow, as this designer did with mugs and pots. If you love it, you can continue to add yellow elements or paint an accent wall.
Paint the town yellow
Paint is another easy way to introduce yellow into your space. We love this gray-on-yellow kitchen that also includes a small under-counter shelf in a sunny hue; the yellow doesn't dominate the room, but it shines through in just the right places to create interest.
Classic yellow cottage aesthetic
This classic yellow kitchen featured by @louiseroehome on Instagram captures the beautiful synergy of cottage aesthetics with yellow kitchen designs. The English cottage aesthetic, popularized by the trendy cottagecore design style, is known for introducing pastel yellows into the interiors. This kitchen is a fantastic example of how yellow works wonders with this trendy, cozy arrangement.
The yellow tone is light and airy, giving the space a bright and uplifting feel. A quaint patterned wallpaper with patterned curtains and a classic tiled floor offers a gentle cottage aesthetic that pairs well with the room's color palette. White accents keep the palette bright and sophisticated, while bronze metallics help modernize the space. Yellow is an excellent choice for admirers of the cottage or countryside look who want to amp up their kitchen decor without cluttering the countertops with too many knick-knacks or details.
These are just a few of the ways you can incorporate yellow into your kitchen. Remember, there are many shades of yellow, so be sure to test out different options before you finalize your choice. If you plan to repaint or replace your cabinets, bring in a large paint swatch or cabinet sample and place it on your existing cabinets so you can see how the light and your other decorations play off the color. You'll also want to consider the bigger picture; if your kitchen opens up into your living or dining room, you don't want to take away from their designs or contrast with them.
Yellow is an ideal color to use in a kitchen. It's welcoming and calming, and it works well in a high-traffic room that is used for entertaining and gathering at the beginning and end of each day.
Editors' Recommendations