If you're looking for a kitchen aesthetic that blends cottagecore with a classic look, you might be interested in an English kitchen design. The English-styled kitchen has recently gained popularity thanks to its focus on comfort and cottage aesthetics. These cozy spaces bring a timeless look back into the home. From vintage decor to quaint detailing, there's a lot to love about these kitchen interiors.
So, if you're interested in creating a vintage space that feels authentic and welcoming, we have just the tips for you to curate a classic English kitchen design.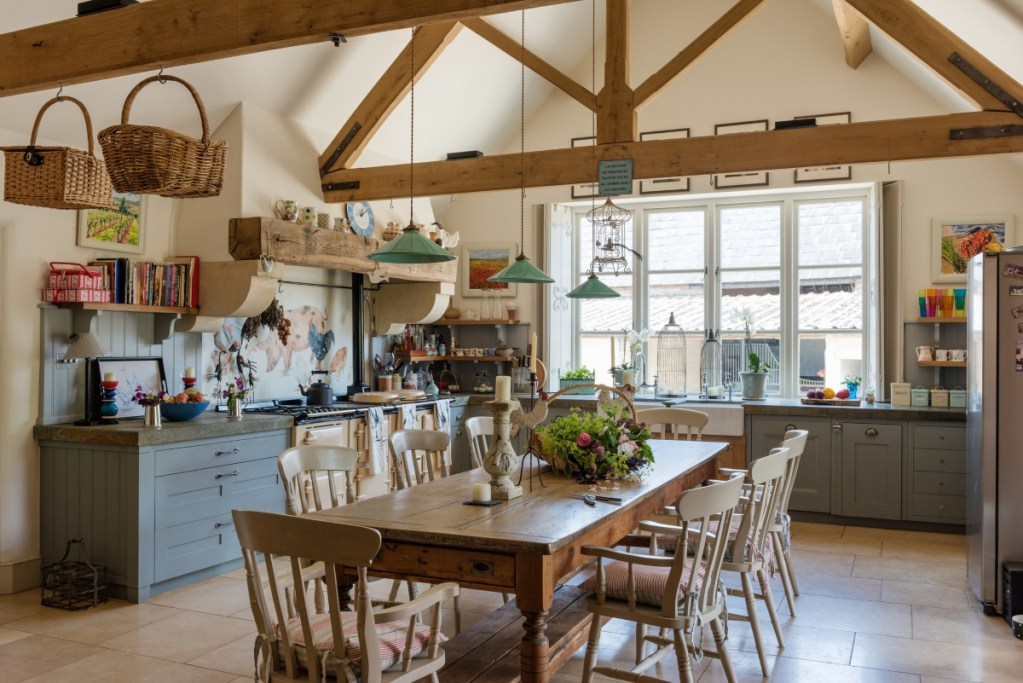 Why do people favor the English-style kitchen?
While this aesthetic once lost popularity in place of more modern features, it's beginning to make a resurgence in the home. No longer considered to be just a plain English country kitchen design, this style has evolved to accommodate touches of the cottagecore aesthetic which inspires vintage lovers, farm home design admirers, and grandmillennials alike.
Homeowners adore the coziness and comfort that transpires from the classic English-styled kitchen. With touches like lace trim, vintage cabinetry, a lived-in feel, and centralized seating to create a smaller space fit for communal meals, the English kitchen offers a sense of hospitality and warmth that some modern rooms often lack.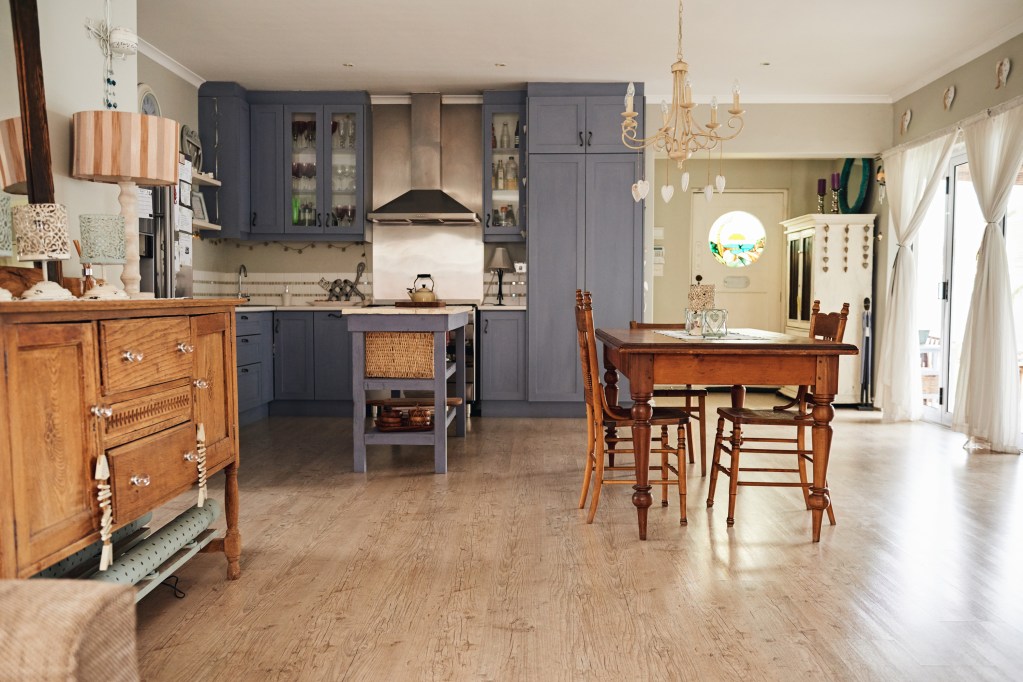 How to create an English-inspired kitchen design
If this design style sounds like just what your home needs, we have a few suggestions for creating this cozy look in your space.
Include larders for optimal storage
English kitchens aren't just about creating the perfect cottage aesthetic but about optimizing the room available. In fact, one of the main draws of their design is the use of larders and other secret pantries as storage space. English kitchens tend to be small. So, if you have a smaller kitchen in your home, this could be the perfect design style for you.
Still, no matter the size of your space, larders can be a handy way to clear up counter space while creating a beautiful and organized pantry area. You can build your own larder or purchase a pre-built cabinet to suit your needs. However you do it, these storage solutions are an excellent way to add a unique touch to your home.
Opt for a table and seating in place of the classic island
Another strong appeal of the English-inspired kitchen is opting for a classic dining table and chairs in place of the kitchen island. An antique table with chairs or bench seating offers a cozy and intimate vibe in the kitchen. With plenty of seating for the family, cooking and eating dinner can become a communal activity with emphasis on proximity, good conversation, and the ability to create happy memories in the home.
A trend that many experts in interior design expect to become more common in the home is creating a "living space" in the kitchen. Comfort and coziness are vital these days as people look for more methods of bonding and creating a welcoming space for the entire family. This makes the English-styled kitchen desirable as a classic table and chair setup can offer a space for food prep as well as plenty of seating for conversation.
Vintage touches are a must
If you're going to go all in on an English kitchen aesthetic, you'll want to lean into vintage decor. Antiqued metal finishes, AGA stoves, vintage cabinetry, antique appliances, and aged furniture create the perfect lived-in appeal. The kitchen should look as if it's been well loved, with unique pieces that hold sentimental value and quirky touches that allow it to appear cozy and homely.
We have a few tips for adding vintage pieces to your kitchen to curate a space with an aged and English flair. First, add a China cabinet or other vintage piece, perfect for storing pantry goods. You could also opt for antiqued cabinets, vintage or thrifted vases, and wall sconces. Or, you can add a stunning vintage chandelier for a more elegant yet grandmillennial-inspired look that helps accentuate the old and the new.
Choose earthy tones with a pop of color
When you think of an English kitchen, you likely see a space with rich, earthy tones in your mind's eye. Greens, blues, browns, and cream shades are staples of a classic English-style kitchen. If you want to lean into an English country kitchen design, opting for earthy tones, soothing colors, and warm hues that inspire a gentle and natural aesthetic can be a great start.
Painted cabinets are especially popular in this design. Muted greens and deep blues are some of the most popular. The best way to decorate this space is to use earthy and natural tones as your base and then include a pop of color through your design to give the kitchen a lived-in and authentic feel—orange, blue-greys, muted pinks, and other shades of blue and green work best.
The English-style kitchen offers a cozy and classic look that appeals to many homeowners. If you're looking to create a cottage aesthetic or a vintage-inspired design in your kitchen, this could be a great way to revamp your design. Be sure to opt for antique pieces, pops of blue and green, and other simple yet communal elements that are inherent in English-inspired kitchen designs.
Editors' Recommendations