Subway tiles are a tried and tested option for bathroom wall tile. It's a classic look to be sure, but it's also a bit boring and expected. There are a ton of other fun, more creative bathroom tile ideas that can make a big impact on your bathroom — a space most of us spend a fair amount of time in getting ready, relaxing in the tub, or winding down after a long day with a face mask and a glass of wine.
The space should be one that excites and invigorates, and to do that, you'll want to ditch the old subway tiles in lieu of more exciting styles. We've done the research to come up with ten creative designs that will "wow" you every time you walk into your bathroom.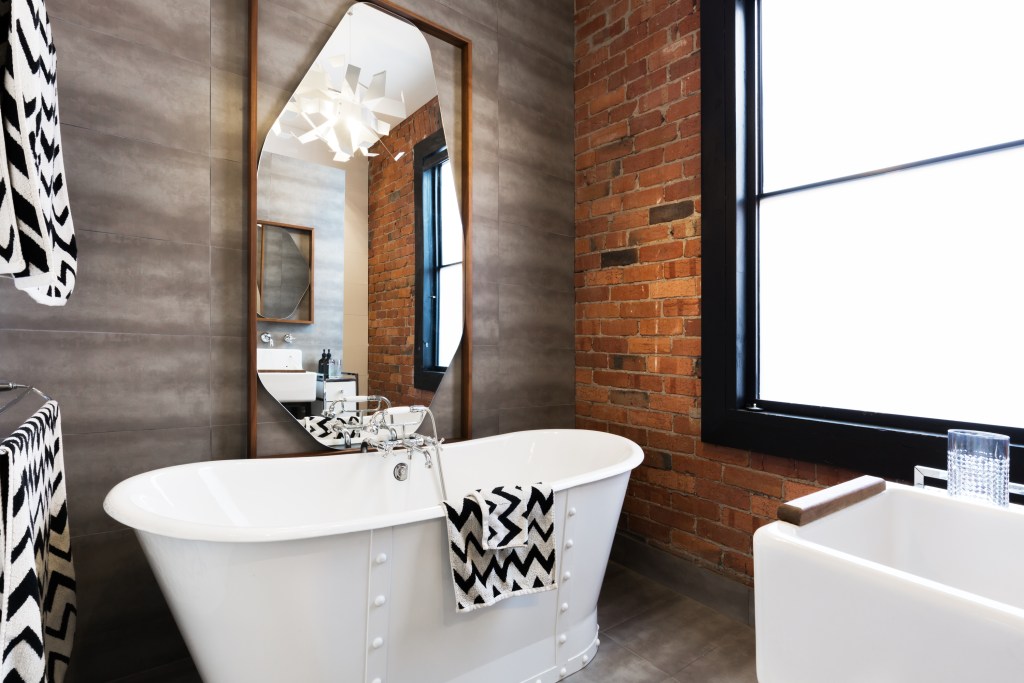 Create texture
We love tiles that create texture and movement, especially in a bathroom. Whether a large or small space, you can find textured tiles like this option from Artistic Tile in molten gold in porcelain that will wow any guest or homeowner. You can't help but be drawn to touch it, and it would look stunning with any design — from modern to farmhouse. And by mixing and matching materials, you add a sophisticated layer to your design.
Go retro
Why not take your bathroom and kick it back to a more retro vibe with something like this 8×8 ceramic tile from All Modern? You could lay it into a square, almost rug-looking design, on the floor surrounded by larger, white tile or use it as an entire shower tile floor-to-ceiling. Add some bright pops of primary colors into the space via towels or a funky shower curtain and you've got the perfect retro feel.
Mix and match shapes
You don't have to stick to one design for your entire bathroom. Mix and match shapes like multi-colored hexagon tile on the floor and large, ceramic tiles for the shower tile. This can also help smaller spaces (like a shower) feel bigger and bring emphasis to areas that have a larger surface area.
Layer different tile styles
Another option that's fun for a bathroom is layering different tile styles. You could opt for penny tiles in the shower and larger, textured tiles for the sides. You can also mix and match smooth porcelain with a more rugged, rustic-looking tile to create depth.
Bring on the color
White subway tiles are certainly a safe bet but if you want to infuse a bit of personality into the walls, why not go for a bold color? We love this Carolina coral from the Tile Bar. It can be hung straight or in a herringbone pattern for an additional fun element in your bathroom. Who wouldn't want to stare at this every morning while you're getting ready for work?
Your bathroom should be your oasis and everyone has a favorite color — so find a way to incorporate yours.
Take it up top
Tile isn't just for the floors and walls! We love the idea of small, hexagon-shaped cream-colored tiles in an interesting pattern taking up part of your shower ceiling offset by wood planks to finish off the rest of the ceiling. Not only does it draw your eyes up, it leaves the room feeling warm and finished.
Blue hues
We love blue in a bathroom — and, as it turns out, lots of other people do, too: Having a blue bathroom can actually improve the value of your home. It was already a great choice for a bathroom since blue evokes images of serenity and peace, whether you're picturing a blue sky on a sunny day or the turquoise waters of the Caribbean, but knowing that it's also a good investment? That seals the deal.
A penny for your thoughts
Penny tiles will never go out of style and we love them for a bathroom. They are so versatile, you can use them on a sink top, backsplash, as floor tile, or to create a mosaic design in the middle of your shower wall. We love these in sage green from Lowes.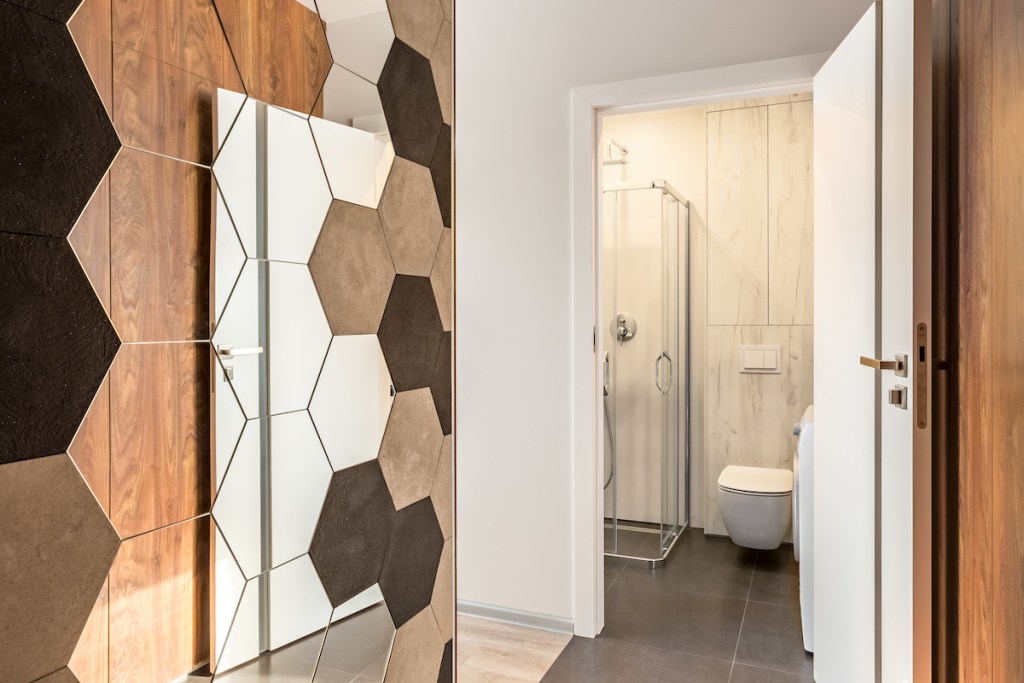 Create a focal wall
In the same way you can create a feature wall by using wallpaper or shiplap, you can do the same with tile. We love this idea for the wall surrounding the sink because you can play off the other parts of the wall, like a mirror or bathroom lighting.
Bring sexy back
Want to add a little glam to your bathroom? Mirrored, smoky tiles can bring elegance and sexiness to your bathroom, like these beveled smoked mirror tiles from Tile Bar. They scream sophistication and will give you a spa-like bathroom you deserve to spend time in.
All of these ideas will bring your bathroom into the present and beyond and make it a place you want to spend time. These options are as unique as your own style, so don't fear pattern or color — let your imagination be your guide.
Editors' Recommendations