Renovating your bathroom is one of the most expensive rooms to remodel — but it also gives you one of the biggest returns on investments. On average, it's estimated that people spend between $10-25K on the main bathroom remodel. Of course, this depends on the size and materials you plan to use. A medium-sized bathroom (40-100 square feet) will run on the lower size and a large main bath (100-220 square feet) will be at the top. Then again, even a small bathroom can cost a lot to remodel if you pick top-of-the-line fixtures, tiles, and appliances.
The good news is no matter your budget, there are tons of master bathroom ideas that will look gorgeous. It's a room where you spend a lot of time getting ready, hiding from your kids (kidding — sort of), and relaxing, so you want to invest in it. Here are some ideas to get the most out of your design.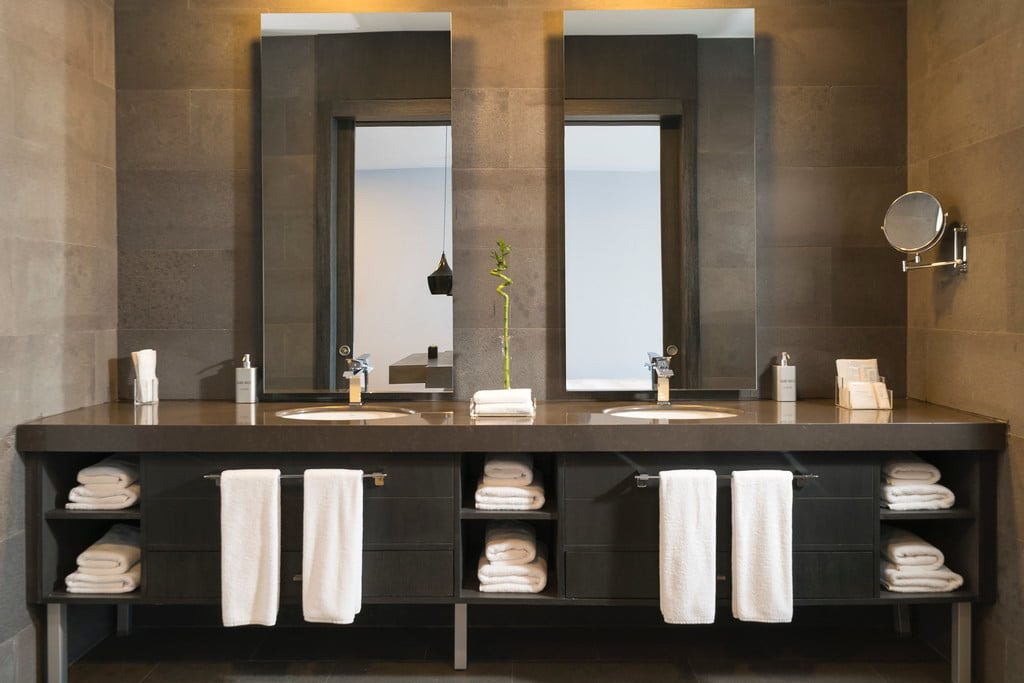 What to consider when deciding on a bathroom design
Like a kitchen, you want the form and function to be considered equally.
Freestanding tubs: If you want a freestanding copper bathtub, you want to make sure it's safe and accessible.
Deep soaking tubs: If it's a deep soaking tub, make sure there are handles or support to get yourself in and out. You also want to consider the length so you don't get in and have trouble fitting end to end.
Luxury fixtures: If you love taking a long shower, think about different fixtures like a mister, rain showerheads, and massagers coming out of the walls.
Double vanities: If you and your partner get ready at the same time in the morning, splurging on a double vanity may be a good idea.
Saunas: If you really want to go all out and have the room, consider putting in a small sauna for a spa-like feel. It may be as simple as remodeling an old linen closet.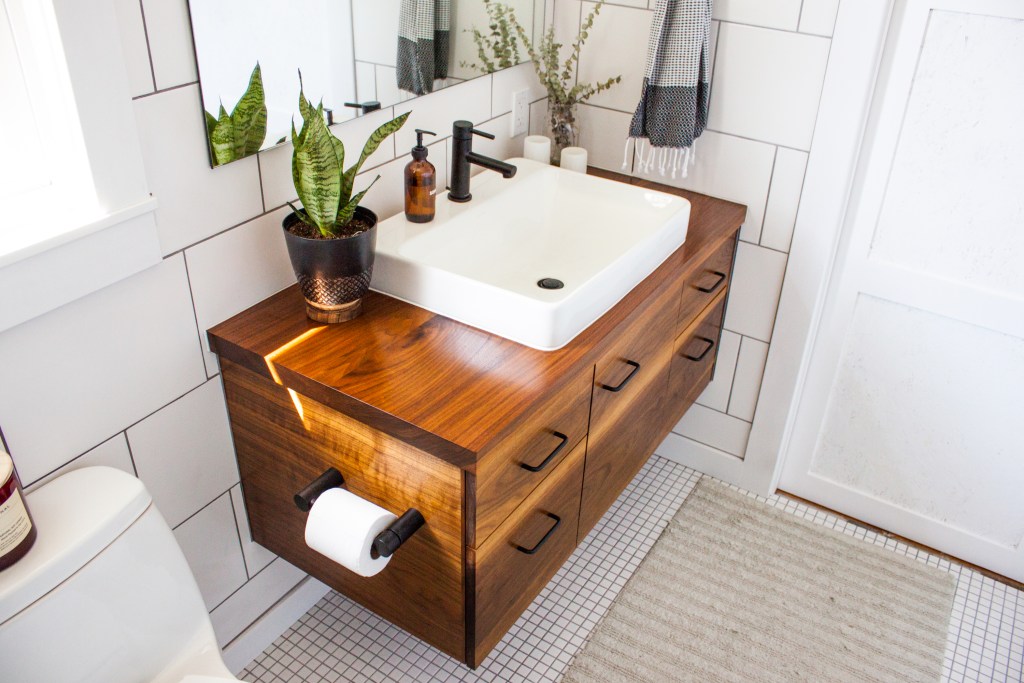 How can I repurpose furniture for the bathroom?
One idea we love is remodeling or repurposing furniture that may need some love or that you found at an estate sale and don't know what to do with.
Use an old dining room serving table as a vanity by refinishing it and cutting out drawers and the back to fit plumbing.
If you have an old corner cabinet, turn it into a place to store bathroom products.
If you have an old kitchen cabinet, take off the old door, replace it with a mirror or glass, and use it as a storage fixture over your toilet.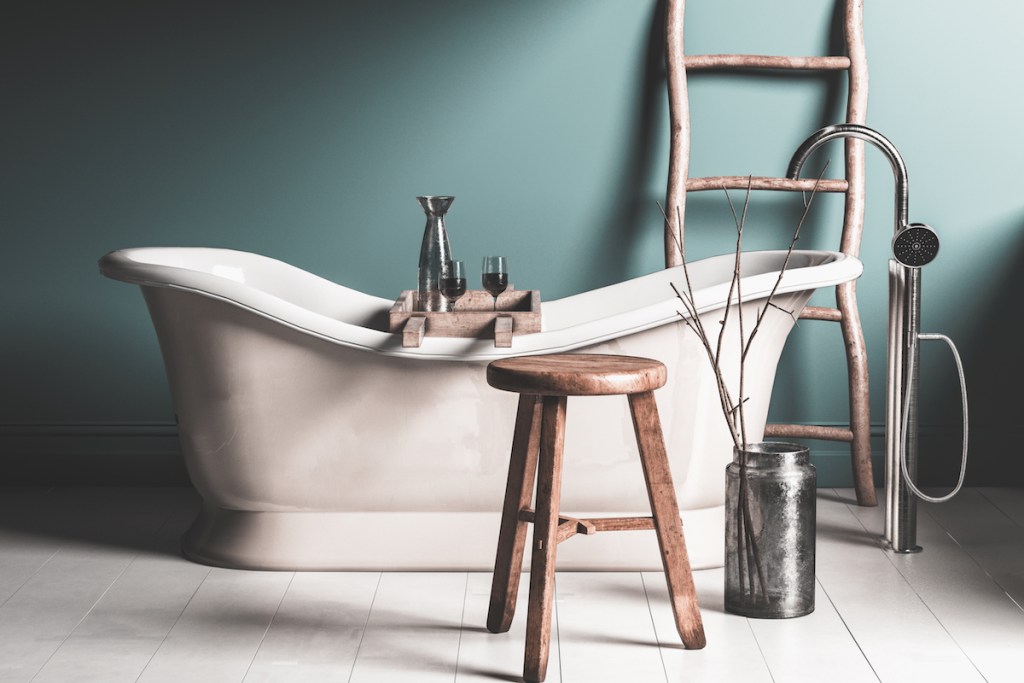 How can I set the mood?
Being able to close the bathroom doors and have time to find peace and quiet is essential in a main bathroom.
Dimmer switches: We always recommend using a dimmer switch on any bathroom lighting. Not only does it help ease you into the bright light of the morning, no one wants to take a deep soak in a bath with the lights blaring above you.
Dramatic lighting: Another option is including candles, sconces, or other lighting options throughout the room to use as lighting or to set the mood if you want to.
Mirrored tiles: You can also find tiles like this smoky mirrored tile from Tile Bar to add another element of luxury.
Soft textiles: Finally, splurge on textiles like a super soft bathroom rug and a fleece, body-length robe to get yourself ready in the morning. If you have the room, you can layer textiles like two rugs of different sizes on top of each other for a more dramatic effect.
Add luxurious decor
We love going all out in a main bathroom.
Go glam. Find gold or metallic wall art and hang it gallery-style on a focal wall. If you want to be dramatic, hang it across the entire wall, leaving only a few inches at the top and a maybe two feet on the bottom.
Add bold wallpaper. We also love wallpaper in the bathroom. Go with a bold print that you may not use in a larger room of your home.
Don't be afraid of color. Play a bit with colors like sage green, midnight blue, and gold to really make a statement.
Create a statement mural. You can also have a mural painted on one wall — maybe from a famous artist or an artistic child — and make that your main focus.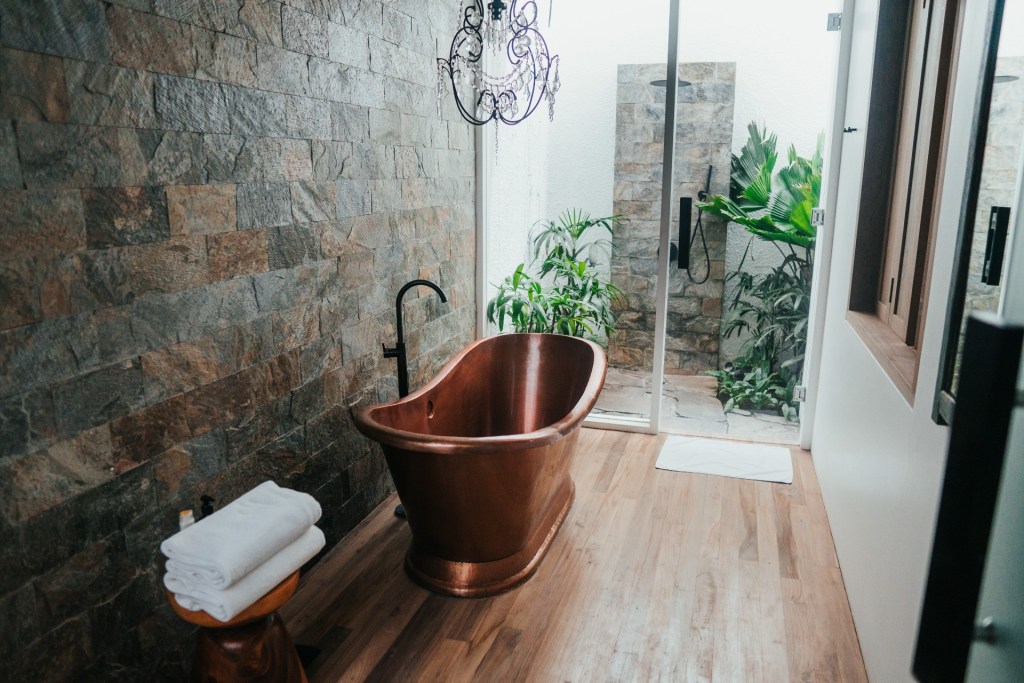 Find a statement piece
We love having one bold statement piece in a bathroom. Maybe it's a refurbished clawfoot tub you found in an antique store. You could rescue an old barn door and use that as the main bathroom door that separates it from the bedroom. If you have a large main bath, you could also have your statement piece be a wingback chair or antique vanity you found to create extra sitting space. All of these have a home in your bathroom if you anchor them with more minimalist decor in other areas.
The purpose of a main bathroom is to design a space where you want to spend time. It's a room where you can take risks with color, patterns, and textiles to create an oasis that allows you to escape from the stresses of the day and regroup. We don't think you can go wrong with any of the above ideas — the only thing holding you back is your imagination.
Editors' Recommendations