Do you find yourself staring at chipping on the bathroom walls or fantasizing about a waterfall shower head? If so, it's probably time for a bathroom renovation. Luckily, there are so many classic, functional, and innovative design choices for any budget, even if the bathroom isn't very large.
If you don't know where to start, we've got you covered. These trending bathroom designs will have you so inspired, you'll be running out to the home improvement store to get started on this project ASAP.
Easy-to-clean surfaces
Regardless of how luxe the design is, the bathroom won't be an enjoyable space unless it's easy to clean. Since this space is prone to puddles and spills, it's crucial to invest in quality materials that you can wipe down with ease. "The movement toward larger format tiles will gain momentum in the coming year as this style can make a big impact on a space while displaying fewer grout lines," Suzanne Zurfluh, director of design and trend at Emser Tile, told Better Homes and Gardens. Materials like tile, granite, porcelain, and glass, for example, are all easy to clean and very on-trend.
The best choices are ones that are classic and simple. This regardless of whether you opt for an all-white option or a material with more texture and color. Bathroom renovations can be expensive, so it's best to toe the line between trendy and tradition to ensure you won't get sick of the design in a few months. The Fordham Bianco tile from Tile Bar is one of our favorite picks for a neutral, large format tile. If you prefer a more colorful aesthetic, check out this matte emerald option.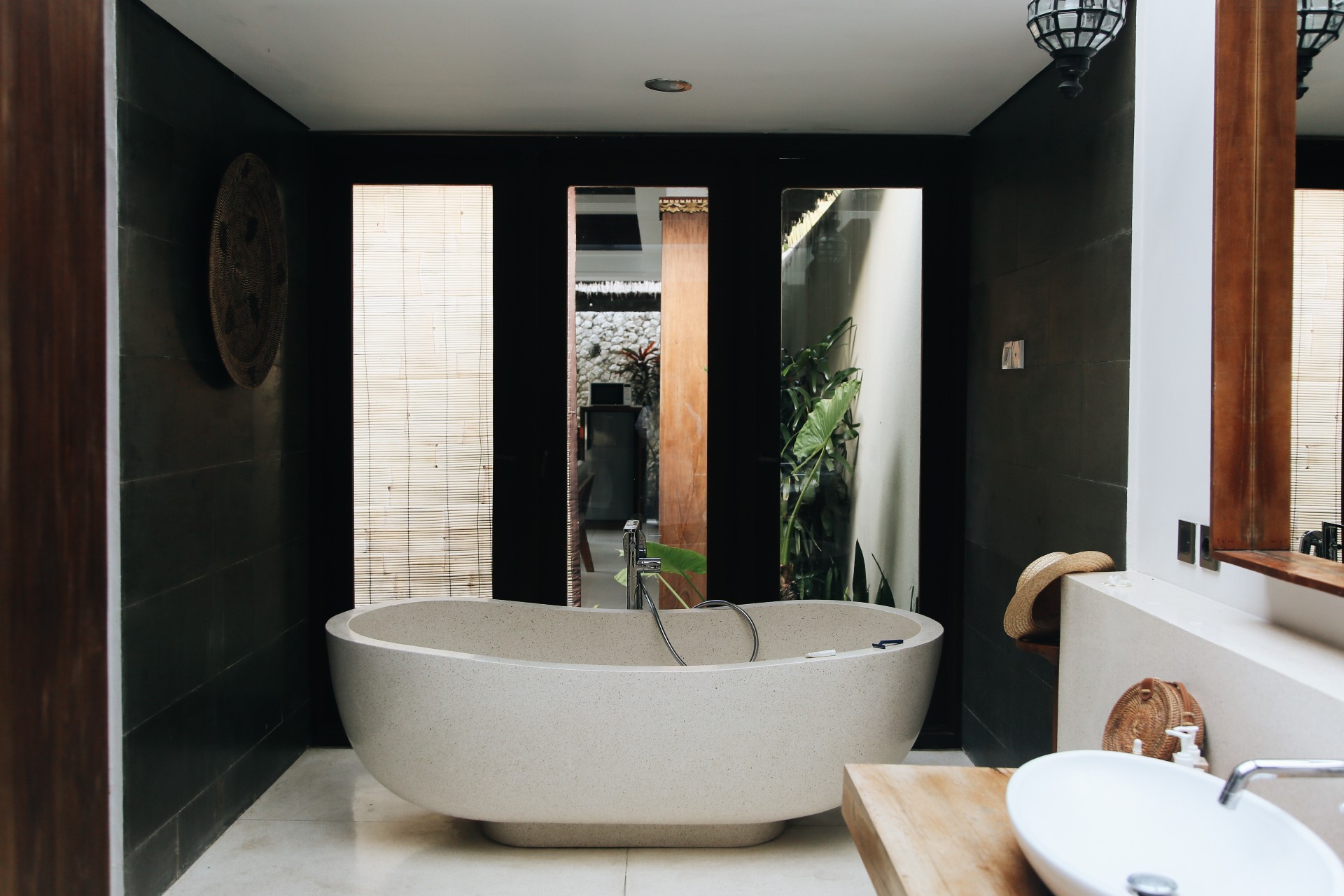 Soaking tubs
Soaking tubs are here to stay, thank goodness, and this is one trend we hope never goes out of style. Flat-bottom tubs are overtaking clawfoot varieties in popularity as of late because the simple, sleek design matches the trendy modern aesthetics of many newly renovated homes.
This Randolph Morris freestanding tub is a work of art all on its own. It's also extremely customizable, so you can choose from various options for the drain and change the color of the metal accents. If you prefer a square shape, this Kohler 60-inch soaking tub is simple, sleek, and pairs well with any decor in the room.
Warm tones
Warm tones in the wood, paint, and textiles offer an oasis-like feel reminiscent of your favorite spa or retreat. For a more romantic atmosphere, we recommend installing dark-stained hanging shelves against an ivory or sage green wall. You can also bring in these darker accents with dark wood vanities, copper sinks, or warm-toned rugs, shower curtains, and towels. Minimalist, all-white bathrooms certainly look clean and polished, but sometimes it can feel more like a hotel bathroom than a home. These dark accents give your space a touch of maturity and allow you to show off your personality with more eclectic decor.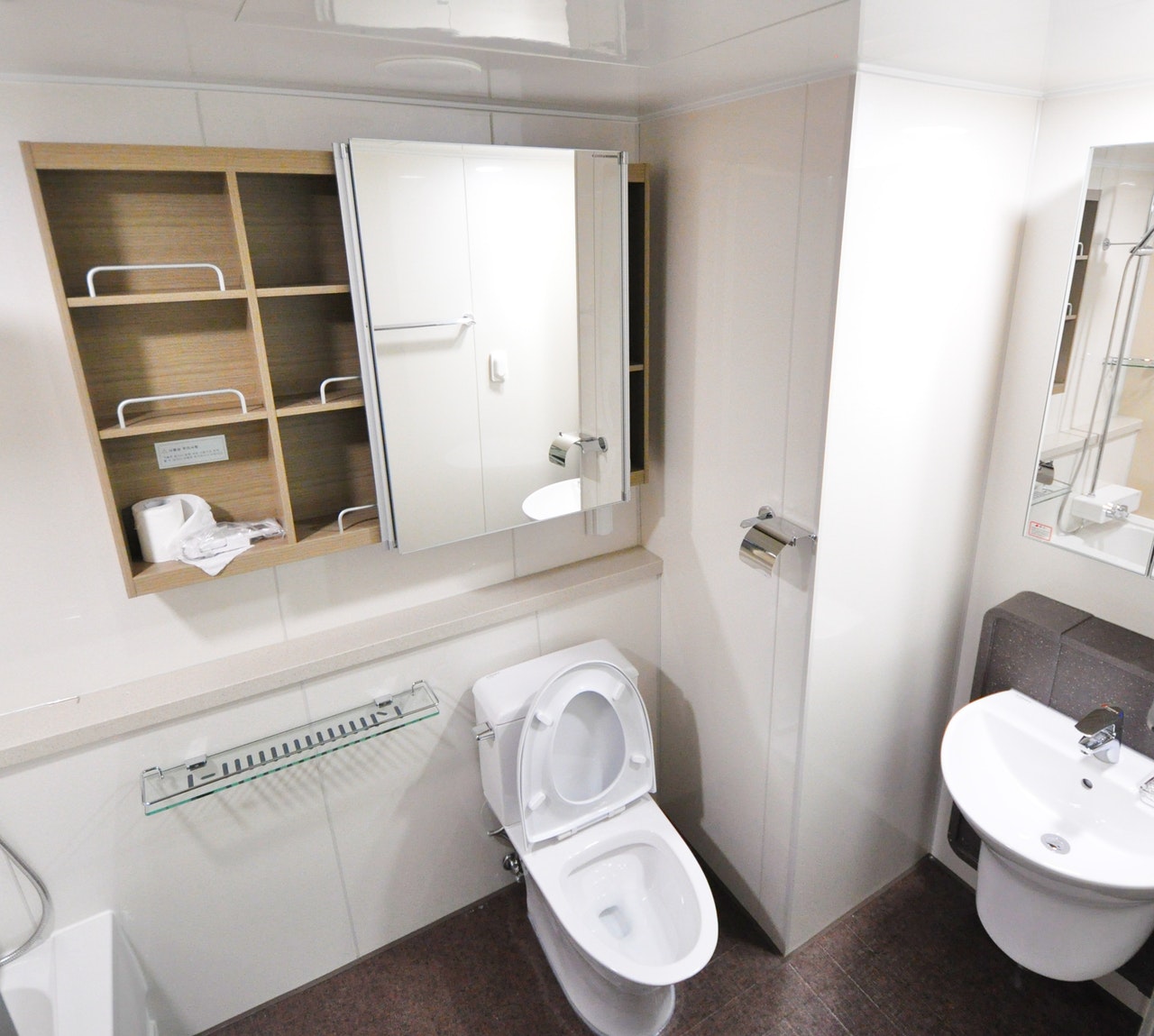 Smart toilets
Smart toilets and bidets are here to stay, according to the NKBA 2021 design trends report. While these appliances are staples in houses elsewhere across the globe, they're just recently finding popularity in American markets. This smart technology offers no-handle flushing, lids that self-close, and UV lights that kill bacteria. Upgraded varieties even have luxurious features like heated seats, air-drying options, and warm water for the bidet.
This Homary floor-mounted toilet virtually eliminates the need for toilet paper or wet wipes, giving you a world-class clean every time you go.
Unique lighting
Gone are the days of track lighting and standard chrome lights above your bathroom mirror. Instead, opt for decorative chandeliers and hanging lights that bring more visual interest to the room. This Possini Euro crystal chandelier brightens up the bathroom and adds a vintage, elegant look to your space. For a more industrial look, we recommend this Rejuvenation light, which comes in fun colors like thunder blue and gloss green.
Odds are, your bathroom is due for a much-needed facelift. Whether you're ready to undergo a full renovation or just want to update the decor, we hope some of these ideas give you the inspiration you need to upgrade your space. Now, it's time to set your budget, plan your redesign, and put yourself on the path toward a bathroom that belongs in the 21st century.
Editors' Recommendations